Are you experiencing the urge to express your creativity? Do you seek ways to connect with your inner artist and unleash your creativity? If the answer is yes, then it's high time to explore creative expression's mental, physical, and spiritual benefits. Let's dive deep into understanding how to unleash your creativity and its benefits on Momentum Friday!
Unleash Your Creativity: How Do You Do It and What is It?
To be creative means having the ability to think outside the box and come up with fresh ideas. This skill can be honed through practice, perseverance, and introspection. Unleashing your creativity can bring about numerous advantages, including heightened productivity, refined problem-solving abilities, better communication skills, and boosted self-assurance.
And in case you didn't already know it, John R. Miles (@John_R_Miles) takes your comments and questions for Momentum Friday right here every week! If you want him to answer your question, register your feedback, or tell your story on one of our upcoming weekly Momentum Friday episodes, drop us a line at [email protected]. Now let's dive in!
Hear the secrets and philosophy of the World's GREATEST high achievers every Monday and Thursday, and tune in each week for an inspirational Momentum Friday solo message.
Listen to the episode on Apple Podcasts, Spotify, Podcast Addict, Pocket Casts, Stitcher, Castbox, Google Podcasts, Listen Notes, Amazon Music, or on your favorite podcast platform. You can watch the interview on YouTube below.
Enjoy!
What I Discuss In This Episode About Unleashing Your Creativity Through Self-Expression
In this episode, you'll learn about what it means to "unleash your creativity" as well as explore creative arts, art's healing powers, its purpose in society today, the importance of beauty through expression, nurturing your inner artist, and embracing yourself with self-love — so let's get started.
How Do You Nurture Your Inner Artist?
Nurturing your inner artist is crucial to unleashing your creativity, which is a vital aspect of life. By delving into creative arts, recognizing the power of art, and cultivating an appreciation for beauty through creative expression, you can discover a realm of self-expression and well-being. With dedication and practice, you can learn to unlock your potential as a creator, opening yourself up to new ideas and hidden talents. By embracing your creative side with self-love and acceptance, you can unleash your creativity in meaningful ways for yourself and society.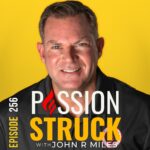 Please Scroll Down For Featured Resources
Our Patreon Page: https://www.patreon.com/passionstruck
Thank You, Fabric, For Sponsoring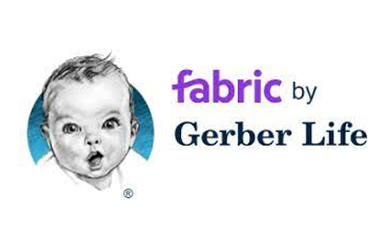 Fabric by Gerber Life is a new addition to the Gerber Life family, offering parents more ways to help protect their family's financial futures. Protect your family today with Fabric by Gerber Life. Apply today in just 10 minutes at https://meetfabric.com/passion.
Thank You, ZocDoc, For Sponsoring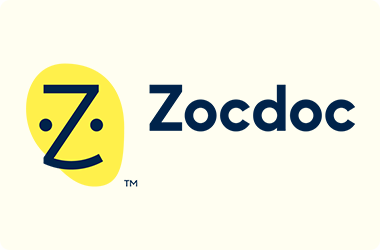 Zocdoc is the start of a better healthcare journey for you. Find and book top-rated local doctors on demand. Visit them in their offices or video chat with them from home Go to https://www.zocdoc.com/passionstruck and download the Zocdoc app for FREE. Then start your search for a top-rated doctor today.
*Our Patreon Page: https://www.patreon.com/passionstruck.
Thank You, Shopify, For Sponsoring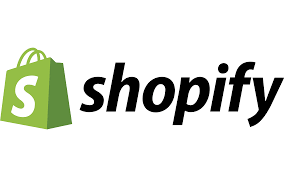 Discover the number one eCommerce platform for all businesses. Start, run + grow your business with Shopify®. Customize your store with their website builder. Trusted by millions of businesses. Sign up for a one-dollar-per-month trial period at SHOPIFY DOT COM SLASH "passionstruck."
Starter Packs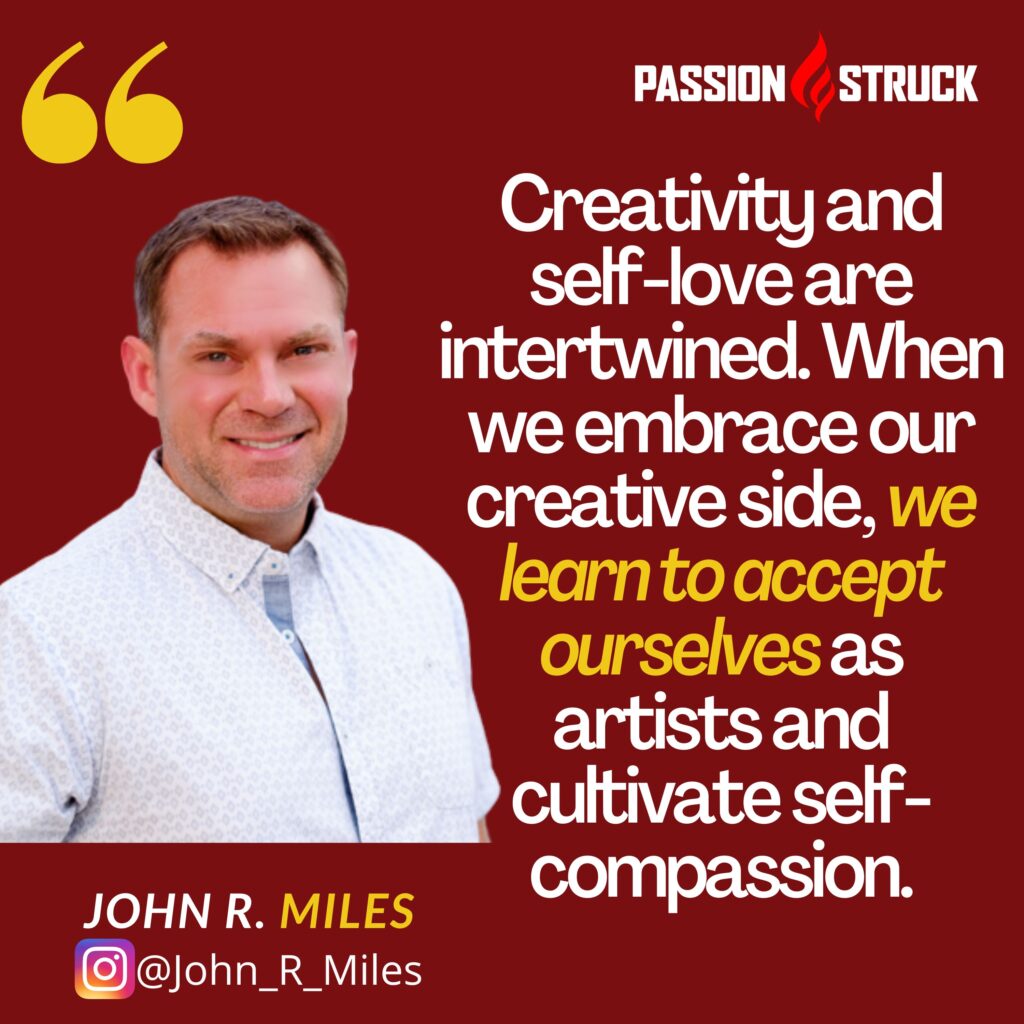 New to the show? These Starter Packs are collections of our most popular episodes grouped by topic, and we now have them also on Spotify. You can also browse starter packs for existing listeners to find your old favorites. Every week, John interviews everyday heroes from all walks of life. Learn how to subscribe to the show and never miss a new episode and topic.
Like this? Please subscribe, and join me on my new YouTube platform for peak performance, life coaching, and personal growth: https://www.youtube.com/c/JohnRMiles/.
Resources From The Show On how to Unleash your Creativity
Please note that some of the links on this page (books, movies, music, etc.) lead to affiliate programs for which The Passion Struck podcast receives compensation. It's just one of the ways we keep the lights on around here. Thank you so much for being so supportive!
Transcript from the episode: https://johnrmiles.com/unleash-your-creativity-power-self-expression/
My interview with Robin Sharma: https://passionstruck.com/robin-sharma-everyday-hero-manifesto/
Follow John R. Miles On The Socials
* Twitter: https://twitter.com/Milesjohnr
* Facebook: https://www.facebook.com/johnrmiles.c0m
* Medium: https://medium.com/@JohnRMiles​
* Instagram: https://www.instagram.com/john_r_miles
* LinkedIn: https://www.linkedin.com/in/milesjohn/
* Blog: https://johnrmiles.com/blog/
* Instagram: https://www.instagram.com/passion_struck_podcast/
* Gear: https://www.zazzle.com/store/passion_struck/
About John R. Miles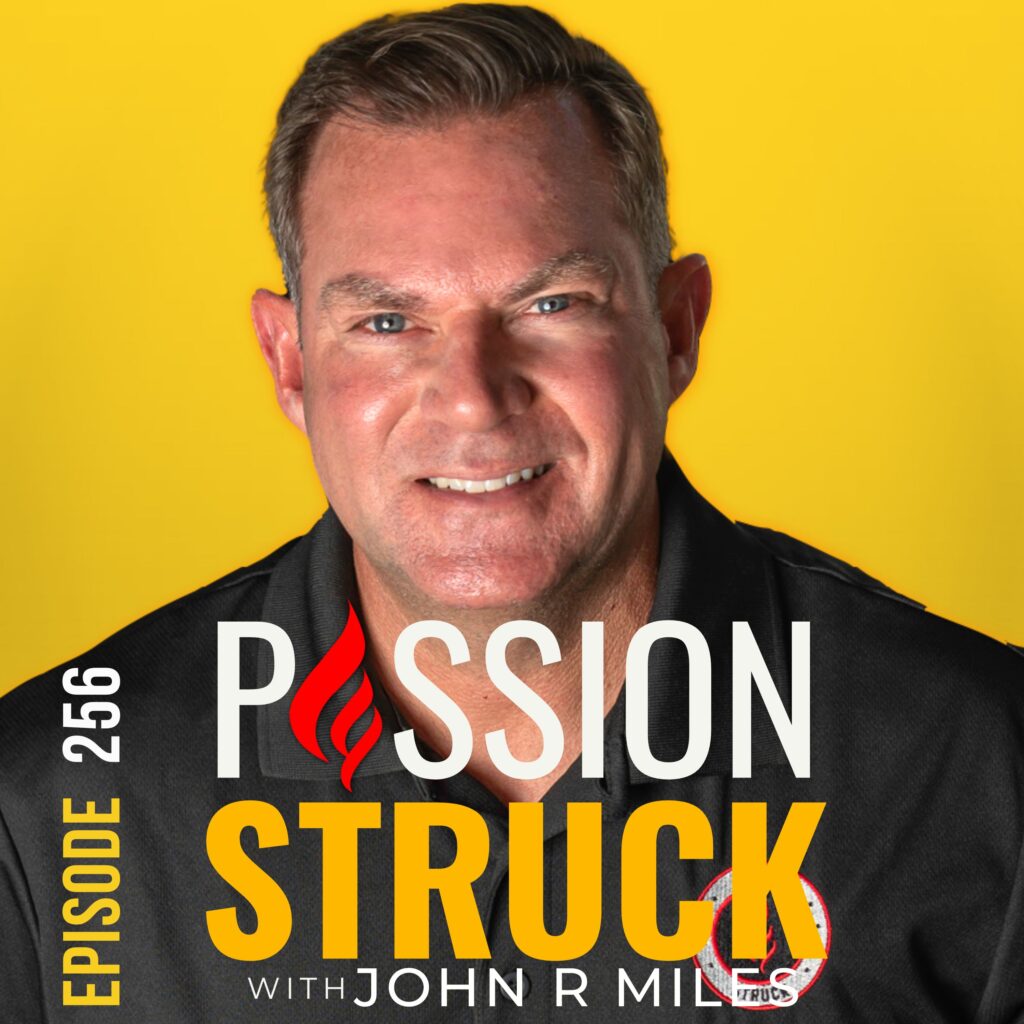 John R. Miles is a serial entrepreneur and the CEO and founder of Passion Struck. This full-service media company helps people live intentionally by creating best-in-class educational and entertainment content. John is also a prolific public speaker, venture capitalist, and author named to the ComputerWorld Top 100 IT Leaders.
John is the host of the PassionStruckPodcast. The show focused on exploring the mindset and philosophy of the world's most inspiring people to learn their lessons to living intentionally. Passion Struck aspires to speak to the humanity of people in a way that makes them want to live better, be better, and impact.
Stay tuned for John'slatest project, his upcoming book, which will be published in 2023.
Learn more about me: https://johnrmiles.com