Today I talk to Robin Sharma (@robinsharma), a multiple-time #1 New York Times bestselling author and one of the world's premier speakers on Leadership and Personal Mastery, named one of the World's Top Leadership Gurus. Robin is the author of the new book The Everyday Hero Manifesto: Activate your positivity, Maximize Your Productivity, Serve the World.
Every day is a chance to do something extraordinary, and being a hero is as simple as putting your passions into action. Hear how Robin and John use their unique perspectives to live an intentional life and reach their goals. This episode will inspire you to take action and become the person you want to be!
Purchase The Everyday Hero Manifesto: https://amzn.to/3SQlqhE (Amazon Link)
Hear the secrets and philosophy of the World's GREATEST high achievers every Monday and Thursday, and tune in each week for an inspirational Momentum Friday solo message.
Like this show? Please leave us a review here – even one sentence helps! Post a screenshot of you listening on Instagram & tag us to thank you personally!
Listen to the episode on Apple Podcasts, Spotify, Podcast Addict, Pocket Casts, Stitcher, Castbox, Google Podcasts, Listen Notes, Amazon Music, or on your favorite podcast platform. You can watch the interview on YouTube below.
Enjoy!
In This Episode, Robin Sharma And I Discuss His New Book, The Everyday Hero Manifesto
Robin Sharma generously shares his deep understanding of the principles, protocols, and tactics you could attain to unleash productivity that opens up leading a world-class life and becoming a spiritual heavyweight that lifts the world. Our discussion focuses on the everyday heroes we meet in our life. The unsung people that significantly impact our lives and how each of us can manifest our hidden powers and talent to become the superheroes of our lives. Robin shares how we can attain a life filled with satisfaction, gratitude, positivity, and eagerness to help others.
Why the world today needs daily heroism
Consistency is the mother of mastery
You can change the world or be around negative people. You can't do both.
Why trauma can be our biggest teacher.
The difference between the 5% and the 95%
Obsessive attention to detail
Even the longest life is a short ride.
Have any questions, comments, or stories you'd like to share? Drop us a line at

[email protected]

m!
And much more…
Please Scroll Down For Featured Resources
Our Patreon Page: https://www.patreon.com/passionstruck
Thank You, American Giant, For Sponsoring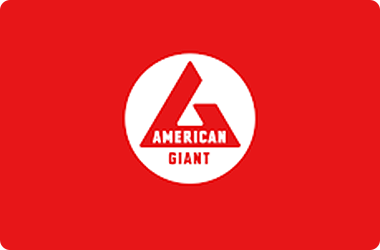 Discover American-made essentials, activewear, and accessories for men and women. Shop durable hoodies, tees, pants, leggings & more from American Giant. Get 20% off your order using code PassionStruck at https://www.american-giant.com/.
*Our Patreon Page: https://www.patreon.com/passionstruck.
Thank You, InsideTracker, For Sponsoring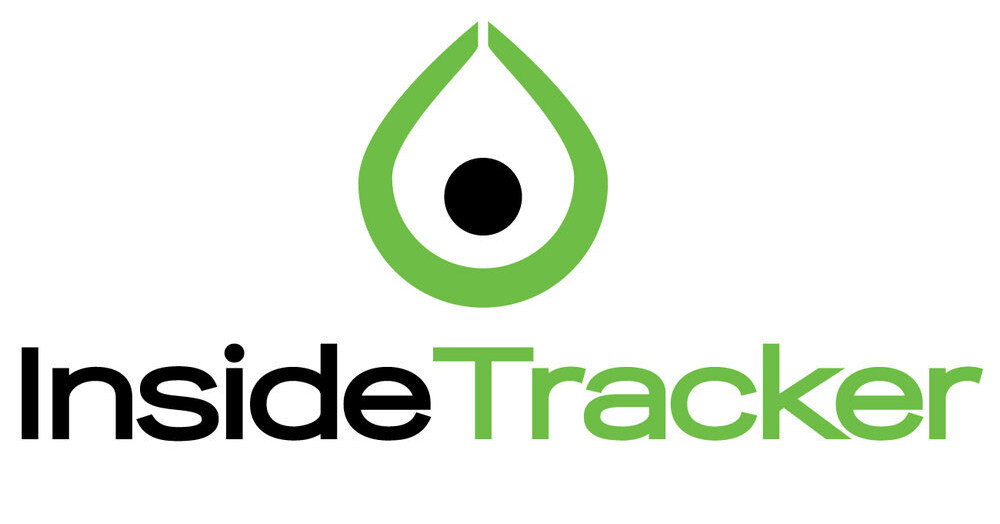 InsideTracker is the ultra-personalized performance system that analyzes biomarker data from your blood, DNA, lifestyle, and fitness tracker to help you optimize your body and reach your health & wellness goals. InsideTracker transforms your body's data into true knowledge, meaningful insights, and customized action plans of evidence-based nutrition, fitness, and lifestyle recommendations. Just go to https://insidetracker.com/passionstruck.
Starter Packs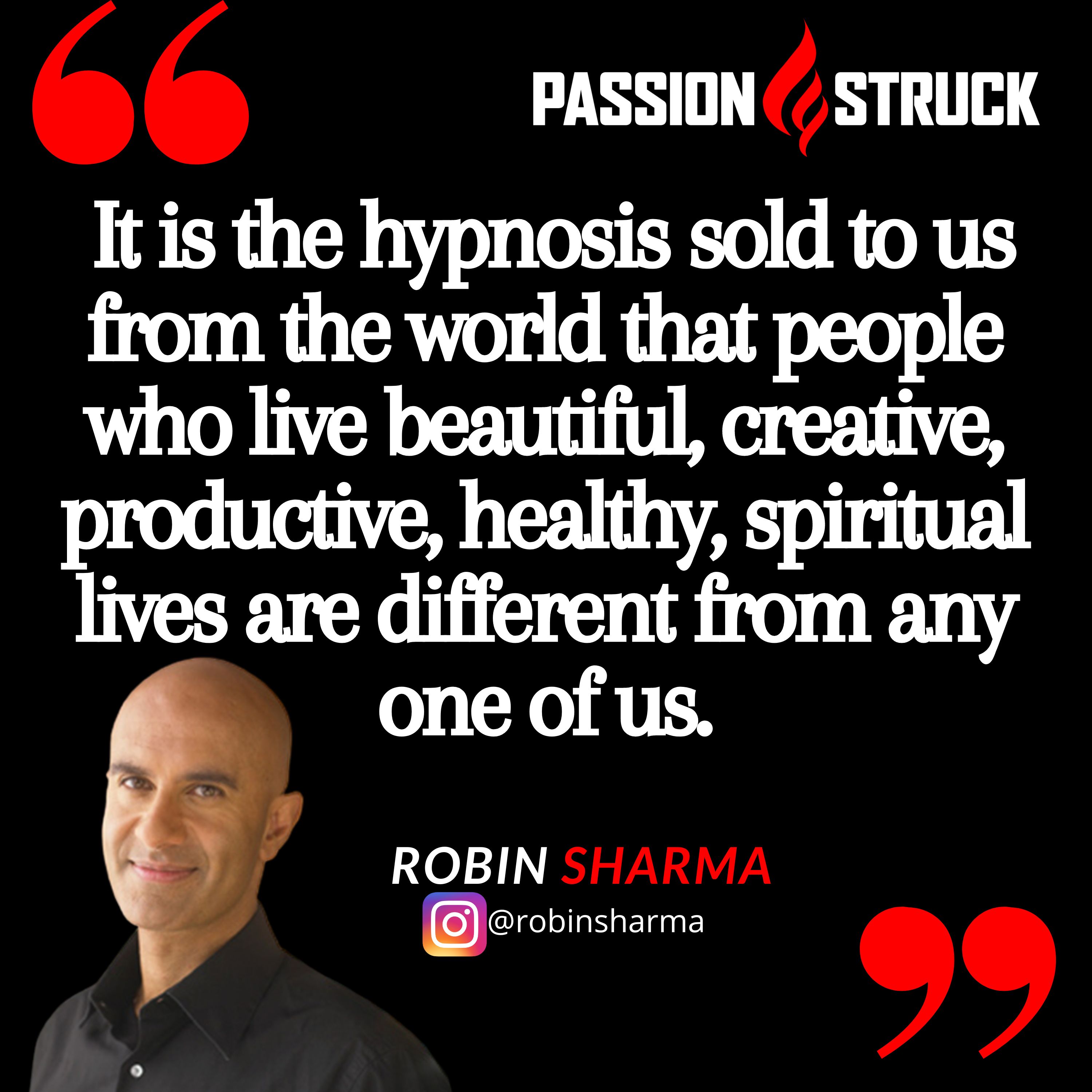 New to the show? These Starter Packs are collections of our most popular episodes grouped by topic, and we now have them also on Spotify. You can also browse starter packs for existing listeners to find your old favorites. Every week, John interviews everyday heroes from all walks of life. Learn how to subscribe to the show and never miss a new episode and topic.
Like this? Please subscribe, and join me on my new YouTube platform for peak performance, life coaching, and personal growth: https://www.youtube.com/c/JohnRMiles/.
More From My Interview With Robin Sharma on Why Changing the World Starts by Changing Ourselves
During our interview, I asked Robin why the minority of exceptional creative achievers operate under a completely different philosophy. And what is that philosophy?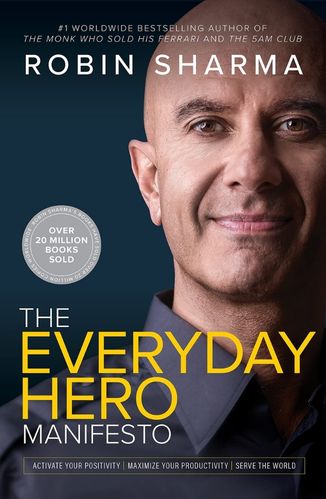 Robin Sharma explains, "Well, there's a lot of elements to the philosophy, but one part of it is OAD, obsessive attention to detail. So in the 5 AM Club, I used characters. It's written in the form of a novel, as you know.
But there's that example of deseeding, the lemon wedges. And that came from an experience that I had, I was working on a book in a hotel, and I ordered some lemon tea, as I love to drink when I'm writing. And the room service attendant brought in the tea. And I noticed the kitchen had cut a piece of lemon in half. But someone had taken the time to de-seed the lemon wedges so that they wouldn't go into my tea cup. And that speaks to something very fundamental.
Too many people in the majority. What they do is they want the rewards of world-class, but they're not doing what world-class requests. They mail it in. They don't do their work with exquisite attention to detail to make everything beautiful.
Deseeding the lemon wedges is a great metaphor for what the top 5% do. Whatever they do, they do it with such care, such obsessiveness, such devotion to mastery. I think that's really important. I love the word devotion. Yesterday, I went on a country walk. I'm working on a new book. So I'm here in the European countryside. And John, I came across the church, and the door of the church was open. So I thought I'd walk in, So I walked in, but no one was in there. And there was a nun at the front of the church, and she was playing this old wooden Oregon, and she was singing.
Now, I want to make this point. No one was in the church until I walked in there. But she was singing like there were 1000 people there. Wow. And I sat on. Yeah, and I sat on that pew. And tears came to my eyes. Because this is not about religion. It's about devotion. And this woman, with no audience, was devoted to her mission. And so you ask, what are the top 5%? They are devoted. They are devoted to practicing. They are devoted to their vision of being world champions.
Great people in business are devoted to their craft. Great Human beings are devoted to their faith. They're devoted to their family. They're devoted to their habits. They're devoted to getting up when they fall.
Thanks, Robin Sharma!
If you enjoyed this interview with Robin Sharma, let him know by clicking on the link below and sending him a quick shout on Instagram:
Click here to give Robin Sharma a shout-out on Instagram!
Click here to let John R. Miles know about your number one takeaway from this episode!
And if you want us to answer your questions or you have a topic you would like John to discuss on one of our upcoming weekly Momentum Friday episodes, drop us a line at [email protected].
Resources From The Show With Robin Sharma
Please note that some of the links on this page (books, movies, music, etc.) lead to affiliate programs for which The Passion Struck podcast receives compensation. It's just one of the ways we keep the lights on around here. Thank you so much for being so supportive!
About Today's Guest, Robin Sharma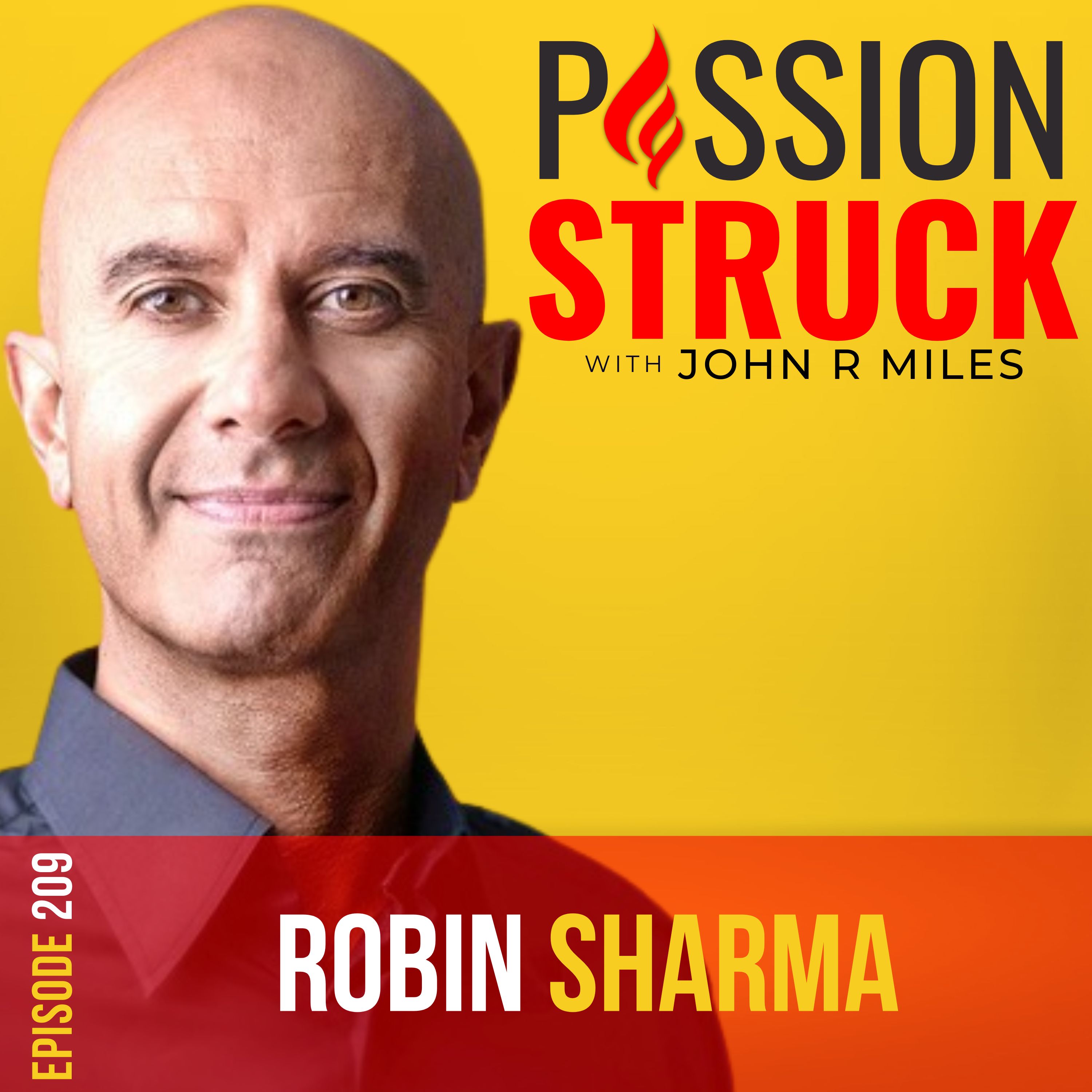 Robin Sharma is a globally respected humanitarian who, for over a quarter of a century, has been devoted to helping human beings realize their native gifts. One of the top leadership and personal mastery experts in the world, who has taught business titans, professional sports superstars, and entertainment royalty a revolutionary system that helped these luminaries turn their ambitions into reality. His #1 international bestsellers, such as The 5 am Club, The Monk Who Sold His Ferrari, The Greatness Guide, and Who Will Cry When You Die? have sold millions of copies in over ninety-two languages and dialects, making him one of the most widely read authors alive.
Follow John R. Miles On The Socials
* Twitter: https://twitter.com/Milesjohnr
* Facebook: https://www.facebook.com/johnrmiles.c0m
* Medium: https://medium.com/@JohnRMiles​
* Instagram: https://www.instagram.com/john_r_miles
* LinkedIn: https://www.linkedin.com/in/milesjohn/
* Blog: https://johnrmiles.com/blog/
* Instagram: https://www.instagram.com/passion_struck_podcast/
* Gear: https://www.zazzle.com/store/passion_struck/
John R. Miles is a serial entrepreneur and the CEO and founder of Passion Struck. This full-service media company helps people live intentionally by creating best-in-class educational and entertainment content. John is also a prolific public speaker, venture capitalist, and author named to the ComputerWorld Top 100 IT Leaders.
John is the host of the PassionStruckPodcast. The show focused on exploring the mindset and philosophy of the world's most inspiring people to learn their lessons to living intentionally. Passion Struck aspires to speak to the humanity of people in a way that makes them want to live better, be better and impact.
Stay tuned for JJohn'slatest project, his upcoming book, which will be published in summer 2022.
Learn more about me: https://johnrmiles.com