Get Five Simple Steps to Find Your Purpose in Life
Unlock Your Passion Today
MASTER THE INNER GAME OF LIFE BY LIVING INTENTIONALLY
Learn The Proven Tactics + Pioneering Philosophy To Ignite Your Passion, Amplify Your Performance,  Multiply Your Productivity, Create A World-Class Career And Limitless Life.
Live Life, Passion Struck.
Passion Struck helps people live intentionally by creating best-in-class educational and entertainment content.  We want to impact real change by showing people how to live life Passion Struck! The vision breaks down as follows.
Passion Struck helps people live intentionally by creating best-in-class educational and entertainment content.  We want to impact real change by showing people how to live life Passion Struck! The vision breaks down as follows.
The Deliberate Action Process is a propriety framework for x25 your productivity. This cycle of progress is composed of six specific areas: Analyze  – Prioritize – Ignite – Execute – Measure – Renew. 
Analyze
One of the most overlooked opportunities for growth seekers is to analyze their current situation in order to understand how they should best move forward and create their future vision.
Prioritize
We help future leaders break free from their daily ceiling of complexity so they can step into the visionary they are meant.
Ignite
We inspire a mindset shift that will get you to step into your sharp edges, face your fears, and commence your passion journey
Execute
Commitment is one of the key ingredients for goal-success. We focus on helping you ensure you are committed to your goals, measure them, and succeed in achieving deeper-level results.
Measure
Measurement is critical because it accelerates the passion journey. It gets you into momentum and shows you that you can verify your perspective that you are actually creating results.
Renew
When you're done doing all of this, there's data, there's progress, and then there's results. And so, you take this data, this progress, this result, and you go back and you start the analysis again.
Deliberate Action Process
Led by John R. Miles, we are an incredibly passionate group of people who believe in their ability to affect real systemic change and hold ourselves accountable for doing so. We aim to create a significant and positive influence on people at a large scale, facilitating lasting and intentional behavioral changes by unlocking the potential within. We imagine a world in which the vast majority of people feel purposeful in who they are, live in harmony with their true selves, and in service of others.
It is critically important that the Passion Struck community be galvanized around a Core Belief System to which we will strive to permeate everything we do.
Do you desire a solid, soul-driven intention to live fully, love more, and matter? Would you like to wake each day intent to serve and create an impact? 
Passion Struck was created to turn that dream into reality by being the catalyst that helps you create an Intentional life. A life where you live better, be better, and impact the world. Choose to create the life your heart calls you towards.
Becoming Passion Struck is for those of us who desire to live intentionally and to our full capabilities — for game-changers, innovators, record makers, empire builders, career reinventors, creators, and visionaries of all kinds. Those among us who can't turn our passion off, avoid fixed mindsets and pursue our dreams. We challenge contentment, obliterate apathy, and are obsessed with becoming the best version of ourselves.
We Have Proudly Worked With
New Upcoming Book Passion Struck!!
Life can be disheartening if you're just cruising along without purpose or motivation. You wake up, go to work, and go through the motions without any real direction. It's a pinball existence, bouncing from one thing to another without intention.
But what if you had the power to change that?
It takes bravery to make a change. Fear and uncertainty can hold us back, but imagine having the courage to take action anyway. What kind of life could you create for yourself?
In Passion Struck, personal mastery expert John R. Miles combines behavior science research, peak performance strategies, and real-life stories from titans in their fields to help you confront your limiting beliefs and build a limitless life. Through the passion-struck framework, Miles guides you on an interactive roadmap to achieve your dreams and break free from your current reality.
Passion Struck reminds us that taking action is the greatest antidote to the challenges in our lives. Whether you're seeking extraordinary success or simply looking to take that first step towards a more fulfilling life, this book is a must-read for anyone ready to make a change.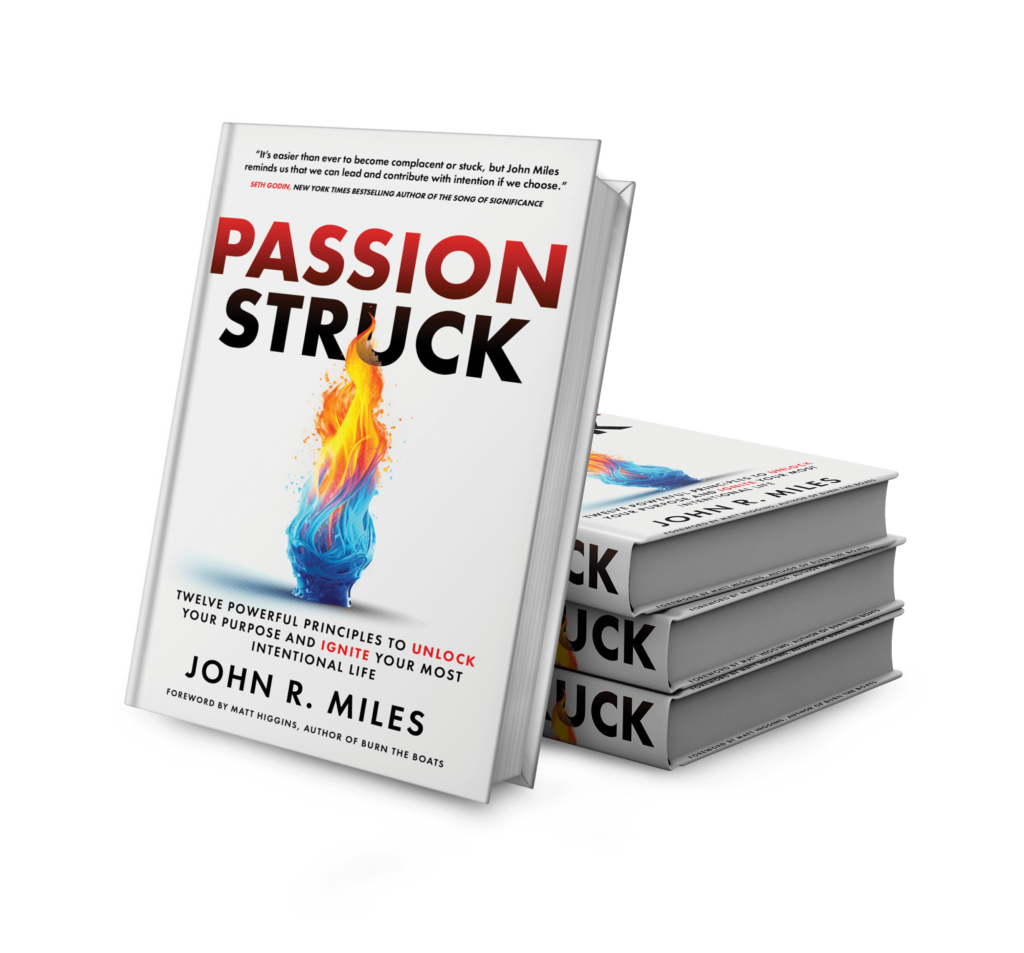 Most books are meant to be read, but this one is meant to be lived!
Learn how to live intentionally
Subscribe to Our Newsletter 
Our Latest Content Helping You Live Intentionally by becoming Passion Struck