Join us for a fascinating and thought-provoking conversation as Stephanie McNeal, a renowned expert on influencer culture, sits down with John R. Miles. They delve deep into the unfiltered lives of influencers, pulling back the curtain on the glamorous facade and revealing the realities that lie beneath. McNeal is the author of Swipe Up for More!: Inside the Unfiltered Lives of Influencers.
Like this show? Please leave us a review here – even one sentence helps! Post a screenshot of you listening on Instagram & tag us to thank you personally!
Hear the secrets and philosophy of the World's GREATEST high achievers every Tuesday and Thursday, and tune in each week for an inspirational Momentum Friday solo message.
Listen to the episode on Apple Podcasts, Spotify, Podcast Addict, Pocket Casts, Stitcher, Castbox, Google Podcasts, Listen Notes, Amazon Music, or on your favorite podcast platform. You can watch the interview on YouTube below.
Enjoy!
Inside the Unfiltered Lives of Influencers: A Conversation with Stephanie McNeal
In this episode of Passion Struck, Stephanie McNeal, author of Swipe for More, sheds light on the lucrative world of influencers and the impact they have on society. From the rise of mommy bloggers to the ethical challenges of featuring children in influencer content, McNeal reveals the complexity of this industry and leaves us wondering – will influencers continue to shape our lives and choices?
Stephanie McNeal has always had a fascination with the world of influencers, especially as she noticed how significantly they've influenced her own life decisions. Aiming to explore this phenomenon, she dove into the depths of the industry, examining the intricacies and complexities that lie beneath. Much to her surprise, she discovered the immense profitability of the influencer market and its high return on investment for brands and corporations.
As Stephanie continued her exploration, she recognized the different categories within the influencer world, such as video creators and influencers who focus on building a consistent relationship with their audiences. By shedding light on this intricate industry, Stephanie aims to celebrate the incredible achievements of women and their impact on the world of influencers.
By listening to Stephanie and John, you will be able to:
Unveil the powerful influence wielded by influencers in shaping our modern world.
Delve into the rich rewards that influencers can reap through their online presence.
Address the complications and ethical concerns of incorporating children in influencer content.
Grasp the extensive spectrum of the multifaceted influencer landscape.
Recognize the significance of providing resources and help for influencers on their social media journey.
And much, much more!
Have any questions, comments, or stories you'd like to share? Drop us a line at

[email protected]

!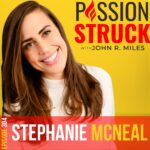 Please Scroll Down For Featured Resources
Thank You, Indeed, For Sponsoring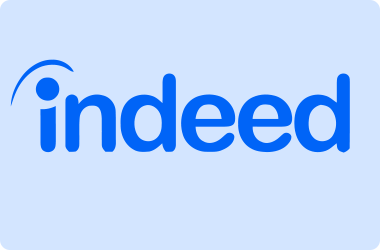 With Indeed, you can search for millions of jobs online to find the next step in your career. With tools for job search, resumes, company reviews, and more.
Head to https://www.indeed.com/passionstruck, where you can receive a $75 credit to attract, interview, and hire in one place.
Thank You, Hello Fresh, For Sponsoring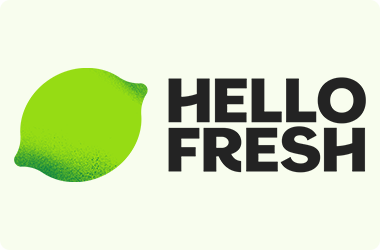 Hello Fresh provides delicious and wholesome meals with easy-to-follow recipes and fresh, high-quality ingredients. Use code passion16 to get 16 free meals plus free shipping!"
Thank You, Nom Nom, For Sponsoring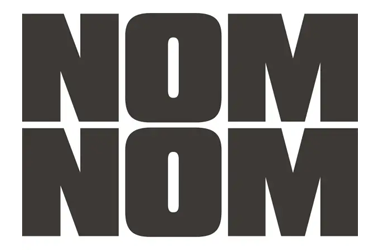 Nom Nom is healthy, fresh food for dogs formulated by top Board Certified Veterinary Nutritionists, prepped in their kitchens with free delivery to your door.
Get 50% off and unlock a two-week risk-free trial at https://trynow.com/passionstruck.
*Our Patreon Page: https://www.patreon.com/passionstruck.
Starter Packs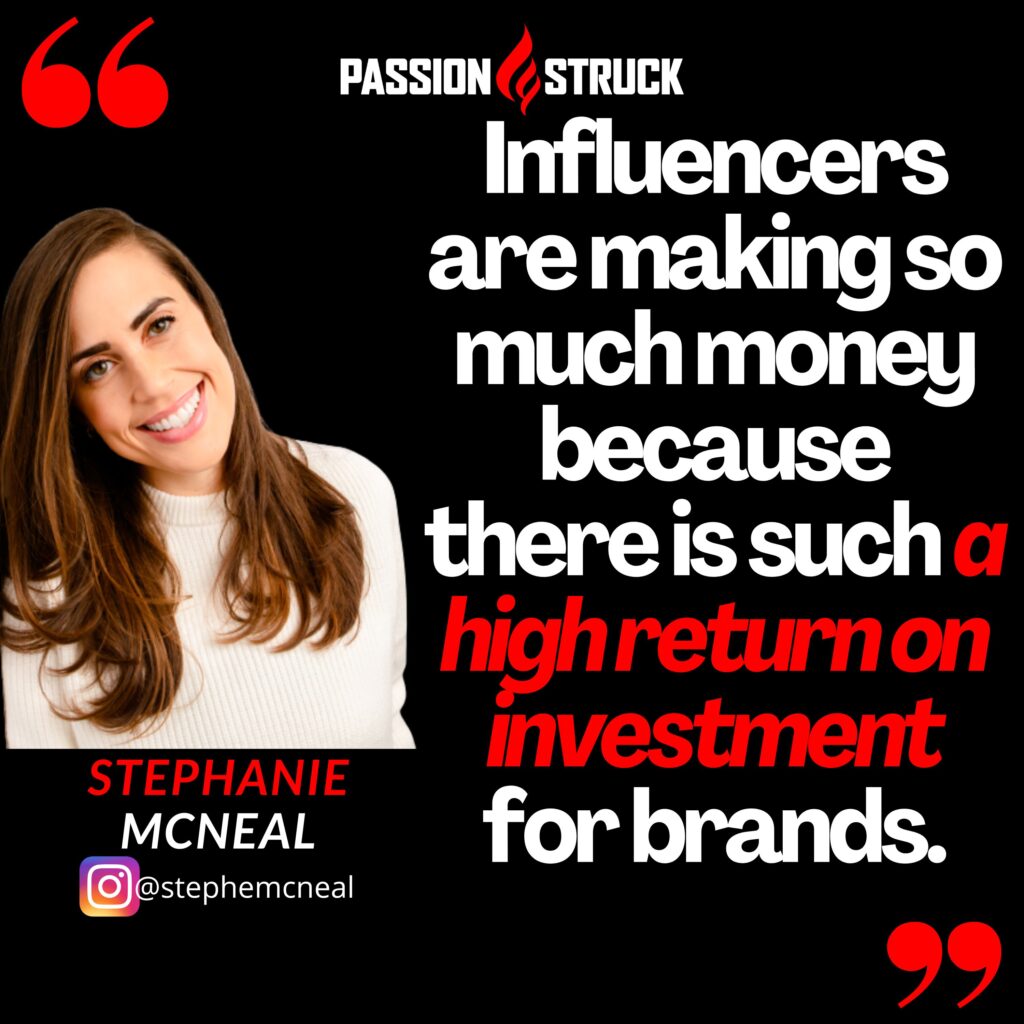 New to the show? These Starter Packs are collections of our most popular episodes grouped by topic, and we now have them also on Spotify. You can also browse starter packs for existing listeners to find your old favorites. Every week, John interviews everyday heroes from all walks of life. Learn how to subscribe to the show and never miss a new episode and topic.
Like this? Please subscribe, and join me on my new YouTube platform for peak performance, life coaching, and personal growth: https://www.youtube.com/c/JohnRMiles.
More From My Conversation With Stephanie McNeal About Her Book Swipe Up For More
While influencers have democratized many industries by giving a platform to those who may not have had access before, McNeal argues that they are not being adequately supported by social media companies that facilitate their businesses. As a result, McNeal advocates for platforms to provide more assistance for influencers. The podcast discussion highlights the need to pay attention to the influencer industry's impact on society. Women, especially those interested in the influencer industry, can listen to this episode to gain valuable insights from McNeal about the industry's growth and its role in shaping our lives.
The Power of Women in the Influencer Industry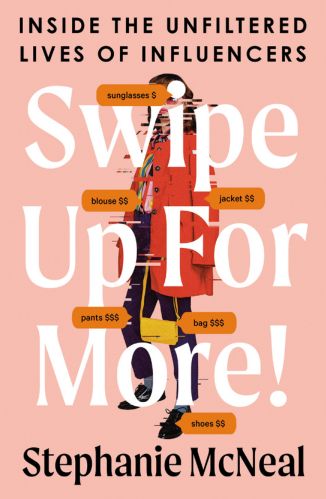 Women have emerged as the driving force behind the influencer industry, dominating various niches and using their platforms to promote important issues, empower others, and create positive changes in the world. The influence that women have in this industry, especially among their followers, is astounding and can lead to democratization and accessibility within various domains. This section of the conversation sheds light on the impact that women have had on the influencer industry and how they are responsible for shaping this lucrative business.
During the interview with John R. Miles, Stephanie McNeal emphasized that the influencer industry is primarily driven by women. She noted that significant influencers with half a million followers could make at least $10,000 per ad, making the industry extremely lucrative. McNeal also shared that the industry has opened doors for many women who may not have had access to such opportunities before, thus democratizing various sectors. This insight into the importance of women in driving the influencer industry showcases the power and influence that they have built through their online presence.
The Lucrative Influencer Industry
The influencer industry has become increasingly lucrative for both influencers and the corporations that work with them. Influencers can make a significant amount of money through advertisements, partnerships, and collaborations, which often provide excellent returns on investment for brands looking for more effective marketing strategies compared to traditional ad campaigns or celebrity endorsements. This section of the conversation showcases how the influencer industry has transformed the world of advertising and marketing and how it has made it possible for influencers to build successful businesses through their online presence.
Stephanie McNeal shared her research findings on the amount of money that influencers can make through brand partnerships and advertisements. She explained that corporations like Target or Walmart benefit greatly from working with influencers due to the high return on investment and the relatively low cost of campaigns. For example, instead of spending millions on traditional ad campaigns, these corporations can pay influencers to feature their products on their accounts. McNeal's insights highlight just how much influencers can potentially earn, as well as the benefits that corporations receive from these collaborations.
Say Thanks To Stephanie McNeal
If you enjoyed this interview with Stephanie McNeal, let her know by clicking on the link below and sending her a quick shout on Instagram:
Click here to show Stephanie McNeal your thoughts about today's episode on Instagram
Click here to let John R. Miles know about your number one takeaway from this episode!
And if you want us to answer your questions or you have a topic you would like John to discuss on one of our upcoming weekly Momentum Friday episodes, drop us a line at [email protected].
Resources From The Show With Stephanie McNeal
Please note that some of the links on this page (books, movies, music, etc.) lead to affiliate programs for which The Passion Struck podcast receives compensation. It's just one of the ways we keep the lights on around here. Thank you so much for being so supportive!
Instagram: https://www.instagram.com/stephemcneal/
Check out Stephanie McNeal's book, Swipe Up for More: Inside the Unfiltered Lives of Influencers for an unprecedented glimpse into the lives of prominent influencers.
Listen to the special episode featuring Seth Godin and his new book, A Song of Significance.
Listen to the interview with Scott Simon about his book, Scare Your Soul.
Listen to Passion Struck's interviews with New York Times bestselling authors Gretchen Rubin and Seth Godin.
Check out Passion Struck's Episode Starter Packs on Spotify or Passion Struck starter packs to get started with the podcast.
My solo episode on how you unleash your creativity: https://passionstruck.com/unleash-your-creativity/
Want to catch my best interviews from 2022? Check out episode 233 on intentional greatness and episode 234 on intentional behavior change.
Watch my interview with Dr. Mark Hyman on how to defy aging: https://passionstruck.com/dr-mark-hyman-secrets-to-living-young-forever/
Catch my interview with Dr. Amy Shah on how you can control your food cravings: https://passionstruck.com/dr-amy-shah-you-can-control-your-food-cravings/
My solo episode on why micro choices matter: https://passionstruck.com/why-your-micro-choices-determine-your-life/
About Today's Guest, Stephanie McNeal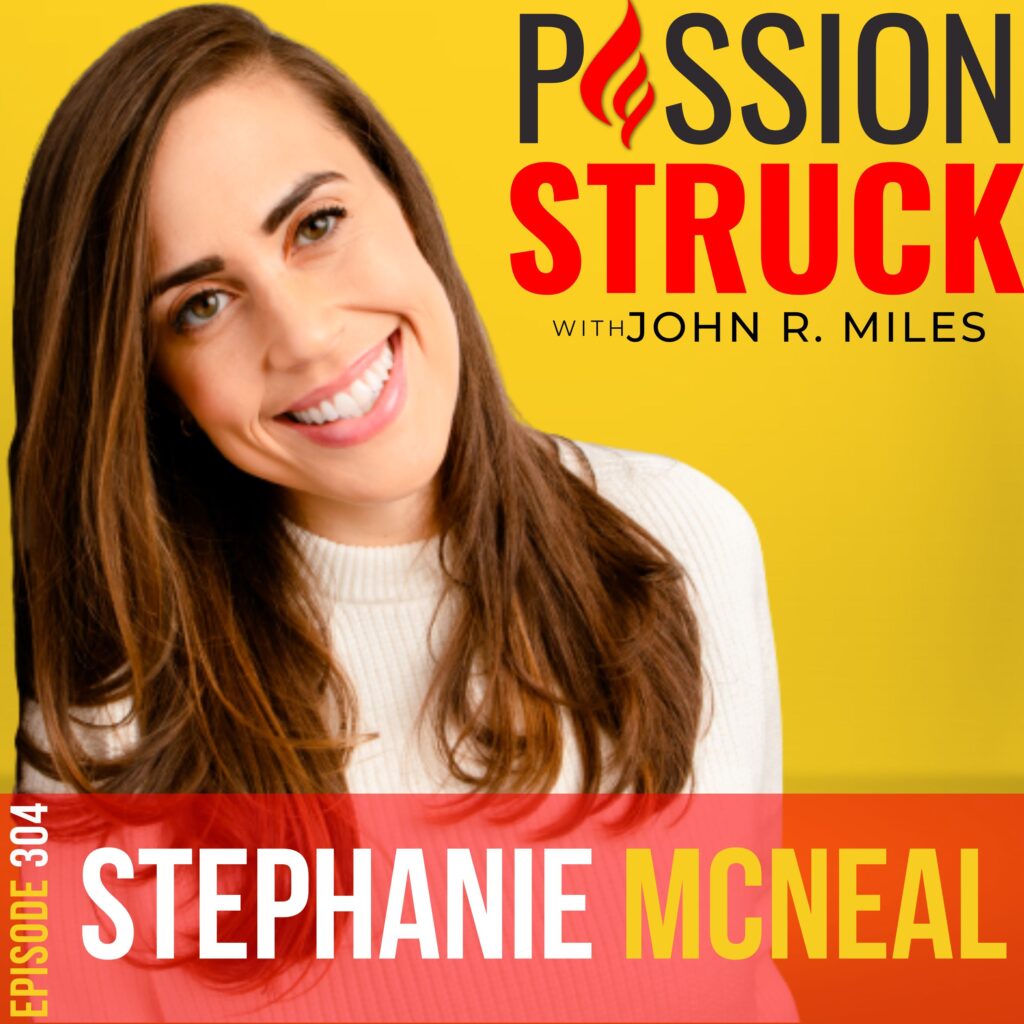 As a seasoned journalist with a passion for uncovering the behind-the-scenes world of influencers, Stephanie McNeal has made a significant mark on the digital media landscape. With a strong background in broadcast and digital journalism from the prestigious University of Southern California's Annenberg School of Communication and Journalism, Stephanie has honed her expertise in both traditional media and the online realm. Having spent time working at BuzzFeed News and now as Senior Editor of Glamour magazine, her dedication to delving deep into the world of influencers and their impact on our daily lives has been invaluable in helping us make sense of this rapidly growing industry.
Follow John R. Miles On The Socials
* Twitter: https://twitter.com/Milesjohnr
* Facebook: https://www.facebook.com/johnrmiles.c0m
* Medium: https://medium.com/@JohnRMiles​
* Instagram: https://www.instagram.com/john_r_miles
* LinkedIn: https://www.linkedin.com/in/milesjohn/
* Blog: https://johnrmiles.com/blog/
* Instagram: https://www.instagram.com/passion_struck_podcast/
* Gear: https://www.zazzle.com/store/passion_struck/
John R. Miles is globally recognized as an expert in intentional behavior change, leadership, personal mastery, and veteran advocacy. He founded and serves as CEO of PASSION STRUCK®. This media company boasts a significant social media following and tens of millions of annual views on its podcasts and YouTube channels. His podcast, Passion Struck with John R. Miles, sets records and has held the top spot among alternative health podcasts. Furthermore, John is the author of the upcoming book "Passion Struck," which is set to be published in early 2024.
Passion Struck aspires to speak to the humanity of people in a way that makes them want to better, live better, and impact the world.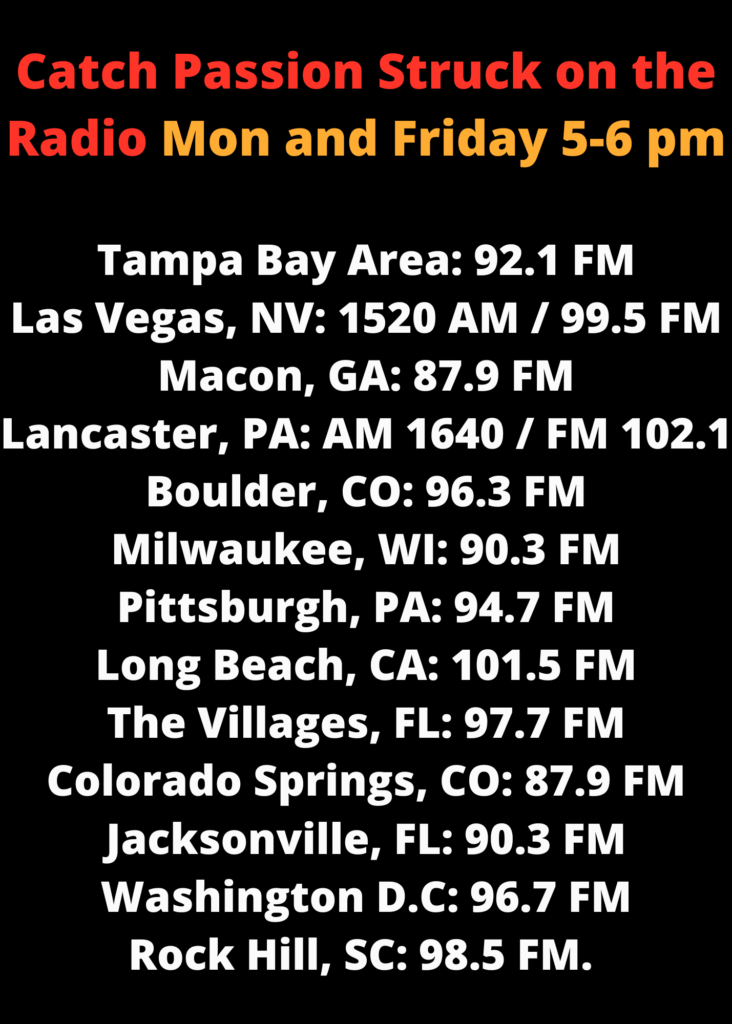 P.S.
Passion Struck is now on the AMFM247 broadcasting network every Monday and Friday from 5-6 PM.
Step 1: Go to TuneIn, Apple Music (or any other app, mobile or computer)
Step 2: Search for "AMFM247" Network
Passion Struck's mission is to unlock the power of intentionality for the benefit of us all. To create a world where we live better, be better, and impact the world through our unique and powerful content.
.