From panic attacks on a transatlantic flight to embracing the power of courage, Scott Simon's journey took an unexpected twist that transformed his life. Discover the mantra that pushed him to face his fears and find fulfillment as we explore the inspiring story of a once-fearful child who became a courageous warrior. Scott Simon is the author of Scare Your Soul: 7 Powerful Principles to Harness Fear and Lead Your Most Courageous Life.
Like this show? Please leave us a review here – even one sentence helps! Post a screenshot of you listening on Instagram & tag us to thank you personally!
Hear the secrets and philosophy of the World's GREATEST high achievers every Tuesday and Thursday, and tune in each week for an inspirational Momentum Friday solo message.
Listen to the episode on Apple Podcasts, Spotify, Podcast Addict, Pocket Casts, Stitcher, Castbox, Google Podcasts, Listen Notes, Amazon Music, or on your favorite podcast platform. You can watch the interview on YouTube below.
Enjoy!
Scott Simon's Guide to Harnessing Courage for a Limitless Life
Scott Simon, a once timid and fearful child, found himself facing an unexpected opportunity to travel to Israel for a year as a volunteer. Overwhelmed by the thought of embarking on such a bold journey, Scott experienced a panic attack on the transatlantic flight. In that defining moment, he pulled out a notebook and penned the words, "Do one thing every day that scares you." This mantra would become the catalyst for Scott's transformation as he intentionally began to face his fears through small, daily challenges. From striking up conversations with strangers to navigating new environments, each courageous act would lead him to a more fulfilled and flourishing life.
In this episode of Passion Struck, John R. Miles speaks with Scott Simon about harnessing courage through intentional actions. Simon believes courage can be developed by doing things that scare you and emphasizes the importance of taking small steps daily to create micro-moments of courage. The conversation highlights the power of observing others performing courageous acts and how that can inspire individuals to do the same. It also discusses the importance of cultivating a sense of awe and curiosity, stepping away from technology and instant gratification to appreciate life more.
Today, Scott celebrates the power of courage in transforming lives, and his inspiring story continues to uplift and encourage others to embrace their own brave journey.
By listening to Scott and John, you will be able to:
Cultivate bravery with measured steps and deliberate choices.
Boost self-development by nurturing wonder and a questioning mindset.
Enhance mental fortitude and emotional stability to excel in all areas.
Eliminate apprehensions and overcome obstructive thought patterns.
Embrace a life characterized by courage and boundless passion.
And much, much more!
Have any questions, comments, or stories you'd like to share? Drop us a line at

[email protected]

!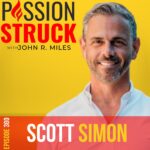 Please Scroll Down For Featured Resources
Thank You, Indeed, For Sponsoring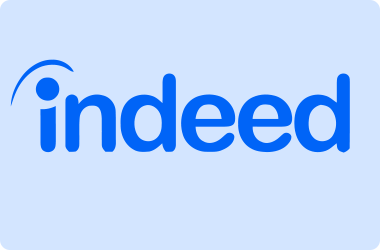 With Indeed, you can search for millions of jobs online to find the next step in your career. With tools for job search, resumes, company reviews, and more.
Head to https://www.indeed.com/passionstruck, where you can receive a $75 credit to attract, interview, and hire in one place.
Thank You, Hello Fresh, For Sponsoring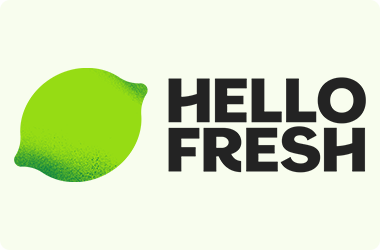 Hello Fresh provides delicious and wholesome meals with easy-to-follow recipes and fresh, high-quality ingredients. Use code passion16 to get 16 free meals plus free shipping!"
Thank You, Nom Nom, For Sponsoring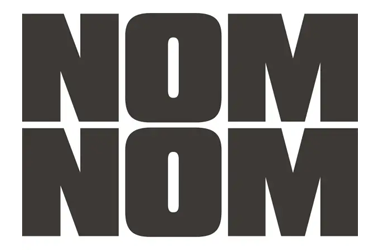 Nom Nom is healthy, fresh food for dogs formulated by top Board Certified Veterinary Nutritionists, prepped in their kitchens with free delivery to your door.
Get 50% off and unlock a two-week risk-free trial at https://trynow.com/passionstruck.
*Our Patreon Page: https://www.patreon.com/passionstruck.
Starter Packs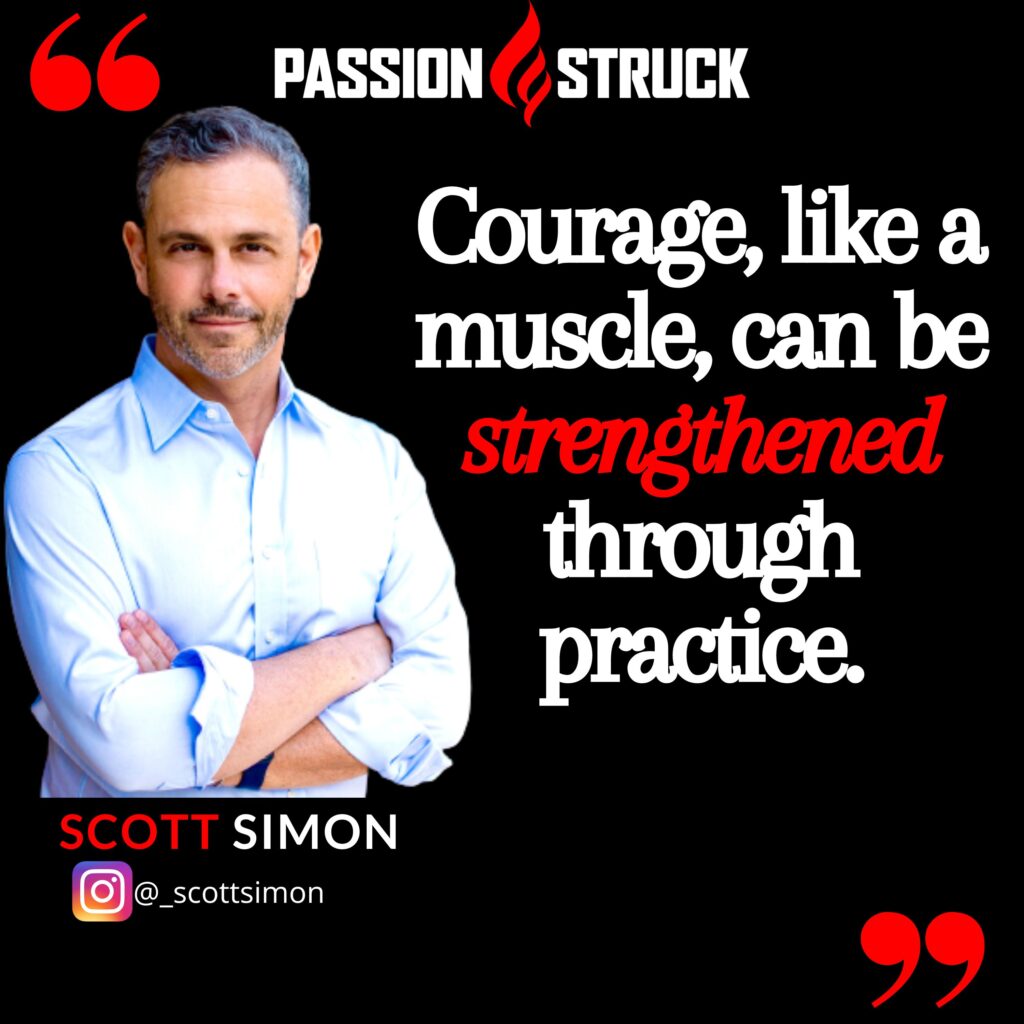 New to the show? These Starter Packs are collections of our most popular episodes grouped by topic, and we now have them also on Spotify. You can also browse starter packs for existing listeners to find your old favorites. Every week, John interviews everyday heroes from all walks of life. Learn how to subscribe to the show and never miss a new episode and topic.
Like this? Please subscribe, and join me on my new YouTube platform for peak performance, life coaching, and personal growth: https://www.youtube.com/c/JohnRMiles.
More From My Conversation With Scott Simon About Scare Your Soul
Are you tired of being told to just be brave without any real guidance? Feeling stuck and frustrated with ineffective advice on how to cultivate courage? It's time to ditch the empty platitudes and take actionable steps toward building a fearless, fulfilling life. Join us in this episode as we explore practical strategies for incrementally building courage, embracing wonder and inquisitiveness, and shattering self-imposed limitations. Say goodbye to apprehension and hello to an impassioned, daring existence.
The Seven Principles for Leading a Scare Your Soul Life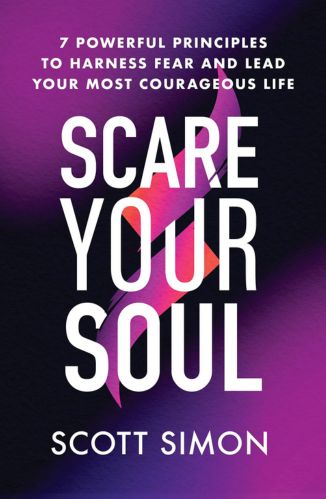 Scott Simon provides a framework for leading a more courageous life in his book, featuring seven guiding principles: gratitude, energy, adventure, curiosity, awe, forgiveness, and work/creation. Each concept offers unique ways to develop courage and strength.
During the discussion with John R. Miles, Simon dives into these principles and how they contribute to a more courageous life. He emphasizes the importance of being grateful, adventurous, curious, and connected to our values, acknowledging our accomplishments, and empathizing with those around us. By embracing these principles, individuals can develop courage and resilience and, ultimately, lead a fulfilling life.
Pushing Past Fear to Live Your Best Life
Moving past fear to create a vibrant life filled with meaningful experiences requires a continuous effort to identify and face anxieties. John R. Miles and Scott Simon offer valuable insights into how embracing courage can lead to a more fulfilling life.
Scott Simon shares his perspective on the importance of confronting our personal fears and taking action despite them. He encourages listeners to tackle fear and discomfort one step at a time, recognizing that this small-scale approach can result in profound personal transformation. By maintaining this mindset, individuals can achieve a more passionate, courageous life that maximizes personal growth and happiness.
Say Thanks To Scott Simon
If you enjoyed this interview with Scott Simon, let him know by clicking on the link below and sending him a quick shout on Instagram:
Click here to show Scott Simon your thoughts about today's episode on Instagram!
Click here to let John R. Miles know about your number one takeaway from this episode!
And if you want us to answer your questions or you have a topic you would like John to discuss on one of our upcoming weekly Momentum Friday episodes, drop us a line at [email protected].
Resources From The Show With Scott Simon
Please note that some of the links on this page (books, movies, music, etc.) lead to affiliate programs for which The Passion Struck podcast receives compensation. It's just one of the ways we keep the lights on around here. Thank you so much for being so supportive!
Visit Scott Simon's website to learn more about his work and upcoming events.
Twitter: https://twitter.com/scareyoursoul
Instagram: https://www.instagram.com/_scottsimon/
Check out Scott Simon's book, Scare Your Soul: Seven Powerful Principles to Harness Fear and Lead Your Most Courageous Life.
Listen to Scott Simon's TED Talk for more inspiration on overcoming fear and living courageously.
Participate in the Courage Challenges offered by Scare Your Soul to push yourself out of your comfort zone and build courage.
Consider working with Scott Simon as a coach to create a fulfilling life after a divorce.
Listen to Passion Struck's interviews with New York Times bestselling authors Gretchen Rubin and Seth Godin.
Check out Passion Struck's Episode Starter Packs on Spotify or Passion Struck starter packs to get started with the podcast.
My solo episode on how you unleash your creativity: https://passionstruck.com/unleash-your-creativity/
Want to catch my best interviews from 2022? Check out episode 233 on intentional greatness and episode 234 on intentional behavior change.
Watch my interview with Dr. Mark Hyman on how to defy aging: https://passionstruck.com/dr-mark-hyman-secrets-to-living-young-forever/
Catch my interview with Dr. Amy Shah on how you can control your food cravings: https://passionstruck.com/dr-amy-shah-you-can-control-your-food-cravings/
My solo episode on why micro choices matter: https://passionstruck.com/why-your-micro-choices-determine-your-life/
About Today's Guest, Scott Simon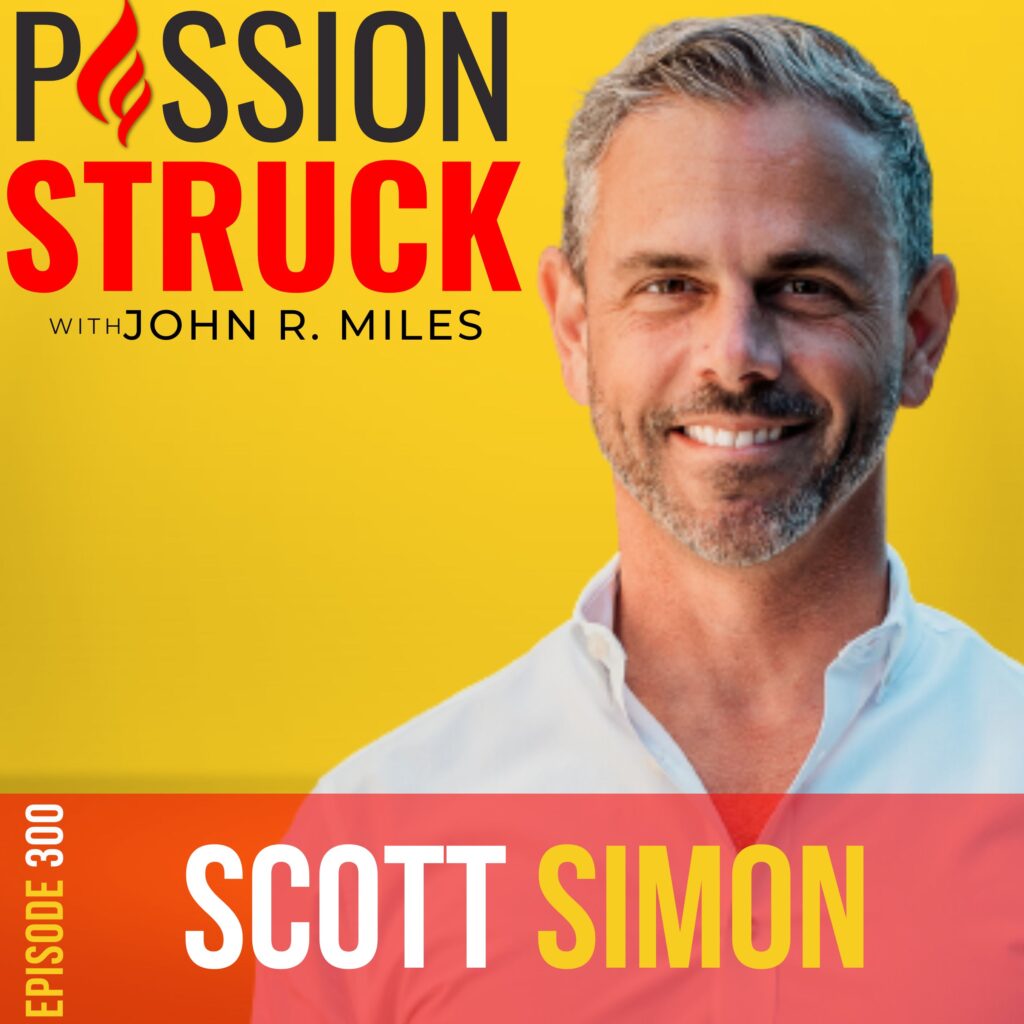 Scott Simon, the visionary behind the Scare Your Soul movement, is an acclaimed author, speaker, and coach specializing in helping individuals harness their inner courage to lead more fulfilling lives. Drawing from his own experiences of overcoming fear and bullying, Scott has inspired countless people worldwide through his TED Talk, guiding them to expand their comfort zones and build confidence through small, intentional actions. In his latest book, Scare Your Soul, Scott shares seven powerful principles for harnessing fear and leading a courageous life. With a passion for positively impacting others, Scott also coaches individuals on creating fulfilling lives after divorce.
Follow John R. Miles On The Socials
* Twitter: https://twitter.com/Milesjohnr
* Facebook: https://www.facebook.com/johnrmiles.c0m
* Medium: https://medium.com/@JohnRMiles​
* Instagram: https://www.instagram.com/john_r_miles
* LinkedIn: https://www.linkedin.com/in/milesjohn/
* Blog: https://johnrmiles.com/blog/
* Instagram: https://www.instagram.com/passion_struck_podcast/
* Gear: https://www.zazzle.com/store/passion_struck/
John R. Miles is globally recognized as an expert in intentional behavior change, leadership, personal mastery, and veteran advocacy. He founded and serves as CEO of PASSION STRUCK®. This media company boasts a significant social media following and tens of millions of annual views on its podcasts and YouTube channels. His podcast, Passion Struck with John R. Miles, sets records and has held the top spot among alternative health podcasts. Furthermore, John is the author of the upcoming book "Passion Struck," which is set to be published in early 2024.
Passion Struck aspires to speak to the humanity of people in a way that makes them want to better, live better, and impact the world.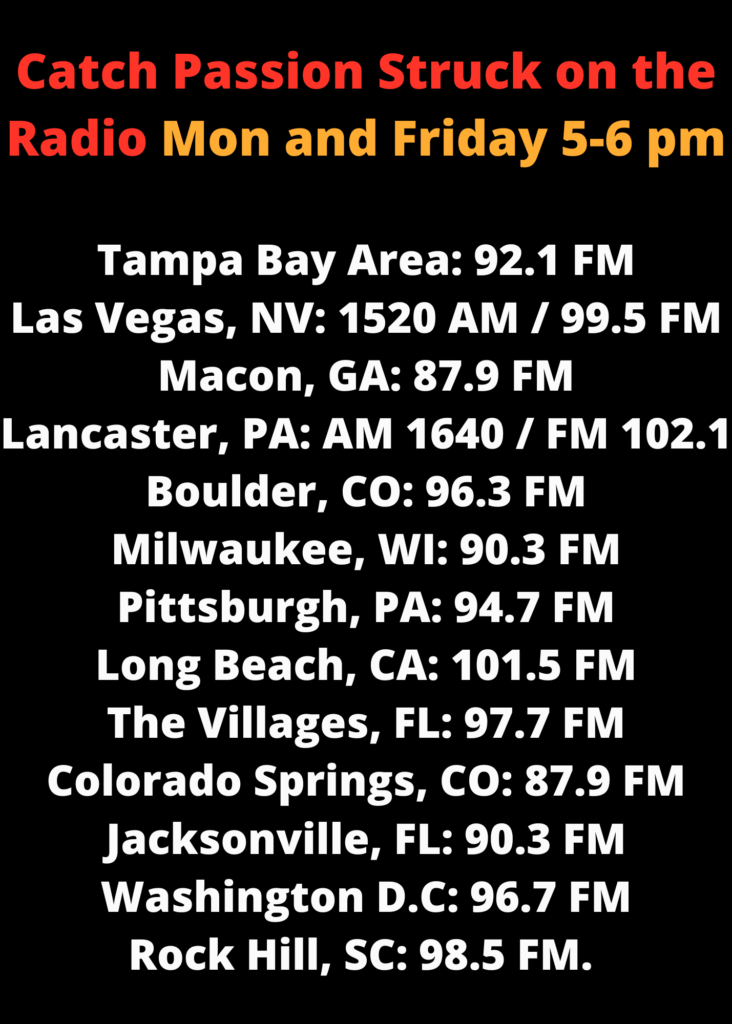 P.S.
Passion Struck is now on the AMFM247 broadcasting network every Monday and Friday from 5-6 PM.
Step 1: Go to TuneIn, Apple Music (or any other app, mobile or computer)
Step 2: Search for "AMFM247" Network
Passion Struck's mission is to unlock the power of intentionality for the benefit of us all. To create a world where we live better, be better, and impact the world through our unique and powerful content.
.