On Passion Struck today, I have the pleasure of interviewing Dr. Mark Hyman, a prominent figure in the world of Functional Medicine with a global reputation as a leader, speaker, educator, and advocate. Dr. Hyman is the founder and director of The UltraWellness Center, as well as the Founder and Senior Advisor for the Cleveland Clinic Center for Functional Medicine. With fourteen New York Times best-selling books under his belt, he joins us to discuss his latest publication, Young Forever.
Published on February 21, 2023, Dr. Mark Hyman's latest book, "Young Forever: The Secrets to Living Your Longest, Healthiest Life," delves into the science of longevity and features the latest breakthroughs in science and medicine. According to Dr. Hyman, when properly applied, these developments can reverse your biological age even as you continue to grow chronologically older. In the book, Dr. Hyman outlines the Young Forever program, which includes crucial information on optimizing our core biological systems and providing advice on how to eat, exercise, and live in a way that promotes longevity.
Hear the secrets and philosophy of the World's GREATEST high achievers every Monday and Thursday, and tune in each week for an inspirational Momentum Friday solo message.
Like this show? Please leave us a review here – even one sentence helps! Post a screenshot of you listening on Instagram & tag us to thank you personally!
Listen to the episode on Apple Podcasts, Spotify, Podcast Addict, Pocket Casts, Stitcher, Castbox, Google Podcasts, Listen Notes, Amazon Music, or on your favorite podcast platform. You can watch the interview on YouTube below.
Enjoy!
In This Episode, Dr. Mark Hyman And I Discuss His New book, Young Forever.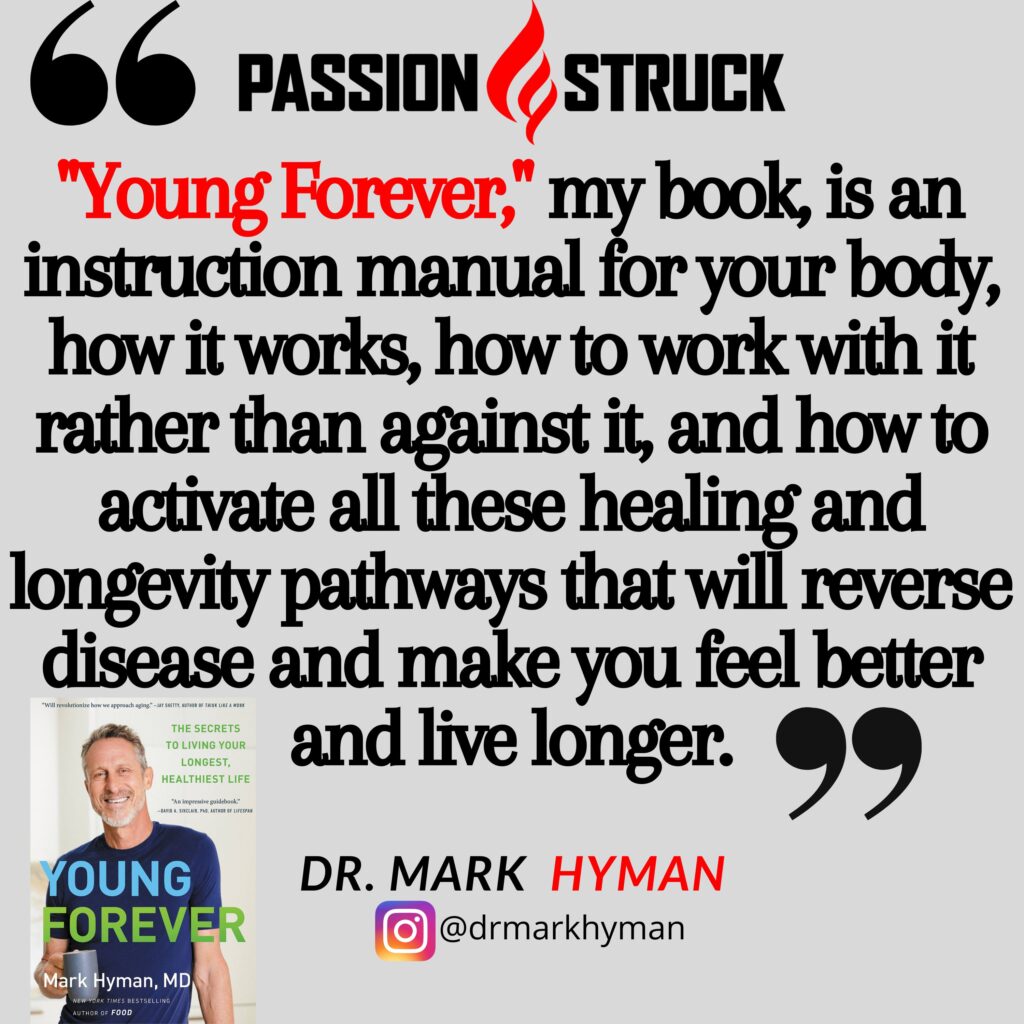 Imagine if it were possible to maintain physical fitness, mental sharpness, and overall health well into your 80s, 90s, 100s, and beyond without experiencing the degeneration and illnesses commonly associated with "normal" aging. Recent breakthroughs in longevity science suggest that this is now achievable.
According to my guest Dr. Mark Hyman, a renowned physician and #1 NY Times bestselling author, aging should not be viewed as an inevitable fate but rather as a condition that can be prevented, slowed down, and even reversed. Although it is impossible to turn back the clock, it is possible to turn back the biological clock. In other words, aging is not inevitable.
In his latest book, "Young Forever: The Secrets to Living Your Longest, Healthiest Life," Dr. Hyman presents cutting-edge research and practical advice on how to extend your health span, thereby adding more happy, disease-free years to your life. Moreover, you do not need to be extremely wealthy or have access to advanced medical facilities to reap the benefits.
In this episode of Passion Struck, you will discover the following:
Why our bodies deteriorate and how to reverse the process.
The core tenets of longevity science
How epigenetics and the epigenome impact the aging process
The crucial difference between chronological and biological age.
How to become 3 years younger in just 8 weeks.
The most effective intervention to extend your life and prevent chronic diseases.
The implications of new scientific discoveries for your lifespan.
Dr. Hyman's preferred recipe for an anti-aging shake.
A day in the life of Dr. Hyman
Dr. Hyman provides three simple and accessible ways to naturally start reversing the aging process, beginning today.
The future of treatment for PTSD and Trauma using psychedelics.
And much, much more!
Have any questions, comments, or stories you'd like to share? Drop us a line at

[email protected]

m!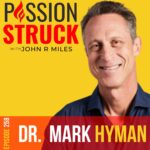 Please Scroll Down For Featured Resources
Thank You, Indeed, For Sponsoring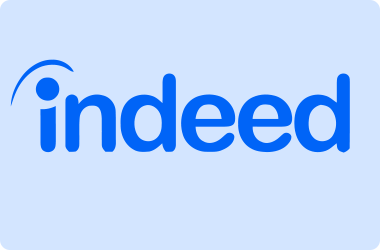 With Indeed, you can search for millions of jobs online to find the next step in your career. With tools for job search, resumes, company reviews, and more..
Head to https://www.indeed.com/passionstruck, where you can receive a $75 credit to attract, interview, and hire in one place.
*Our Patreon Page: https://www.patreon.com/passionstruck.
Starter Packs
New to the show? These Starter Packs are collections of our most popular episodes grouped by topic, and we now have them also on Spotify. To find your old favorites, you can also browse starter packs for existing listeners. Every week, John interviews everyday heroes from all walks of life. Learn how to subscribe to the show and never miss a new episode and topic.
Like this? Please subscribe, and join me on my new YouTube platform for peak performance, life coaching, and personal growth: https://www.youtube.com/c/JohnRMiles/.
More From My Interview With Dr. Mark Hyman
During our interview, I asked Dr. Hyman what a day in the life of Dr. Mark Hyman looks like when it comes to your longevity.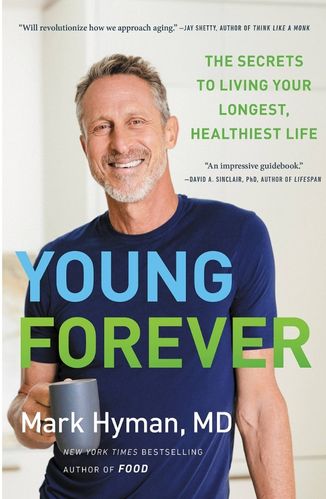 Dr. Mark Hyman explains, "I think that every day is a little bit different. But I try to include a lot of different practices that help with my overall well-being and health. So obviously, food is a big part of it. And I think that's a key foundation of my health exercise, certain supplements, certain practices that I do.
For example, on an average day, after I wake up, I'll meditate for 20 minutes to reset my nervous system. Or if I don't do it in the morning, I might do it in the afternoon. I'll do a workout for usually 30 minutes, high-intensity resistance band training, which is strength training, then I'll take a steam shower. I have a steam at home, jump in my bathtub packed with ice, which I like, but maybe not ice in it, but I'll put on ice cold, which is about 40 Something degrees, I'll soak in that. So that would be a hormesis hormetic stressor that stresses my body into healing repair.
Then I'll have my healthy aging shake, which I talked about in the book, which essentially is generally creatine, dendritic mushrooms and some pomegranate extract, and a bunch of things that, from the research, really help to optimize my health and well-being and boosts my longevity. And then that sort of sets my foundation for the day. And then when I eat a generally very plant-rich diet, lots of phytochemicals, lots of good fat. I make sure I get enough protein throughout the day.
And then I try to get a good eight hours of sleep every night, wind down at night, get off a blue light at night, and do really simple practices. And I have a whole schedule of what I do every day, the things I like to include, and sometimes other kinds of experimental stuff like exosomes, peptides, plasmapheresis, or fun stuff. But those are generally not available to most people. I'm just I can get them because I'm a doctor and do fun stuff."
Thanks, Dr. Mark Hyman
If you enjoyed this interview with Dr. Mark Hyman, let him know by clicking on the link below and sending him a quick shout on Instagram:
Click here to show Dr. Mark Hyman your thoughts about today's episode on Instagram!
Click here to let John R. Miles know about your number one takeaway from this episode!
And if you want us to answer your questions or you have a topic you would like John to discuss on one of our upcoming weekly Momentum Friday episodes, drop us a line at [email protected].
Resources From The Show With Dr. Mark Hyman
Please note that some of the links on this page (books, movies, music, etc.) lead to affiliate programs for which The Passion Struck podcast receives compensation. It's just one of the ways we keep the lights on around here. Thank you so much for being so supportive!
My solo episode on what it means to be a person of courage: https://passionstruck.com/what-does-it-mean-to-be-a-person-of-courage/
My interview with Seth Godin on why we need systems to change to save the planet and address climate change: https://passionstruck.com/seth-godin-we-need-systems-change-save-planet/.
My interview with Dr. Scott Barry Kaufman and Dr. Jordan Feingold on Choosing Growth and transcending self-doubt, fear, and anxiety: https://passionstruck.com/jordyn-feingold-scott-barry-kaufman-chose-growth/
My interview with NYU Stern School of Business Professor Scott Galloway on Why America is Adrift: https://passionstruck.com/scott-galloway-america-is-adrift/
My solo episode on why micro choices matter: https://passionstruck.com/why-your-micro-choices-determine-your-life/
About Today's Guest, Dr. Mark Hyman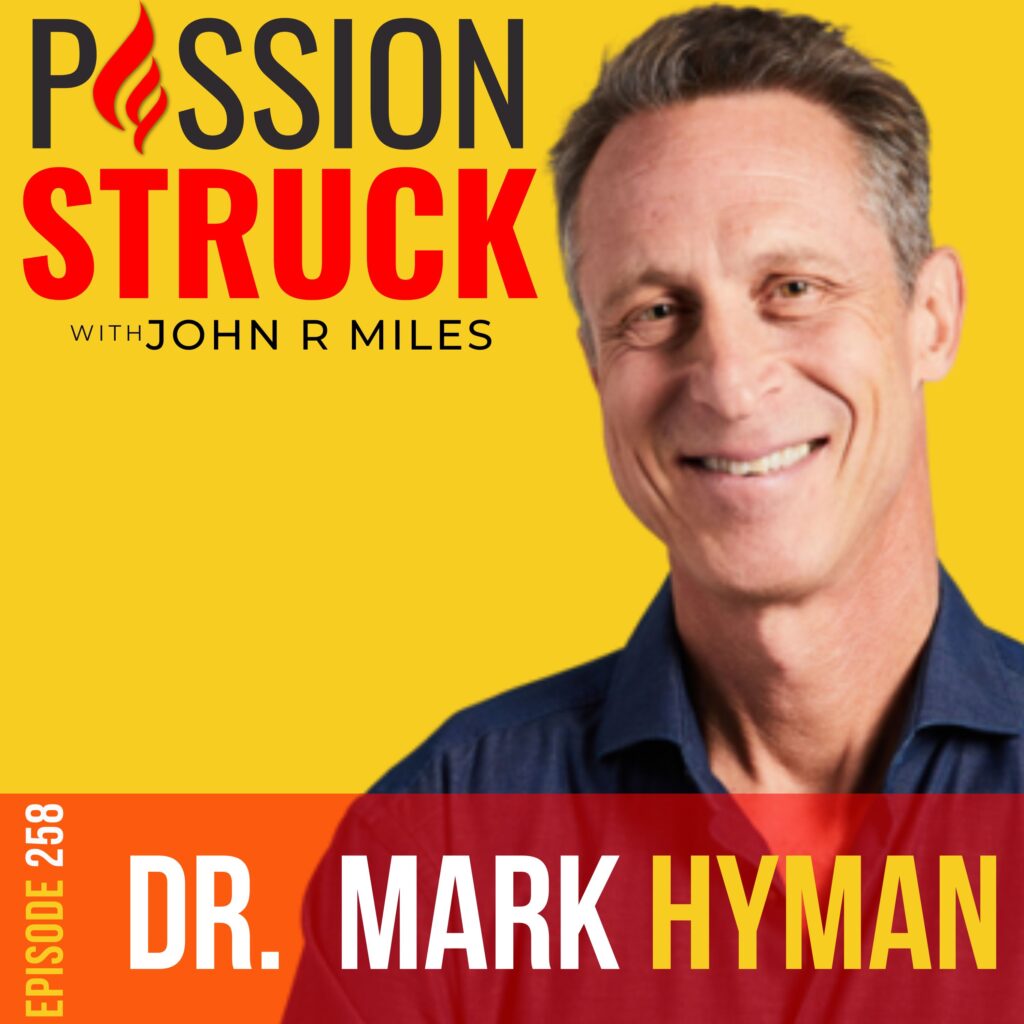 Dr. Mark Hyman is a renowned personality in the field of Functional Medicine. He serves as a senior advisor for the Cleveland Clinic Center for Functional Medicine and as the director of the UltraWellness Center. Dr. Hyman is a prolific author, with multiple New York Times bestsellers to his name, and holds the position of board president for clinical affairs at the Institute of Functional Medicine. He also hosts one of the top health podcasts, The Doctor's Pharmacy. He frequently appears as a medical expert on various television networks such as CBS, This Morning Today, Good Morning America, The View, and CNN.
Follow John R. Miles On The Socials
* Twitter: https://twitter.com/Milesjohnr
* Facebook: https://www.facebook.com/johnrmiles.c0m
* Medium: https://medium.com/@JohnRMiles​
* Instagram: https://www.instagram.com/john_r_miles
* LinkedIn: https://www.linkedin.com/in/milesjohn/
* Blog: https://johnrmiles.com/blog/
* Instagram: https://www.instagram.com/passion_struck_podcast/
* Gear: https://www.zazzle.com/store/passion_struck/
John R. Miles is a serial entrepreneur and the CEO and founder of Passion Struck. This full-service media company helps people live intentionally by creating best-in-class educational and entertainment content. John is also a prolific public speaker, venture capitalist, and author named to the ComputerWorld Top 100 IT Leaders.
John is the host of the PassionStruckPodcast. The show focused on exploring the mindset and philosophy of the world's most inspiring people to learn their lessons to living intentionally. Passion Struck aspires to speak to the humanity of people in a way that makes them want to live better, be better and impact.