Seth Godin, a world-renowned thought leader, experienced a profound moment of realization regarding the need for significance in work culture. Witnessing countless individuals around him stuck in the song of safety, their lives fueled by fear and obedience broke his heart. He knew that there had to be a better way, one that emphasizes respect, dignity, meaning, and autonomy in the workplace. This led him to develop the concept of the Song of Significance, a melody that resonates with those who seek to find meaning in their work and live their lives with purpose.
Can Seth's groundbreaking concept truly revolutionize the very fabric of our work culture? The answer lies in the depths of his journey, where he uncovers the power to reshape the landscape we know today. Prepare to be captivated, for the winds of change are stirring.
Like this show? Please leave us a review here – even one sentence helps! Post a screenshot of you listening on Instagram & tag us to thank you personally!
Hear the secrets and philosophy of the World's GREATEST high achievers every Tuesday and Thursday, and tune in each week for an inspirational Momentum Friday solo message.
Listen to the episode on Apple Podcasts, Spotify, Podcast Addict, Pocket Casts, Stitcher, Castbox, Google Podcasts, Listen Notes, Amazon Music, or on your favorite podcast platform. You can watch the interview on YouTube below.
Enjoy!
Transforming the Future of Work with Seth Godin: Creating a Song of Significance
This is one of the most important and groundbreaking discussions I have ever had on Passion Struck. In this episode, I am joined by Seth Godin, and we discuss his new masterpiece, The Song of Significance. Seth Godin's observations about the current state of work culture stirred a desire to create change. He recognized that people were craving more than just safety in their jobs; they wanted to feel valued, respected, and engaged in meaningful work. He saw that the industrialists and billionaires who propagate fear and obedience were hindering true human potential.
In the pursuit of unlocking the boundless potential of your employees, there exists a critical choice. Will you continue to treat them as mere cogs in a soulless machine, expendable resources in an AI-driven race to the abyss? Or will you seize the opportunity to construct an organization of significance—one that embraces the ideals of respect, autonomy, and trust?
Recognize this fundamental truth: humans are not commodities to be acquired, exploited, and then casually discarded. They embody the very essence of the workplace, the catalysts for innovation, growth, and triumph. It is within your power to shape a future where employees are enrolled, empowered, and trusted to unleash their greatest contributions.
The time has come to challenge the status quo, to shatter the chains of mediocrity. Let Seth Godin's narrative be your rallying cry, awakening the dormant spirit of progress within you. Embrace the undeniable truth that lies before us—a truth that demands we elevate the human experience in the realm of work.
Join us as we embark on this journey of transformation, where the ordinary becomes extraordinary, and the stagnant yields to the dynamic. Unleash the power within, for the time for change is now.
By listening to Seth and John, you will be able to:
Uncover the critical role that significance plays in shaping work culture and employee satisfaction.
Delve into the essential components of autonomy, respect, and dignity in a thriving workforce.
Explore the concept of high stakes, high-trust work environments and their long-term benefits.
Envision the future of work and the unique skills it will demand to stay ahead of the curve.
Discover the power of persistence, patience, and finding the right tribe in achieving personal and professional significance.
And much, much more!
Have any questions, comments, or stories you'd like to share? Drop us a line at

[email protected]

!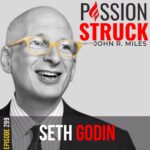 Please Scroll Down For Featured Resources
Thank You, Indeed, For Sponsoring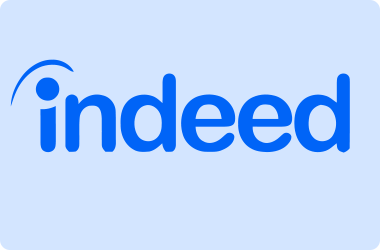 With Indeed, you can search for millions of jobs online to find the next step in your career. With tools for job search, resumes, company reviews, and more.
Head to https://www.indeed.com/passionstruck, where you can receive a $75 credit to attract, interview, and hire in one place.
Thank You, Hello Fresh, For Sponsoring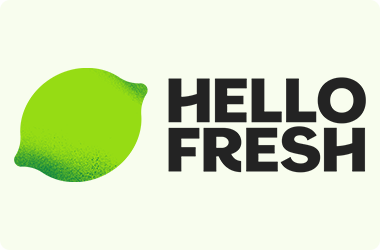 Hello Fresh provides delicious and wholesome meals with easy-to-follow recipes and fresh, high-quality ingredients. Use code passion16 to get 16 free meals plus free shipping!"
Thank You, Nom Nom, For Sponsoring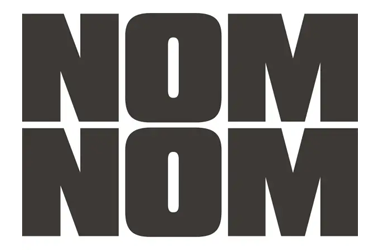 Nom Nom is healthy, fresh food for dogs formulated by top Board Certified Veterinary Nutritionists, prepped in their kitchens with free delivery to your door.
Get 50% off and unlock a two-week risk-free trial at https://trynow.com/passionstruck.
*Our Patreon Page: https://www.patreon.com/passionstruck.
Starter Packs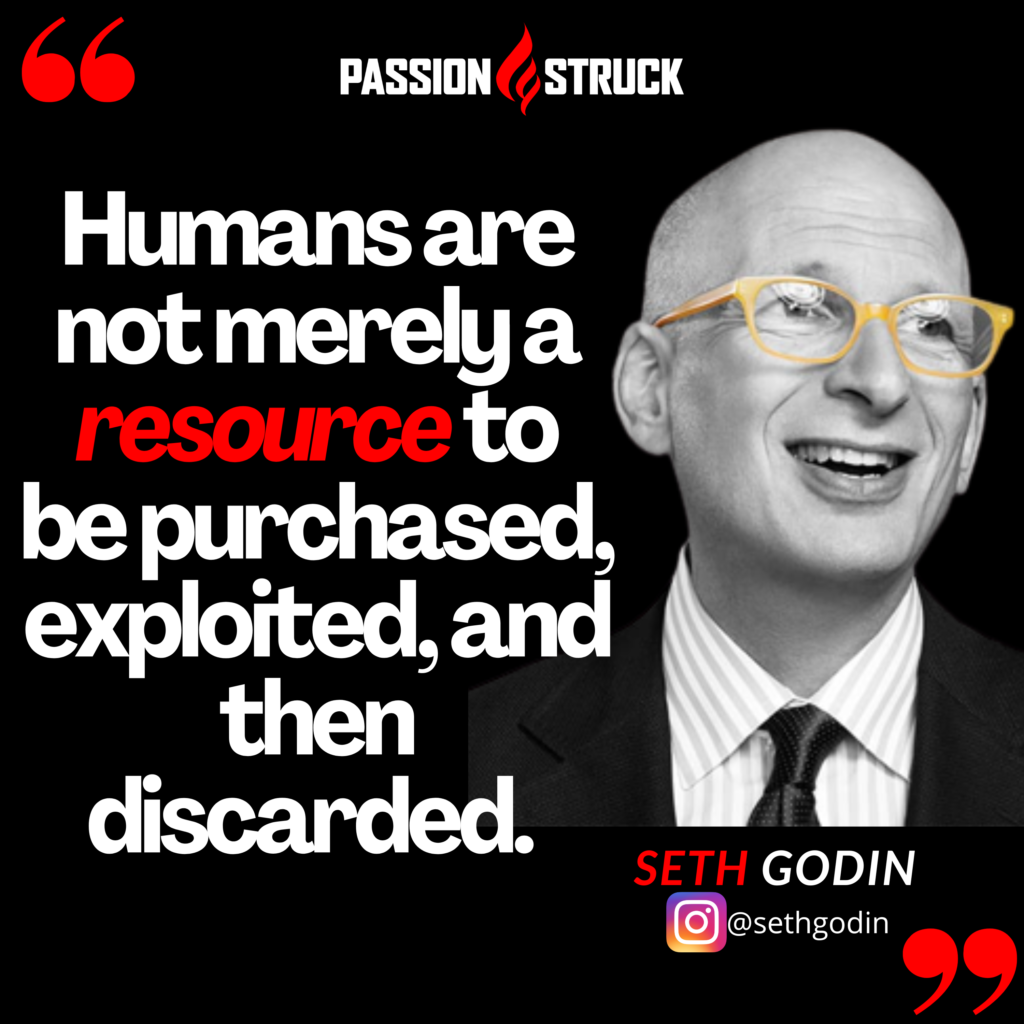 New to the show? These Starter Packs are collections of our most popular episodes grouped by topic, and we now have them also on Spotify. You can also browse starter packs for existing listeners to find your old favorites. Every week, John interviews everyday heroes from all walks of life. Learn how to subscribe to the show and never miss a new episode and topic.
Like this? Please subscribe, and join me on my new YouTube platform for peak performance, life coaching, and personal growth: https://www.youtube.com/c/JohnRMiles.
More From My Conversation With Seth Godin About the Song of Significance
In this episode of the Passion Struck podcast, host John R. Miles speaks with Seth Godin about his latest book, The Song of Significance. The conversation centers around the need for work to have meaning and purpose and explores how work culture has evolved over the years. Godin emphasizes the importance of creating a work environment that fosters creativity, innovation, and human connection, where employees have autonomy and are treated with respect and dignity. – Godin suggests that people should focus on the smallest unit of meaning and work their way up to more significant promises as they work towards fulfilling their aspirations.
Finding Significance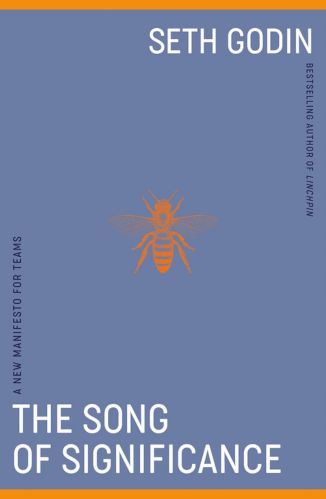 Finding significance in work is a journey that begins by understanding what is truly meaningful to each individual. This involves establishing significance in tasks as well as developing a work culture that focuses on creativity, innovation, and building human connections. By engaging in work that aligns with personal values and aspirations, employees can achieve career fulfillment and live more meaningful lives.
During his conversation with John R. Miles, Seth Godin pointed out that workers desire meaningful tasks, and it is essential for organizations to create a work culture that supports this need. He explained that through perseverance, resilience, and a focus on establishing purposeful work, it is possible to attain a greater sense of accomplishment and significance in one's career.
Significance is a Choice
Ultimately, the pursuit of significance in work is a choice, one that requires intentional decision-making and adapting to different situations. By choosing to embrace change, aligning with other forward-thinking individuals, and engaging in work that has a meaningful impact on our lives, we can foster the growth of organizations that prioritize human values and create workplaces that thrive.
In the conversation, Seth Godin emphasized that choosing significance is a conscious decision that workers must make to ensure they lead fulfilling lives. By engaging in constant growth and embracing change, employees contribute to creating purpose-driven work environments. Through collaborative efforts, individuals can create a better world for themselves and communities as a whole.
Say Thanks To Seth Godin
If you enjoyed this interview with Seth Godin, let him know by clicking on the link below and sending him a quick shout on Instagram:
Click here to show Seth Godin your thoughts about today's episode on Instagram!
Click here to let John R. Miles know about your number one takeaway from this episode!
And if you want us to answer your questions or you have a topic you would like John to discuss on one of our upcoming weekly Momentum Friday episodes, drop us a line at [email protected].
Resources From The Show With Seth Godin
Please note that some of the links on this page (books, movies, music, etc.) lead to affiliate programs for which The Passion Struck podcast receives compensation. It's just one of the ways we keep the lights on around here. Thank you so much for being so supportive!
Visit Seth Godin's website to learn more about his work and upcoming events.
Twitter: https://twitter.com/sethgodin
Instagram: https://www.instagram.com/sethgodin/
Purchase Seth Godin's book, The Song of Significance
Sign up for Seth Godin's newsletter to receive regular updates and insights.
Join the conversation about the future of work and contribute your own ideas and experiences.
Follow John R. Miles and Passion Struck on social media for more inspiration and advice.
Check out the Carbon Almanac and learn more about the climate crisis and what we can do about it.
Think deeply about the purpose of school and sports and have a meaningful conversation about it.
Listen to Seth Godin's discussion with Simon Sinek on Sinek's podcast.
Listen to Passion Struck's interviews with New York Times bestselling author Gretchen Rubin and Dr. Julianne Holt Lunstead.
Check out Passion Struck's Episode Starter Packs on Spotify or Passion Struck starter packs to get started with the podcast.
My solo episode on how you unleash your creativity: https://passionstruck.com/unleash-your-creativity/
Want to catch my best interviews from 2022? Check out episode 233 on intentional greatness and episode 234 on intentional behavior change.
Watch my interview with Dr. Mark Hyman on how to defy aging: https://passionstruck.com/dr-mark-hyman-secrets-to-living-young-forever/
Catch my interview with Dr. Amy Shah on how you can control your food cravings: https://passionstruck.com/dr-amy-shah-you-can-control-your-food-cravings/
My solo episode on why micro choices matter: https://passionstruck.com/why-your-micro-choices-determine-your-life/
About Today's Guest, Seth Godin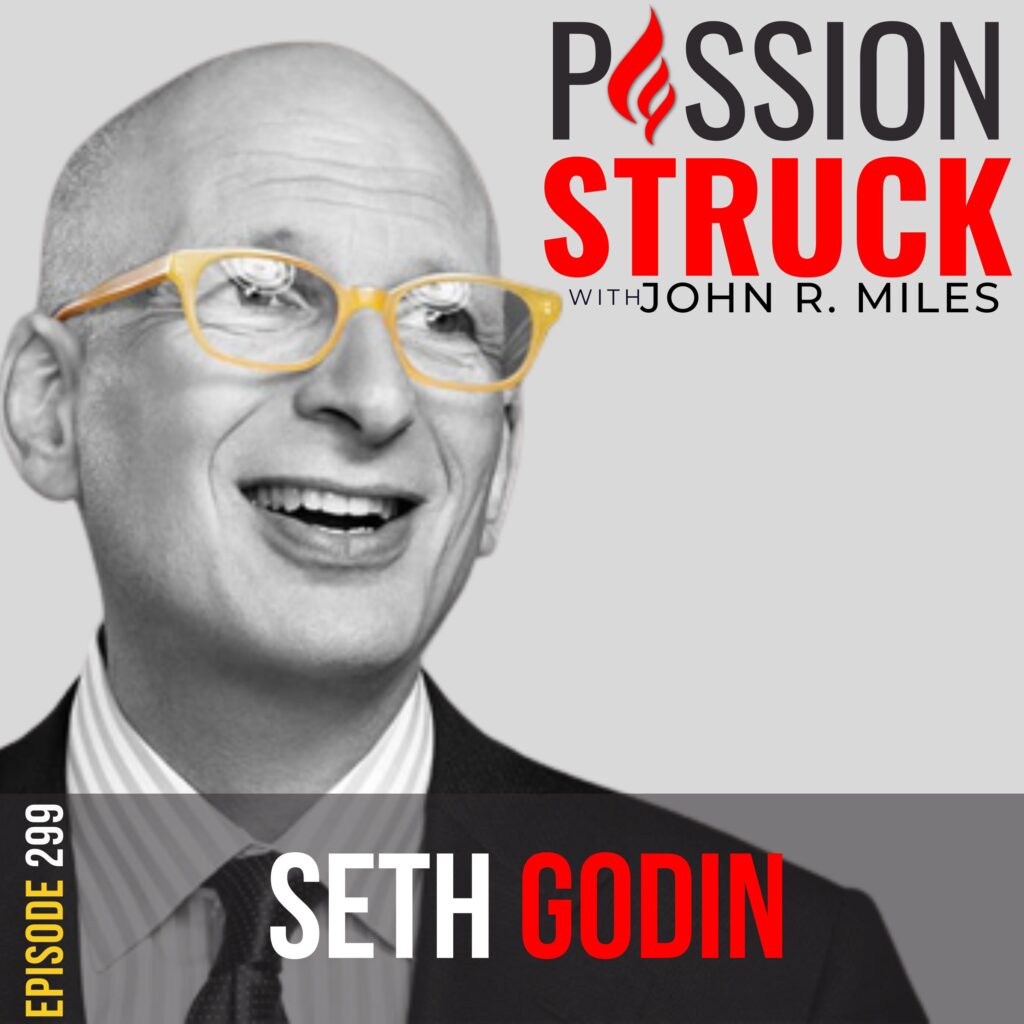 Seth Godin, a trailblazing author, has left an indelible mark on the world with his 20 internationally acclaimed bestsellers. Translated into over 38 languages, his influential works have single-handedly transformed the way we perceive marketing and the concept of work itself. Among his extraordinary achievements, "Unleashing the Ideavirus" stands tall as the most widely embraced ebook ever published, while "Purple Cow" reigns supreme as the definitive marketing masterpiece of the decade.
Not content with revolutionizing the literary landscape, Seth's passion extends to making a positive impact on our planet. He dedicated a year of his life as the volunteer founding editor of The Carbon Almanac, championing environmental awareness and sustainability.
Adding to his remarkable repertoire of bestsellers, Seth has graced us with recent gems such as "The Practice" and "This is Marketing," solidifying his position as an unstoppable force of knowledge and innovation.
Recognized for his extraordinary contributions, Seth has been inducted into the illustrious Marketing Hall of Fame, an honor bestowed upon only the most exceptional visionaries. He also holds esteemed membership in both the Direct Marketing Hall of Fame and the revered Guerrilla Marketing Hall of Fame, a testament to his unparalleled expertise and influence in the field.
Follow John R. Miles On The Socials
* Twitter: https://twitter.com/Milesjohnr
* Facebook: https://www.facebook.com/johnrmiles.c0m
* Medium: https://medium.com/@JohnRMiles​
* Instagram: https://www.instagram.com/john_r_miles
* LinkedIn: https://www.linkedin.com/in/milesjohn/
* Blog: https://johnrmiles.com/blog/
* Instagram: https://www.instagram.com/passion_struck_podcast/
* Gear: https://www.zazzle.com/store/passion_struck/
John R. Miles is globally recognized as an expert in intentional behavior change, leadership, personal mastery, and veteran advocacy. He founded and serves as CEO of PASSION STRUCK®. This media company boasts a significant social media following and tens of millions of annual views on its podcasts and YouTube channels. His podcast, Passion Struck with John R. Miles, sets records and has held the top spot among alternative health podcasts. Furthermore, John is the author of the upcoming book "Passion Struck," which is set to be published in early 2024.
Passion Struck aspires to speak to the humanity of people in a way that makes them want to better, live better, and impact the world.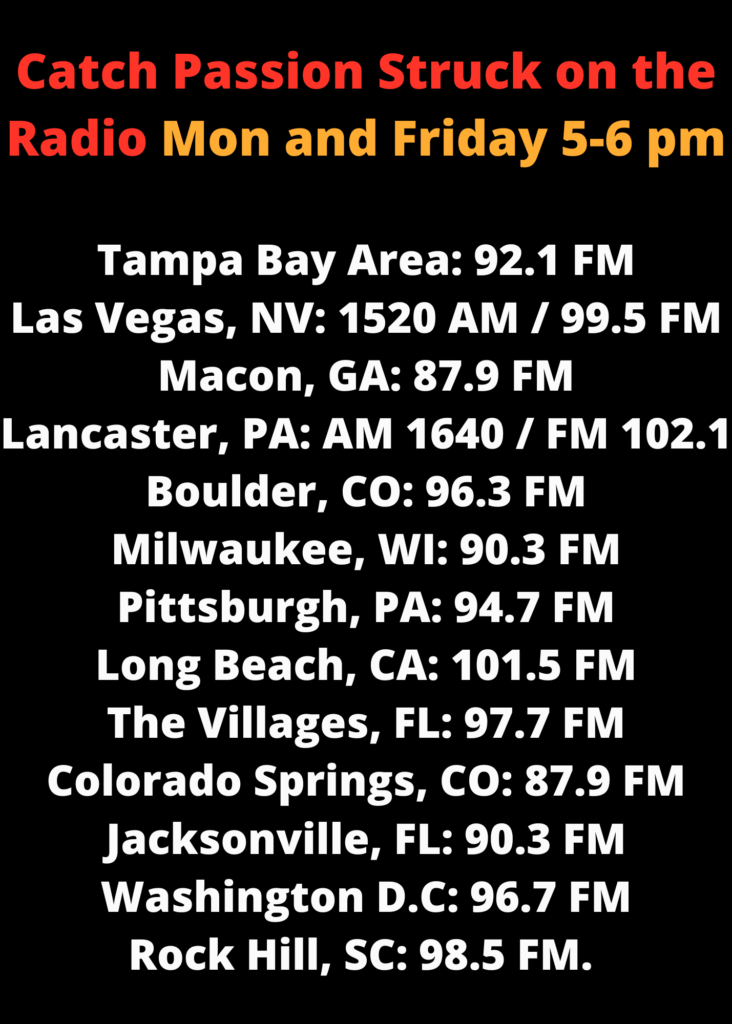 P.S.
Passion Struck is now on the AMFM247 broadcasting network every Monday and Friday from 5-6 PM.
Step 1: Go to TuneIn, Apple Music (or any other app, mobile or computer)
Step 2: Search for "AMFM247" Network
Passion Struck's mission is to unlock the power of intentionality for the benefit of us all. To create a world where we live better, be better, and impact the world through our unique and powerful content.