Kurt Wilkin and I discuss his new book Who's Your Mike?: A No-Bullsh*t Guide to the People You'll Meet on Your Entrepreneurial Journey. | Brought to you by ZocDoc (https://www.zocdoc.com/passionstruck).
Kurt Wilkin is an experienced entrepreneur and founder of HireBetter. In his debut book, Who's Your Mike? Kurt reveals how entrepreneurs can transform their companies by minimizing hiring mistakes, investing in high potentials, and making the difficult decisions to drop dead weight from their team.
* Purchase a copy of Who's Your Mike: (https://amzn.to/3Bkth1F) Amazon Link
* Watch Kurt discuss his new book in this short video: https://www.youtube.com/watch?v=4tLZRbD7e4E
Hear the secrets and philosophy of the World's GREATEST high achievers every Monday and Wednesday, and tune in each week for an inspirational Momentum Friday solo message.
Like this show? Please leave us a review here – even one sentence helps! Post a screenshot of you listening on Instagram & tag us to thank you personally!
Listen to the episode on Apple Podcasts, Spotify, Podcast Addict, Pocket Casts, Stitcher, Castbox, Google Podcasts, Amazon Music, or on your favorite podcast platform. You can watch the interview on YouTube below.
Enjoy!
What I Discuss With Kurt Wilkin About His Book Who's Your Mike
Kurt Wilkin joins the Passion Struck podcast to discuss why by putting the right talent in the right places—and pinpointing who is holding the company back—entrepreneurs can unlock meaningful change that will enable their organization to grow, scale, and thrive. We discuss avatars from the book written as a la "choose your own adventure," so entrepreneurs can pick and choose the chapters that will be most helpful to them.
We also discuss why the recruiting industry is broken and what Kurt believes are the most significant issues causing employee disengagement.
He learned lessons early on in his career with the Big 4 accounting firm Ernst and Young.
The steps he took to become an entrepreneur and scale his first company.
The backstory behind how he came up with the title for who's your Mike.
The two-in-the-box partnering you see with many entrepreneurs.
Why leaders and entrepreneurs should not rely solely on psychometrics when hiring.
Why the recruiting industry is broken.
The importance of the utility player.
We go through several of the avatars he profiles throughout the book including Resume Ralph, Bounce-Around Betty, Side-Hustle Sam, and HR Rhona.
The importance of company culture to employee engagement and retention
The different assessment tools companies use and their predictability in gauging employees.
Have any questions, comments, or stories you'd like to share? Drop us a line at

[email protected]

m!
And much more…
Please Scroll Down For Featured Resources
Our Patreon Page: https://www.patreon.com/passionstruck
Thank You, ZocDoc, For Sponsoring.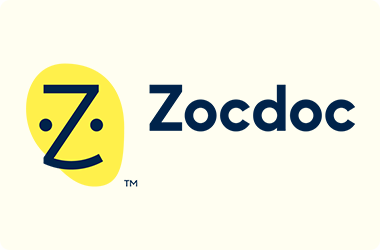 This episode of Passion Struck with John R. Miles is brought to you by Zocdoc, which is the start of a better health care journey for you. Find and book top-rated local doctors on demand. Visit them in their offices or video chat with them from home. Go to https://www.zocdoc.com/passionstruck. Download the Zocdoc app for FREE and start your search for a top-rated doctor today.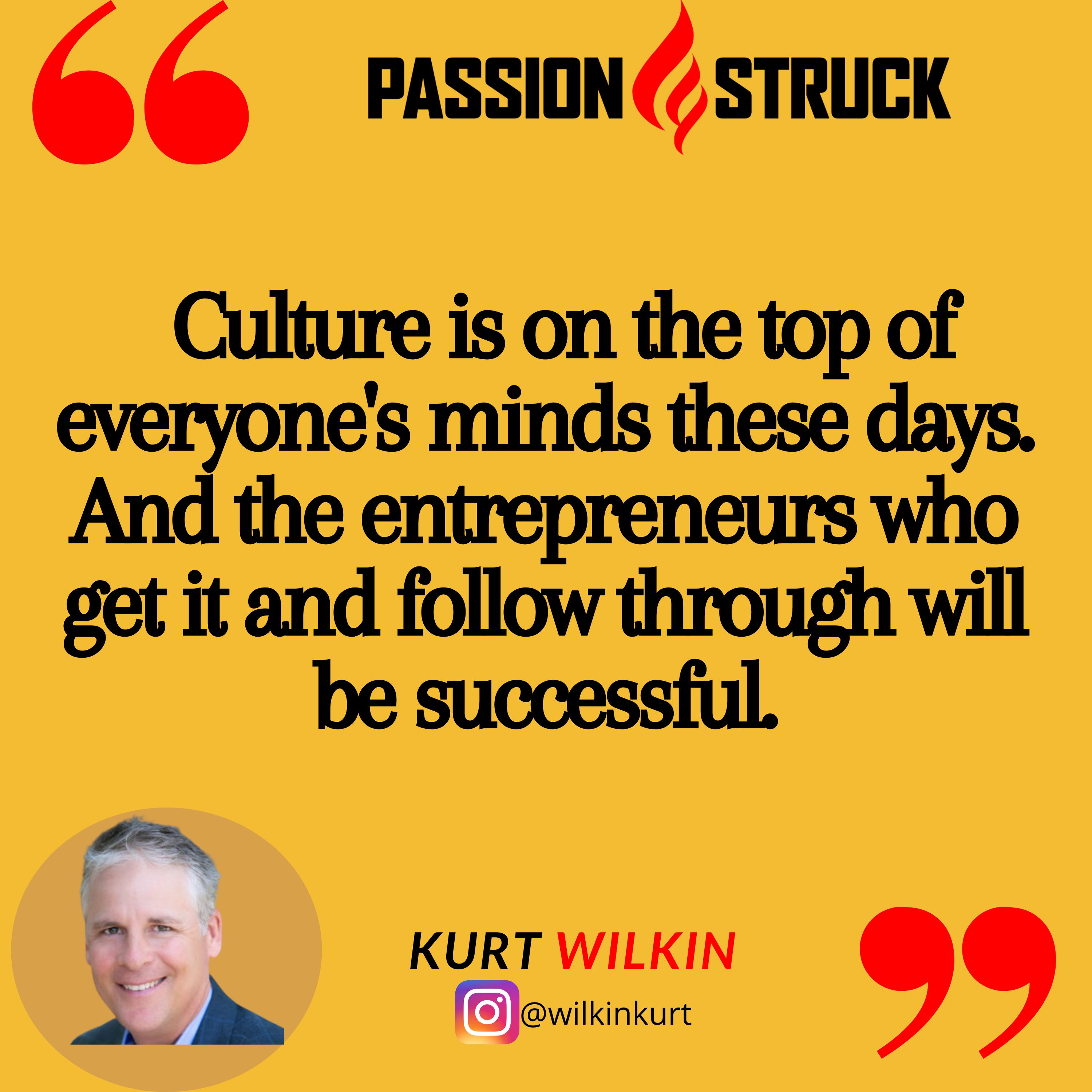 New to the show? These Starter Packs are collections of our most popular episodes grouped by topic, and we now have them also on Spotify. You can also browse starter packs for existing listeners to find your old favorites. Every week, John interviews everyday heroes from all walks of life. Learn how to subscribe to the show and never miss a new episode and topic.
Like this? Please subscribe, and join me on my new YouTube platform for peak performance, life coaching, and personal growth: https://www.youtube.com/c/JohnRMiles/.
More From My Interview With Kurt Wilkin on Who's Your Mike and the People You Will Encounter on Your Entrepreneurial Journey
During our interview, Kuty Wilkin and I discuss how he profiles 11 avatars in the book Who's Your Mike and illustrates different aspects of the entrepreneurial journey. I asked Kurt how did he come up with the title? And what is the backstory to approaching the book through the lens of avatars?

Kurt explains I wrote a blog about five or six years ago called here's your mic. But as I would share that story with people, especially entrepreneurs, I would see light bulbs go off about wow, I didn't realize I have a Mike on my own hands. And what do I do about it?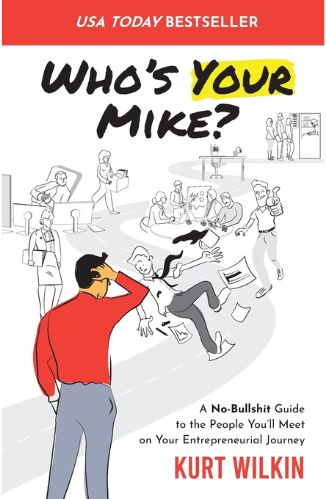 And so the other thing that really caused me to write that article in and of itself was I got into the recruiting business. Ten years ago, when I bought Hire Better, I realized that most entrepreneurs, especially most companies are very reactive regarding hiring. And they would hire whatever empty seat they felt like they had. But no one took a step back and looked at their existing team to see where the challenges were, where some of their legacy employees might be causing challenges.
So I wrote Who's Your Mike to highlight that issue. So let me tell you that story real quick. So Mike was your fraternity brother in college, and you guys were the thickest thieves, best friends. You did everything together, and he had your back. When you started your business in your garage a few years later, he was right there with you nights and weekends, working, taking time off from his day job to help you do all the administrative back office things that you really needed to be done and you hated doing.
As you become a real company. He quit his job, became your accountant, taught himself QuickBooks, set up your LLC, set up your bank account, and all the back office logistics things you struggle with. You became a unit now you're a real company, or he's doing five $10 million in revenue and Mike's working 100-hour weeks, and you promote him to come troller and ultimately, CFO to reward him for all his hard work.
And things are starting to fall off the rails. Now you're doing $15 to 20 million in revenue. And Mike has probably an over-inflated title. But man, he's grinding for you. He hadn't taken a vacation in five years. And you'll look at Mike's trying to negotiate a $10 million line of credit with the bank and maybe negotiate a merger deal with your biggest competitor. But he's overwhelmed. He's swimming because he just doesn't know how to build a team or how to go from A to B.
And so the question is, who's your Mike? Every entrepreneur has a Mike, whether it's finance and accounting, like this example, or sales, marketing, or operations. We all outgrow employees, and what do we do with them?
Thanks, Kurt Wilkin!
If you enjoyed this interview with Kurt Wilkin, let him know by clicking on the link below and sending him a quick shout on LinkedIn or Twitter:
Click here to thank Kurt Wilkin on Twitter!
Click here to thank Kurt Wilkin on Linkedin!
Click here to let John R. Miles know about your number one takeaway from this episode!
And if you want us to answer your questions or you have a topic you would like John to discuss on one of our upcoming weekly Momentum Friday episodes, drop us a line at [email protected].
Resources From The Show With Kurt Wilkin
Please note that some of the links on this page (books, movies, music, etc.) lead to affiliate programs for which The Passion Struck podcast receives compensation. It's just one of the ways we keep the lights on around here. Thank you so much for being so supportive!
*Website: https://www.kurtwilkin.com/
*Hire Better: https://hirebetter.com/
*LinkedIn: https://www.linkedin.com/in/kurt-wilkin-7345255/
* Twitter: https://twitter.com/kurtwilkin/
* My solo episode on Why Average Choices Lead to an Average Life: https://passionstruck.com/why-average-choices-lead-being-mediocre/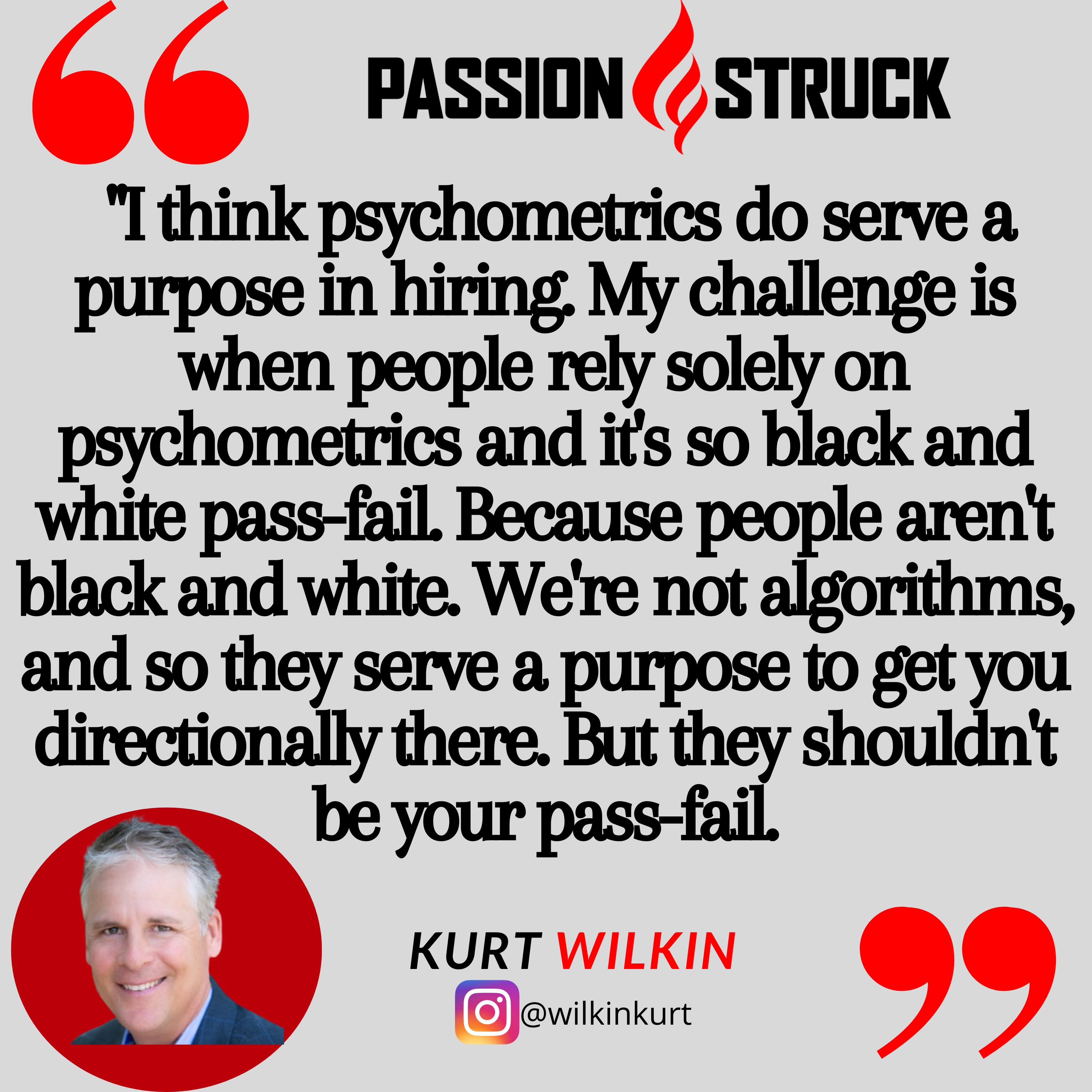 * My interview with Kara Robinson Chamberlain on how she escaped from a kidnapping by a serial killer: https://passionstruck.com/kara-robinson-chamberlain-be-vigilant/
* My interview with Jean Oelwang on the power of partnerships: https://passionstruck.com/jean-oelwang-what-will-you-love-into-being/
* My interview with Sara Mednick, Ph.D. on the power of the downstate and its impact on performance and health: https://passionstruck.com/sara-mednick-recharge-your-brain-body/
* My interview with Katy Milkman, Ph.D. on how to create lasting behavior change: https://passionstruck.com/katy-milkman-behavior-change-for-good/
* My interview with David Yaden, Ph.D. on self-transcendence, psychedelics, and behavior change: https://passionstruck.com/david-yaden-on-self-transcendence-experiences/
* My interview with Jeff Walker on the importance of collaboration in systems change: https://passionstruck.com/jeffrey-c-walker-collaboration-systems-change/
* My interview with Admiral Sandy Stosz on how to lead in unchartered waters: https://passionstruck.com/admiral-sandy-stosz-leader-with-moral-courage/
* My solo episode on why micro choices matter: https://passionstruck.com/why-your-micro-choices-determine-your-life/
* My solo episode on why you must feel to heal: https://passionstruck.com/why-you-must-feel-to-find-emotional-healing/
About Today's Guest Kurt Wilkin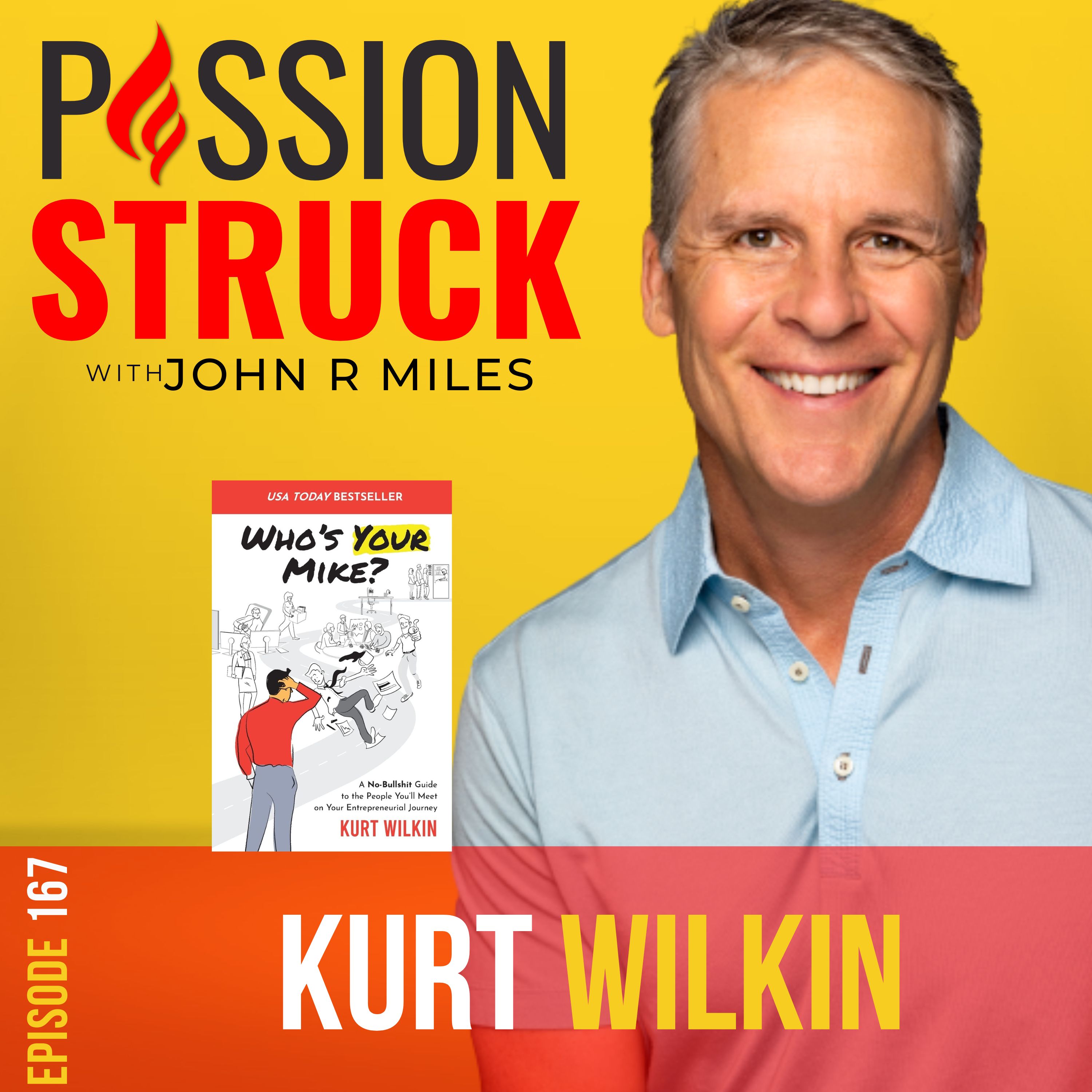 For more than 25 years, Kurt advised high-growth, middle-market companies. Through his roles as CEO of HireBetter and a Managing Partner of Bee Cave Capital, he worked with hundreds of entrepreneurs and CEOs—challenging and inspiring them to take their companies to that much-hyped "next-level."
But before he got to where he is now, he worked in some challenging roles. He failed in the dot-com bubble and struggled to find his way. His goal in writing is to pull back the curtain on the business world and take you on the real entrepreneurial journey—bumps and all. No one gets to the top overnight without falling down and making mistakes. He hopes to inspire and help others on their path by telling my stories.
Follow John R. Miles On The Socials
* Twitter: https://twitter.com/Milesjohnr
* Facebook: https://www.facebook.com/johnrmiles.c0m
* Medium: https://medium.com/@JohnRMiles​
* Instagram: https://www.instagram.com/john_r_miles
* LinkedIn: https://www.linkedin.com/in/milesjohn/
* Blog: https://johnrmiles.com/blog/
* Instagram: https://www.instagram.com/passion_struck_podcast/
* Gear: https://www.zazzle.com/store/passion_struck/
John R. Miles is a serial entrepreneur and the CEO and founder of Passion Struck. This full-service media company helps people live intentionally by creating best-in-class educational and entertainment content. John is also a prolific public speaker, venture capitalist, and author named to the ComputerWorld Top 100 IT Leaders.
John is the host of the PassionStruckPodcast. The show focused on exploring the mindset and philosophy of the world's most inspiring people to learn their lessons to living intentionally. Passion Struck aspires to speak to the humanity of people in a way that makes them want to live better, be better and impact.
Stay tuned for JJohn'slatest project, his upcoming book, which will be published in summer 2022.
Learn more about me: https://johnrmiles.com