Do you want to live a life that's true to yourself, flaws and all? Are you tired of trying to fit into society's idea of perfection? If so, I have the solution for you. Join special guest Kristina Mänd-Lakhiani and me as we explore the concept of Becoming Flawesome – embracing imperfection as a key to living an authentic life. Together, we'll discuss how to let go of the need to be perfect and instead focus on being true to yourself. By the end of our discussion, you'll have the tools to start living a more authentic and fulfilling life, free from the pressure of perfectionism.
Kristina is the author of the new book Becoming Flawesome: The Key to Living an Imperfectly Authentic Life.
Like this show? Please leave us a review here – even one sentence helps! Post a screenshot of you listening on Instagram & tag us to thank you personally!
Hear the secrets and philosophy of the World's GREATEST high achievers every Tuesday and Thursday, and tune in each week for an inspirational Momentum Friday solo message.
Listen to the episode on Apple Podcasts, Spotify, Podcast Addict, Pocket Casts, Stitcher, Castbox, Google Podcasts, Listen Notes, Amazon Music, or on your favorite podcast platform. You can watch the interview on YouTube below.
Enjoy!
Finding the Courage to Live Authentically with Kristina Mänd-Lakhiani
Does this sound familiar? You're constantly striving for perfection, but you never seem to measure up, no matter how hard you try. You've been told to push harder, work longer, and never settle for less, but all that effort has left you exhausted and dissatisfied. You're tired of feeling like you're never good enough and ready for a new approach. It's time to embrace your imperfections and live authentically. In this episode, we'll show you how to break free from the cycle of perfectionism and find true happiness through personal growth and self-acceptance. Get ready to become Flawesome!
Kristina Mänd-Lakhiani, co-founder of Mindvalley and author of Becoming Flawesome, joined John R. Miles on the Passion Struck podcast to discuss her journey and key themes in her latest book. Mänd-Lakhiani emphasized the need to embrace imperfection and live authentically, encouraging listeners to reject societal expectations and focus on their own personal growth. Throughout the conversation, Mänd-Lakhiani stressed the importance of creativity as a means of self-expression and embracing vulnerability to live a fulfilling life. She also discussed her own experiences with shameflammation and imposter syndrome, highlighting the need to prioritize personal worth over external accomplishments. Listeners seeking personal growth and fulfillment will find Mänd-Lakhiani's personal story and advice both insightful and inspiring.
By listening to Kristina and John, you will be able to:
Discover ways to value personal growth and happiness in your daily life.
Uncover the power behind embracing your imperfections and staying authentic.
Learn about the pivotal role of emotional literacy and self-love in overall well-being.
Explore the drawbacks of hustle culture and the benefits of nurturing your creativity.
Recognize the dangers of operating on autopilot and how to reassess your ingrained habits.
And much, much more!
Have any questions, comments, or stories you'd like to share? Drop us a line at

[email protected]

!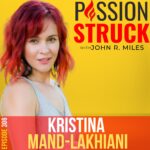 Please Scroll Down For Featured Resources
Thank You, Indeed, For Sponsoring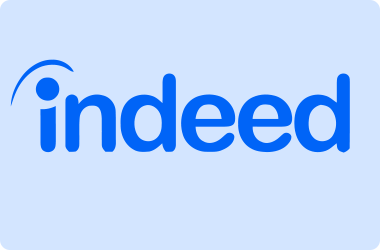 With Indeed, you can search for millions of jobs online to find the next step in your career. With tools for job search, resumes, company reviews, and more.
Head to https://www.indeed.com/passionstruck, where you can receive a $75 credit to attract, interview, and hire in one place.
Thank You, Hello Fresh, For Sponsoring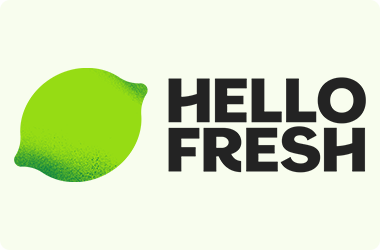 Hello Fresh provides delicious and wholesome meals with easy-to-follow recipes and fresh, high-quality ingredients. Use code passion16 to get 16 free meals plus free shipping!"
Thank You, Nom Nom, For Sponsoring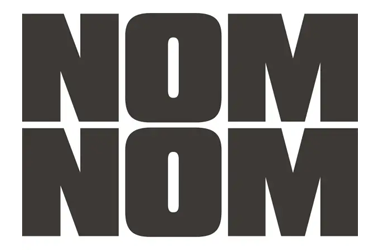 Nom Nom is healthy, fresh food for dogs formulated by top Board Certified Veterinary Nutritionists, prepped in their kitchens with free delivery to your door.
Get 50% off and unlock a two-week risk-free trial at https://trynow.com/passionstruck.
*Our Patreon Page: https://www.patreon.com/passionstruck.
Starter Packs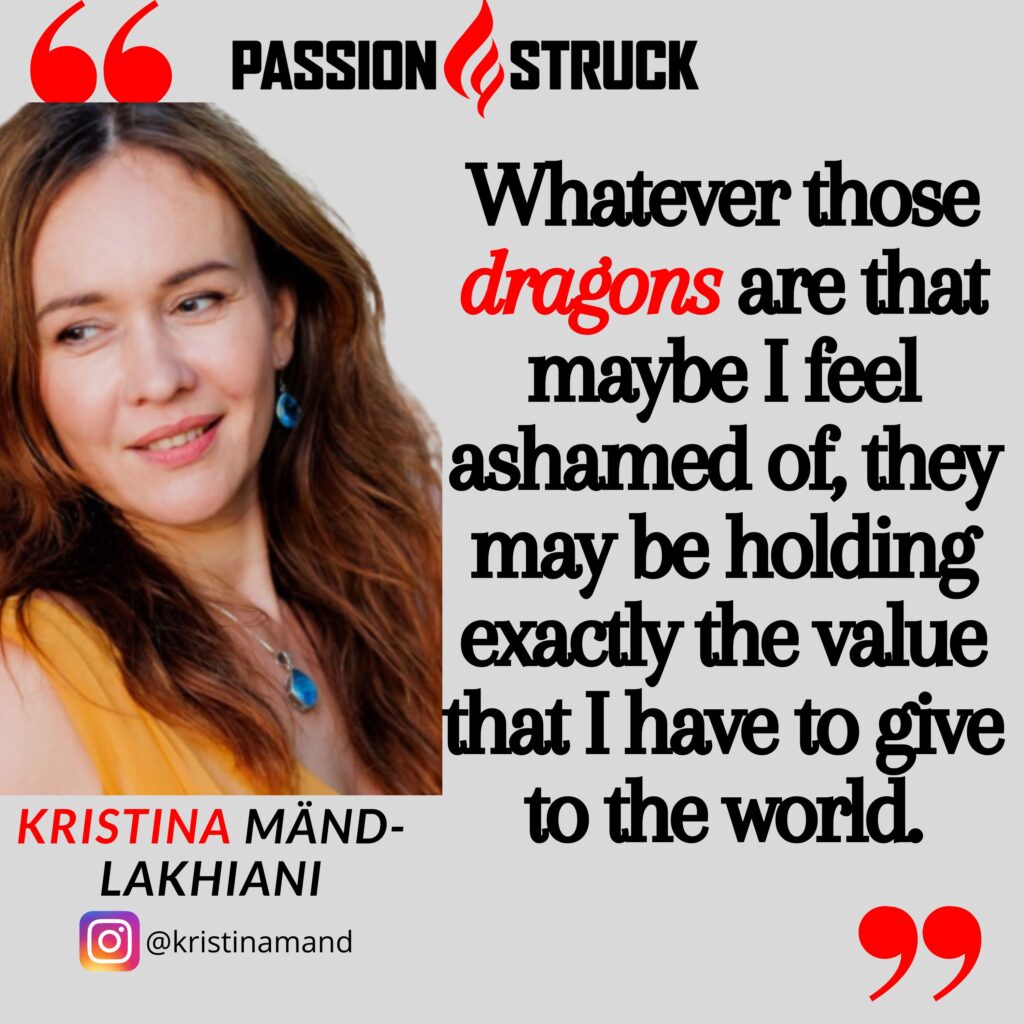 New to the show? These Starter Packs are collections of our most popular episodes grouped by topic, and we now have them also on Spotify. You can also browse starter packs for existing listeners to find your old favorites. Every week, John interviews everyday heroes from all walks of life. Learn how to subscribe to the show and never miss a new episode and topic.
Like this? Please subscribe, and join me on my new YouTube platform for peak performance, life coaching, and personal growth: https://www.youtube.com/c/JohnRMiles.
More From My Conversation With Kristina Mänd-Lakhiani about Her Book Becoming Flawesome
Kristina Mänd-Lakhiani's life journey has been nothing short of incredible, from growing up in the Soviet Union to co-founding the global personal growth platform Mindvalley. Her diverse experiences and challenges along the way shaped her unique perspective on embracing imperfections. Kristina's honest revelations about her struggle to find her own path, even as she helped build a successful business, are deeply relatable. Her willingness to embrace an unconventional and authentic life led her to become a thought leader on the concept of flawesomeness. Kristina's story is a testament to the power of living an imperfectly authentic life and inspires others to follow their own unique journey.
Embracing Imperfection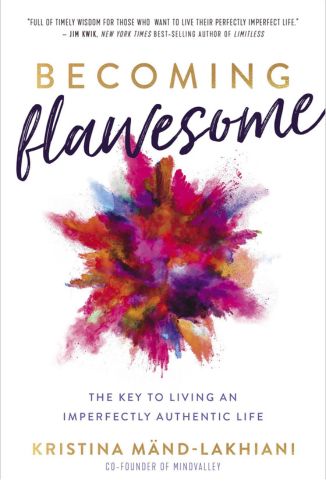 In today's society, we often face unrealistic expectations of perfection, whether from ourselves or others. These expectations can lead to stress, anxiety, and a constant feeling of never being good enough. Embracing imperfection becomes a critical step in the journey toward living an authentic life. Recognizing our flaws can help us focus on personal growth and self-improvement, leading to healthier, more genuine relationships with ourselves and others.
Kristina Mänd-Lakhiani's discussion of her book, Becoming Flawesome: The Key to Living an Imperfectly Authentic Life revolves around the concept of embracing our flaws to create a more authentic life. She emphasizes the dangers of perfectionism and how letting go of these unrealistic expectations can lead to improved mental health. Kristina encourages listeners to analyze and reevaluate societal expectations, allowing for personal growth and a more genuine connection with themselves.
Overcoming Self-Criticism
Self-criticism can be debilitating and prevent us from loving and accepting ourselves as we are. Cultivating self-love and compassion can lead to a healthier mindset and foster our ability to forgive ourselves for our shortcomings. By replacing judgment with curiosity, we can learn to appreciate our imperfections and grow from our experiences.
Kristina Mänd-Lakhiani delves into the topic of self-criticism during her interview, providing powerful insights on cultivating self-love and compassion. She recommends adopting a mindset of curiosity rather than judgment and advises listeners to try this practice for a week. With this approach, we can overcome the harmful effects of self-criticism and learn to live a more authentic, loving life.
Say Thanks To Kristina Mänd-Lakhiani
If you enjoyed this interview with Kristina Mänd-Lakhiani, let her know by clicking on the link below and sending her a quick shout on Instagram:
Click here to show Kristina Mänd-Lakhiani your thoughts about today's episode on Instagram
Click here to let John R. Miles know about your number one takeaway from this episode!
And if you want us to answer your questions or you have a topic you would like John to discuss on one of our upcoming weekly Momentum Friday episodes, drop us a line at [email protected].
Resources From The Show With Kristina Mänd-Lakhiani
Please note that some of the links on this page (books, movies, music, etc.) lead to affiliate programs for which The Passion Struck podcast receives compensation. It's just one of the ways we keep the lights on around here. Thank you so much for being so supportive!
Website: https://kristinamand.com/
Instagram: https://www.instagram.com/kristinamand/
Mindvalley: https://www.mindvalley.com/
Check out Kristina Mänd-Lakhiani's new book, Becoming Flossom: The Key to Living an Imperfectly Authentic Life
Listen to Emily Morse's episode on Passion Struck
Explore Mind Valley for personal growth resources and programs
Consider journaling or expressing yourself creatively as a means of self-discovery and personal transformation
Embrace vulnerability and reject the notion of perfectionism
Practice self-love and prioritize self-care as a means of finding genuine happiness.
Listen to the special episode featuring Seth Godin and his new book, A Song of Significance.
Listen to the interview with Scott Simon about his book, Scare Your Soul.
Listen to Passion Struck's interviews with New York Times bestselling authors Gretchen Rubin and Seth Godin.
Check out Passion Struck's Episode Starter Packs on Spotify or Passion Struck starter packs to get started with the podcast.
My solo episode on how you unleash your creativity: https://passionstruck.com/unleash-your-creativity/
Want to catch my best interviews from 2022? Check out episode 233 on intentional greatness and episode 234 on intentional behavior change.
Watch my interview with Dr. Mark Hyman on how to defy aging: https://passionstruck.com/dr-mark-hyman-secrets-to-living-young-forever/
Catch my interview with Dr. Amy Shah on how you can control your food cravings: https://passionstruck.com/dr-amy-shah-you-can-control-your-food-cravings/
My solo episode on why micro choices matter: https://passionstruck.com/why-your-micro-choices-determine-your-life/
About Today's Guest, Kristina Mänd-Lakhiani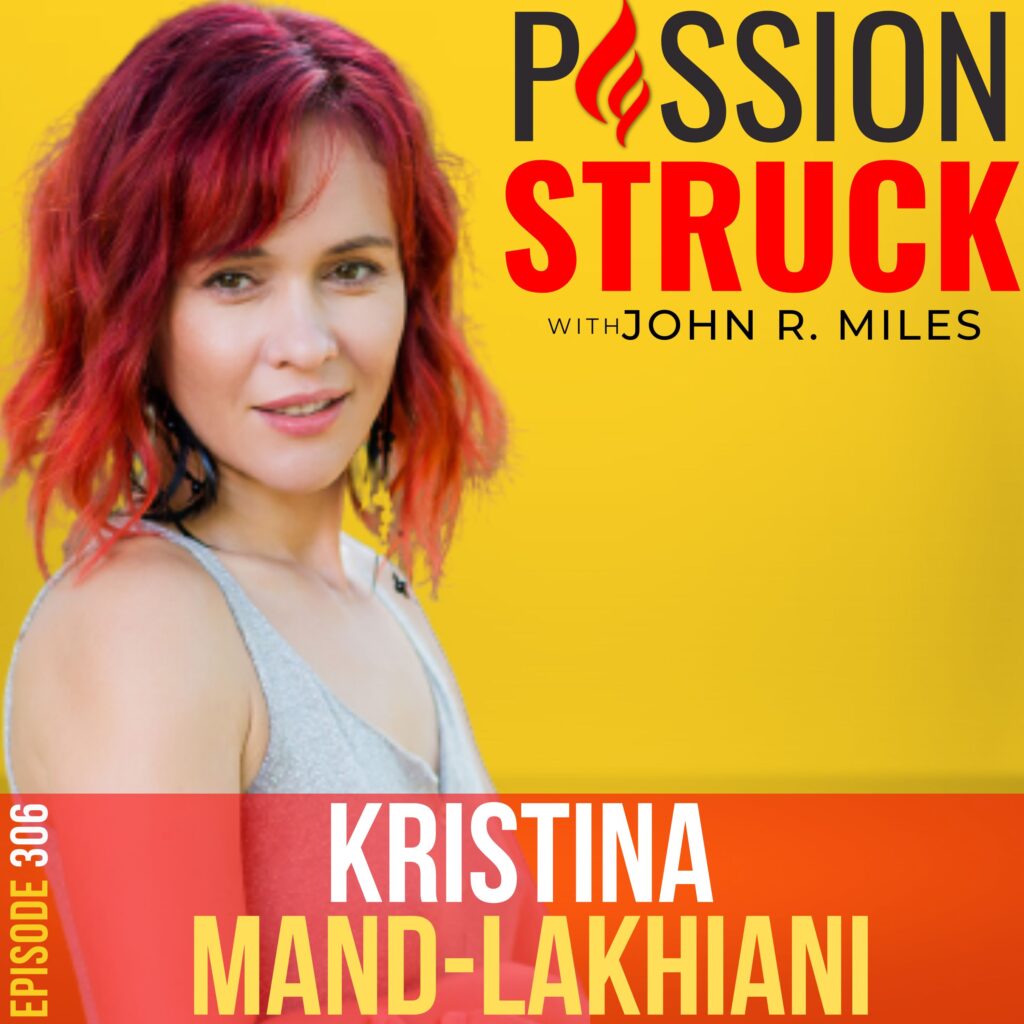 Introducing Kristina Mänd-Lakhiani, a passionate entrepreneur and speaker empowering others to embrace their imperfect selves. As the co-founder of Mind Valley, a leading personal growth platform, Kristina has dedicated herself to helping people worldwide break free from societal expectations and lead authentic lives. Her unconventional childhood in Soviet Estonia has highly shaped her philosophy, making her a uniquely insightful guide for those seeking true self-acceptance. Discover the power of Becoming Flawesome with Kristina and unlock the key to a life of authenticity.
Follow John R. Miles On The Socials
* Twitter: https://twitter.com/Milesjohnr
* Facebook: https://www.facebook.com/johnrmiles.c0m
* Medium: https://medium.com/@JohnRMiles​
* Instagram: https://www.instagram.com/john_r_miles
* LinkedIn: https://www.linkedin.com/in/milesjohn/
* Blog: https://johnrmiles.com/blog/
* Instagram: https://www.instagram.com/passion_struck_podcast/
* Gear: https://www.zazzle.com/store/passion_struck/
John R. Miles is globally recognized as an expert in intentional behavior change, leadership, personal mastery, and veteran advocacy. He founded and serves as CEO of PASSION STRUCK®. This media company boasts a significant social media following and tens of millions of annual views on its podcasts and YouTube channels. His podcast, Passion Struck with John R. Miles, sets records and has held the top spot among alternative health podcasts. Furthermore, John is the author of the upcoming book "Passion Struck," which is set to be published in early 2024.
Passion Struck aspires to speak to the humanity of people in a way that makes them want to better, live better, and impact the world.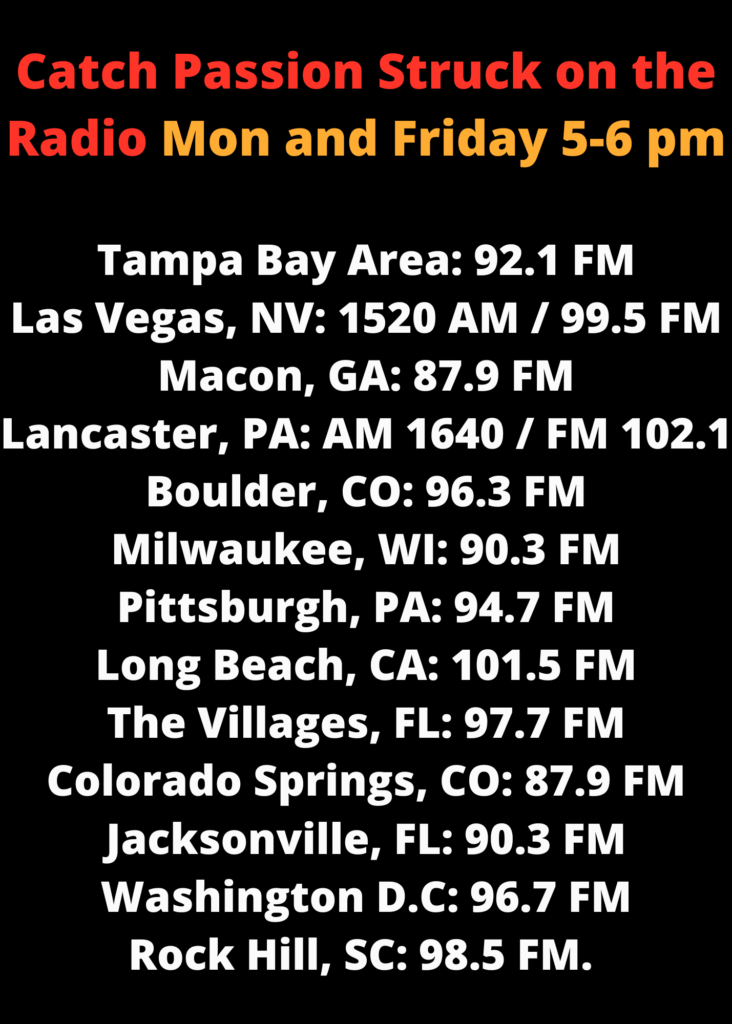 P.S.
Passion Struck is now on the AMFM247 broadcasting network every Monday and Friday from 5-6 PM.
Step 1: Go to TuneIn, Apple Music (or any other app, mobile or computer)
Step 2: Search for "AMFM247" Network
Passion Struck's mission is to unlock the power of intentionality for the benefit of us all. To create a world where we live better, be better, and impact the world through our unique and powerful content.