Join me on Passion Struck as I have the honor of hosting esteemed burnout expert Christina Maslach. In this enlightening episode, we shed light on the workplace's well-kept secret, exploring the six factors that contribute to burnout. Discover how to overcome burnout symptoms and empower employees to reclaim their well-being and productivity.
Christina, the brilliant author behind "The Burnout Challenge," shares invaluable insights that will transform your perspective on workplace health. Don't miss this empowering conversation on Passion Struck.
Like this show? Please leave us a review here – even one sentence helps! Please post a screenshot of you listening on Instagram & tag us to thank you personally!
Hear the secrets and philosophy of the World's GREATEST high achievers every Tuesday and Thursday, and tune in each week for an inspirational Momentum Friday solo message.
Listen to the episode on Apple Podcasts, Spotify, Podcast Addict, Pocket Casts, Stitcher, Castbox, Google Podcasts, Listen Notes, Amazon Music, or on your favorite podcast platform. You can watch the interview on YouTube below.
Enjoy!
Understanding and Overcoming Burnout Symptoms: Wisdom from Christina Maslach
Are you ready to escape the clutches of workplace burnout and create a thriving, fulfilling work environment? Say goodbye to exhaustion and overwhelm because I have an incredible episode in store for you. John R. Miles sits down with Christina Maslach, an expert on burnout in the workplace, to discuss the six key factors that contribute to this pervasive issue. Maslach's expertise and research shed light on the origins and impact of burnout, providing valuable insights for employees experiencing burnout in their own workplaces.
By implementing Christina's proven solutions, you'll experience a remarkable shift – renewed energy, restored enthusiasm, and a healthier work-life balance. Don't let this opportunity slip away. It's time to transform your work experience and embrace a life of true fulfillment and satisfaction. Get ready to break free from burnout on this game-changing episode.
By listening to Christina and John, you will be able to:
Gain insights into the impact of burnout on personal efficacy and organizational productivity.
Shine a light on the six major culprits causing burnout in the workplace.
Understand the critical role of work-life balance in preventing work-related stress and burnout.
Appreciate the crucial part organizations play in safeguarding the well-being of their employees.
Appreciate the importance of a balanced work approach that puts equal emphasis on physical, mental, and emotional health.
And much, much more!
Have any questions, comments, or stories you'd like to share? Drop us a line at

[email protected]

!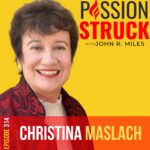 Please Scroll Down For Featured Resources
Thank You, Indeed, For Sponsoring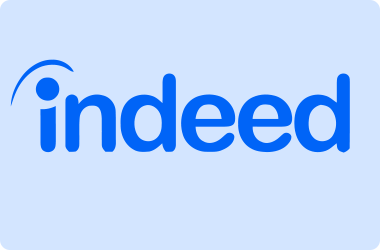 With Indeed, you can search for millions of jobs online to find the next step in your career. With tools for job search, resumes, company reviews, and more.
Head to https://www.indeed.com/passionstruck, where you can receive a $75 credit to attract, interview, and hire in one place.
Thank You, Hello Fresh, For Sponsoring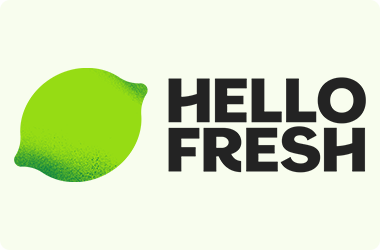 Hello Fresh provides delicious and wholesome meals with easy-to-follow recipes and fresh, high-quality ingredients. Use code passion 50 to get 50% off plus free shipping!
Thank You, Nom Nom, For Sponsoring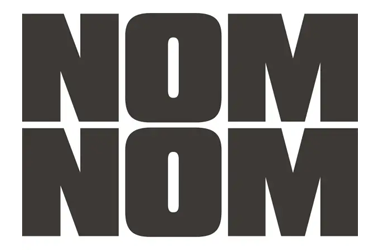 Nom Nom is healthy, fresh food for dogs formulated by top Board Certified Veterinary Nutritionists, prepped in their kitchens with free delivery to your door.
Get 50% off and unlock a two-week risk-free trial at https://trynom.com/passionstruck.
*Our Patreon Page: https://www.patreon.com/passionstruck.
Starter Packs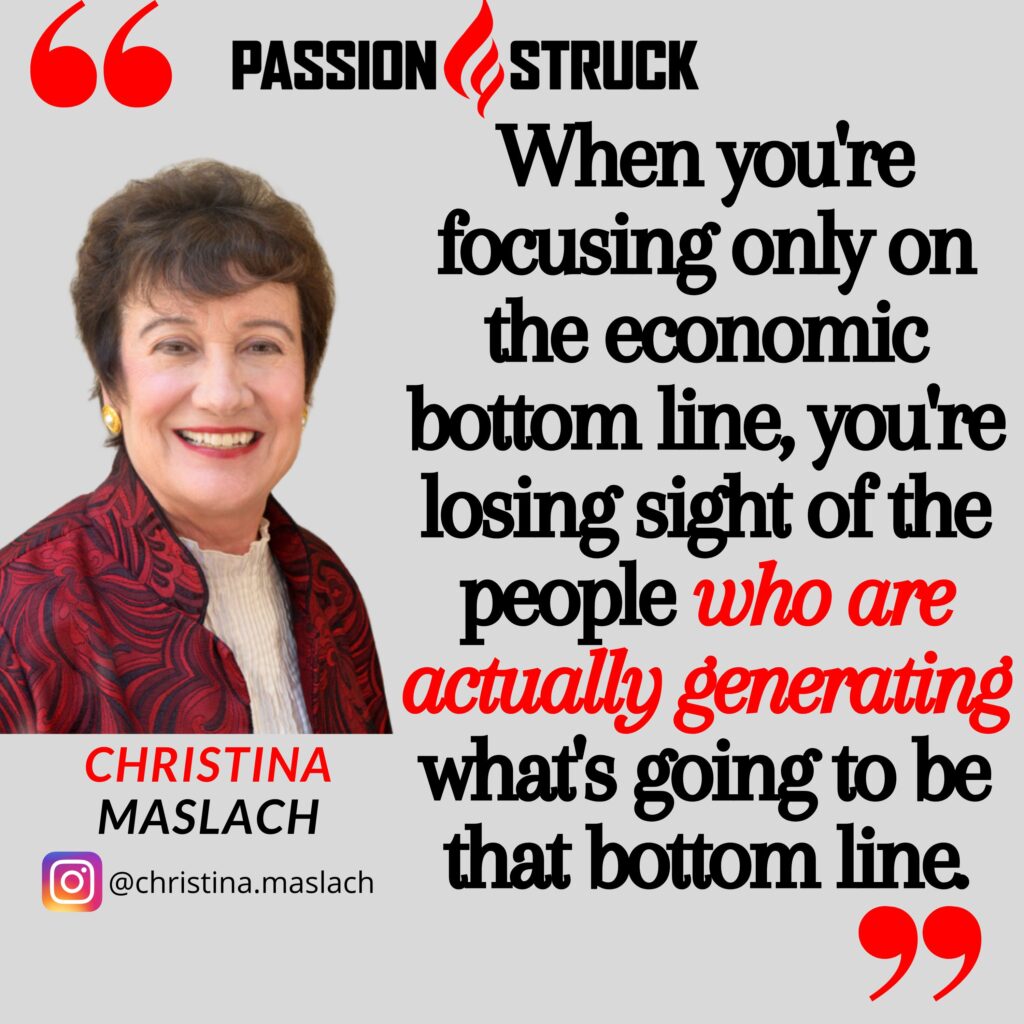 New to the show? These Starter Packs are collections of our most popular episodes grouped by topic, and we now have them also on Spotify. You can also browse starter packs for existing listeners to find your old favorites. Every week, John interviews everyday heroes from all walks of life. Learn how to subscribe to the show and never miss a new episode and topic.
Like this? Please subscribe, and join me on my new YouTube platform for peak performance, life coaching, and personal growth: https://www.youtube.com/c/JohnRMiles
More From My Conversation With Christina Maslach about her Book The Burnout Challenge
Christina Maslach, a renowned figure in her field, began her journey into exploring workplace burnout in a rather unconventional way. At the start of her career in Berkeley, Christina planned to study emotions and how people coped with them. However, her initial research led her to encounter numerous tales from different professions, all painting a strikingly similar picture of chronic workplace stress, detachment, and disengagement.
The more she delved into these stories, the more she realized the significance of the issue she had stumbled upon. During a casual conversation with a new law school associate, she first came across the term 'burnout'. Initially dismissed as pop psychology by academic journals, the concept of burnout gradually gained traction. Christina's unexpected influx of responses after her first article on burnout went viral made her realize the widespread impact of this issue.
The Prevalence and Impact of Workplace Burnout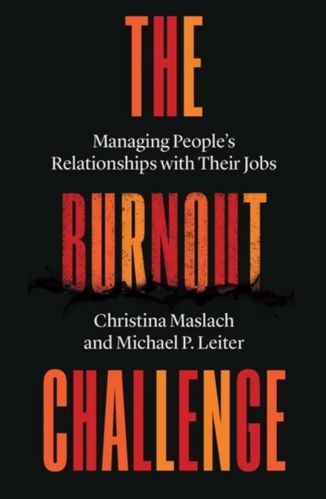 Boy, do we know this scenario all too well, don't we? The alarm goes off, and you roll out of bed in a haze, barely compliant and ready for another stint of non-stop work. Like a hamster in a wheel, it seems like it never ends. But here's the twist: it's not just about putting in long hours or tackling a mountainous workload. It's the sheer emotional drain, the cynicism, and the numb disconnection. It's burnout, and it's alarmingly rampant. So what's fueling this, you ask? Look no further than mismatched expectations, relentless pressure, and an overdemanding culture.
It's a perfect storm, my friend. Christina Maslach took us on a deep dive about how burnout is not just another buzzword but a grave, creeping issue in our workplaces. She painted a worrying picture from her days as a top executive where burnout wasn't an anomaly but had become pretty much the norm. And the consequences? Just think of a dramatic drop in productivity, a rise in health issues, and an overall sense of emptiness. Makes you wonder if it's really worth it, right?
The Need for a Healthier Work-Life Balance
Finding work-life balance? Sounds like a myth to most of us. We often feel chained to our jobs, so many of us are exhausted and disengaged. It's not enough to shrug it off as a 'part of the job.' Healthy boundaries need to be drawn to separate our personal and professional lives. Christina Maslach discussed in-depth about work-life balance in the podcast.
And guess what? It's not just about yoga classes or vacation time. She urges companies to do more – think flexible schedules, remote work options, and reasonable workloads. The intention? To embrace policies that celebrate and uphold employees' well-being, not take away from it. After all, happy employees make for happy companies, wouldn't you agree?
Say Thanks To Christina Maslach
If you enjoyed this interview with Christina Maslach, let her know by clicking on the link below and sending her a quick shout on Instagram:
Click here to show Christina Maslach your thoughts about today's episode on Instagram
Click here to let John R. Miles know about your number one takeaway from this episode!
And if you want us to answer your questions or you have a topic you would like John to discuss on one of our upcoming weekly Momentum Friday episodes, drop us a line at [email protected].
Resources From The Show With Christina Maslach
Please note that some of the links on this page (books, movies, music, etc.) lead to affiliate programs for which The Passion Struck podcast receives compensation. It's just one of the ways we keep the lights on around here. Thank you so much for being so supportive!
Website: https://www.theburnoutchallenge.com/
Instagram: https://www.instagram.com/christina.maslach/
Purchase and read the book The Burnout Challenge: Managing People's Relationships with Their Jobs by Christina Maslach and Michael Leiter to gain insights into combating burnout and improving job-person relationships.
"The Burnout Fix" by Dr. Jacinta Jiménez
"Burnout: The Secret to Unlocking the Stress Cycle" by Emily Nagoski and Amelia Nagoski
"Burnout: The Cost of Caring" by Christina Maslach
Mayo Clinic's website offers comprehensive information on recognizing and managing burnout: www.mayoclinic.org/burnout
The American Psychological Association (APA) provides resources and tips for dealing with workplace stress and burnout: www.apa.org/helpcenter/work-stress-burnout
Pre-order John R. Miles's book, Passion Struck, releasing on February 6, 2024.
Pre-order Kris Carr's latest book, I'm Not a Morning Person, releasing on September 19, 2023.
Listen to the special episode featuring Seth Godin and his new book, A Song of Significance.
Listen to the interview with Scott Simon about his book, Scare Your Soul.
Listen to Passion Struck's interviews with New York Times bestselling authors Gretchen Rubin and Seth Godin.
Check out Passion Struck's Episode Starter Packs on Spotify or Passion Struck starter packs to get started with the podcast.
My solo episode on how you unleash your creativity: https://passionstruck.com/unleash-your-creativity/
Want to catch my best interviews from 2022? Check out episode 233 on intentional greatness and episode 234 on intentional behavior change.
Watch my interview with Dr. Mark Hyman on how to defy aging: https://passionstruck.com/dr-mark-hyman-secrets-to-living-young-forever/
Catch my interview with Dr. Amy Shah on how you can control your food cravings: https://passionstruck.com/dr-amy-shah-you-can-control-your-food-cravings/
My solo episode on why micro choices matter: https://passionstruck.com/why-your-micro-choices-determine-your-life/
About Today's Guest, Christina Maslach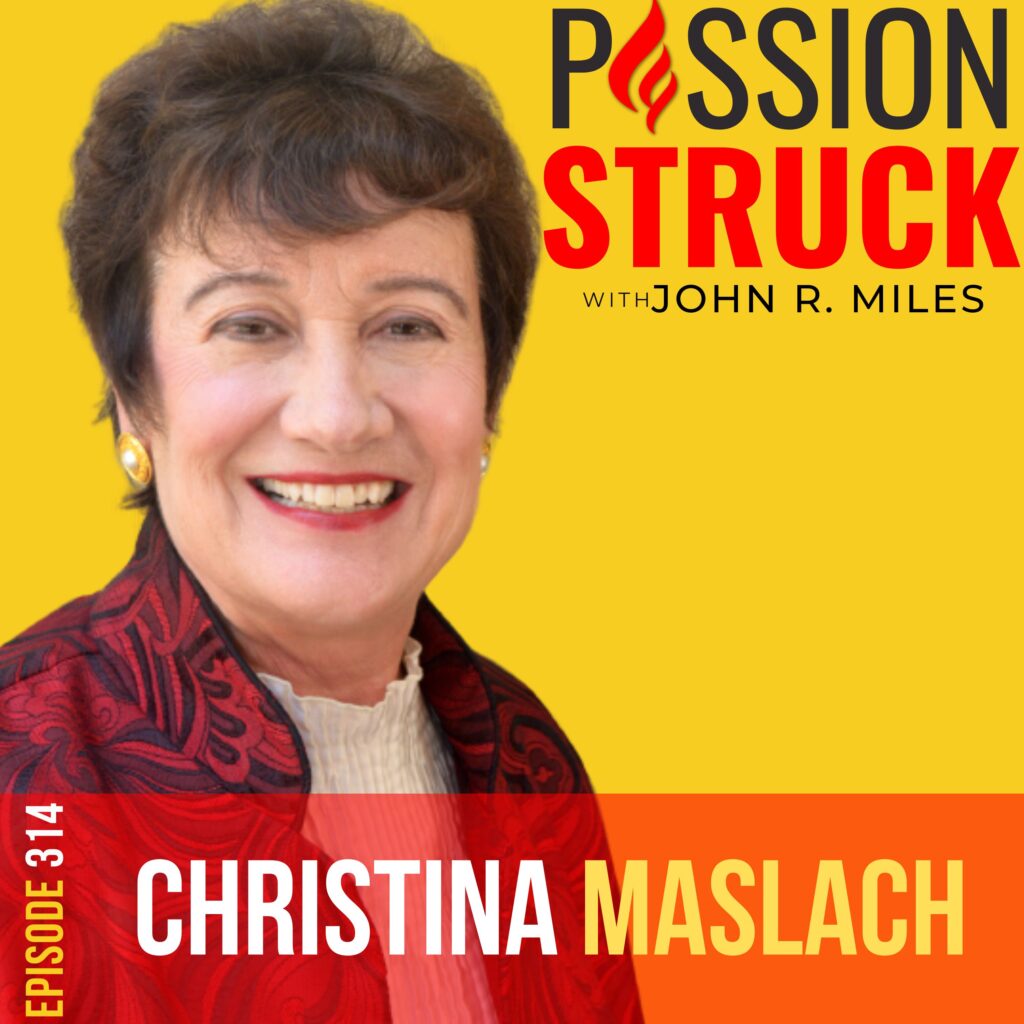 Christina Maslach is the co-author of The Burnout Challenge and a professor emerita at the University of California, Berkeley. With decades of experience in psychological research, she has managed to pioneer novel insights into the somewhat nebulous domain of job burnout. Her tireless quest to understand the dynamics between employees and their jobs has allowed her to unpack the factors precipitating chronic workplace stress and cynicism. Christina's groundbreaking work in job burnout research has rightfully earned her national recognition and made her a beacon of hope for those navigating difficult work environments.
Professor Maslach is the pioneer of research on the definition, predictors and measurement of job burnout. This work is the basis for the 2019 decision by the World Health Organization (WHO), to include burnout as an occupational phenomenon, with health consequences, in the ICD-11. She created the Maslach Burnout Inventory (MBI), the most widely used instrument for measuring job burnout, and has written numerous articles and books, including The Truth About Burnout. Several of her articles have received awards for their significance and high impact, including her longitudinal research on early burnout predictors, which was honored in 2012 as one of the 50 most outstanding articles published by the top 300 management journals in the world.
Recently, she received the 2017 Application of Personality and Social Psychology Award and several lifetime career achievement awards. In 2020, she received the award for Scientific Reviewing, for her work on burnout, from the National Academy of Sciences. In 2021, she was named by Business Insider as one of the top 100 people transforming business. She also consults on the identification of sources of burnout and potential interventions.
Follow John R. Miles On The Socials
* Twitter: https://twitter.com/Milesjohnr
* Facebook: https://www.facebook.com/johnrmiles.c0m
* Medium: https://medium.com/@JohnRMiles​
* Instagram: https://www.instagram.com/john_r_miles
* LinkedIn: https://www.linkedin.com/in/milesjohn/
* Blog: https://johnrmiles.com/blog/
* Instagram: https://www.instagram.com/passion_struck_podcast/
* Gear: https://www.zazzle.com/store/passion_struck/
John R. Miles is globally recognized as an expert in intentional behavior change, leadership, personal mastery, and veteran advocacy. He founded and serves as CEO of PASSION STRUCK®. This media company boasts a significant social media following and tens of millions of annual views on its podcasts and YouTube channels. His podcast, Passion Struck with John R. Miles, sets records and has held the top spot among alternative health podcasts. Furthermore, John is the author of the upcoming book "Passion Struck," which is set to be published in early 2024.
Passion Struck aspires to speak to the humanity of people in a way that makes them want to better, live better, and impact the world.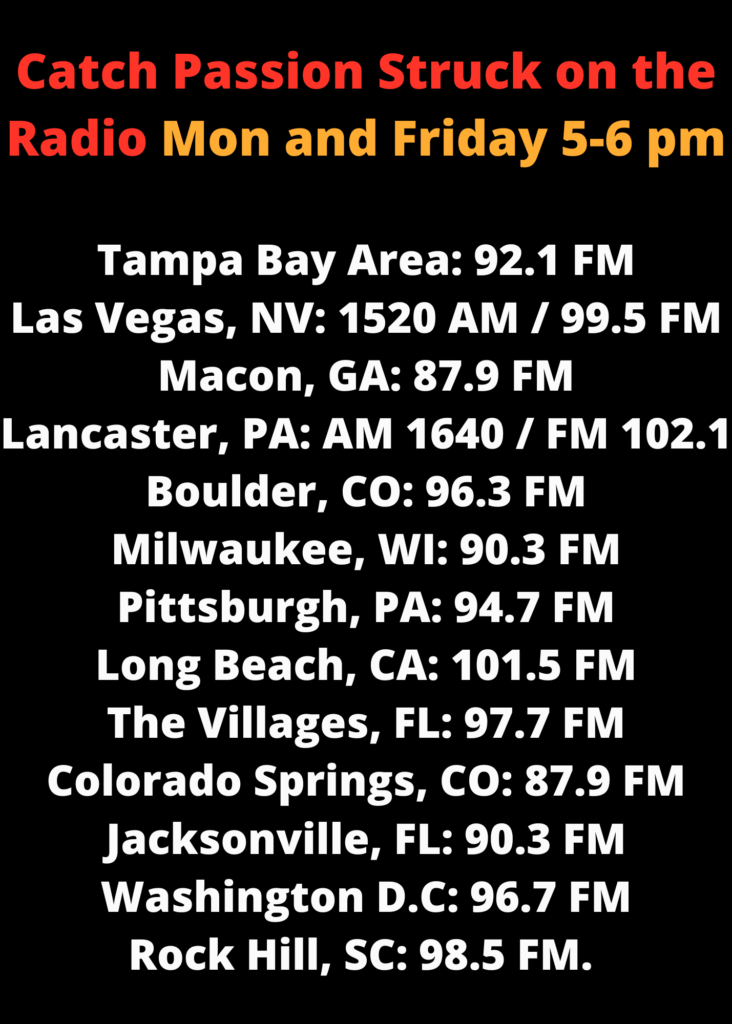 P.S.
Passion Struck is now on the AMFM247 broadcasting network every Monday and Friday from 5-6 PM.
Step 1: Go to TuneIn, Apple Music (or any other app, mobile or computer)
Step 2: Search for "AMFM247" Network
Passion Struck's mission is to unlock the power of intentionality for the benefit of us all. To create a world where we live better, be better, and impact the world through our unique and powerful content.