Abi Morgan on the importance of hope and the power of the tiny superhero acts of support, love, and kindness. | Brought to you by ZocDoc (https://www.zocdoc.com/passionstruck).
Abi Morgan is a playwright, author, and screenwriter. Her plays include Skinned, Sleeping Around, Splendour, Tiny Dynamite, Tender, Fugee, 27, Love Song, and The Mistress Contract. Her television work includes My Fragile Heart, Murder, Sex Traffic, Tsunami – The Aftermath, White Girl, Royal Wedding, Birdsong, The Hour, River, and The Split. Her film writing credits include Brick Lane, Iron Lady, Shame, The Invisible Woman, and Suffragette. She has several films currently in development and has won several awards, including Baftas and an Emmy for her film and TV work.
Abi Morgan is the author of the new book, This Is Not a Pity Memoir, where she writes about the trials and difficulties of steering a new life where her own cherished husband doesn't remember her.
Hear the secrets and philosophy of the World's GREATEST high achievers every Monday and Wednesday, and tune in each week for an inspirational Momentum Friday solo message.
Like this show? Please leave us a review here – even one sentence helps! Post a screenshot of you listening on Instagram & tag us to thank you personally!
Listen to the episode on Apple Podcasts, Spotify, Podcast Addict, Pocket Casts, Stitcher, Castbox, Google Podcasts, Amazon Music, or on your favorite podcast platform. You can watch the interview on YouTube below.
Enjoy!
What I Discuss With Abi Morgan About The Importance of Hope, Everyday Superheroes, and the Moments of Magic
Abi Morgan came home to discover her husband, Jacob, crumpled on the bathroom floor. After that moment, their lives would never be the same. Jacob suffered from multiple sclerosis, and this collapse left him with brain encephalitis, causing his doctors to place him in a medically induced coma.
When Jacob came out of the coma many months later, he saw Abi before him and was convinced she was not his wife. Jacob developed Capgras Syndrome, a rare delusional misidentification condition where one thinks their beloved ones are impostors. And then, in a twist of poor fate, Abi was diagnosed with breast cancer.
Morgan was faced with navigating an unimaginable new reality with her husband while ensuring he received appropriate care while she cared for her children. She relied on what she calls everyday superheroes to assist her day-to-day, but ultimately her writing helped her process the trauma of the experience.
In This Is Not a Pity Memoir, Abi Morgan invites readers into her world. She writes with a refreshing sense of authenticity, frustration, and the importance of hope.
We discuss:
How growing up in a nomadic family had a profound impact on her life.
Discovering her love for storytelling.
Her most famous movies and the power of the actors who portray the characters she developed.
Abi explains how she created her hit series, The Split.
We then detail the love story in her memoir.
How her life has been altered, and her advice to others about how she weathered the storm.
Have any questions, comments, or stories you'd like to share? Drop us a line at

[email protected]

m!
And much more…
Please Scroll Down For Featured Resources
Our Patreon Page: https://www.patreon.com/passionstruck
Thank You, ZocDoc, For Sponsoring.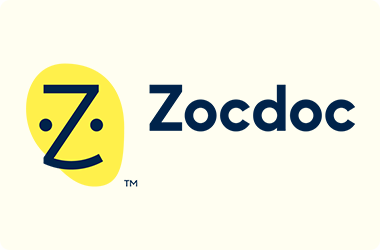 This episode of Passion Struck with John R. Miles is brought to you by Zocdoc, which is the start of a better health care journey for you. Find and book top-rated local doctors on demand. Visit them in their offices or video chat with them from home. Go to https://www.zocdoc.com/passionstruck. Download the Zocdoc app for FREE and start your search for a top-rated doctor today.
New to the show? These Starter Packs are collections of our most popular episodes grouped by topic, and we now have them also on Spotify. You can also browse starter packs for existing listeners to find your old favorites. Every week, John interviews everyday heroes from all walks of life. Learn how to subscribe to the show and never miss a new episode and topic.
Like this? Please subscribe, and join me on my new YouTube platform for peak performance, life coaching, and personal growth: https://www.youtube.com/c/JohnRMiles/.
More From My Interview With Abi Morgan On the Importance of Hope, Everyday Superheroes and Why There Are Moments of Magic Everywhere
During our interview, Abi Morgan and I discuss her mantra that everyday superheroes come in many forms. I asked her why was that so important to her?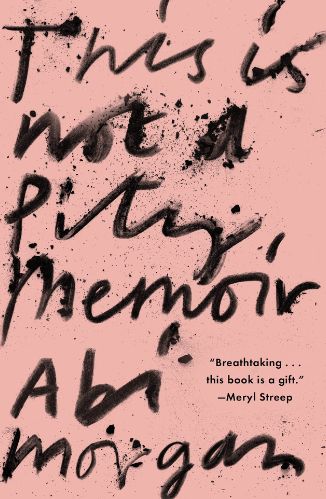 Abi Morgan explains, "The tiny acts of kindness, the tiny acts of bravery, the tiny acts of support, the tiny superhero acts as I call them, were everywhere. They were the neighbor who left me a lasagna or a jar of honey on my front doorstep. There was my amazing sister, a neighbor who, you know, planted bulbs so that they came out on my birthday. There was the kindness of my kids. There was the oncologist the very unassuming mastectomy surgeon that you would pass on the street, and you wouldn't notice those people saved my life. They saved my life.
I guess I rethought what a superhero is. Then when we had the global pandemic, then it became the buzzword, the new superheroes were our National Health Service. The new superheroes have been the responders, the medics, the nurses, the consultants and doctors who've got us through, and those who found vaccines. Those are the superheroes to me. I love Marvel and superhero films, but actually, it made me see the kind of moments of magic in my day-to-day life. Moments of miracle and genuine moments where I could have hope and belief.
There's nothing more terrifying, where you see someone you love intently, and who you're dependent on hanging between life and death. When your life is in question, you must find magic everywhere. One of the things that I talk about in the book is that a friend gave me this sound therapy. A session with this woman, although parts of it, were kind of hokey. I'm sorry to get that, but parts of it were quite a sort of mystic, actually.
What came out of it was this beautiful idea there are moments of magic anywhere.
If you see a feather, it's an angel feather. If you see a bee, it's a symbol of empowerment. I realized it was how you decode and see the world. And I find that very useful. So that's where the superhero thing came from. I suddenly realized I had to lean into the most normal-looking people and the most domestic elements of my life to survive. Really, that was how I survived it."
Thanks, Abi Morgan!
If you enjoyed this interview with Abi Morgan, let her know by clicking on the link below and sending her a quick shout on Instagram or Twitter:
Click here to thank Abi Morgan on Instagram!
Click here to let John R. Miles know about your number one takeaway from this episode!
And if you want us to answer your questions or you have a topic you would like John to discuss on one of our upcoming weekly Momentum Friday episodes, drop us a line at [email protected].
Resources From The Show With Abi Morgan
Please note that some of the links on this page (books, movies, music, etc.) lead to affiliate programs for which The Passion Struck podcast receives compensation. It's just one of the ways we keep the lights on around here. Thank you so much for being so supportive!
*This is Not a Pity Memoir is Being Adapted for TV
* The Split Can Be Viewed Now In the United States: https://www.independent.co.uk/arts-entertainment/books/features/abi-morgan-the-split-iron-lady-b2078275.html
*Instagram: https://whttps://www.instagram.com/abimorgan9/
* My solo episode on Why Average Choices Lead to an Average Life: https://passionstruck.com/why-average-choices-lead-being-mediocre/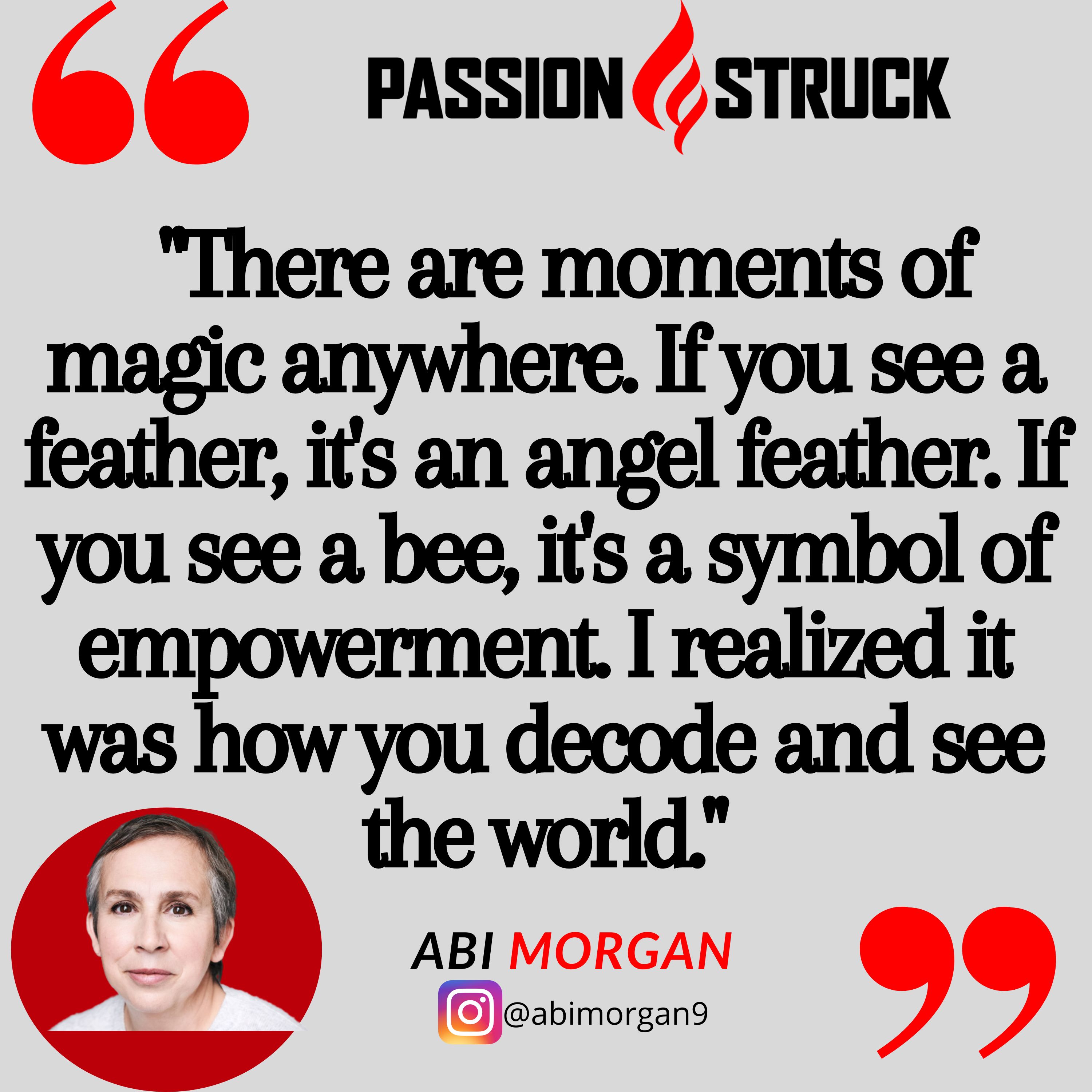 * My interview with Kara Robinson Chamberlain on how she escaped from a kidnapping by a serial killer: https://passionstruck.com/kara-robinson-chamberlain-be-vigilant/
* My interview with Jean Oelwang on the power of partnerships: https://passionstruck.com/jean-oelwang-what-will-you-love-into-being/
* My interview with Sara Mednick, Ph.D. on the power of the downstate and its impact on performance and health: https://passionstruck.com/sara-mednick-recharge-your-brain-body/
* My interview with Katy Milkman, Ph.D. on how to create lasting behavior change: https://passionstruck.com/katy-milkman-behavior-change-for-good/
* My interview with David Yaden, Ph.D. on self-transcendence, psychedelics, and behavior change: https://passionstruck.com/david-yaden-on-self-transcendence-experiences/
* My interview with Jeff Walker on the importance of collaboration in systems change: https://passionstruck.com/jeffrey-c-walker-collaboration-systems-change/
* My interview with Admiral Sandy Stosz on how to lead in unchartered waters: https://passionstruck.com/admiral-sandy-stosz-leader-with-moral-courage/
* My solo episode on why micro choices matter: https://passionstruck.com/why-your-micro-choices-determine-your-life/
* My solo episode on why you must feel to heal: https://passionstruck.com/why-you-must-feel-to-find-emotional-healing/
About Today's Guest Abi Morgan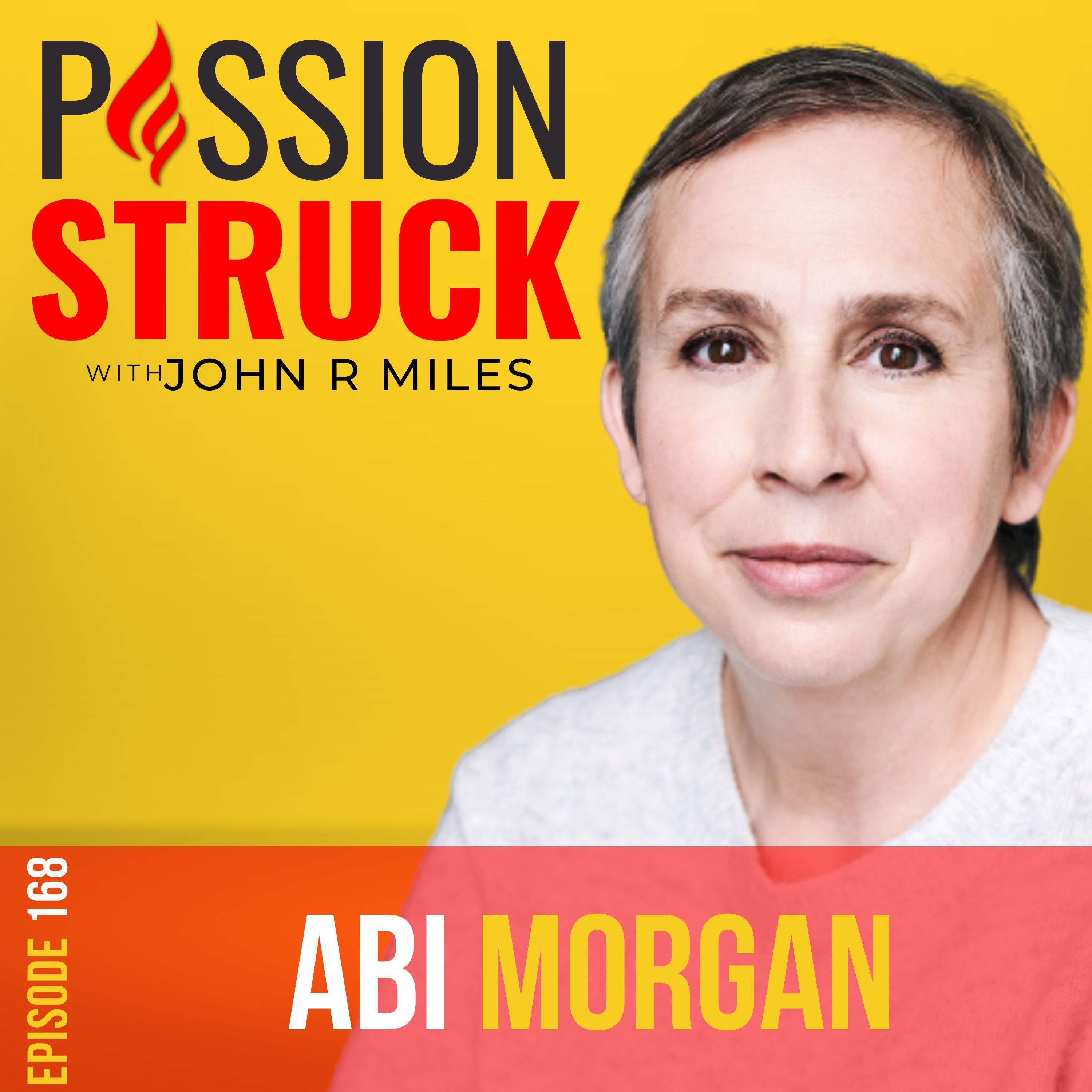 Abigail Louise Morgan OBE is a Welsh playwright and screenwriter known for her works for television, such as Sex Traffic and The Hour, and the films Brick Lane, The Iron Lady, Shame and Suffragette.
Abi Morgan was born in Cardiff, and after initial ambitions to become an actress, she decided to become a writer while studying drama and literature at Exeter University. She went on to take a postgraduate writing course at the Central School of Speech and Drama (London).
Follow John R. Miles On The Socials
* Twitter: https://twitter.com/Milesjohnr
* Facebook: https://www.facebook.com/johnrmiles.c0m
* Medium: https://medium.com/@JohnRMiles​
* Instagram: https://www.instagram.com/john_r_miles
* LinkedIn: https://www.linkedin.com/in/milesjohn/
* Blog: https://johnrmiles.com/blog/
* Instagram: https://www.instagram.com/passion_struck_podcast/
* Gear: https://www.zazzle.com/store/passion_struck/
John R. Miles is a serial entrepreneur and the CEO and founder of Passion Struck. This full-service media company helps people live intentionally by creating best-in-class educational and entertainment content. John is also a prolific public speaker, venture capitalist, and author named to the ComputerWorld Top 100 IT Leaders.
John is the host of the PassionStruckPodcast. The show focused on exploring the mindset and philosophy of the world's most inspiring people to learn their lessons to living intentionally. Passion Struck aspires to speak to the humanity of people in a way that makes them want to live better, be better and impact.
Stay tuned for JJohn'slatest project, his upcoming book, which will be published in summer 2022.
Learn more about me: https://johnrmiles.com