How much is the value of time really worth? Carl Sandburg said, "Time is the coin of your life. It is the only coin you have, and only you can determine how it will be spent."
In this Momentum Friday episode from the Passion Struck podcast, I tackle the value of time. I examine this by studying wisdom from the stoics on the topic and using ten of their mantras for managing time.
Hear the secrets and philosophy of the World's GREATEST high achievers every Monday and Thursday, and tune in each week for an inspirational Momentum Friday solo message.
Like this show? Please leave us a review here – even one sentence helps! Post a screenshot of you listening on Instagram & tag us to thank you personally!
Listen to the episode on Apple Podcasts, Spotify, Podcast Addict, Pocket Casts, Stitcher, Castbox, Google Podcasts, Listen Notes, Amazon Music, or on your favorite podcast platform. You can watch the interview on YouTube below.
Enjoy
The Value of Time: How Much is Your Time Really Worth?
Members of the Passion Struck community have asked questions like, "Why do I always feel there aren't there enough hours in the day to do the things I want to do?", "Why do I keep procrastinating?", "Why do I waste my time doing frivolous things?", Why am I constantly dissatisfied with where my life is going?" and many other similar questions. This episode is dedicated to answering them.
This episode tackles how to determine the value of time, what your time is worth, and how to use that information to spend your time more effectively. Learning how to get the most out of your time starts with knowing exactly what your time is worth.
Why time is the currency of life.
How do you want to spend your time?
The value of time
Why do we fail to manage time wisely?
Ten lessons from the stoics for how to effectively value our time

Treat time as a tangible resource
Focus on doing less well
Act promptly
Find purpose and fulfillment in what you do
Manage time by setting micro timeframes
Be intentional about the value of time
Make long-term rewards immediate.
Understand the domains of time
Cherish and guard your time
Manage your health

Don't squander your time
Have any questions, comments, or stories you'd like to share with us? Drop us a line at

[email protected]

m!
Connect with John R Miles on Twitter at @John_RMiles and Instagram at @John_R_Miles.
Questions For You And Your Friends Or Family Members To Discuss This Episode
What is the value of time in your life?
How do you value an hour of your time?
How do you value your time vs. money?
How do you track the value of time?
What are the consequences of the decisions you make regarding time?
What is one way you will start addressing your time following this episode?
How can you apply the episode to your life?
What was your favorite mantra from the stoics?
Please Scroll Down For Featured Resources
Our Patreon Page: https://www.patreon.com/passionstruck
Thank You, Dry Farm Wines, For Sponsoring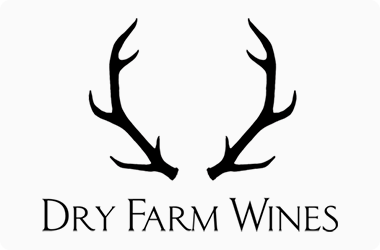 This episode of Passion Struck with John R. Miles is brought to you by Dry Farm Wines, which Have No Chemical Additives for Aroma, Color, Flavor, or Texture Enhancement. Dry Farm Wines – The Only Natural Wine Club That Goes Above and Beyond Industry Standards. For Passion Struck listeners: Dry Farm Wines offers an extra bottle in your first box for a penny (because it's alcohol, it can't be free). See all the details and collect your wine at https://www.dryfarmwines.com/passionstruck/.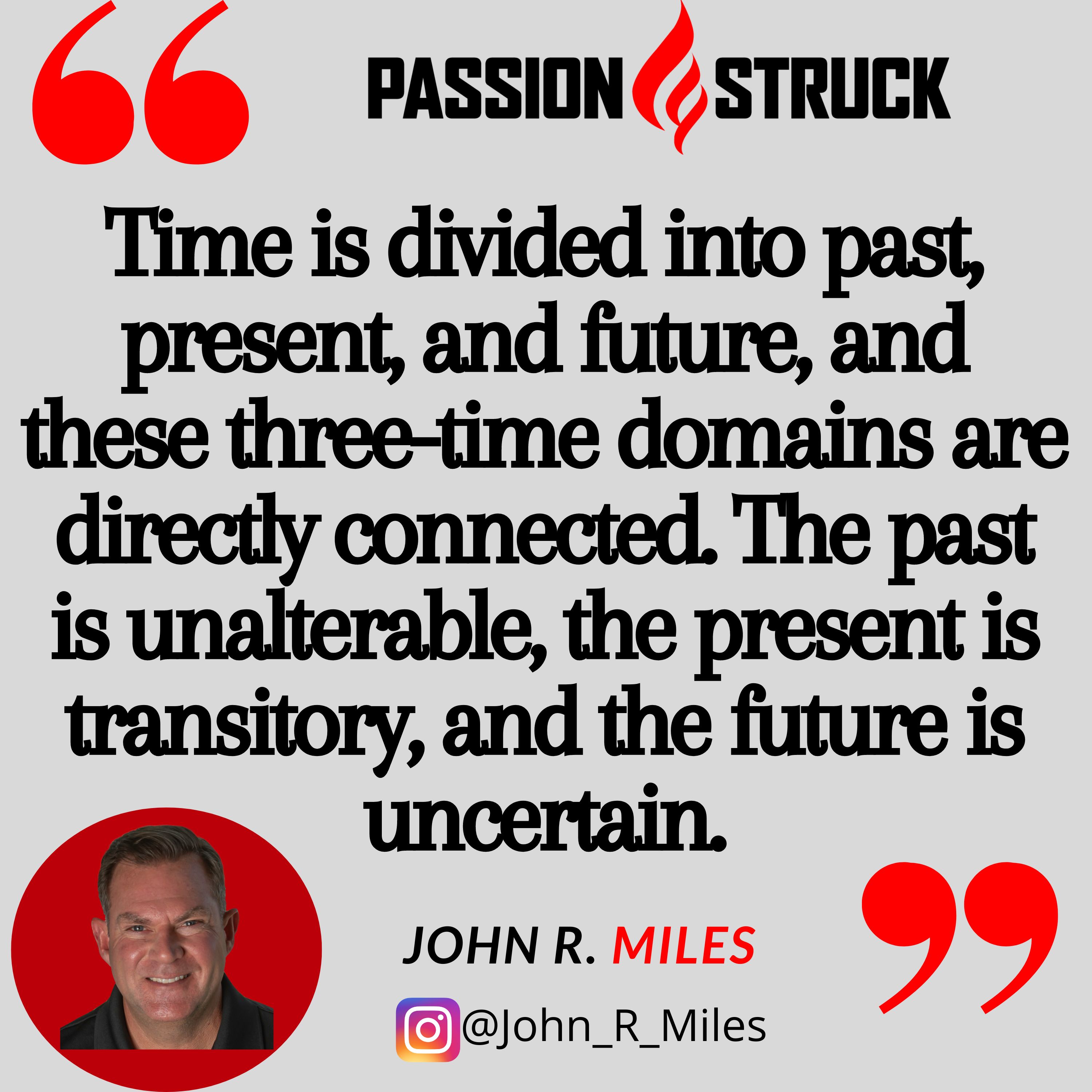 New to the show? These Starter Packs are collections of our most popular episodes grouped by topic, and we now have them also on Spotify. You can also browse starter packs for existing listeners to find your old favorites. Every week, John interviews everyday heroes from all walks of life. Learn how to subscribe to the show and never miss a new episode and topic.
Like this? Please subscribe, and join me on my new YouTube platform for peak performance, life coaching, and personal growth: https://www.youtube.com/c/JohnRMiles/.
Resources From The Show On The Value of Time
Please note that some of the links on this page (books, movies, music, etc.) lead to affiliate programs for which The Passion Struck podcast receives compensation. It's just one of the ways we keep the lights on around here. Thank you so much for being so supportive!
* The Daily Stoic by Ryan Holiday and Stephen Hanselman: https://amzn.to/3wRdvII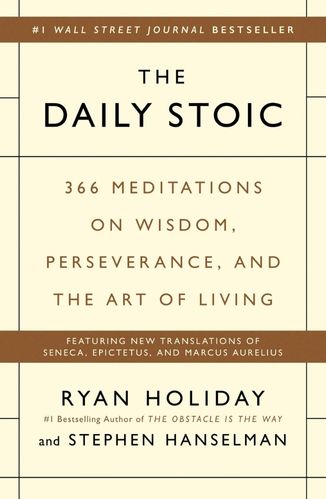 * The Practicing Stoic: A Philosophical User Guide by Ward Farnsworth: https://amzn.to/3R8L0OG
* My article that accompanies this episode: https://johnrmiles.com/how-to-manage-time-the-wisdom-of-the-stoics/
* My solo episode on why loneliness is killing us and 9 ways to overcome it: https://passionstruck.com/loneliness-is-not-a-joke-here-are-10-ways-to-deal-with-it/
* My interview with Abigail Barnes on how to turn your time into productivity: https://podcasts.apple.com/us/podcast/abigail-barnes-on-turn-your-time-into-productivity-ep-38/id1553279283?i=1000526370291
* My interview with Dr. Kara Fitzgerald on reverse aging and how to become a younger you: https://passionstruck.com/dr-kara-fitzgerald-become-younger-you/
* My interview with Dr. Ayelet Fishbach on how you get things are done through the science of motivation: https://passionstruck.com/ayelet-fishbach-get-it-done-find-the-fun-path/
* My interview with Dr. Katy Milkman on the behavior science behind how we change: https://passionstruck.com/katy-milkman-behavior-change-for-good/
* My solo episode on why micro choices matter: https://passionstruck.com/why-your-micro-choices-determine-your-life/
* My solo episode on why you must feel to heal: https://passionstruck.com/why-you-must-feel-to-find-emotional-healing/
About John R. Miles
John R. Miles is the CEO, and Founder of PASSION STRUCK®, the first of its kind company, focused on impacting real change by teaching people how to live Intentionally. He is on a mission to help people live a no-regrets life that exalts their victories and lets them know they matter in the world. For over two decades, he built his own career applying his research of passion struck leadership, first becoming a Fortune 50 CIO and then a multi-industry CEO. John is also a prolific public speaker, venture capitalist, entrepreneur, and author.
ENGAGE WITH JOHN R. MILES
* Subscribe to my channel: https://www.youtube.com/c/JohnRMiles
* Leave a comment 5-star rating (please!)
* Support me: https://johnrmiles.com
* About: https://johnrmiles.com/my-story/
* Twitter: https://twitter.com/John_RMiles
* Facebook: https://www.facebook.com/Johnrmiles.c0m.
* Medium: https://medium.com/@JohnRMiles​
* Instagram: https://www.instagram.com/john_r_miles
PASSION STRUCK
*Subscribe to Podcast: https://podcasts.apple.com/us/podcast/the-passion-struck-podcast/id1553279283
* Gear: https://www.zazzle.com/store/passion_struck
*About: https://passionstruck.com/about-passionstruck-johnrmiles/
*Instagram: https://www.instagram.com/passion_struck_podcast
*LinkedIn: https://www.linkedin.com/company/passionstruck