In this thought-provoking Passion Struck episode featuring Marshall Goldsmith, a renowned leadership coach, and best-selling author, a fundamental question is posed: Why does a life filled with continuous achievements often leave us with a sense of emptiness? Delving into ancient Buddhist wisdom of impermanence, the answer becomes clear: true fulfillment and happiness stem not from merely meeting ambitious goals but from actively pursuing meaningful goals. Marshall is the author of The Earned Life: Lose Regret, Choose Fulfillment.
Are you exhausted by the monotonous routine of everyday life, plagued by a constant sense of unease and the fear of missed opportunities? Have you tried living in the present moment, only to find yourself still yearning for something more meaningful and satisfying? If you're ready to break free from this cycle of discontent and embark on a journey toward a purposeful and fulfilling existence, then this episode is for you. Join us as we unlock the secrets to cultivating a growth mindset, unlocking your true leadership potential, and forging genuine connections that bring lasting joy and fulfillment. It's time to bid farewell to regrets and embrace a life well-earned. Get ready to embark on this transformative exploration with us.
Like this show? Please leave us a review here – even one sentence helps! Post a screenshot of you listening on Instagram & tag us to thank you personally!
Hear the secrets and philosophy of the World's GREATEST high achievers every Tuesday and Thursday, and tune in each week for an inspirational Momentum Friday solo message.
Listen to the episode on Apple Podcasts, Spotify, Podcast Addict, Pocket Casts, Stitcher, Castbox, Google Podcasts, Listen Notes, Amazon Music, or on your favorite podcast platform. You can watch the interview on YouTube below.
Enjoy!
Dr. Marshall Goldsmith Joines Me To Discuss How You Create Your Earned Life
In this episode of Passion Struck, John R. Miles sits down with Dr. Marshall Goldsmith, an executive coach, business educator, and bestselling author, to discuss living an earned life. Goldsmith believes that people should focus on finding purpose and meaning in life, which will lead to fulfillment and avoid regrets. Goldsmith shares his insights on empathy, impermanence, community, and results and how they all contribute to living an earned life.
He emphasizes that happiness should be found in the present moment and not in the future. He encourages listeners to be present in their everyday lives and never to get so busy that they forget the people they love. This episode offers practical and actionable advice on how to achieve success and fulfillment by embracing empathy, impermanence, purpose, presence, community, and results.
By listening to Marshall and John, you will be able to:
Create an environment fostering purpose and diminishing regrets, giving rise to a genuinely earned life.
Elevate your leadership potential through stakeholder-centered feedback and the power of daily reflection.
Cultivate a growth mindset by embracing transparency, accountability, and empathy as essential components of self-improvement.
Uncover the secret to lasting fulfillment by concentrating on the journey, embracing change, and forging deep connections.
Put an end to personal and professional drama by harnessing emotional intelligence and maintaining mindfulness.
And much, much more!
Have any questions, comments, or stories you'd like to share? Drop us a line at

[email protected]

!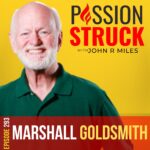 Please Scroll Down For Featured Resources
Thank You, Indeed, For Sponsoring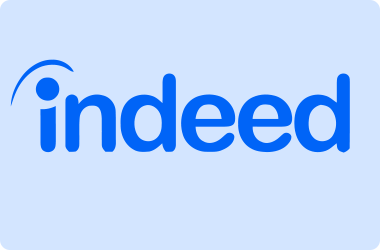 With Indeed, you can search for millions of jobs online to find the next step in your career. With tools for job search, resumes, company reviews, and more.
Head to https://www.indeed.com/passionstruck, where you can receive a $75 credit to attract, interview, and hire in one place.
Thank You, Hello Fresh, For Sponsoring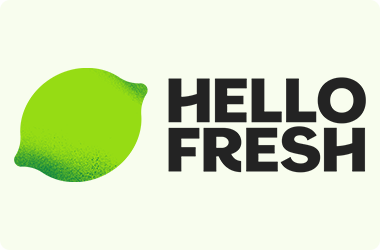 Hello Fresh provides delicious and wholesome meals with easy-to-follow recipes and fresh, high-quality ingredients. Use code passion16 to get 16 free meals plus free shipping!"
Thank You, Fabric, For Sponsoring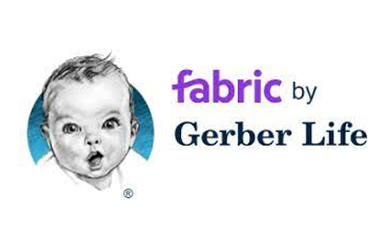 Fabric by Gerber Life is a new addition to the Gerber Life family, offering parents more ways to help protect their family's financial futures. Protect your family today with Fabric by Gerber Life.
Go to Apply today in just 10 minutes at https://meetfabric.com/passion.
*Our Patreon Page: https://www.patreon.com/passionstruck.
Starter Packs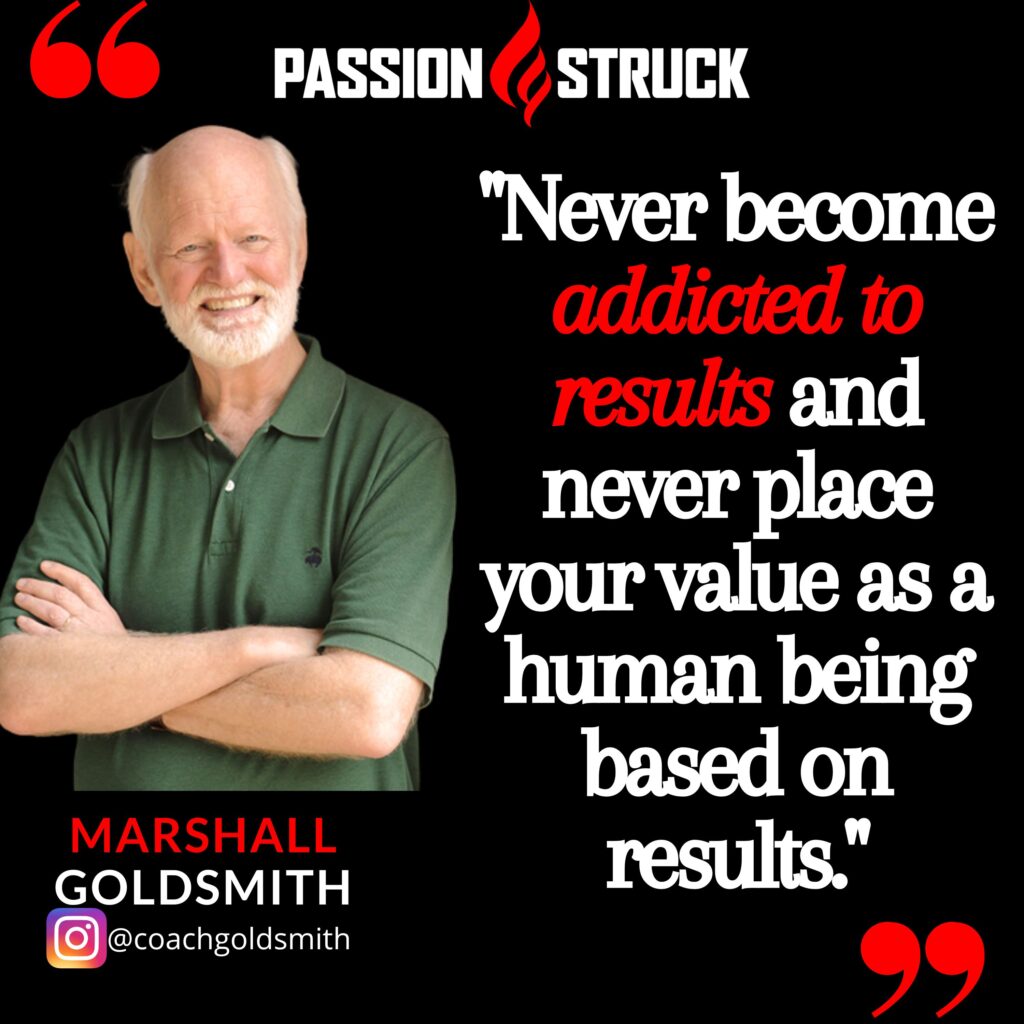 New to the show? These Starter Packs are collections of our most popular episodes grouped by topic, and we now have them also on Spotify. You can also browse starter packs for existing listeners to find your old favorites. Every week, John interviews everyday heroes from all walks of life. Learn how to subscribe to the show and never miss a new episode and topic.
Like this? Please subscribe, and join me on my new YouTube platform for peak performance, life coaching, and personal growth: https://www.youtube.com/c/JohnRMiles.
More From My Conversation With Marshall Goldsmith
Marshall Goldsmith's journey in life took an impressive turn when he met Dr. Paul Hersey, a renowned teacher who had co-invented situational leadership. Inspired by Dr. Hersey, Marshall became more ambitious, leading him to work with luminaries like Francis Hesselbine, Peter Drucker, and Warren Bennett. These great teachers instilled in him the belief that he could be more, a message that transformed his life. Embracing this newfound sense of purpose, Marshall embarked on a mission to make the biggest positive difference he could, developing the Marshall Bot project to share his knowledge for free and creating the 100 Coaches program to pass on his wisdom to others.
"The Earned Life"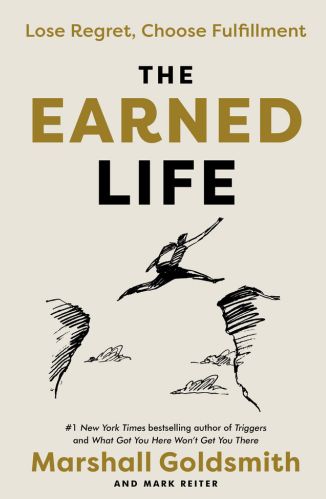 The Earned Life is a concept that emphasizes the importance of finding purpose and avoiding regrets in life. It's about living a life that is meaningful and intentional, where individuals pursue their aspirations, take meaningful actions, and find satisfaction in their day-to-day journey. Living an Earned Life requires a focus on self-reflection, growth, and continuous improvement both on a personal and professional level.
In the podcast, Marshall Goldsmith talks about the importance of seeking meaning and purpose in our lives to achieve long-term happiness. He stresses the importance of being honest with oneself and being present in the moment to experience the emotions and connections that add meaning to our lives. Goldsmith also advises against becoming addicted to results or tying self-worth to outcomes, as it can result in emotional distress and lack of enjoyment in life's journey.
Calculating Risks and Opportunities
Life presents numerous risks and opportunities; however, it's essential to weigh the potential consequences of our actions to strike a balance between pursuing exciting prospects and maintaining a sense of security. Carefully calculating risks and opportunities allows us to experience growth while avoiding unnecessary negative consequences that can set us back or deter us from achieving our true potential.
Marshall Goldsmith shares his personal story of a surfing accident that happened when he was 27 years old. In his reflection, he acknowledges that the mishap occurred because he pursued short-term gratification without considering the long-term consequences. Goldsmith highlights the importance of learning from these experiences and utilizing calculated risk-taking when faced with various opportunities in life.
Say Thanks To Marshall Goldsmith
If you enjoyed this interview with Marshall Goldsmith, let him know by clicking on the link below and sending him a quick shout on Instagram:
Click here to show Marshall Goldsmith your thoughts about today's episode on Instagram!
Click here to let John R. Miles know about your number one takeaway from this episode!
And if you want us to answer your questions or you have a topic you would like John to discuss on one of our upcoming weekly Momentum Friday episodes, drop us a line at [email protected].
Resources From The Show With Marshall Goldsmith
Please note that some of the links on this page (books, movies, music, etc.) lead to affiliate programs for which The Passion Struck podcast receives compensation. It's just one of the ways we keep the lights on around here. Thank you so much for being so supportive!
Instagram: https://www.instagram.com/coachgoldsmith/
Check out Marshall Goldsmith's latest best-selling book, The Earned Life: Lose Regret, Choose Fulfillment.
Visit Marshall Goldsmith's website for free access to all his materials, including videos and articles.
Consider joining Marshall Goldsmith's program, 100 Coaches, which offers mentorship and coaching from top leaders.
Watch out for Marshall Goldsmith's upcoming custom video bot, audio bot, and metaverse bot for more personalized coaching and guidance.
Take action to overcome your self-defeating behaviors and avoid falling into the superstition trap, as discussed in What Got You Here Won't Get You There.
Make the transition from thinking it's all about me to it's all about them to become a great leader.
Learn from the examples of successful leaders like Francis Hesselbine and Alan Mulally, who have made significant turnarounds using Marshall Goldsmith's coaching methods.
Listen to Passion Struck's interviews with New York Times bestselling author Gretchen Rubin and Dr. Julianne Holt Lunstead.
Check out Passion Struck's Episode Starter Packs on Spotify or Passion Struck starter packs to get started with the podcast.
My solo episode on how you unleash your creativity: https://passionstruck.com/unleash-your-creativity/
Want to catch my best interviews from 2022? Check out episode 233 on intentional greatness and episode 234 on intentional behavior change.
Watch my interview with Dr. Mark Hyman on how to defy aging: https://passionstruck.com/dr-mark-hyman-secrets-to-living-young-forever/
Catch my interview with Dr. Amy Shah on how you can control your food cravings: https://passionstruck.com/dr-amy-shah-you-can-control-your-food-cravings/
My solo episode on why micro choices matter: https://passionstruck.com/why-your-micro-choices-determine-your-life/
About Today's Guest, Marshall Goldsmith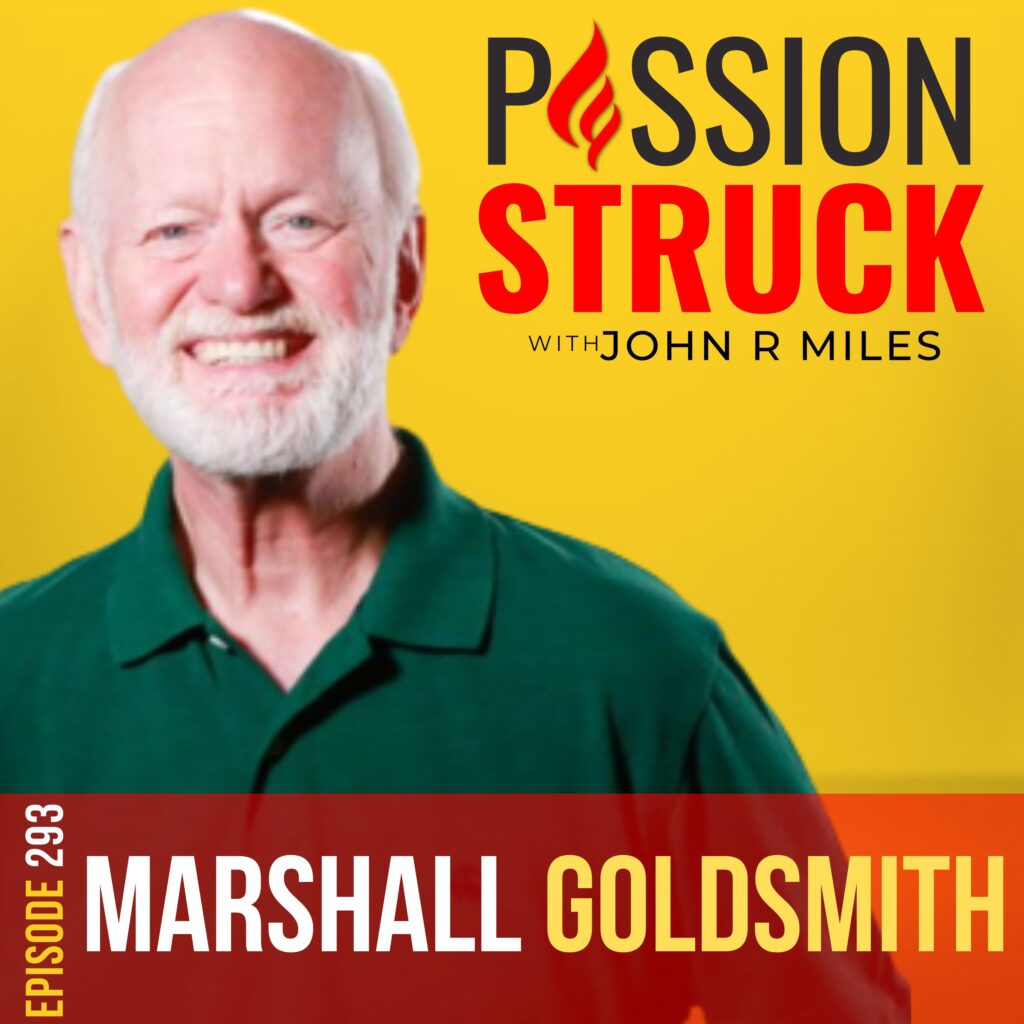 Dr. Marshall Goldsmith is a globally acclaimed authority in the business world, acknowledged as one of the Top Ten Business Thinkers worldwide. His exceptional expertise as an executive coach has consistently earned him the top-ranking position at the prestigious Thinkers50 ceremony in London since 2011. With his profound insights and groundbreaking approach, Dr. Goldsmith has made an indelible impact on countless individuals and organizations.
Among his notable accomplishments is the publication of his book Triggers, which skyrocketed to the top of the Wall Street Journal and New York Times bestseller lists upon its release in 2015. This remarkable achievement is a testament to the compelling and transformative nature of Dr. Goldsmith's teachings.
Additionally, he is the esteemed author of the New York Times bestseller and #1 Wall Street Journal Business Book, What Got You Here Won't Get You There. Recognized with the prestigious Harold Longman Award as the Best Business Book of the Year, this groundbreaking work has revolutionized how we perceive personal and professional growth.
Dr. Goldsmith's prolific contributions to the world of business and leadership have cemented his position as a respected authority sought after by individuals and corporations alike. Through his remarkable books and unwavering commitment to excellence, he continues to shape the landscape of modern leadership and inspire countless individuals to reach their highest potential.
Follow John R. Miles On The Socials
* Twitter: https://twitter.com/Milesjohnr
* Facebook: https://www.facebook.com/johnrmiles.c0m
* Medium: https://medium.com/@JohnRMiles​
* Instagram: https://www.instagram.com/john_r_miles
* LinkedIn: https://www.linkedin.com/in/milesjohn/
* Blog: https://johnrmiles.com/blog/
* Instagram: https://www.instagram.com/passion_struck_podcast/
* Gear: https://www.zazzle.com/store/passion_struck/
John R. Miles is globally recognized as an expert in intentional behavior change, leadership, personal mastery, and veteran advocacy. He founded and serves as CEO of PASSION STRUCK®. This media company boasts a significant social media following and tens of millions of annual views on its podcasts and YouTube channels. His podcast, Passion Struck with John R. Miles, sets records and has held the top spot among alternative health podcasts. Furthermore, John is the author of the upcoming book "Passion Struck," which is set to be published in early 2024.
Passion Struck aspires to speak to the humanity of people in a way that makes them want to better, live better, and impact the world.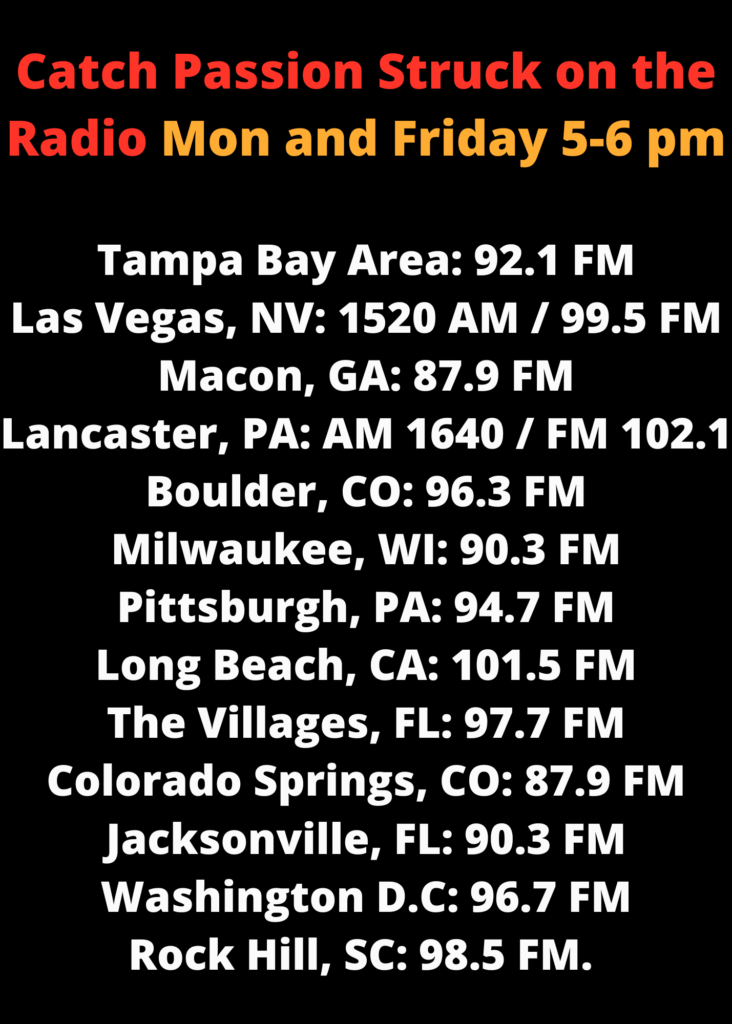 P.S.
Passion Struck is now on the AMFM247 broadcasting network every Monday and Friday from 5-6 PM.
Step 1: Go to TuneIn, Apple Music (or any other app, mobile or computer)
Step 2: Search for "AMFM247" Network
Passion Struck's mission is to unlock the power of intentionality for the benefit of us all. To create a world where we live better, be better, and impact the world through our unique and powerful content.