Jesse Gould – saving veterans one heroic heart at a time through psychedelic therapy for overcoming trauma and PTSD. Brought to you by Masterworks. Go to https://www.masterworks.io/ and use code passion to start.
Jesse Gould (@heroicheartsproject) is a pioneer in psychedelic therapies. As a former Army Ranger and founder of the Heroic Hearts Project, he has spearheaded the research and acceptance of ayahuasca, ibogaine, ketamine, and psilocybin therapy programs for military veterans. Jesse has spoken globally about the benefits of psychedelics on mental health and has been featured in the New York Times, the Economist, and Forbes, and is recognized as one of the most influential voices in psychedelics today.
Hear the secrets and philosophy of the World's GREATEST high achievers every Monday and Wednesday, and tune in each week for an inspirational Momentum Friday solo message.
If you are a Veteran or First Responder dealing with issues related to traumatic brain injury, PTSD, brain health, or anything of the like, contact the Warrior Angels Foundation or Heroic Hearts Project to learn more. You can also donate to the cause of helping these warriors get their lives back.
Please also check out my interview with Warrior Angels Co-Founder Andrew Marr.
Like this show? Please leave us a review here – even one sentence helps! Post a screenshot of you listening on Instagram & tag us to thank you personally!
Listen to the episode on Apple Podcasts, Spotify, Podcast Addict, Pocket Casts, Stitcher, Castbox, Google Podcasts, Amazon Music, or on your favorite podcast platform. You can watch the interview on YouTube below.
Enjoy!
What I Discuss With Jesse Gould
Jesse Gould joins me in this episode of the Passion Struck podcast to discuss his mission to help military veterans struggling with mental trauma and spread awareness of the benefits of psychedelic therapies as an alternative treatment to pharmaceuticals. 
For centuries, indigenous healers and Native Americans have used psychedelic plants for therapy and medical treatment. Ayahuasca, for instance, has been used over 5000 years to facilitate personal and collective healing. During ceremonies, healers would often help provide recovery and reconcile the trauma people had experienced. Over the past century, psychedelics were labeled as illicit drugs and prohibited.
However, research at some of the most prestigious universities and medical centers in the world is demonstrating in clinical trials the benefits these therapies can provide and lasting positive impact. Jesse's goal is to legitimize and legalize their use and mental health providers are realizing it is just a matter of time.
The 4x4x48 challenge we both recently undertook and its significance in promoting the work of veteran non-profit organizations.
How Jesse began experiencing the silent wounds and mental health issues from being an Army Ranger.
Jesse's positive experience with psychedelic therapy led him to found the Heroic Hearts Project.
We detail how the different psychedelics (MDMA, Psylocibin, Ayahuasca, and Ketamine) each promotes healing.
Why the Department of Veterans Affairs is currently failing those, who have PTSD.
We discuss how MDMA Phase 3 Clinical trials are having a 67% success rate in reducing PTSD symptoms.
The reason big pharma has worked against these modalities and why that is changing.
Stage 2 Psylocibin and stage 3 MDMA trials that are currently underway, and the legislature formally set to legalize its use.
How you can get involved to support these new modalities and get treated by Heroic Hearts.
The importance of contacting your representatives in congress.
Have any questions, comments, or stories you'd like to share? Drop us a line at 

[email protected]

m!
And much more…
Please Scroll Down For Featured Resources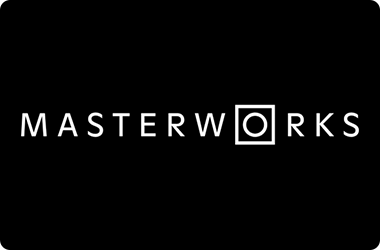 This episode of Passion Struck with John R. Miles is brought to you by Masterworks. 66% of Billionaires Collect Art, so Why Aren't You? Low Minimums, Simple and Exciting. You Can Use Art as an Alternative Investment to Diversify Your Portfolio. Blue-Chip Artwork. Go to https://www.masterworks.io/ and use code passion to start.
Our Patreon Page: https://www.patreon.com/passionstruck
New to the show? These Starter Packs are collections of our most popular episodes grouped by topic, and we now have them also on Spotify. You can also browse starter packs for existing listeners to find your old favorites. Every week, John interviews everyday heroes from all walks of life. Learn how to subscribe to the show and never miss a new episode and topic.
Like this? Please subscribe, and join me on my new YouTube platform for peak performance, life coaching, and personal growth: https://www.youtube.com/c/JohnRMiles/.
Jesse Gould And I Discuss How He Is Healing Veterans Through the Heroic Hearts Project
During our interview, I asked Jesse Gould What were the effects of his Ayahuasca experience and how long did they last?
Jesse explains, "For me, and for most people, when they have these big (Ayahuasca) experiences over that week, no matter what, they will have lasting changes. They're going to have ongoing perceptions of themselves and their understandings. Many of them can overcome hypervigilance, depression, or anxiety. It won't come back, or it won't come back as severe as it had before. But trauma is complex, and we all process trauma differently.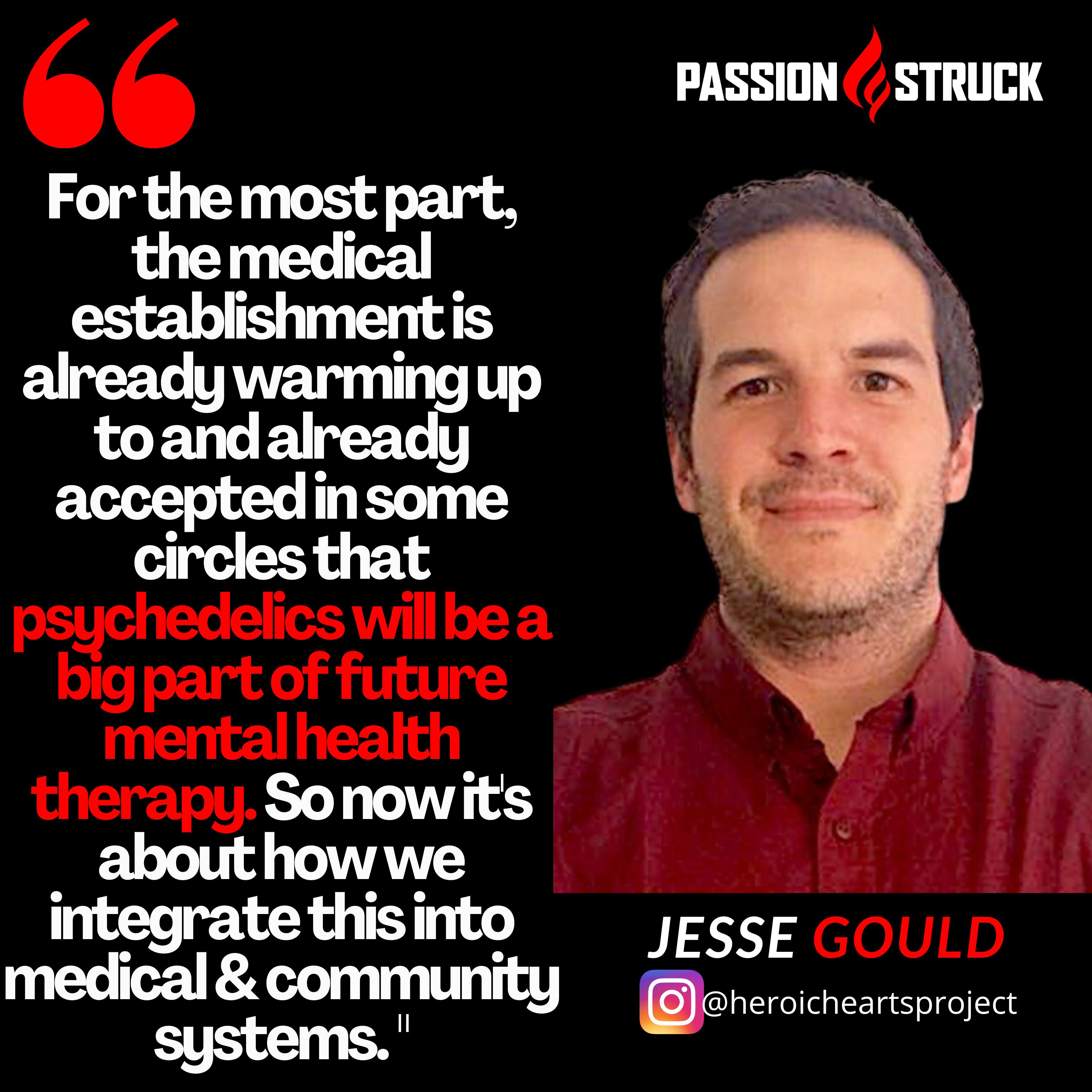 Some of us have many layers of trauma. There's a correlation between those that suffer from PTSD and childhood trauma. And so, there can be more profound and trickier levels. One of the things we teach with the Heroic Hearts Project is that if you are going to go to one of these more extensive experiences with psilocybin, Ayahuasca, or Ibogaine, you want to give yourself time to experience it properly. So go into it with intention and preparation.
We do about a month and a half of individual coaching, preparation, getting people the right mindset, breathwork, and mindfulness activities going into the actual retreat. You want to make sure that the retreat centers themselves and they know what they're doing.
We have a history of doing this. We have created safety protocols. They are specific protocols for different types of trauma. And then there is what we call integration. So, generally speaking, the psychedelic experiences give you a brand new perspective on yourself. For a lot of people, they see their life in the third person. They can see all these negative patterns and cycles and where this trauma comes from. It helps them to process it. But it's a lot to download.
And they start seeing things through a new perspective, such as 'Hey, I've let myself go, I need to get back into shape and eat healthier." I need to treat my spouse better.' But this person still has an individual responsibility to incorporate that into their life. So that's the integration phase. What did you just download? What experiences did you have? What profundity did? Are you taking it home?
And how do you effectively incorporate that into your life to actually enact change that creates the structures at home and keeps you on the right path that supports your mental health?
If you go straight back to the bar, right after this, and you want to party with friends, obviously, the benefits not going to take hold, because you're going right back into old patterns. With psychedelics, there is a proven dynamic that increases brain plasticity. So connections, which allow you to overwrite negative, negative behaviors and rewrite new positive behaviors. But you still have to enforce those.
You still have to do that. So that being said, the integration after a significant experience, we want people to sit with that for six months to a year, because even six months later, they're still understanding their new sort of perception, their new sort of way of interacting with the world, and how these new ways are working with them. If there are deeper levels, for those with more trauma, they often go back. But then they're going back with intention. They're going back to resolve other issues or more profound issues."
Thanks, Jesse Gould!
If you enjoyed this interview with Jesse Gould, let him know by clicking on the link below and sending him a quick shout on Instagram or LinkedIn:
Click here to thank Jesse Gould on LinkedIn!
Click here to thank Jesse Gould on Instagram!
Click here to let John R. Miles know about your number one takeaway from this episode!
And if you want us to answer your questions or you have a topic you would like John to discuss on one of our upcoming weekly Momentum Friday episodes, drop us a line at [email protected].
Resources From The Show With Jesse Gould
Please note that some of the links on this page (books, movies, music, etc.) lead to affiliate programs for which The Passion Struck podcast receives compensation. It's just one of the ways we keep the lights on around here. Thank you so much for being so supportive!
* Website: https://www.heroicheartsproject.org/
* LinkedIn: https://www.linkedin.com/in/jesse-gould/
* Facebook: https://www.facebook.com/groups/weheroichearts/
* Instagram: https://www.instagram.com/heroicheartsproject/
* Information on Ayahuasca retreat
* Information on MDMA Phase 3 Trials for PTSD
* Information on psilocybin Phase 2 Trials
* How psilocybin, the psychedelic in mushrooms, may rewire the brain to ease depression, anxiety and more
* MDMA assisted therapy for PTSD
* Antidepressant effects of the psychedelic ayahuasca in treatment-resistant depression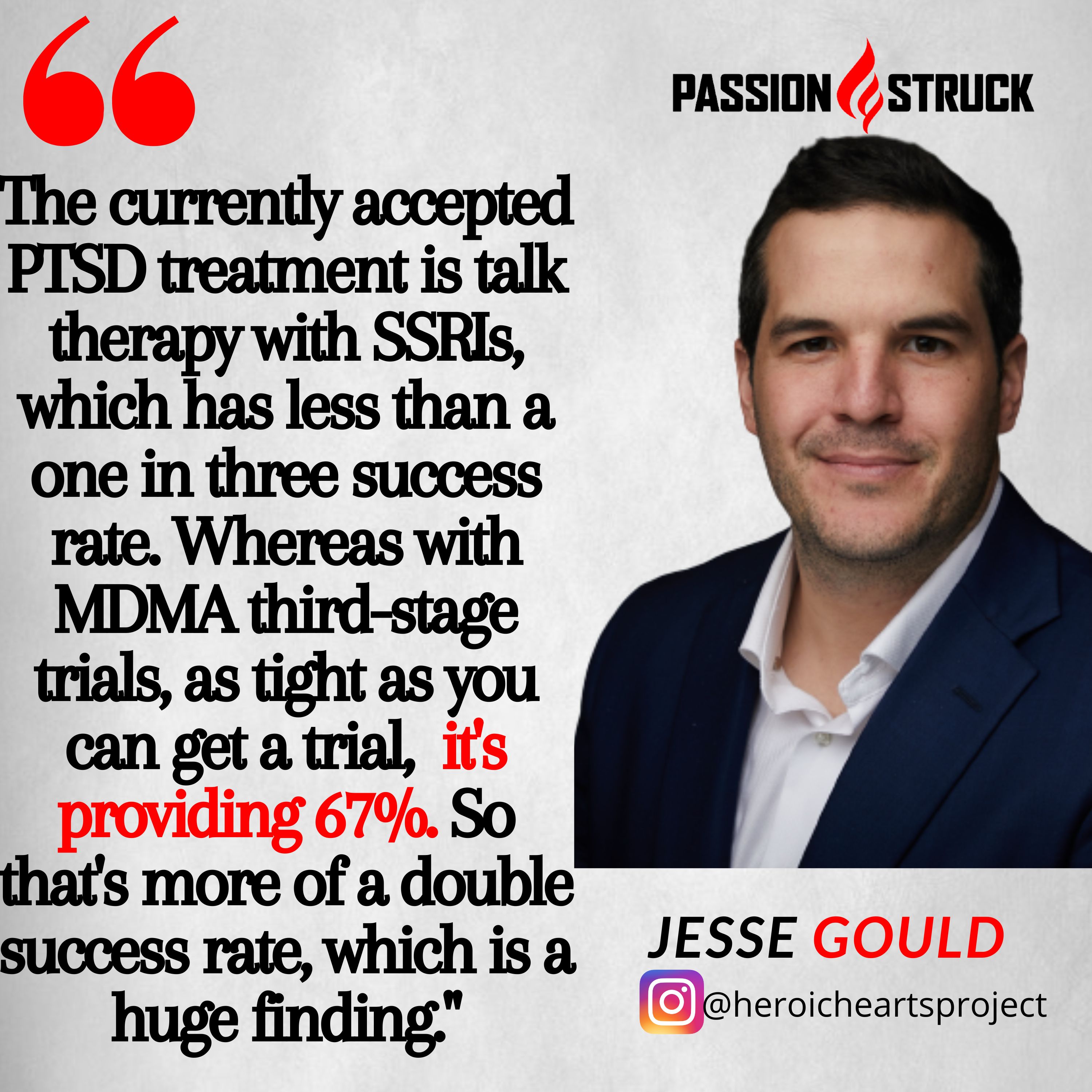 * My interview with Cathy Heller: https://passionstruck.com/cathy-heller-how-do-you-find-your-lifes-passion/
* My interview with Michael Slepian: https://passionstruck.com/michael-slepian-the-secret-life-of-secrets/
* My interview with Tricia Manning: https://passionstruck.com/tricia-manning-on-how-to-lead-with-heart/
* My interview with Jordan Harbinger on Why Legacy is Greater Than Currency: https://passionstruck.com/jordan-harbinger-on-why-building-your-legacy-is-greater-than-currency/
* My interview with Sarah Fay on the fallacies of the DSM: https://passionstruck.com/sarah-fay-pathological/
* My interview with Admiral James Stavridis: https://passionstruck.com/admiral-james-stavridis-to-risk-it-all/
* My solo episode on why micro choices matter: https://passionstruck.com/why-your-micro-choices-determine-your-life/
* My solo episode on why you must feel to heal: https://passionstruck.com/why-you-must-feel-to-find-emotional-healing/
About Today's Guest Jesse Gould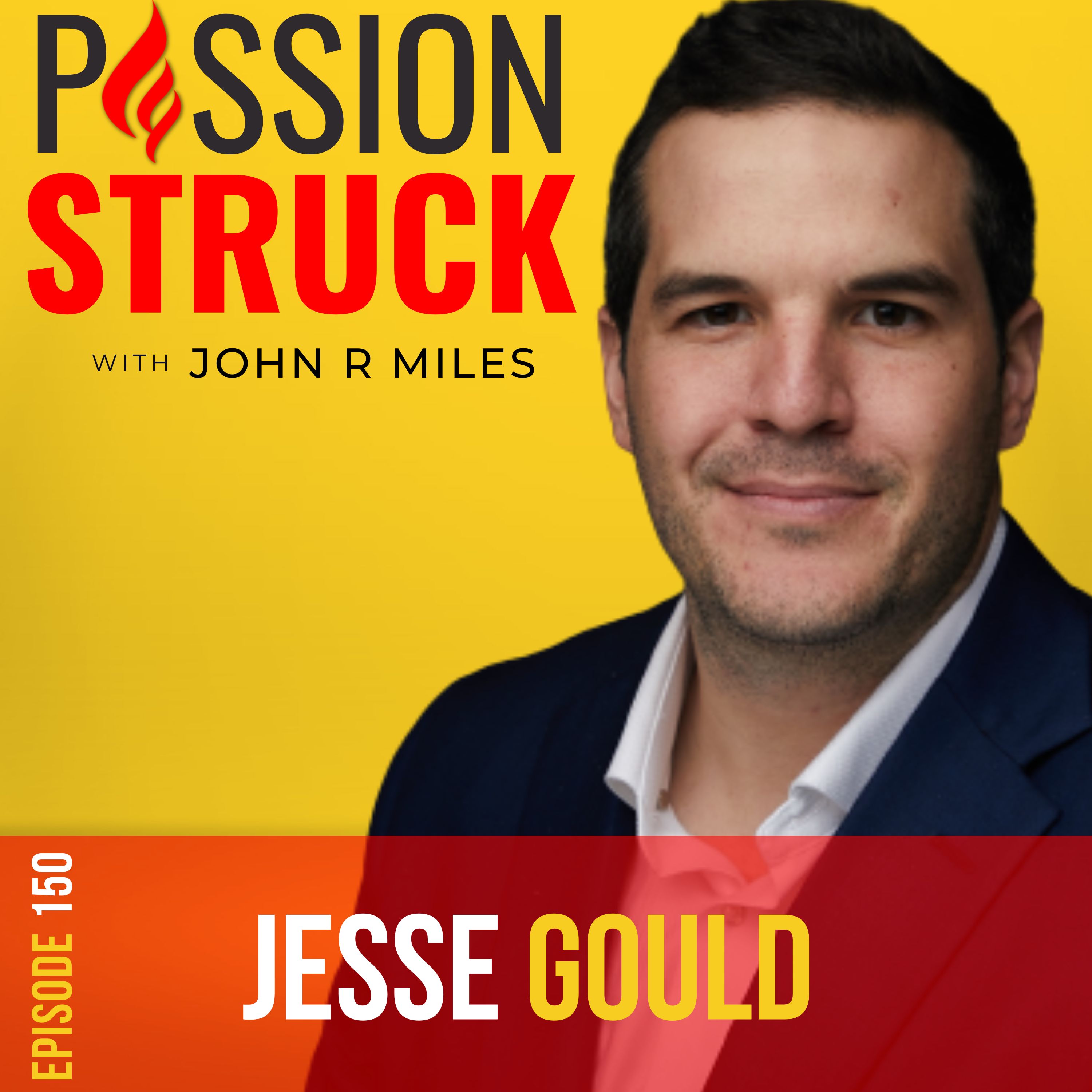 Jesse Gould, the founder of the Heroic Hearts Project, is a US Army Veteran and former investment banker. He launched the Heroic Hearts Foundation after having his own transformative experience with Ayahuasca in Peru.
The Heroic Hearts Project takes veterans to Peru after extensive preparation to partake in their own healing psychedelic ceremonies.
Follow John R. Miles On The Socials
* Twitter: https://twitter.com/Milesjohnr
* Facebook: https://www.facebook.com/johnrmiles.c0m
* Medium: https://medium.com/@JohnRMiles​
* Instagram: https://www.instagram.com/john_r_miles
* LinkedIn: https://www.linkedin.com/in/milesjohn/
* Blog: https://johnrmiles.com/blog/
* Instagram: https://www.instagram.com/passion_struck_podcast/
* Gear: https://www.zazzle.com/store/passion_struck/
John R. Miles is a serial entrepreneur and the CEO and founder of Passion Struck. This full-service media company helps people live intentionally by creating best-in-class educational and entertainment content. John is also a prolific public speaker, venture capitalist, and author named to the ComputerWorld Top 100 IT Leaders.
John is the host of the PassionStruckPodcast. A show focused on exploring the mindset and philosophy of the world's most inspiring people to learn their lessons to living intentionally. Passion Struck aspires to speak to the humanity of people in a way that makes them want to live better, be better and impact.
Stay tuned for John's latest project, his upcoming book, which will be published in summer 2022.
Learn more about me: https://johnrmiles.com.