Bernie Marcus is the co-founder, former CEO, and Chairman of the Home Depot. He appears on the show to talk about Kick Up Some Dust: Lessons on Thinking Big, Giving Back, and Doing It Yourself, his most recent book, where he explains why you have to go for your strengths.
–►Purchase Kick Up Some Dust: https://amzn.to/3jTamod  (Amazon Link)
Why is it Essential to Go For Your Strengths?
Going for your strengths means focusing on and actively using the skills, abilities, and qualities that come naturally to you. This can involve identifying what you are good at and seeking opportunities to utilize those strengths in your work, relationships, and other areas of your life. When you go for your strengths, you build confidence, increase your sense of accomplishment, and are more effective and satisfied in your endeavors.
It's important to note that this does not mean ignoring your weaknesses or avoiding challenges but rather finding ways to work with and around them to make the most of your natural abilities.
Hear the secrets and philosophy of the World's GREATEST high achievers every Monday and Thursday, and tune in each week for an inspirational Momentum Friday solo message.
Like this show? Please leave us a review here – even one sentence helps! Post a screenshot of you listening on Instagram & tag us to thank you personally!
Listen to the episode on Apple Podcasts, Spotify, Podcast Addict, Pocket Casts, Stitcher, Castbox, Google Podcasts, Listen Notes, Amazon Music, or on your favorite podcast platform. You can watch the interview on YouTube below.
Enjoy!
In This Episode, Bernie Marcus And I Discuss Lessons on Thinking Big, Giving Back, and Doing It Yourself
Our guest, the co-founder of the Home Depot Bernie Marcus, explains to me why it takes a do-it-yourself mindset and going for your strengths to create a Fortune 500 company and also take on significant issues like assisting in the fight against cancer, treating PTSD in veterans, enacting change in your community, and being a force for good in the world.
After a career setback, Bernie Marcus turned his focus to entrepreneurship. He co-founded Home Depot, the largest home improvement company in the world. Bernie's story is a testament to the power of perseverance and the importance of never giving up. If you're facing a challenge in your career, take inspiration from Bernie and march on!
This motivational interview will encourage you to imagine, create, donate, and perhaps change the world.
The interview and book cover the following subjects:
How today's economy compared to the late seventies and early eighties when Bernie co-founded the Home Depot.
How to face and overcome various professional and personal obstacles.
The significance of working smarter than your rivals.
How to maintain your success after you've already achieved it.
Bernie's early jobs as a waiter, comedian, and even hypnotist.
Bernie's take on future threats to retail and he impact of government regulation and the woke movement on business
The number one secret of the Home Depot's success
His work to help veterans suffering from PTSD and traumatic brain injury
Lessons from philanthropic efforts in integrative medicine and the Georgia Aquarium.
And much, much more!
Have any questions, comments, or stories you'd like to share? Drop us a line at

[email protected]

m!
And much more…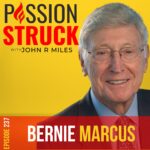 Please Scroll Down For Featured Resources
Our Patreon Page: https://www.patreon.com/passionstruck
Thank You, Omaha Steaks, For Sponsoring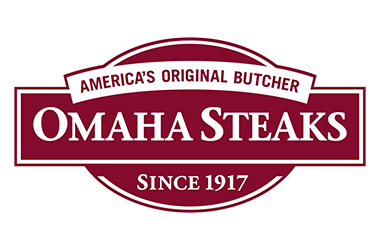 The Steak Experts at Omaha Steaks have put together specially curated gift packages to help take the guesswork out of gifting and make you a holiday hero. Go to Omaha Steaks and take advantage of 50% off sitewide PLUS use code passion at checkout to get an additional $30 off your order.
Thank You, Masterclass, For Sponsoring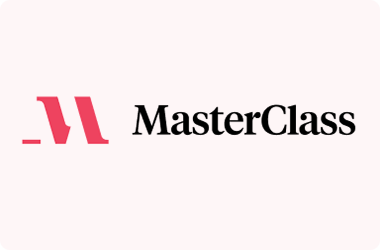 MasterClass is an education subscription platform on which students can access tutorials and lectures pre-recorded by experts in various fields taught by over 150 experts, including Daniel Pink, Malcolm Gladwell, Steph Curry, and many more.
This holiday buy one membership and get one free. Go to Masterclass.com/paasionstruck
*Our Patreon Page: https://www.patreon.com/passionstruck.
Starter Packs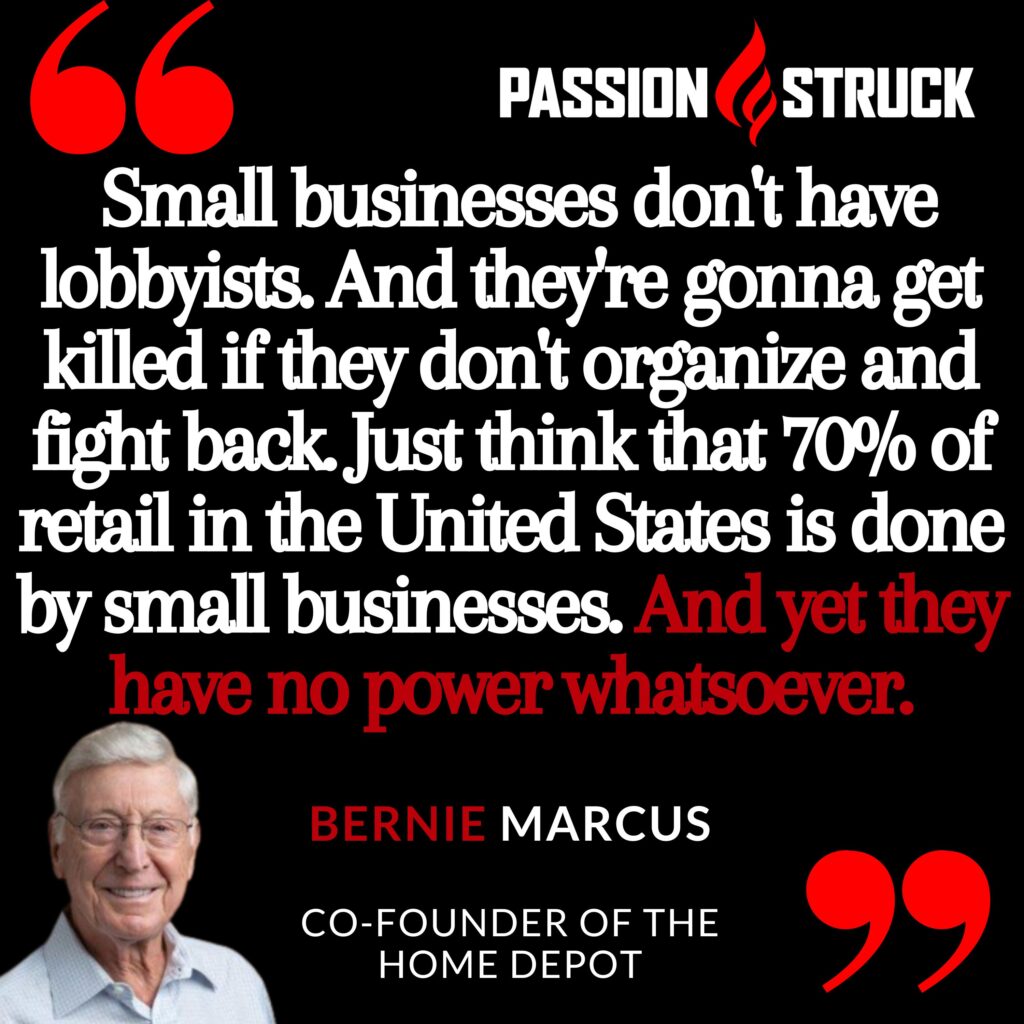 New to the show? These Starter Packs are collections of our most popular episodes grouped by topic, and we now have them also on Spotify. You can also browse starter packs for existing listeners to find your old favorites. Every week, John interviews everyday heroes from all walks of life. Learn how to subscribe to the show and never miss a new episode and topic.
Like this? Please subscribe, and join me on my new YouTube platform for peak performance, life coaching, and personal growth: https://www.youtube.com/c/JohnRMiles/.
More From My Interview With Bernie Marcus On Why You Have to go For Your strengths
Bernie and discuss why that moment when he was fired might have been the lowest moment of his life. And he thought there was less than a 50% chance he could recover from it. I asked him why did he feel that way? And what did it take for him to get from that place to one where he could recover?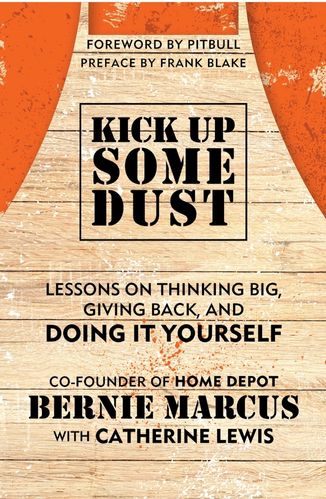 Bernie Marcus explains, "Well, I will tell you it was a black moment. It wasn't easy. So I'm, like, almost 50 years old. I had always been very successful. I worked for two guys from Handy Dan. I was up and top executives with two guys. I ran $3 billion businesses as a young man, and I was very successful.
I didn't know what failure felt like, and to be out of work in one moment, boom, all of a sudden, your life changes. Well, it took an emotional impact on me very seriously. I was talking about this to somebody just a couple of days ago. I would go running. And as I was running, I thought about everything I had done wrong. And then I said I didn't do anything wrong.
This is a misfortune that happened to me. And I wasn't going to give in to the sorrow. Now, here's what I believe, John, there are people in everybody's life where you end up with that kind of a situation. Whereas an actual character breaker and how you react to it is whether or not you will survive. And most people live in the past. What did I do wrong? Could I have done something better? Maybe this guy was after me. In other words, it's everybody's fault, but your fault.
And I never assume that by the way, that's part of my mother, my mother has taught me that move on, just move on, and just don't drown in your own failures. And so the key was not to drown here. And I will tell you, it did take a couple of weeks, because I had never had this feeling of all of a sudden, no work. No money coming into your family. And it was hard. It was hard. And all of people out there, I will tell you, if you dwell on the negatives, you will end up being negative for the rest of your life, and you will not recover.
You have to think about what you're really good at, what you're able to accomplish, what your character is, and what your abilities are like. And you have to go for your strengths. And I think that kept me alive.
Thanks, Bernie Marcus!
Click here to let John R. Miles know about your number one takeaway from this episode!
And if you want us to answer your questions or you have a topic you would like John to discuss on one of our upcoming weekly Momentum Friday episodes, drop us a line at [email protected].
Resources From The Show With Bernie Marcus
Please note that some of the links on this page (books, movies, music, etc.) lead to affiliate programs for which The Passion Struck podcast receives compensation. It's just one of the ways we keep the lights on around here. Thank you so much for being so supportive!
My solo episode on what it means to be a person of courage: https://passionstruck.com/what-does-it-mean-to-be-a-person-of-courage/
My interview with Seth Godin on why we need systems to change to save the planet and address climate change: https://passionstruck.com/seth-godin-we-need-systems-change-save-planet/.
My interview with Dr. Scott Barry Kaufman and Dr. Jordan Feingold on Choosing Growth and transcending self-doubt, fear, and anxiety: https://passionstruck.com/jordyn-feingold-scott-barry-kaufman-chose-growth/
My interview with NYU Stern School of Business Professor Scott Galloway on Why America is Adrift: https://passionstruck.com/scott-galloway-america-is-adrift/
My solo episode on why micro choices matter: https://passionstruck.com/why-your-micro-choices-determine-your-life/
About Today's Guest, Dr. Bernie Marcus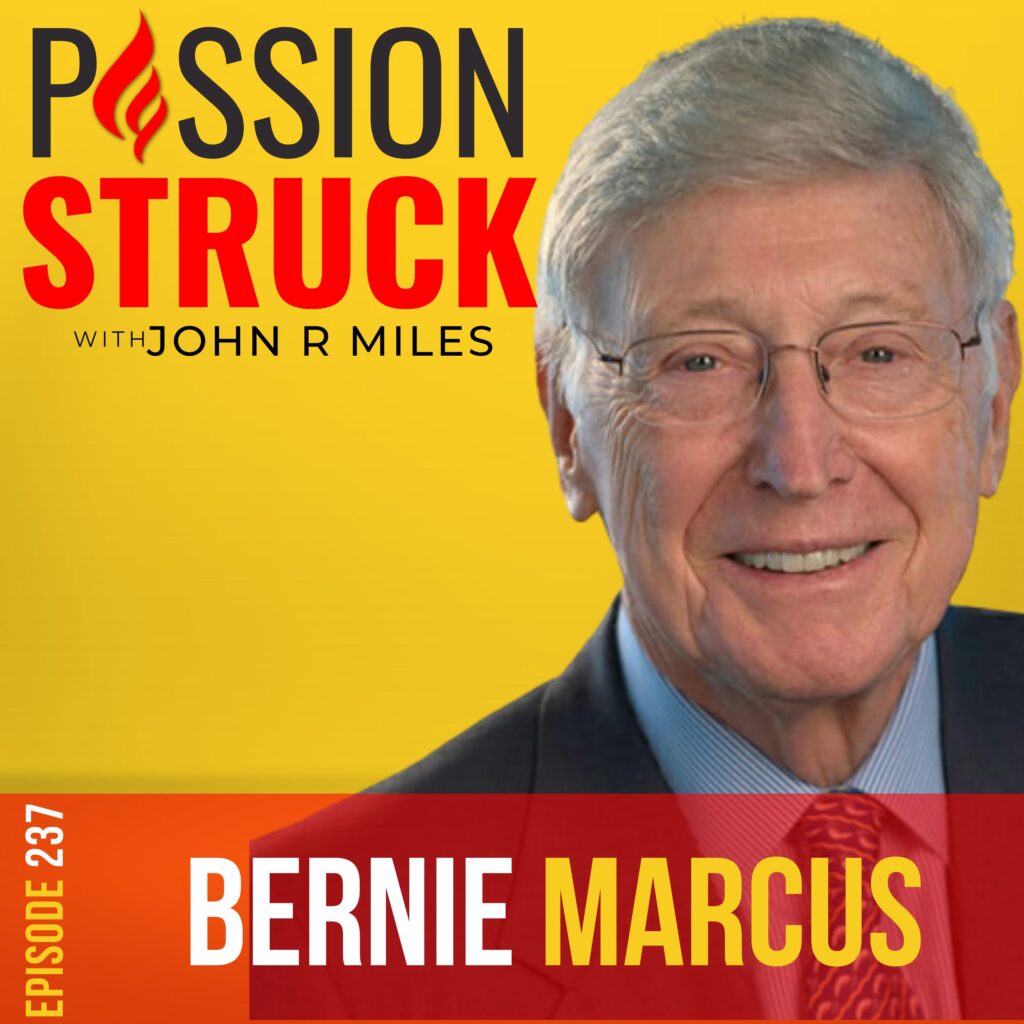 Most people know Bernie Marcus as the 49-year-old co-founder of Home Depot. He is also credited with launching the Georgia Aquarium and the Israel Democracy Institute. And today, at the age of 93, he still has his razor-sharp sense of humor. Bernie learned life's lessons the hard way, and his challenging childhood helped him become the no-nonsense, diligent worker he is today.
He signed the Giving Pledge and has already donated $2 billion to charity. He intends to give away the majority of his money. Kick Up Some Dust, a new book by Bernie that also offers reflections on his life and career is intended to encourage more people to give to others. It's a great book to read.
Follow John R. Miles On The Socials
* Twitter: https://twitter.com/Milesjohnr
* Facebook: https://www.facebook.com/johnrmiles.c0m
* Medium: https://medium.com/@JohnRMiles​
* Instagram: https://www.instagram.com/john_r_miles
* LinkedIn: https://www.linkedin.com/in/milesjohn/
* Blog: https://johnrmiles.com/blog/
* Instagram: https://www.instagram.com/passion_struck_podcast/
* Gear: https://www.zazzle.com/store/passion_struck/
John R. Miles is a serial entrepreneur and the CEO and founder of Passion Struck. This full-service media company helps people live intentionally by creating best-in-class educational and entertainment content. John is also a prolific public speaker, venture capitalist, and author named to the ComputerWorld Top 100 IT Leaders.
John is the host of the PassionStruckPodcast. The show focused on exploring the mindset and philosophy of the world's most inspiring people to learn their lessons to living intentionally. Passion Struck aspires to speak to the humanity of people in a way that makes them want to live better, be better and impact.