This episode features an interview with Dr. Neeta Bhushan, author of the soon-to-be-released book That Sucked, Now What?: How to Embrace the Joy in Chaos and Find Magic in the Mess. This how-to manual offers grace to the human experience by reassuring listeners that life may throw them a curveball now and then, but they can bounce back and even fly forward.
We've all had those moments in life that feel terrible, that knock us down and make us wish they were just a bad dream. But as Dr. Neeta Bhushan explains, these chaotic and challenging experiences can also be opportunities for growth and change.
If you purchase Neeta's book, you will unlock the free 44-page digital guidebook that is chock full of information to support your journey.
Hear the secrets and philosophy of the World's GREATEST high achievers every Monday and Thursday, and tune in each week for an inspirational Momentum Friday solo message.
Like this show? Please leave us a review here – even one sentence helps! Post a screenshot of you listening on Instagram & tag us to thank you personally!
Listen to the episode on Apple Podcasts, Spotify, Podcast Addict, Pocket Casts, Stitcher, Castbox, Google Podcasts, Listen Notes, Amazon Music, or on your favorite podcast platform. You can watch the interview on YouTube below.
Enjoy!
In This Episode, Dr. Neeta Bhushan And I Discuss Her Latest Book, That Sucked, Now What?
In my conversation with Dr. Neeta Bhushan, we explore a candid approach to personal growth that embraces and learns from difficult experiences in order to achieve lasting resilience. We discuss the challenges of bouncing back when things go wrong, the impact of four key areas of life on one's ability to recover, and the steps of the Fly Forward framework for navigating the stages of Falling, Igniting, Rising, Magnifying and Thriving. Through sharing her own personal successes and failures, Dr. Bhushan provides valuable insights and practical strategies for overcoming setbacks of any magnitude in this essential guidebook to be referenced whenever life presents challenges.
In this talk, she shares her story of transformation and how you can achieve similar results in your life. With heartfelt sincerity and wisdom, she offers you a path to follow if you want to live a life of purpose and meaning. Dr. Bhushan's story is inspirational and full of practical advice on how to find and use the power of failure to create success. She shares her strategies for becoming better at what you do and for living an intentionally rich and meaningful life.
The interview with Ethan Kross covers the following subjects:
The power of intentionality and how to use it.
How to get out of the victim spiral.
How to be audaciously resilient and use the bounce factor.
The secret sauce to building audacious resiliency
What happens when you're stuck and how to break free.
How to develop the skills needed to handle sucky moments
The fly-forward framework
And much, much more!
Have any questions, comments, or stories you'd like to share? Drop us a line at

[email protected]

m!
And much more…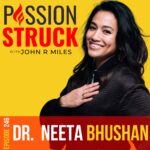 Please Scroll Down For Featured Resources
Our Patreon Page: https://www.patreon.com/passionstruck
Thank You, Policy Genius, For Sponsoring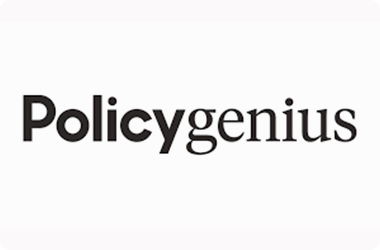 Policygenius provides free quotes tailored to your needs with support from licensed agents, helping you get insurance coverage fast so you can get on with life.
Save 50% or more on life insurance at https://www.policygenius.com/
*Our Patreon Page: https://www.patreon.com/passionstruck.
Starter Packs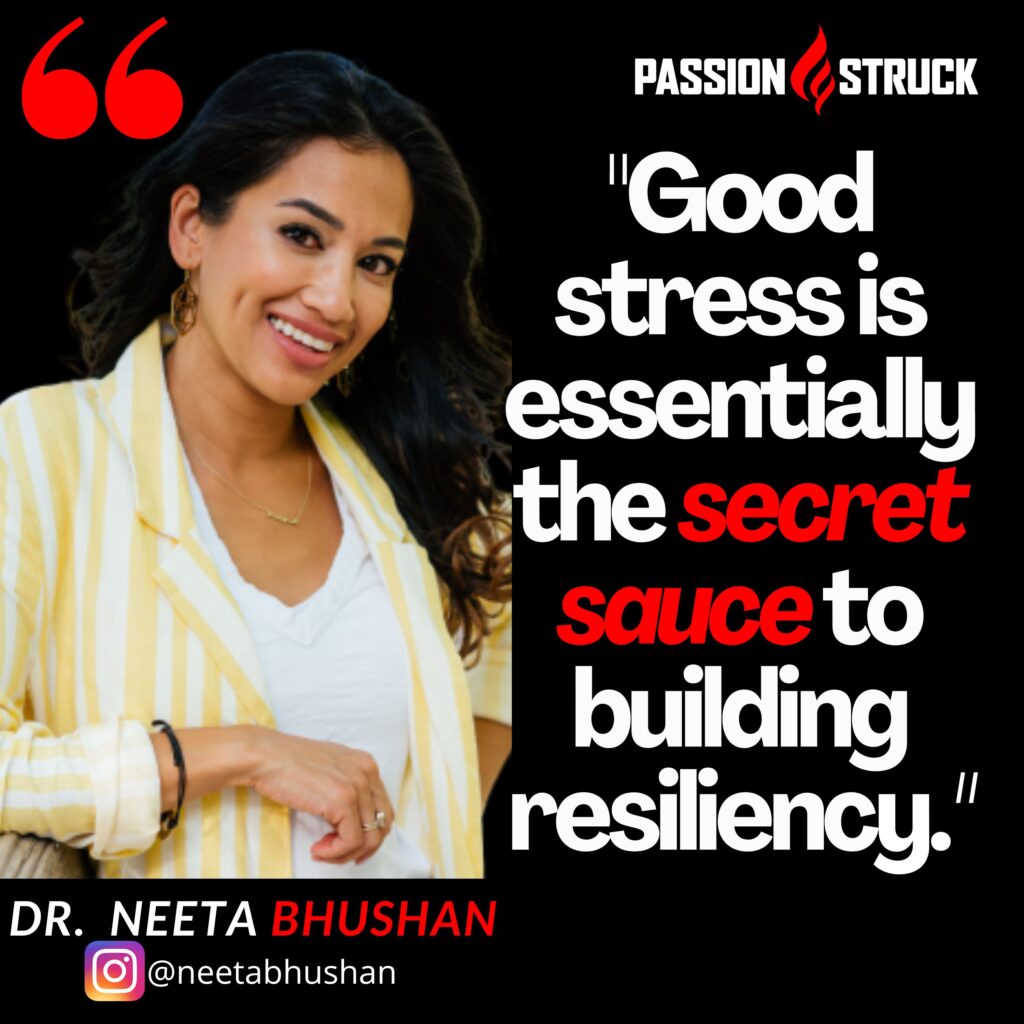 New to the show? These Starter Packs are collections of our most popular episodes grouped by topic, and we now have them also on Spotify. To find your old favorites, you can also browse starter packs for existing listeners. Every week, John interviews everyday heroes from all walks of life. Learn how to subscribe to the show and never miss a new episode and topic.
Like this? Please subscribe, and join me on my new YouTube platform for peak performance, life coaching, and personal growth: https://www.youtube.com/c/JohnRMiles/.
More From My Interview With Dr. Neeta Bhushan
During our interview, I asked Neeta why we need to use this bounce factor to look forward and navigate what we want our future selves to be.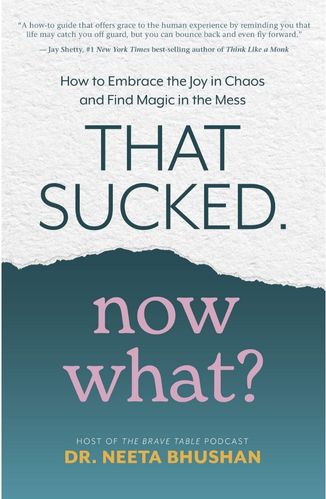 Neeta Bhushan explains, "I love this question. I think many times if we don't want to get stuck in the same circumstance as you talk about, passion struck, right? Passion struck gives people a Northstar. It gives us a North Star for what we are working towards. And I can talk about how we manifest the things that we want in our life as well. But it starts with, well, if we are even turning a new leaf because something sucked.
That's why the book is called that sucked. Not, this sucks. Because this would imply that we're so stuck in the suck, it's that sucked, to give reverence to whatever did suck in the past and to acknowledge its presence to acknowledge that it wasn't pleasant, but also to say, hey, what's now what, what are we going to do next? We're going to paint a picture forward. What is the next step? What is that now what going to look like for you.
And in order to build that foundation, the bounce factor is your building block. And in saying that sucked, now that you're also building your muscle of radical self-awareness. Because in the radical self-awareness piece, you're also saying, okay, yes, I am committed to my own growth with whatever that looks like. And I'm going to embrace the challenge.
And I'm going to embrace the messy, and I'm going to embrace the chaos, all at the same time. But really, what I'm doing is practicing my own inner awareness, my own inner GPS, my own inner guidance so that I'm not going to repeat those same patterns that got me here; I'm going to choose a new reality because now I know better, only if I choose to pay attention. And that is your radical self-awareness that is strengthening that bounce factor."
Thanks, Dr. Neeta Bhushan
If you enjoyed this interview with Neeta Bhushan, let her know by clicking on the link below and sending her a quick shout on Twitter:
Click here to show Neeta Bhushan your thoughts about today's episode on Twitter!
Click here to let John R. Miles know about your number one takeaway from this episode!
And if you want us to answer your questions or you have a topic you would like John to discuss on one of our upcoming weekly Momentum Friday episodes, drop us a line at [email protected].
Resources From The Show With Dr. Neeta Bhushan
Please note that some of the links on this page (books, movies, music, etc.) lead to affiliate programs for which The Passion Struck podcast receives compensation. It's just one of the ways we keep the lights on around here. Thank you so much for being so supportive!
My solo episode on what it means to be a person of courage: https://passionstruck.com/what-does-it-mean-to-be-a-person-of-courage/
Want to hear my best interviews from 2022? Check out episode 233 on intentional greatness and episode 234 on intentional behavior change.
My interview with Dr. Scott Barry Kaufman and Dr. Jordan Feingold on Choosing Growth and transcending self-doubt, fear, and anxiety: https://passionstruck.com/jordyn-feingold-scott-barry-kaufman-chose-growth/
My interview with NYU Stern School of Business Professor Scott Galloway on Why America is Adrift: https://passionstruck.com/scott-galloway-america-is-adrift/
My solo episode on why micro choices matter: https://passionstruck.com/why-your-micro-choices-determine-your-life/
About Today's Guest, Dr. Neeta Bhushan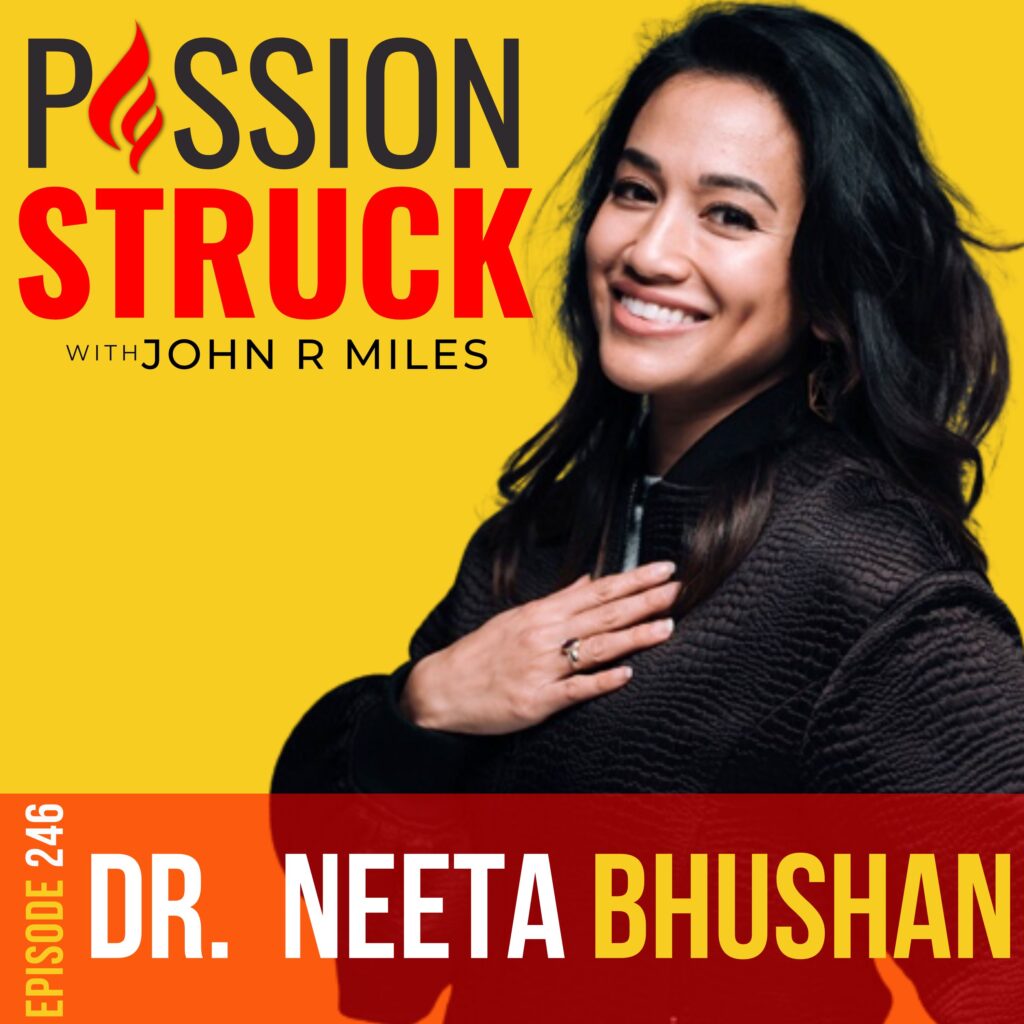 Dr. Neeta Bhushan is a cosmetic dentist turned three-time international best-selling author and world-renowned emotional health advocate. She is also the founder of Global GRIT Institute, a wellness education platform for optimizing well-being, and cofounder of Dharma Coaching Institute, a coaching organization training coaches to become the highest versions of themselves. Neeta has shared her thought leadership on grit and resilience on international stages and as the host of her popular podcast, The Brave Table.
Follow John R. Miles On The Socials
* Twitter: https://twitter.com/Milesjohnr
* Facebook: https://www.facebook.com/johnrmiles.c0m
* Medium: https://medium.com/@JohnRMiles​
* Instagram: https://www.instagram.com/john_r_miles
* LinkedIn: https://www.linkedin.com/in/milesjohn/
* Blog: https://johnrmiles.com/blog/
* Instagram: https://www.instagram.com/passion_struck_podcast/
* Gear: https://www.zazzle.com/store/passion_struck/
John R. Miles is a serial entrepreneur and the CEO and founder of Passion Struck. This full-service media company helps people live intentionally by creating best-in-class educational and entertainment content. John is also a prolific public speaker, venture capitalist, and author named to the ComputerWorld Top 100 IT Leaders.
John is the host of the PassionStruckPodcast. The show focused on exploring the mindset and philosophy of the world's most inspiring people to learn their lessons to living intentionally. Passion Struck aspires to speak to the humanity of people in a way that makes them want to live better, be better and impact.