When Lori Gottlieb was offered a substantial sum of money to write a book on happiness, she found herself at a crossroads, forced to decide between pursuing pleasure or understanding the human condition. As she explored the real stories of people in crisis, Lori discovered the unexpected power of vulnerability and connection and began her remarkable journey of self-discovery and healing. What will she find as she continues to unravel her "unfinished business" from childhood?
Like this show? Please leave us a review here – even one sentence helps! Post a screenshot of you listening on Instagram & tag us to thank you personally!
Hear the secrets and philosophy of the World's GREATEST high achievers every Tuesday and Thursday, and tune in each week for an inspirational Momentum Friday solo message.
Listen to the episode on Apple Podcasts, Spotify, Podcast Addict, Pocket Casts, Stitcher, Castbox, Google Podcasts, Listen Notes, Amazon Music, or on your favorite podcast platform. You can watch the interview on YouTube below.
Enjoy!
Transform Your Self-Compassion with Lori Gottlieb's Insight
On Passion Struck, I sit down with Lori Gottlieb, a psychotherapist and NY Times bestselling author of "Maybe You Should Talk To Someone: A Therapist, HER Therapist, and Our Lives Revealed" to discuss self-compassion's impact on personal development, emotional well-being, and relationship building. Gottlieb stresses the importance of examining one's negative thoughts and beliefs, asserting that self-compassion is essential for showing empathy towards others and fostering personal growth.
Throughout the conversation, Gottlieb emphasizes the need to question and challenge negative thoughts and beliefs, suggesting that practicing self-compassion can lead to more meaningful connections with others. By promoting kindness towards oneself, individuals can improve their mindset and efficiently work towards their goals. For those interested in learning more about Gottlieb's work, her website offers resources, including her podcast, book, workbook, and journal. The insights shared in this episode can provide valuable guidance for anyone looking to enhance their emotional well-being and cultivate healthier relationships.
Listen and learn as Lori Gottlieb and I discuss the following topics:
Embrace the power of vulnerability, emotional literacy, and genuine connections for personal growth.
Identify and break the cycle of repetitive relationship patterns through self-awareness and therapeutic insights.
Provide empathy, support, and validation when addressing grief and loss in others.
Foster emotional intelligence and resilience in children, helping them navigate life's challenges with confidence.
Cultivate self-compassion to enhance personal development and form healthier relationships.
And much, much more!
Have any questions, comments, or stories you'd like to share? Drop us a line at

[email protected]

!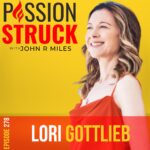 Please Scroll Down For Featured Resources
Thank You, Indeed, For Sponsoring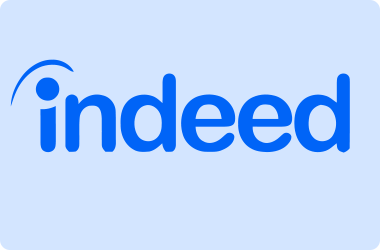 With Indeed, you can search for millions of jobs online to find the next step in your career. With tools for job search, resumes, company reviews, and more..
Head to https://www.indeed.com/passionstruck, where you can receive a $75 credit to attract, interview, and hire in one place.
Thank You, Green Chef, For Sponsoring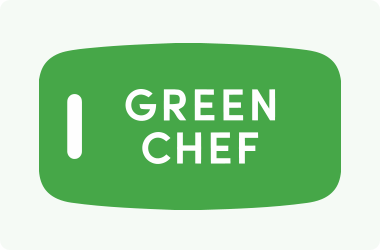 The #1 Meal Kit for Eating Well … Now offering more options than ever before! Choose from Keto+Paleo, Mediterranean, Fast & Fit, Vegan, Vegetarian, and Gluten-free. Use code passionstruck60 to get $60 off, plus free shipping!"
Thank You, Fabric, For Sponsoring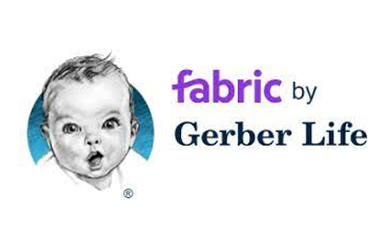 Fabric by Gerber Life is a new addition to the Gerber Life family, offering parents more ways to help protect their family's financial futures. Protect your family today with Fabric by Gerber Life.
Go to Apply today in just 10 minutes at https://meetfabric.com/passion.
*Our Patreon Page: https://www.patreon.com/passionstruck.
Starter Packs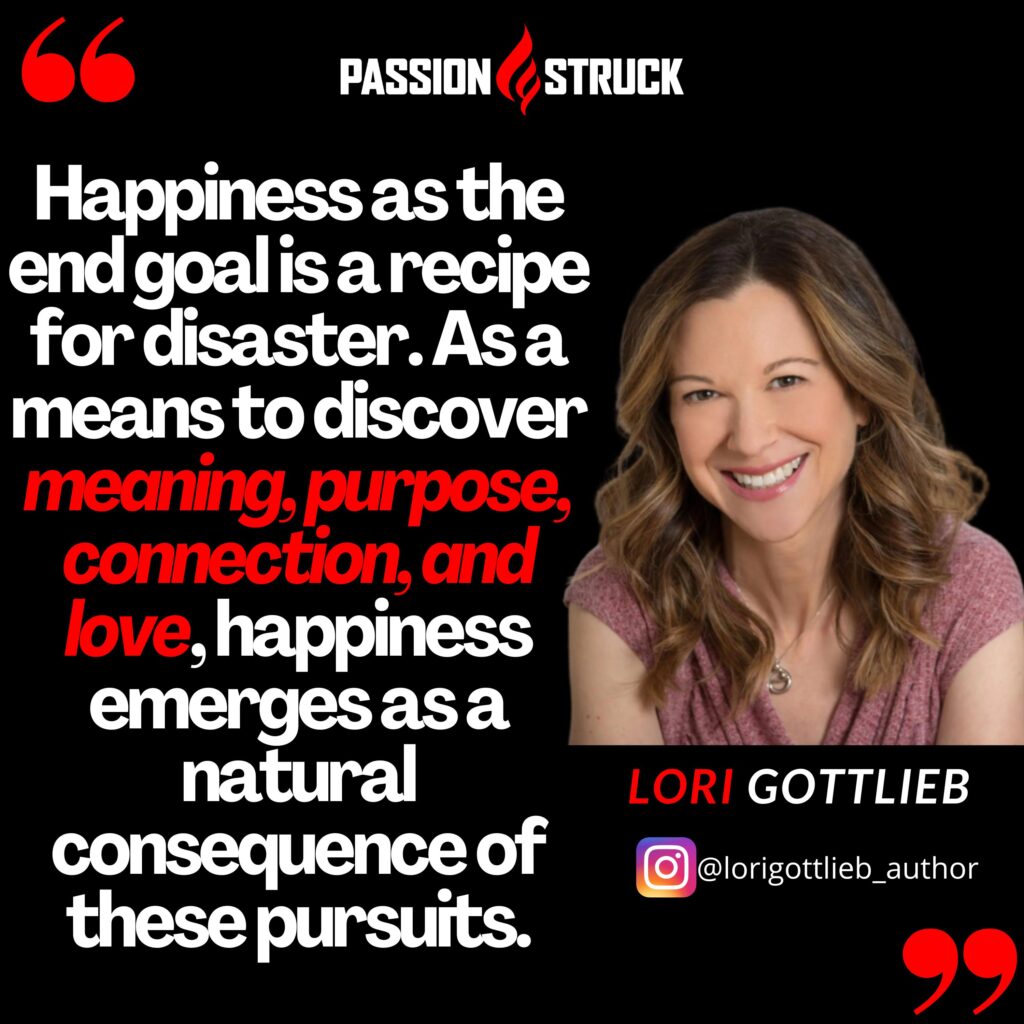 New to the show? These Starter Packs are collections of our most popular episodes grouped by topic, and we now have them also on Spotify. You can also browse starter packs for existing listeners to find your old favorites. Every week, John interviews everyday heroes from all walks of life. Learn how to subscribe to the show and never miss a new episode and topic.
Like this? Please subscribe, and join me on my new YouTube platform for peak performance, life coaching, and personal growth: https://www.youtube.com/c/JohnRMiles.
More from my Conversation with Lori Gottlieb
Lori Gottlieb found herself at a crossroads when she was offered a substantial sum of money to write a book on happiness. However, she couldn't ignore the fact that true happiness was not just about pursuing pleasure but also about finding meaning, purpose, connection, and love. This realization led her to decline the offer and instead write "Maybe You Should Talk to Someone," a book that brought readers into the therapy room to explore the real stories of people seeking guidance and support.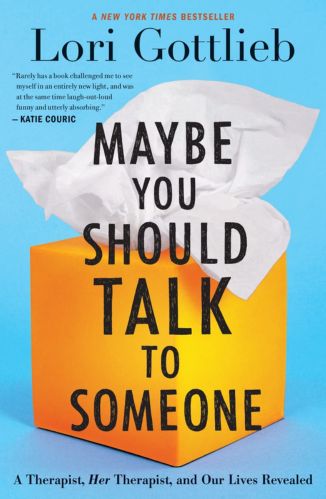 Drawing from her own experiences and struggles with relationships, Lori learned the importance of recognizing and processing her "unfinished business" from childhood. This led her to become more mindful of her own emotions and the emotions of others, allowing her to foster better connections and promote self-compassion in both her personal and professional relationships. Her journey taught her that embracing vulnerability and recognizing the value of all emotions, even those deemed "bad," can lead to personal growth and healthier relationships.
The Importance of Self-Compassion and Being Kind to Yourself
Practicing self-compassion and being kind to oneself are essential components of personal well-being and growth. By questioning negative thoughts and beliefs and nurturing self-compassion, individuals can foster a better mindset and free up energy for personal growth and goal achievement. Lori Gottlieb stresses the significance of self-compassion in the interview, stating that it is key to fostering compassion for others and attaining meaningful personal growth.
Lori encourages individuals to challenge their negative thoughts and approach self-improvement with kindness and understanding, resulting in a healthier outlook on life and better relationships with others.
Say Thanks To Lori Gottlieb
If you enjoyed this interview with Lori Gottlieb, let her know by clicking on the link below and sending her a quick shout on Instagram:
Click here to show Lori Gottlieb your thoughts about today's episode on Instagram!
Click here to let John R. Miles know about your number one takeaway from this episode!
And if you want us to answer your questions or you have a topic you would like John to discuss on one of our upcoming weekly Momentum Friday episodes, drop us a line at [email protected].
Resources From The Show With Lori Gottlieb
Please note that some of the links on this page (books, movies, music, etc.) lead to affiliate programs for which The Passion Struck podcast receives compensation. It's just one of the ways we keep the lights on around here. Thank you so much for being so supportive!
Website: https://lorigottlieb.com/
Twitter: https://twitter.com/LoriGottlieb1
Read Lori Gottlieb's book Maybe You Should Talk To Someone to gain insights on mental health and therapy.
Reflect on your own life and identify any outdated stories or faulty narratives that may be holding you back.
Consider seeking therapy or counseling to help process your emotions and work on personal growth.
Be mindful of the relationships you form and ensure they are healthy and supportive rather than replicating negative patterns from your past.
Practice setting boundaries in both personal and professional relationships to maintain a healthy balance.
If you are a parent, focus on fostering love, connection, meaning, and purpose in your child's life instead of solely focusing on their happiness.
Read Lori Gottlieb's column in The Atlantic called Dear Therapist for more insights and advice on mental health and relationships.
Explore other resources related to mental health, such as podcasts, books, and articles, to further educate yourself and support your own well-being.
If you're considering a career change, reflect on the aspects of your current job that resonate with you and align with your passions, and consider how you can pivot to a more fulfilling role.
Share your own experiences and stories with others, whether through writing or conversation, to help promote understanding and empathy around mental health and personal growth.
Listen to Lori's podcast Dear Therapists with Guy Winch
My solo episode on how you unleash your creativity: https://passionstruck.com/unleash-your-creativity/
Catch my interview with Gaia Bernstein on how to overcome tech addiction: https://passionstruck.com/gaia-bernstein-fix-the-tech-addiction-crisis/
Want to catch my best interviews from 2022? Check out episode 233 on intentional greatness and episode 234 on intentional behavior change.
Watch my interview with Dr. Mark Hyman on how to defy aging: https://passionstruck.com/dr-mark-hyman-secrets-to-living-young-forever/
Catch my interview with Dr. Amy Shah on how you can control your food cravings: https://passionstruck.com/dr-amy-shah-you-can-control-your-food-cravings/
My solo episode on why micro choices matter: https://passionstruck.com/why-your-micro-choices-determine-your-life/
About Today's Guest, Lori Gottlieb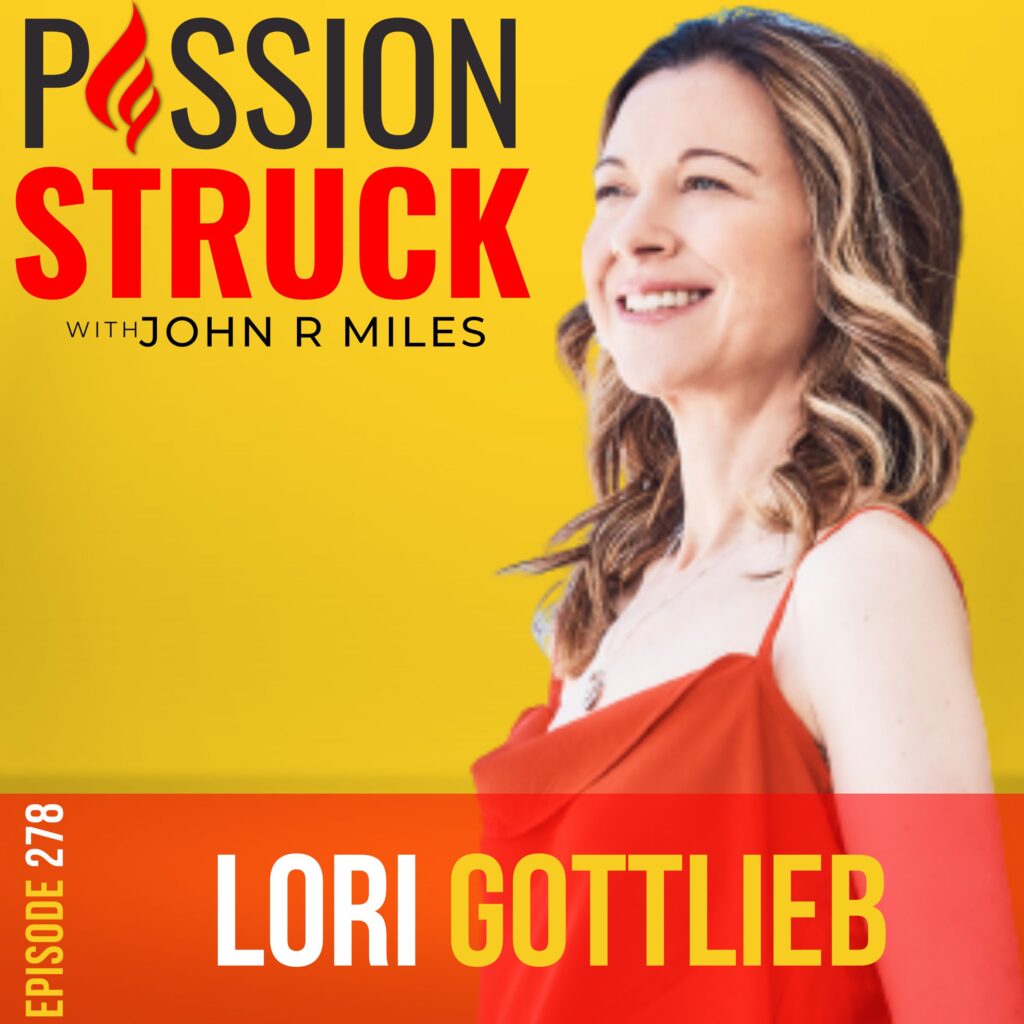 Lori Gottlieb is a highly respected psychotherapist, New York Times bestselling author and columnist for The Atlantic. Having made a mid-life career change from journalism to therapy, Lori has a unique perspective on self-compassion and personal growth. Her bestselling book, "Maybe You Should Talk to Someone," gives an inside look at her therapy sessions, both as a therapist and a patient, highlighting the importance of emotional connection and meaning in our lives. Lori's expertise in relationships and emotional health has made her a sought-after media guest, appearing on shows like the Today Show, Good Morning America, and NPR's Fresh Air.
Follow John R. Miles On The Socials
* Twitter: https://twitter.com/Milesjohnr
* Facebook: https://www.facebook.com/johnrmiles.c0m
* Medium: https://medium.com/@JohnRMiles​
* Instagram: https://www.instagram.com/john_r_miles
* LinkedIn: https://www.linkedin.com/in/milesjohn/
* Blog: https://johnrmiles.com/blog/
* Instagram: https://www.instagram.com/passion_struck_podcast/
* Gear: https://www.zazzle.com/store/passion_struck/
John R. Miles is a serial entrepreneur and the CEO and founder of Passion Struck. This full-service media company helps people live intentionally by creating best-in-class educational and entertainment content. John is also a prolific public speaker, venture capitalist, and author named to the ComputerWorld Top 100 IT Leaders.
John is the host of the top-ranked Passion Struck Podcast. The show focused on exploring the mindset and philosophy of the world's most inspiring people to learn their lessons to living intentionally. Passion Struck aspires to speak to the humanity of people in a way that makes them want to better, live better, and impact the world.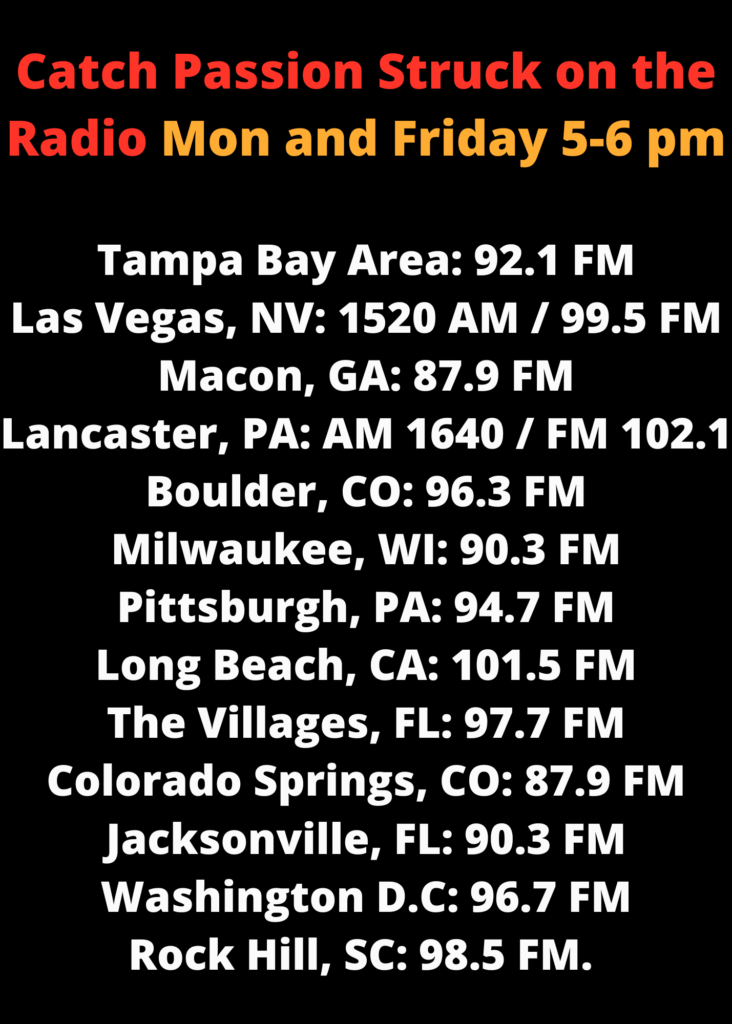 P.S.
Passion Struck is now on the AMFM247 broadcasting network every Monday and Friday from 5–6 PM.
Step 1: Go to TuneIn, Apple Music (or any other app, mobile or computer)
Step 2: Search for "AMFM247" Network