Futurist Chet W. Sisk is an entrepreneur, author, consultant, speaker, and workshop developer. He talks with John R. Miles about his ten predictions for the future of society in 2022. Have you ever wondered what the future holds for everyone in 2022? Chet uses his skills as a futurist to assess the past to offer insights that predict what's going to happen in the future.
Hear the secrets and philosophy of the World's GREATEST high achievers every Tuesday and tune in each week for an inspirational Momentum Friday message!
Like this show? Please leave us a review here – even one sentence helps! Post a screenshot of you listening on Instagram & tag us so we can thank you personally!
What We Discuss With Futurist Chet W. Sisk On The 10 Predictions for 2022 Impacting the Future of Society:
What are the key skillsets needed to become a futurist.
How Chet's study of journalism is a core part of his training into becoming a futurist.
Why most of his books are all about change and transformation and how he has learned to observe what change and transformation looks like, on a personal level and on a scaled level.
We discuss his first book which is called Seven Steps to Success I Learned from Homeless People, where Chet W. Sisk spent 12 years as a volunteer at a homeless shelter in Denver, CO.
How our thinking has an effect upon how we see how we are able to visualize possibilities that we're being entrained into.
John R. Miles and Chet have a lively back and forth conversation on ten predictions for 2022 impacting the future of society.
Have any questions, comments, or stories you'd like to share with us? Drop us a line at

[email protected]

m!
And much more…
Please Scroll Down For Featured Resources
Do You Need To Ship Packages? Try ShipStation
ShipStation makes shipping the easy part of running your online store. So you can get back to doing what you're passionate about—growing your business. Just go to ShipStation.com, click on the microphone at the top, and enter code PASSIONSTRUCK.
New to the show? These Starter Packs are collections of our most popular episodes grouped by topic. You can also browse starter packs for existing listeners to find your old favorites. Every week, John interviews fascinating high achievers at the top of their game. Learn how to subscribe to the show and never miss a new episode and topic.
Like this? Please subscribe, and join me on my new YouTube platform for peak performance, life coaching, and personal growth: https://www.youtube.com/c/JohnRMiles/.
More About This Show On Predicting the Future of Society With Futurist Chet W. Sisk
During our conversation, John R. Miles asks Chet W. Sisk how a person becomes a futurist?
Chet explains, "It's not like there's a school you can go to and get a master's degree in futurism. It doesn't matter. But, I will say that my futurism form is really a glorified journalist. I was trained as a trained journalist from the School of Journalism at Southern Illinois University Carbondale, go Salukis.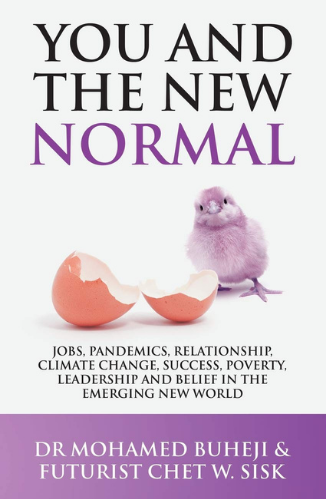 And so we use some of the essential tools of journalism, you ask, if you're seeing something, you ask the basic questions. What is it that I'm seeing? How do I follow these stories? Because you want to follow them over an extended period of time. You then want to ask questions about the money and where is it coming from? Because that usually tells the truth.
You also want to ask a question about are there any historic comps, some comparisons in history that look like this that you can point to? And then you want to ask a question about your gut? What is it that you believe that you're seeing? What experience have you had to make you see something that's familiar that you can make some kind of judgment on this particular subject?
So you have to trust your gut. For some reason, we've gotten away from people thinking that being a trend analyst or a futurist is data-driven, and it is, but it's not data exclusive. You have to use your intuitive self to lean into it to figure out what you're seeing.
A futurist isn't necessarily like a soothsayer guy reading Tarot with a crystal ball. That's not what we do. We really just read the trends and recognize the trends or decisions. So we're looking, if you make this decision, then this will be the outcome of that decision.
That's what we're saying. So it's not like, Oh, we're gonna hold you to those predictions. You need to hold your fellow citizen to those predictions because the predictions are merely decisions. And again, we can change our minds. So I like to put that preface out there."
Thanks, Chet W. Sisk!
If you enjoyed this session with Chet W. Sisk, let him know by clicking on the link below and sending her a quick shout out at Facebook:
Click here to thank futurist Chet W. Sisk on Facebook!
Click here to let John R. Miles know about your number one takeaway from this episode!
And if you want us to answer your questions or you have a topic you would like John to discuss on one of our upcoming weekly Momentum Friday episodes, drop us a line at [email protected].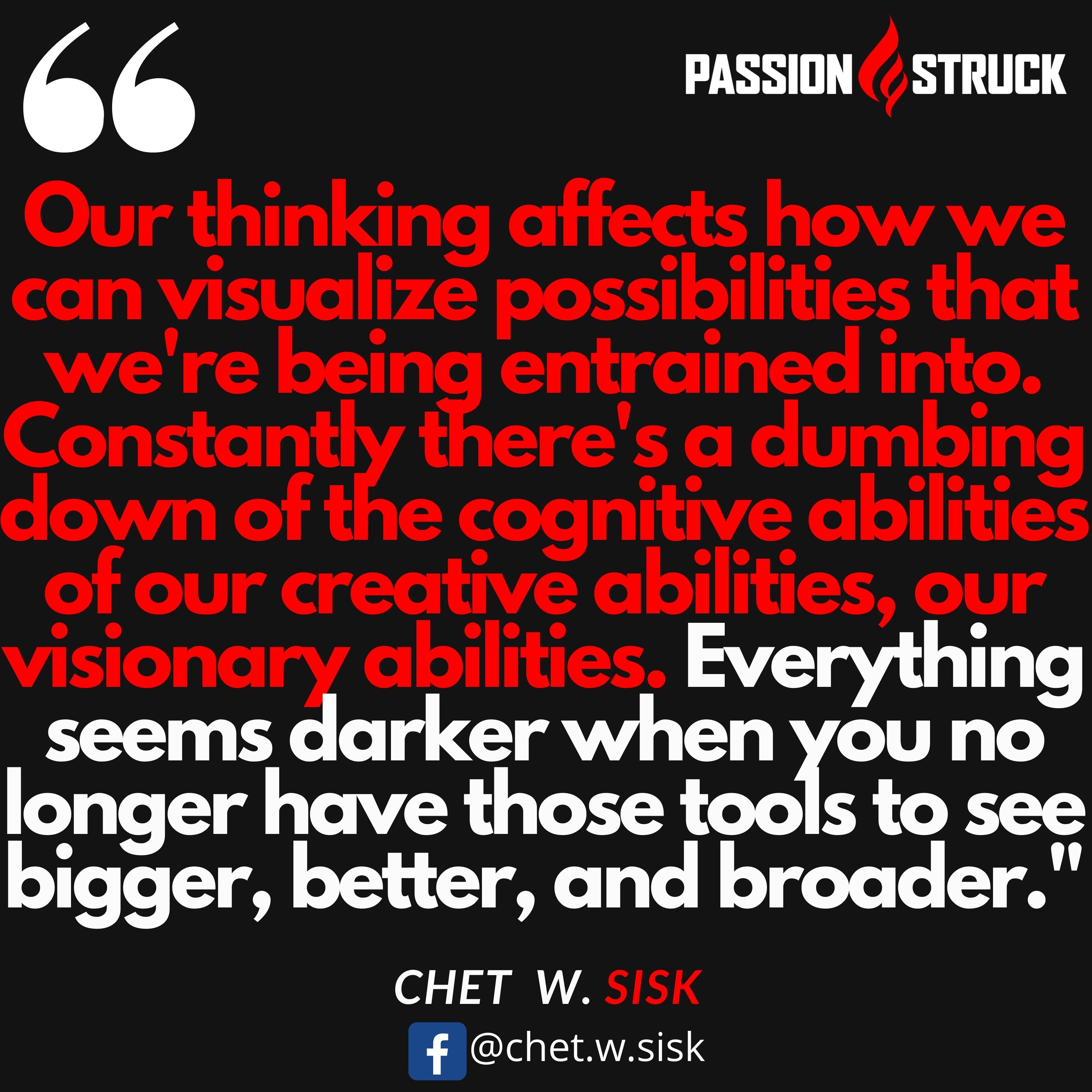 SHOW NOTES
0:00 Introducing Chet Sisk
4:04 How do you become a futurist?
7:50 Futurism and its link to journalism
10:19 Chet talks about his transformational books
15:00 What a futurist is or isn't
17:38 Chet's first prediction for 2022
22:34 Chet's second prediction for 2022
30:35 Chet's third prediction for 2022
36:48 Chet's fourth prediction for 2022
40:51 Chet's fifth prediction for 2022
45:00 Chet's Sixth and Seventh predictions for 2022
56:31 Chet's Eighth prediction for 2022
1:01:03 Chet's ninth and tenth predictions for 2022
1:04:07 The overview effect
1:06:00 Rapid round of questions
LINKS
Please note that some of the links on this page (books, movies, music, etc.) lead to affiliate programs for which The Passion Struck podcast receives compensation. It's just one of the ways we keep the lights on around here. Thank you so much for being so supportive!
* Website: http://www.leadtheshift.com
* LinkedIn: https://www.linkedin.com/in/chet-w-sisk-908b597/
* Facebook: https://www.facebook.com/chet.w.sisk
* What a Re-Imagined Society Looks Like by Chet W. Sisk
* Above and Beyond All That We Know by Chet W. Sisk
*You and the New Normal by Chet W. Sisk
Check out John's past episode on Stop Hiding Your Authentic Self. Catch up with Episode 88.
Are you having trouble prioritizing your time? John discusses the I Don't Have Time Syndrome in Episode 27.
Is the Hustle Culture is Making You Miserable? John explores this in-depth in Episode 70.
Suppose you missed our interview with world-renown fitness guru Christina Sparks on how to turn your passion for giving into a business. Don't panic! You can catch up by downloading it here.
About This Episode's Guest Futurist Chet W. Sisk
Chet W. Sisk is a futurist, entrepreneur, author, consultant, speaker, and workshop developer. He helps organizations see through the crisis of the moment to create plans for the immediate future. Chet focuses on developing organizations and individuals that can thrive and succeed in a time of massive change due to climate change, technological evolution, and social disruption. He is a member of the International Institute of Inspiration Economy, an organization designed to inspire economies that engage the public and encourage innovation, empowerment, and possibilities.
Chet spoke on these subjects at the United Nations in 2015. He has presented in almost 30 countries, including South Africa, Albania, Malaysia, Nigeria, The Netherlands, and Bahrain. He has taught at universities around the world, including The University of Kwazulu-Natal in Durban and Pietermaritzburg, South Africa, and Al-Akhawayn University in Ifrane, Morocco.
Chet is also the founder and principal of Universal Basic Resources, a business incubator and consulting group focused on helping develop climate-strong companies and organizations to enjoy success in a climate-affected world.
Connect With John R. Miles
* Twitter: https://twitter.com/Milesjohnr
* Facebook: https://www.facebook.com/johnrmiles.c0m
* Medium: https://medium.com/@JohnRMiles​
* Instagram: https://www.instagram.com/john_r_miles
* LinkedIn: https://www.linkedin.com/company/JohnMiles
* Blog: https://passionstruck.com/blog/
* Instagram: https://www.instagram.com/passion_struck_podcast
John R. Miles is a globally recognized high-performance coach, life and business strategist, military veteran, and one of the most-watched quoted and followed personal growth trainers globally. John is a highly sought-after speaker, coach, author and makes frequent media appearances to discuss how to transition from being passion struck to becoming PASSION STRUCK! He is passionate about being the catalyst who helps individuals expand into the most excellent version of themselves, unlocking the most legendary life possible.