Christina Sparks (@christina__sparks) is a Technology Executive turned E-Commerce Fashion CEO and the Founder and CEO of Soulgani Activewear. She sits down with John R Miles to talk about how to turn a passion for giving into a business and her motto Be Good. Do Good.
Hear the secrets and philosophy of the World's GREATEST high achievers every Tuesday and tune in each week for an inspirational Momentum Friday message!
Like this show? Please leave us a review here – even one sentence helps! Post a screenshot of you listening on Instagram & tag us so we can thank you personally!
What We Discuss With Christina Sparks On Turning a Passion for Giving Into a Business:
Why when Christina Sparks was accepted to medical school she instead decided to pursue her affinity towards creating and business.
How she ended up going into the Tech World and really learned she loved the process of creation.
How the experience of being over product management and strategy provide indispensable knowledge in her newest venture.
Her trip to Peru and how it inspired her to found Soulgani Activewear.
How she discovered the tech world was no longer her passion and how she discovered she had a passion for giving.
How she became a regular on QVC and the Shopping Network.
Her three biggest tips and advice for entrepreneurs.
What makes people do the reverse of the calling they are meant to serve.
Have any questions, comments, or stories you'd like to share with us? Drop us a line at

[email protected]

m!
And much more…
Please Scroll Down For Featured Resources
Do You Need To Ship Packages? Try ShipStation
ShipStation makes shipping the easy part of running your online store. So you can get back to doing what you're passionate about—growing your business. Just go to ShipStation.com, click on the microphone at the top, and enter code PASSIONSTRUCK.
Have You Tried Athletic Greens?
Athletic Greens is a custom formulation of 75 vitamins, minerals, and other whole-food sourced ingredients that make it easier for you to maintain nutrition in just a single scoop. It tastes great and gets you the nutrients you need, whether you're working on the go, fueling an active lifestyle, or just maintaining your good health. Visit https://athleticgreens.com/passionstruck to get a FREE year supply of Liquid Vitamin D + 5 FREE Travel Packs with the subscription.
Special Discount from SOULGANI for Passion Struck Audience Members
Soulgani Activewear is offering a generous 20% discount for our audience. Go to www.soulgani.com and use passion20 at checkout.
New to the show? These Starter Packs are collections of our most popular episodes grouped by topic. For existing listeners, you can also browse starter packs to find your old favorites. Every week, John interviews fascinating high achievers at the top of their game. Learn how to subscribe to the show and never miss a new episode and topic.
Like this? Please subscribe, and join me on my new YouTube platform for peak performance, life coaching, and personal growth: https://www.youtube.com/c/JohnRMiles/.
More About This Show On How to Turn a Passion For Giving Into a Business With Christina Sparks
During our interview, I spoke to Christina Sparks about the deliberate actions she took in launching her idea and how she turned a passion for giving into Soulgani.
Christina Sparks explains, "I think it's like one part a little bit crazy. And then another part, maybe just a little bit ego, and another part are just like a dream. Like, there's just something inside that just pushed me to do it. I can't, I can't exactly explain it.
I do remember, like windows at the gym. And I had just left that company I was at and I had really started putting 100% of my focus into Soulgani. And I was like, on the rower, at the gym, and I'm like thinking myself, like, what am I like nuts? Like, why? Why did I do this?
And I said to myself, Am I going to be able to create a living out of this? Am I going to be able to create a big business? And, you know, really kind of take over? Will I be able to do something like that? And, and I said to myself, I don't know unless I try.
Half the battle is like just getting outside of your head. And just doing so with intention. And so that's just what I did. And I think every entrepreneur has a little bit of crazy in them because that's what allows you to move past the logic.
When you look at something logically, you're like, this may not work. But when you look at something with passion, you are willing to jump over that fence, or you can go under that fence or you go plow through it. Passion will allow you to take an obstacle and move through it. And so I think it's the entrepreneurial spirit."
Thanks, Christina Sparks!
If you enjoyed this session with Christina Sparks, let her know by clicking on the link below and sending her a quick shout out at Instagram:
Click here to thank Christina Sparks at Instagram!
Click here to let John R. Miles know about your number one takeaway from this episode!
And if you want us to answer your questions or you have a topic you would like John to discuss on one of our upcoming weekly Momentum Friday episodes, drop us a line at [email protected].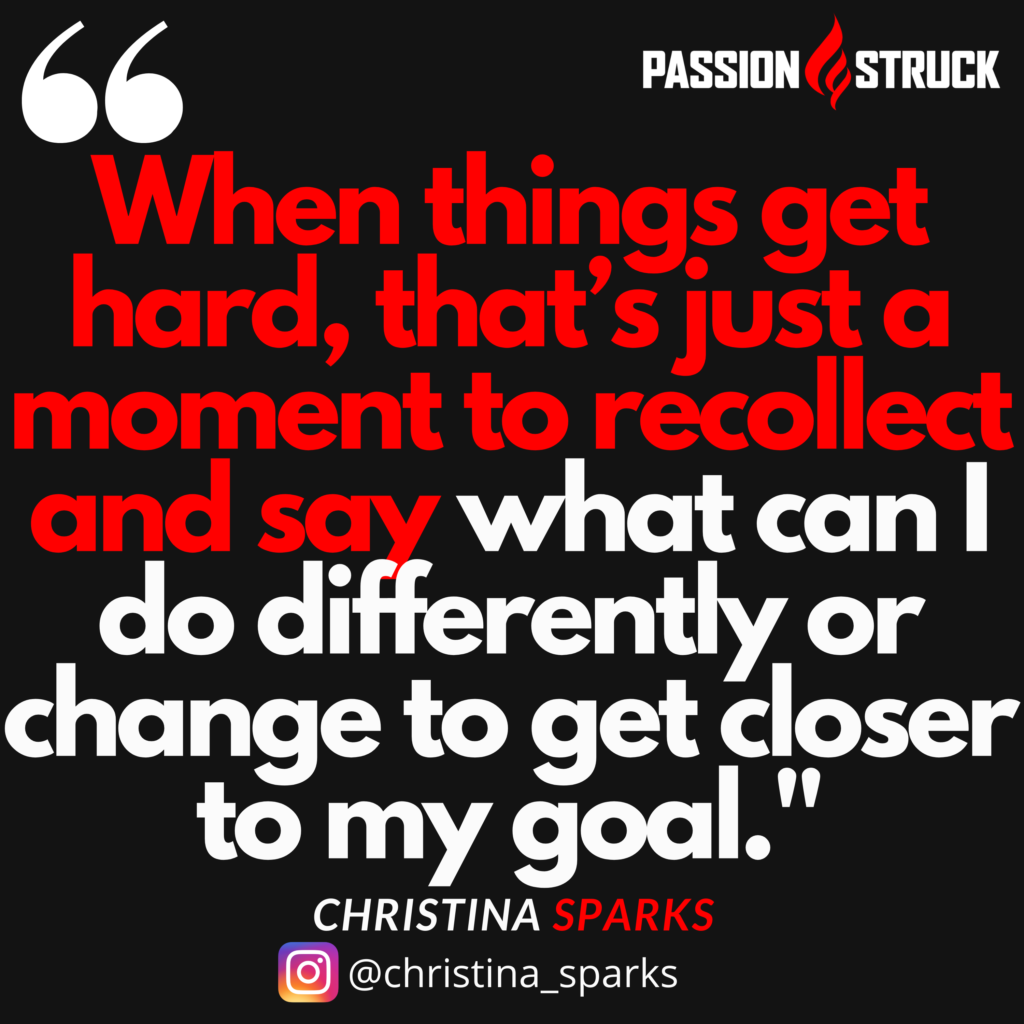 SHOW NOTES
0:00 Introduction
4:18 Christina Sparks entry into the Tech World
8:00 The lessons Christina learned from product management
14:08 The trip that led her to found Soulgani
15:59 What Soulgani means
17:44 How focused on her goals
20:30 How she got on QVC
26:15 Why you can never stop progressing
32:12 Where you can buy the product
35:10 Christina's focus on her passion for giving back
39:04 The keys to her success
42:35 Her decision to make the product in the U.S.
44:11 Why do people do the reverse of their true calling
50:38 Quick question and answer round.
LINKS
Please note that some of the links on this page (books, movies, music, etc.) lead to affiliate programs for which The Passion Struck podcast receives compensation. It's just one of the ways we keep the lights on around here. Thank you so much for being so supportive!
• Website: www.soulgani.com
• Instagram: https://www.instagram.com/soulgani.activewear
• LinkedIn: https://www.linkedin.com/company/soulgani-activewear
• LinkedIn: https://www.linkedin.com/in/christinamajeed/
• Facebook: https://www.facebook.com/soulgani.activewear/
• Twitter: https://twitter.com/soulganiactive
• YouTube: https://www.youtube.com/channel/UCiHV_P0lWpnRUzSrxtI_SOA/featured
* Brain Health From Birth by Rebecca Fett
*Atomic Habits by James Clear
Check out John's past episode on Stop Hiding Your Authentic Self. Catch up with Episode 88.
Are you having trouble prioritizing your time? John discusses the I Don't Have Time Syndrome in Episode 27.
Is the Hustle Culture is Making You Miserable? John explores this in-depth in Episode 70.
Suppose you missed our interview with world-renown fitness guru Nathalie Plamondon-Thomas on how to improve your inner self-confidence Don't panic! You can catch up by downloading it here.
About This Episode's Guest Christina Sparks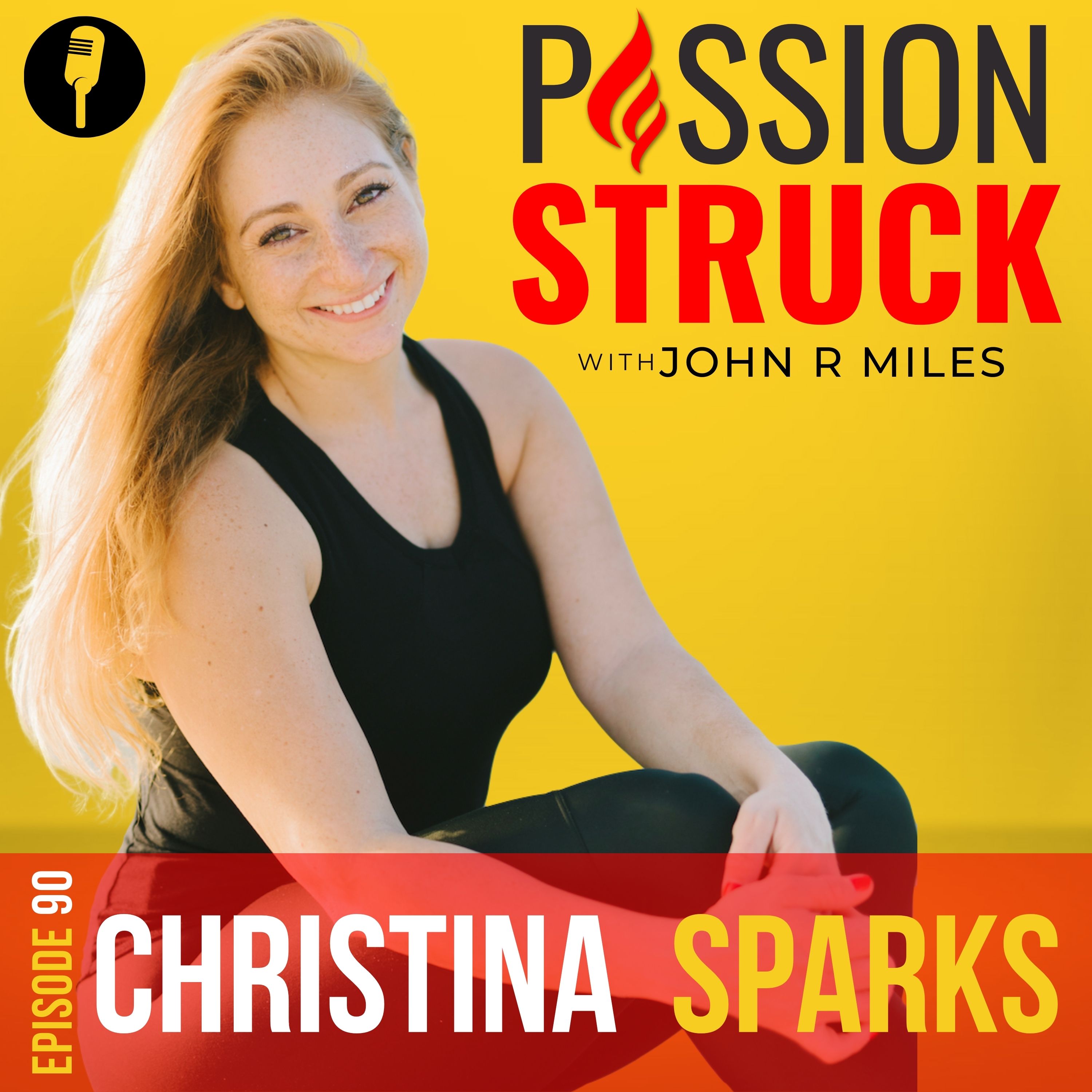 Technology Executive turned E-Commerce Fashion CEO, Christina Sparks has an impressive background as Founder and CEO of Soulgani Activewear, SVP of Account Management for Marxent Labs an Augmented and Virtual Reality technology company, and Chief Product Officer for Nextech, a Healthcare software company. She has 3 design patents to her name and collectively has millions of users worldwide of her various products including software users to activewear customers collectively.
Her education combines science, technology, and business. She holds her BS cum laude in pre-medicine from the University of Dayton and a Master of Science in technology management from Columbia University. She is also a certified yoga instructor and was named one of Tampa Bay's 40 under 40 in 2015.
Connect With John R. Miles
* Twitter: https://twitter.com/Milesjohnr
* Facebook: https://www.facebook.com/johnrmiles.c0m
* Medium: https://medium.com/@JohnRMiles​
* Instagram: https://www.instagram.com/john_r_miles
* LinkedIn: https://www.linkedin.com/company/JohnMiles
* Blog: https://passionstruck.com/blog/
* Instagram: https://www.instagram.com/passion_struck_podcast
John R. Miles is a globally recognized high-performance coach, life and business strategist, military veteran, and one of the most-watched quoted and followed personal growth trainers globally. John is a highly sought-after speaker, coach, author and makes frequent media appearances to discuss how to transition from being passion struck to becoming PASSION STRUCK! He is passionate about being the catalyst who helps individuals expand into the most excellent version of themselves, unlocking the most legendary life possible.