Today I talk to Scott DeLuzio (@scottdeluzio) about the need to drive on and reclaim your strength after experiencing hardship. Scott DeLuzio is an Army veteran who served in the CT Army National Guard as an infantryman between 2005-2011 and was deployed to Afghanistan in 2010. Scott is the author of Surviving Son and the host of the Drive On podcast.
Purchase Scott's book Surviving Son: https://amzn.to/3NUqQqI (Amazon Link)
Hear the secrets and philosophy of the World's GREATEST high achievers every Monday and Thursday, and tune in each week for an inspirational Momentum Friday solo message.
Like this show? Please leave us a review here – even one sentence helps! Post a screenshot of you listening on Instagram & tag us to thank you personally!
Listen to the episode on Apple Podcasts, Spotify, Podcast Addict, Pocket Casts, Stitcher, Castbox, Google Podcasts, Listen Notes, Amazon Music, or on your favorite podcast platform. You can watch the interview on YouTube below.
Enjoy!
In This Episode, Scott DeLuzio And I Discuss How to Drive on and Reclaim your Strength
Scott DeLuzio tells a compelling true story about the life of a U.S. Army combat infantryman fighting in Afghanistan at the same time as his younger brother, Steven, who was killed in action just miles away. We discuss how people from all walks of life who have faced incredible hardship can choose to survive, learn from the experience, and make themselves and those around them stronger.
How the early events in his life shaped who he is today.
Why he decided to join the National Guard.
His mental health suggestions and why it is so important to act and not keep the pain inside.
The impact of losing his brother while they were both deployed to Afghanistan.
We talk about some of his leadership advice on a variety of topics.
Why he started the Drive On podcast.
His recommendations for aspiring podcasters
Have any questions, comments, or stories you'd like to share? Drop us a line at

[email protected]

m!
And much more…
Please Scroll Down For Featured Resources
Our Patreon Page: https://www.patreon.com/passionstruck
Thank You, Shopify, For Sponsoring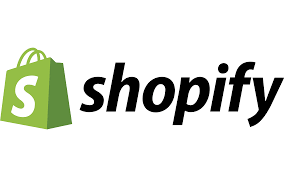 Discover the number one eCommerce platform for all Businesses. Start, run + grow your business with Shopify®. Customize your store with their website builder. Trusted by millions of businesses. Sign up for a FREE trial at SHOPIFY DOT COM SLASH "passionstruck",
*Our Patreon Page: https://www.patreon.com/passionstruck.
Starter Packs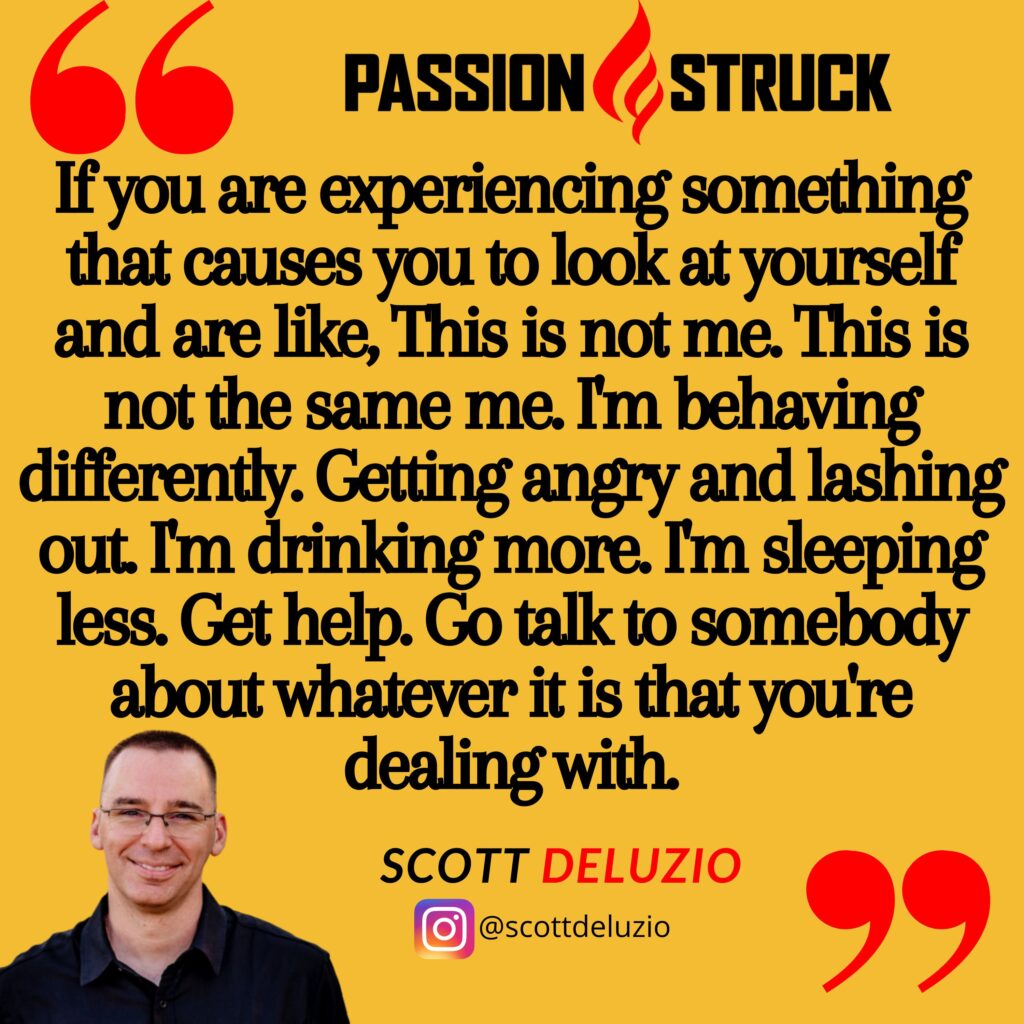 New to the show? These Starter Packs are collections of our most popular episodes grouped by topic, and we now have them also on Spotify. To find your old favorites, you can also browse starter packs for existing listeners. Every week, John interviews everyday heroes from all walks of life. Learn how to subscribe to the show and never miss a new episode and topic.
Like this? Please subscribe, and join me on my new YouTube platform for peak performance, life coaching, and personal growth: https://www.youtube.com/c/JohnRMiles/.\
More From My Interview With Scott DeLuzio
During our interview, I asked Scott why he wrote Surviving Son.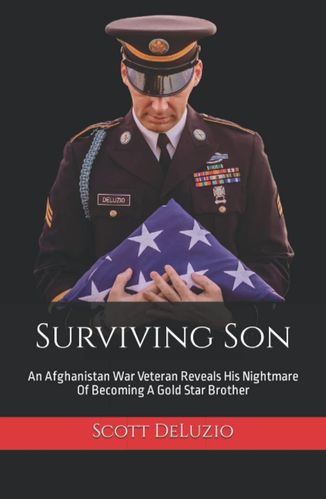 Scott DeLuzio explains, "My younger brother, Steven, and I both were deployed to Afghanistan at the same time, where he was tragically killed in action. And that clearly had a profound impact on my life, my family's lives, and everything. And it really set me in a bad direction. I was not coping with the grief of losing him, the PTSD that I had experienced, and all the other stuff I was dealing with.
I wasn't doing it in a very healthy way. And eventually, I realized that I needed to do something different to get the help that I needed. And once I started doing that, I realized just how many other people are out there in the military and veteran communities who are struggling the way I struggled, and I realized that you don't have to go down this route and struggle by yourself; there are resources available, you can get the help that you need, you just have to know where to look and know what to do.
And so that's the background of why I started doing some of the stuff that I'm doing now on my Drive On podcast, which focuses on these issues to raise awareness for some of the resources that are available for military veterans. We talk to people who have struggled with homelessness, addiction or PTSD, or any number of other issues that plagued the veteran community. And we talked about what they did to come through on the other side in a better place, and all with the hopes of providing hope to the listeners, who might just be sitting there thinking that all hope is lost for them.
They don't really have any good options ahead of them. And when you start hearing about other people who are in very similar situations, and they have a message of positivity, a message of hope, then it gives that listeners a little bit of hope, as well says, okay, maybe I haven't tried everything, maybe there's something else that I need to try."
Thanks, Scott DeLuzio!
If you enjoyed this interview with Scott Deluzio, let him know by clicking on the link below and sending him a quick shout on Instagram:
Click here to give Scott DeLuzio a shout-out on Instagram!
Click here to let John R. Miles know about your number one takeaway from this episode!
And if you want us to answer your questions or you have a topic you would like John to discuss on one of our upcoming weekly Momentum Friday episodes, drop us a line at [email protected].
Resources From The Show With Scott DeLuzio
Please note that some of the links on this page (books, movies, music, etc.) lead to affiliate programs for which The Passion Struck podcast receives compensation. It's just one of the ways we keep the lights on around here. Thank you so much for being so supportive!
About Today's Guest, Scott DeLuzio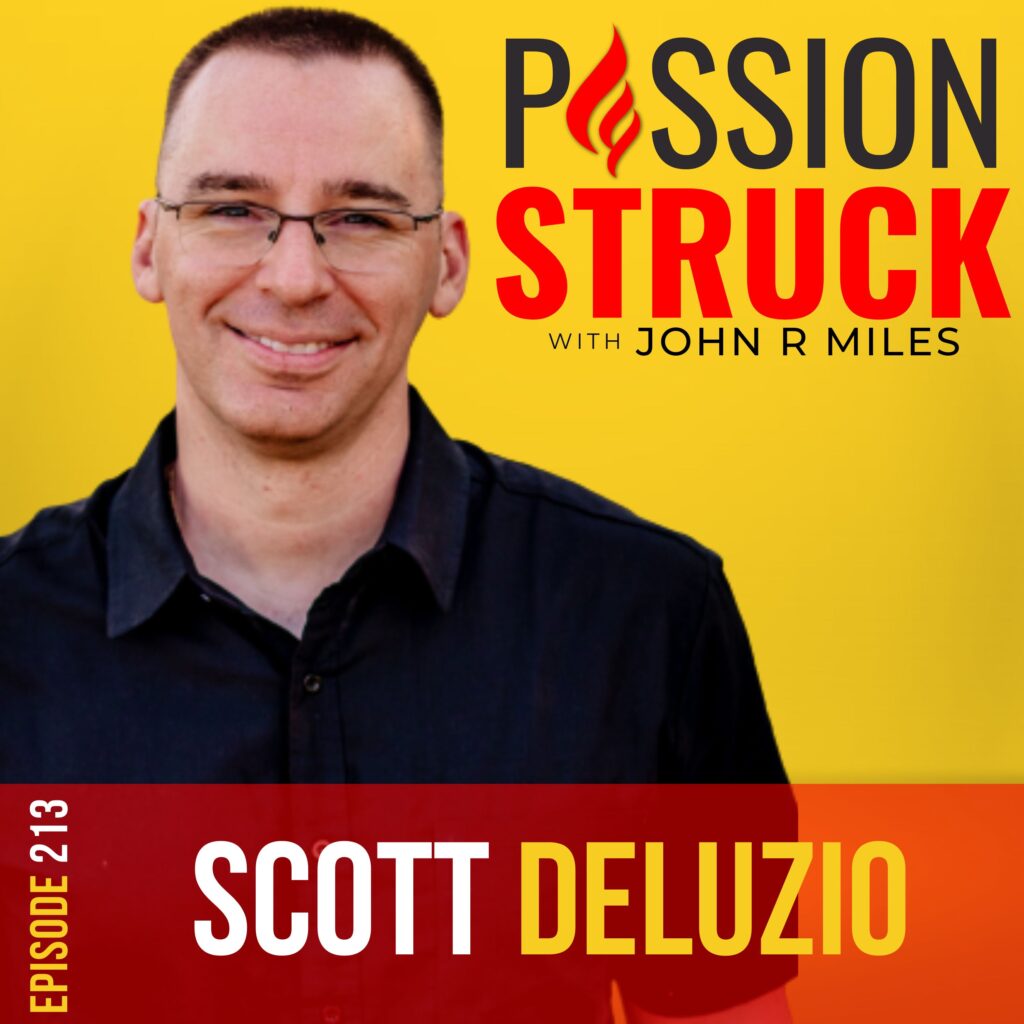 Scott DeLuzio hosts the Drive On Podcast. Scott is an Army infantry veteran who served in Afghanistan in 2010. After that deployment, several individuals that Scott served with took their own lives. Scott realized that those individuals survived combat in an area where people wanted them to die, only to lose their lives when they come back home to a place where people wanted them to thrive.
Scott realized this problem was widespread amongst the military community and didn't want to wait for another fellow veteran to take their own life. That was the spark that caused Drive On Podcast to come to life.
Follow John R. Miles On The Socials
* Twitter: https://twitter.com/Milesjohnr
* Facebook: https://www.facebook.com/johnrmiles.c0m
* Medium: https://medium.com/@JohnRMiles​
* Instagram: https://www.instagram.com/john_r_miles
* LinkedIn: https://www.linkedin.com/in/milesjohn/
* Blog: https://johnrmiles.com/blog/
* Instagram: https://www.instagram.com/passion_struck_podcast/
* Gear: https://www.zazzle.com/store/passion_struck/
John R. Miles is a serial entrepreneur and the CEO and founder of Passion Struck. This full-service media company helps people live intentionally by creating best-in-class educational and entertainment content. John is also a prolific public speaker, venture capitalist, and author named to the ComputerWorld Top 100 IT Leaders.
John is the host of the PassionStruckPodcast. The show focused on exploring the mindset and philosophy of the world's most inspiring people to learn their lessons to living intentionally. Passion Struck aspires to speak to the humanity of people in a way that makes them want to live better, be better and impact.
Stay tuned for JJohn'slatest project, his upcoming book, which will be published in summer 2022.
Learn more about me: https://johnrmiles.com