Adam Posner (@NHPTalent) is the Founder and President at NHP Talent Group and the host of the top career podcast, ThePOZcast– showcasing experts to help you harness your inner tenacity to drive your life and career forward. In today's episode, Adam speaks to John R. Miles about career search and the secret to connecting powerful relationships between companies and job seekers.
Hear the secrets and philosophy of the World's GREATEST high achievers every Tuesday and tune in each week for an inspirational Momentum Friday message!
Like this show? Please leave us a review here – even one sentence helps! Post a screenshot of you listening on Instagram & tag us so we can thank you personally!
What We Discuss With Adam Posner About Career Search, Gary Vaynerchuk, and Connecting Powerful Relationships.
Why Adam Posner left the corporate world to become and executive recruiter focused on career search.
The most significant advice that he ever received from Gary Vaynerchuk when he worked for Gary at Vayner Media.
How he applied that advice from Gary into his superpowr of becoming a master connector of people relationships and companies.
When in a job search it is best to discuss compensation with a recruiter.
We discuss the current trends in career search and how the market has shifted from an employer market to an employee market.
The dos and don'ts for writing cover letters and his tips on how to format a resume to get a recruiter's attention.
How you should approach a recruiter whom you have never met.
How do you properly use LinkedIn to best showcase your personal brand and create a profile on LinkedIn.
Our mutual advice on the best practices we've used in both of our popular podcasts.
Have any questions, comments, or stories you'd like to share with us? Drop us a line at

[email protected]

m!
And much more…
Please Scroll Down For Featured Resources
Have You Tried Nutrafol?
80 Million Americans (both men and women) experience thinning hair. It's common- even normal, but it's not openly discussed, so going through it can feel lonely and frustrating. It's time to change the conversation and join the thousands of people standing up for their strands with Nutrafol. You can grow thicker, healthier hair AND support our show by going to www.Nutrafol.com and using promo code PASSIONSTRUCK to save FIFTEEN DOLLARS OFF your first month's subscription – this is their BEST OFFER available ANYWHERE, and it's only available to US customers for a limited time.
New to the show? These Starter Packs are collections of our most popular episodes grouped by topic. You can also browse starter packs for existing listeners to find your old favorites. Every week, John interviews fascinating high achievers at the top of their game. Learn how to subscribe to the show and never miss a new episode and topic.
Like this? Please subscribe, and join me on my new YouTube platform for peak performance, life coaching, and personal growth: https://www.youtube.com/c/JohnRMiles/.
More About This Show On Being a Powerful Relationship Connector of All Things Career Search With Adam Posner
During our conversation, John R. Miles asks Adam Posner about the latest trends in the career search space.
Adam explains, "what's happening now if we pull back the curtain, and we're looking at the 30,000-foot view. We have seen the dynamic shift from the candidate/employee in the last two years away from the employer. We've seen this significant shift where the employer used to have all the leverage during interviews in the career search because now employees have a choice.
You don't want to work there, and there are many other jobs open right now. It's all about supply and demand. That's really what It comes down to, plus the fact that we've all realized that specific jobs could be equally productive, working from anywhere versus being in an office. There are many creative roles where I feel like you need to be in an environment together, at least a couple of days a week, for that authentic energy and collaboration. But high level, John, I mean, the dynamic has shifted, the pendulum has swung in a different direction, and now we're going into 2022.
It's a candidate-driven market where they have choices. They have options. From a hiring perspective, many companies that were very specific where roles could sit geographically have now opened up nationwide. So I love it. I mean, I have roles with clients that were only in the New York area, for example. And now I could source nationwide for them.
And it's opening up an incredible talent pool of candidates that would never, for whatever reason, move to the New York area, but always kind of wanting to work for a New York-based company. It allows them to do that. And it's fascinating. There are pros, cons, and a lot of gray areas, a lot of things. We're figuring a lot of polarizing messages out there. And it's challenging waters to navigate right now."
Thanks, Adam Posner!
If you enjoyed this session with Adam Posner, let him know by clicking on the link below and sending her a quick shout out at Facebook:
Click here to thank Adam Posner on Instagram!
Click here to let John R. Miles know about your number one takeaway from this episode!
And if you want us to answer your questions or you have a topic you would like John to discuss on one of our upcoming weekly Momentum Friday episodes, drop us a line at [email protected].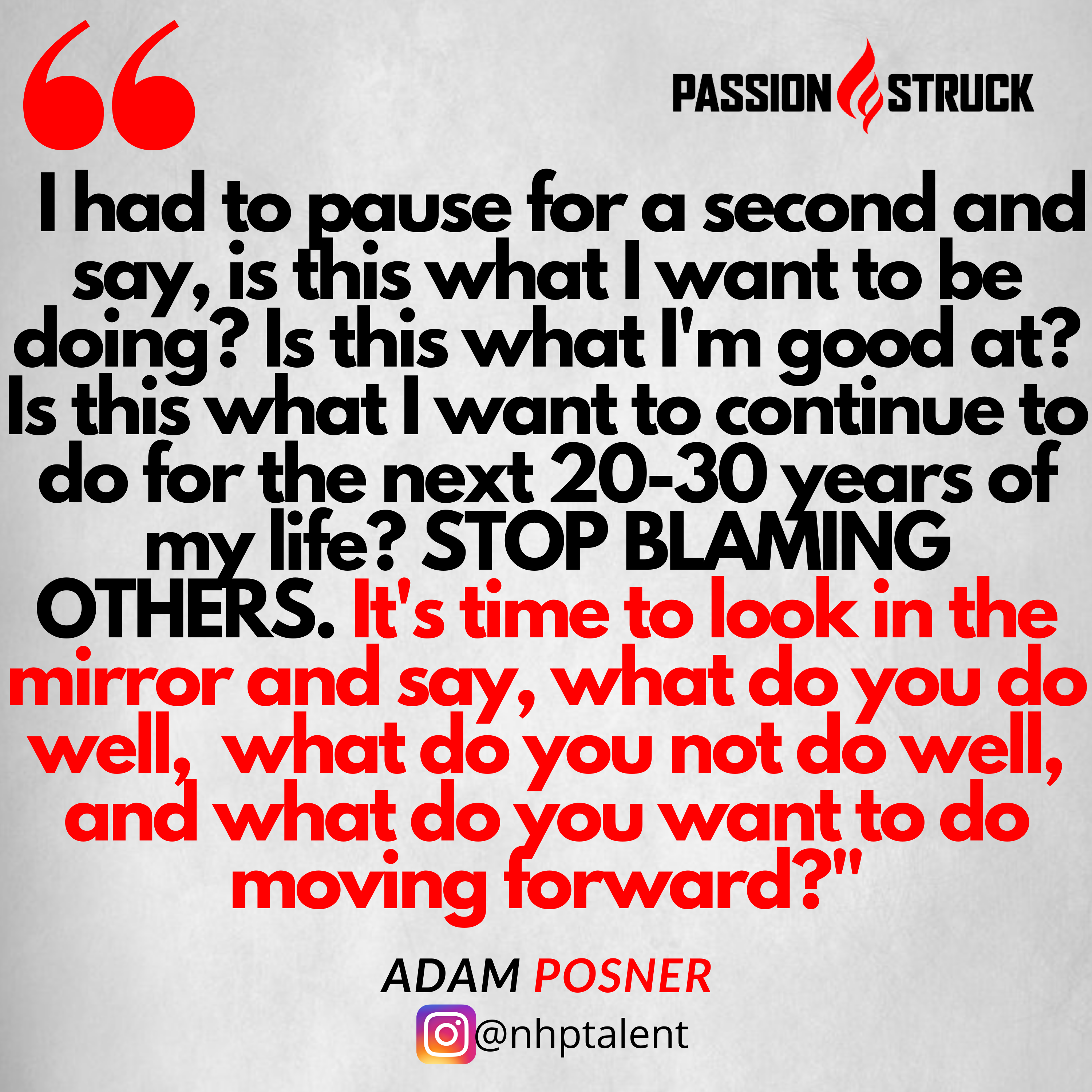 SHOW NOTES
0:00 Introduction to Adam Posner
3:41 Embracing collaboration over competition
4:55 The importance of not blaming others
11:40 What it is like to work for Gary Vaynerchuk
16:01 Double down on your strengths
18:56 How the job market is shifting
24:24 The switch to virtual interviewing
26:35 Dos and Donts for a resume and cover letters
31:29 Do you put a photo on your resume?
33:20 How to send an email to a recruiter
38:30 When it is best to talk about compensation
43:11 How to make a LinkedIn profile stand out
47:30 How Adam Posner got into podcasting
50:11 Podcasting best practices
LINKS
Please note that some of the links on this page (books, movies, music, etc.) lead to affiliate programs for which The Passion Struck podcast receives compensation. It's just one of the ways we keep the lights on around here. Thank you so much for being so supportive!
*Instagram: https://www.instagram.com/nhptalent/
*Website: https://www.nhptalentgroup.com/
*Podcast: www.thePOZcast.com
*LinkedIn: https://www.linkedin.com/in/adamjposner/
*Crushing It by Gary Vaynerchuk
Check out John's past episode on Stop Hiding Your Authentic Self. Catch up with Episode 88.
Are you having trouble prioritizing your time? John discusses the I Don't Have Time Syndrome in Episode 27.
Is the Hustle Culture is Making You Miserable? John explores this in-depth in Episode 70.
Suppose you missed our interview with world-renown fitness guru Christina Sparks on how to turn your passion for giving into a business. Don't panic! You can catch up by downloading it here.
Catch the episode I did with Amanda Slavin, on Improving Lives by inspiring change. You can find the episode here.
About This Episode's Guest Adam Posner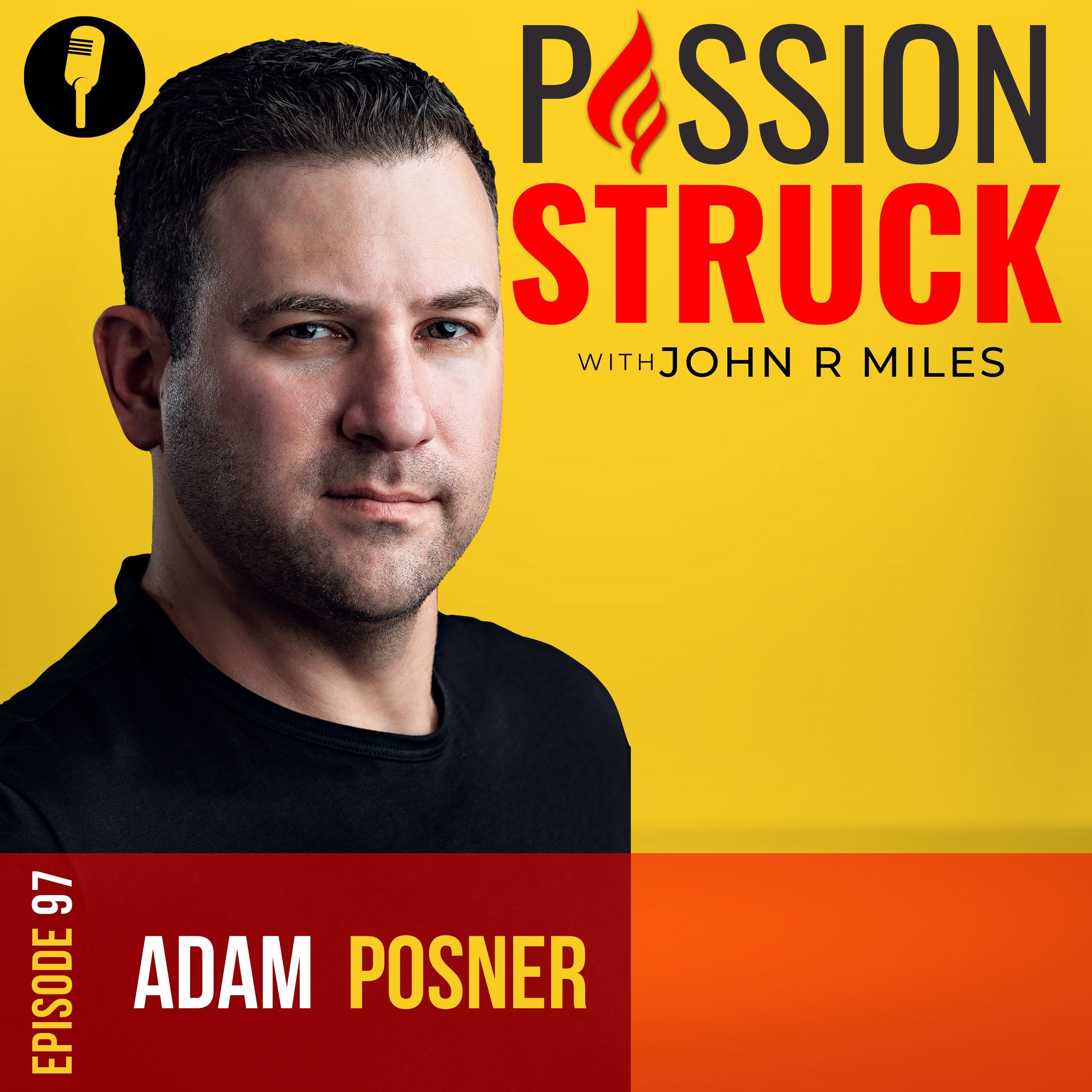 Adam Posner is the Founder and President at NHP Talent Group– a boutique NY-based talent consultancy specializing in talent access for Senior-level roles within Digital Marketing, Media, eCommerce, Product and Content Creation at startups, Creative Agencies, and Brands. He is also the host of the top global career podcast, ThePOZcast– showcasing experts to help you harness your inner tenacity to drive your life and career forward. He has produced and aired almost 200 episodes with top guests like Gary Vaynerchuk, Grant Cardone, Kara Goldin, and Tucker Max, to name a few.

Before pivoting into the world of recruiting, Adam spent 15 years working within the NYC advertising and marketing industry. He has led account management and digital strategy at American Express, SIRIUS XM, and digital ad agencies in NYC like VaynerMedia and EP+Co for major Clients like Verizon, Pepsi, and British Airways. This has instilled him a unique perspective when working with candidates to truly understand their Career DNA and ensure a good fit on both sides of the recruiting equation. In addition, he brings expert advisory around the Talent Acquisition process, employer branding, and recruitment operations.
Connect With John R. Miles
* Twitter: https://twitter.com/John_RMILES
* Facebook: https://www.facebook.com/johnrmiles.c0m
* Medium: https://medium.com/@JohnRMiles​
* Instagram: https://www.instagram.com/john_r_miles
* LinkedIn: https://www.linkedin.com/company/JohnMiles
* Blog: https://passionstruck.com/blog/
* Instagram: https://www.instagram.com/passion_struck_podcast
John R. Miles is a globally recognized high-performance coach, life and business strategist, military veteran, and one of the most-watched quoted and followed personal growth trainers globally. John is a highly sought-after speaker, coach, author and makes frequent media appearances to discuss how to transition from being passion struck to becoming PASSION STRUCK! He is passionate about being the catalyst who helps individuals expand into the most excellent version of themselves, unlocking the most legendary life possible.