Some of us are lucky that we have experienced someone in our life who has inspired change in a significant way. Perhaps it was helping you to create a happier, more engaged, and healthier version of yourself. Inspiring change can be extremely powerful, but it isn't easy. In this Passion Struck podcast interview, John R. Miles discusses with Amanda Slavin the life-altering moment that changed her life and how to change lives by inspiring change in others.
Like this? Please subscribe, and join me on my new platform for peak performance, life coaching, self-improvement, and personal growth: https://www.youtube.com/c/JohnRMiles/
Here is the link for Amanda Slavin's Ted Talk featured in the podcast: https://www.youtube.com/watch?v=KCkYTz_lg3M
What Does It Mean To Inspire Change?
How often do we get stuck in life? We become disheartened with our situation and get defensive and frustrated. For many, it is hitting a crisis or inflection point which causes them to see the need to alter their life. Inspiring change is the act of motivating, influencing, and creating the environment for others to take action. It's improving lives by being the catalyst that helps someone to take action and make the choice to live their life differently.
As we're adults, we have all these blockers and preconceived notions of who we are and our self-limiting beliefs. Whereas as children, we don't have that yet. We're innocent and open. And we want to connect, it's how we were programmed as human beings. Our children know a lot more than we give them credit for. It's important as parents that while we don't necessarily share all the things that we're experiencing, so they might not understand, we give them credit, and we tell them, hey, you might be feeling this, and I want to hear what you're experiencing and what you're going through.
How Do You Go About Inspiring Change Through Engagement?
John R Miles and Amanda Slavin discuss her path from educator to author, speaker, and brand builder. We unpack why so many people are dissatisfied with their jobs and the cause of the low engagement we are seeing across all areas of the world.
For Amanda, there's not much else that is a commonality between education, hospitality, restaurants, marketing, branding, experiential except for engagement. She thinks there's a lot of reasons why we're disengaged. And, one key element of the problem is that we have too simple of a definition of disengagement.
Amanda uses the Seventh Level Engagement Framework to discuss what is causing this disengagement and how she is changing lives today by inspiring change. We discuss the difference that positive inspiration can make in a person's life and how motherhood has changed her perspectives on life and career.
She also discusses her friendship with the Zappos founder Tony Hsieh and the positive influence he made in her life. Tony made inspired change throughout the industry by creating engagement in his company that was second to none.
New Interviews with the World's GREATEST high achievers will be posted every Tuesday with a Momentum Friday inspirational message!
How To Change Lives By Inspiring Change Show Notes
0:00 Show Intro and Ted Talk
5:01 The 3 P's to finding purpose
13:33 What she learned from teaching Gen Zers
17:35 How motherhood changed her outlook
23:27 Why are so many disengaged?
30:19 How do you get engagement back?
35:57 Dealing with a hostile work environment
40:00 Her experience with Tony Hsieh, the Zappos former CEO
45:17 How do leaders become more engaged?
49:36 Create your own seventh level statement
54:50 Applying yourself to serve others
58:38 What she eliminated to make her more productive
QUOTES FROM AMANDA SLAVIN
It doesn't actually matter what anyone else thinks about me, it matters what I think about myself, and I'm no longer going to change for anyone else.

I think there's a lot of reasons why we're disengaged and one part of the problem is that we have too simple of a definition of disengagement.

We need to create spaces where we feel comfortable.

Quotes on Inspiring Change by Amanda Slavin
ENGAGE WITH AMANDA SLAVIN
Amanda Slavin, a former Forbes 30 Under 30 honoree, is chairperson and Co-founder of CatalystCreativ, an award-winning community events agency specializing in audience engagement. Using the Seventh Level Engagement Framework from her best-selling book, The Seventh Level, she has advised multiple startups including HubSpot, Kiddie Kredit, Speakfully, SEEN, MyVillage, Official, and many more as well as a strategic angel investor and venture partner (OzoneX).
Links
*catalystcreativ.com (Company Website)
*the-seventhlevel.com (Company Website)
*amandaslavin.com (Personal Website)
https://www.instagram.com/ajslavin/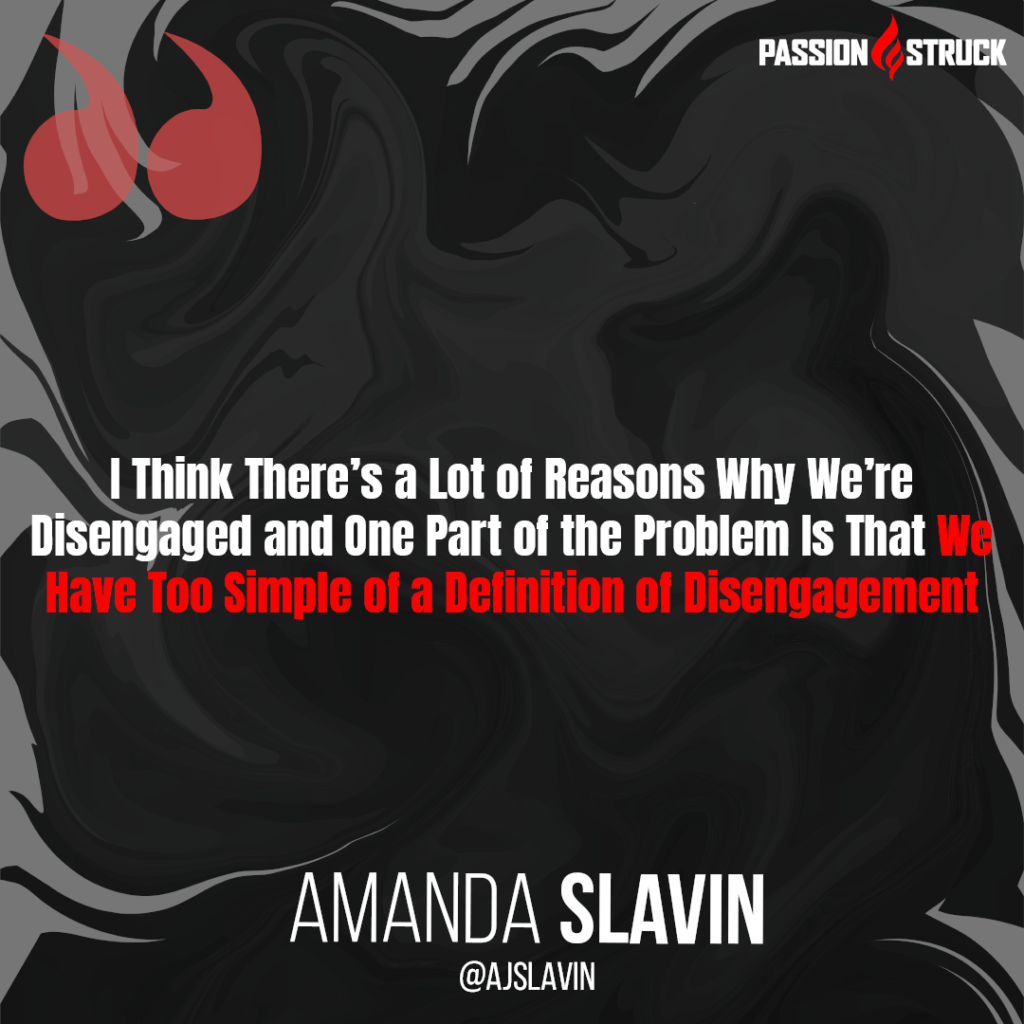 ENGAGE WITH JOHN R. MILES
* Subscribe to my channel: https://www.youtube.com/c/JohnRMiles
* Leave a comment, 5-star rating (please!)
* Support me: https://johnrmiles.com
* Twitter: https://twitter.com/Milesjohnr
* Facebook: https://www.facebook.com/Johnrmiles.c0m.
* Medium: https://medium.com/@JohnRMiles
* Instagram: https://www.instagram.com/john_r_miles
JOHN R. MILES
* https://johnrmiles.com/my-story/
* Guides: https://johnrmiles.com/blog/
* Coaching: https://passionstruck.com/coaching/
* Speaking: https://johnrmiles.com/speaking-business-transformation/
* Gear: https://www.zazzle.com/store/passion_struck
PASSION STRUCK
*Subscribe to Podcast: https://podcasts.apple.com/us/podcast/the-passion-struck-podcast/id1553279283
*Website: https://passionstruck.com/
*About: https://passionstruck.com/about-passionstruck-johnrmiles/
*Instagram: https://www.instagram.com/passion_struck_podcast
*LinkedIn: https://www.linkedin.com/company/passionstruck