Sharon Rolph (@sharon_queenofcourage) is a behavioral scientist and author who works as a retirement and essence coach. She sits down with John R Miles to discuss finding your essence in retirement and empowering everyone to win satisfaction. We discuss why finding your essence is vital regardless of age and unlocks an intentional life.
Hear the secrets and philosophy of the World's GREATEST high achievers every Tuesday and tune in each week for an inspirational Momentum Friday message!
Like this show? Please leave us a review here – even one sentence helps! Post a screenshot of you listening on Instagram & tag us so we can thank you personally!
What We Discuss With Sharon Rolph On Finding Your Essence:
Why growing up Sharol Rolph felt invisible and why being invisible played an important role in her growth and becoming the queen of courage.
Her retirement from Boeing and how she found her calling as an essence and retirement coach.
Why your essence is so vital to you developing passion and purpose in your life.
Her book released in October 2021 Fresh Courage In Retirement: Finding purpose, essence and fulfillment.
Her goal to help people to live, grow and give from a passion that produces stronger neighborhoods and communities.
The retiring Baby Boomers globally and how they still can potentially change the world.
When we live from our heart, life has meaning and is seemingly effortless.
Have any questions, comments, or stories you'd like to share with us? Drop us a line at

[email protected]

m!
And much more…
Please Scroll Down For Featured Resources
Have You Tried Talkspace?
Talkspace: The online therapy company that believes that therapy should be affordable, confidential, and convenient. Join over 500,000 people who have used Talkspace for online treatment with their licensed therapist. Get $100 off your first month when you visit talkspace.com and use promo code PASSIONSTRUCK at sign-up.
Have You Used ISSUU?
Issuu is the all-in-one platform to create and distribute beautiful digital content, from marketing materials to magazines, to flipbooks and brochures and more. Get started with Issuu today for FREE, or if you sign up for a premium account, you will get 50% off when you go to ISSUU.com/podcast and use promo code PASSIONSTRUCK.
New to the show? These Starter Packs are collections of our most popular episodes grouped by topic. You can also browse starter packs for existing listeners to find your old favorites. Every week, John interviews fascinating high achievers at the top of their game. Learn how to subscribe to the show and never miss a new episode and topic.
Like this? Please subscribe, and join me on my new YouTube platform for peak performance, life coaching, and personal growth: https://www.youtube.com/c/JohnRMiles/.
More About This Show On How to Find Your Essence in Retirement With Sharon Rolph
During our interview, John asked Sharon Rolph how does she help her clients build mental strength.
Sharon explains, "So the first thing we learned in coaching school was to write your essence statement. And mine starts out with 'I am precious jewel of wisdom.' So since I love wisdom, and love collaborating, I then go on to say, 'I am precious jewel/ I am colorful collaborator, motivator and learner. I am tranquil, authentic, and pure inspire. I light fires, in people and help them remember who they are.'
So one of the things I learned is that you are still the dynamite trombone player that you were in high school, you're still that educated person that performed lots of dynamic things at work in the tasks that you did. You're still that trustworthy, and loyal person. But just because you don't have a job doesn't change you. You've made experiences and grown your talents. So all of that goes with that you been the things that you enjoy doing – your values, your guiding principles. All of this goes into writing your essence statement.
We use then we assess and reflect. I'm often surprised at how much we don't reflect on life, and put it into a metaphor. I often think of a metaphor in this regard is kind of like the stories in the Bible, the parables. And because a metaphor, will will say different things to us at different times. So my metaphor was taking a set of jewelry that I had described myself as and how do I contribute to my team at work? And how am I valuable and all that, and then I use it. In my essence to describe myself as a jewel of wisdom.
So my process with the thing, John, about having this essence statement is, it's who I know myself to be on the inside. Nobody teaches us how to really describe ourselves to our bosses on our interviews, and, you know, is this a fit or not a fit, because we haven't been trained how to how to describe our inner spark, kind of like our DNA. And so when people live from their essence, their inner spark, it feels so good, because it's in alignment with how we were made and built."
Thanks, Sharon Rolph!
If you enjoyed this session with Sharon Rolph, let her know by clicking on the link below and sending her a quick shout out at Instagram:
Click here to thank Sharon Rolph on Instagram!
Click here to let John R. Miles know about your number one takeaway from this episode!
And if you want us to answer your questions or you have a topic you would like John to discuss on one of our upcoming weekly Momentum Friday episodes, drop us a line at [email protected].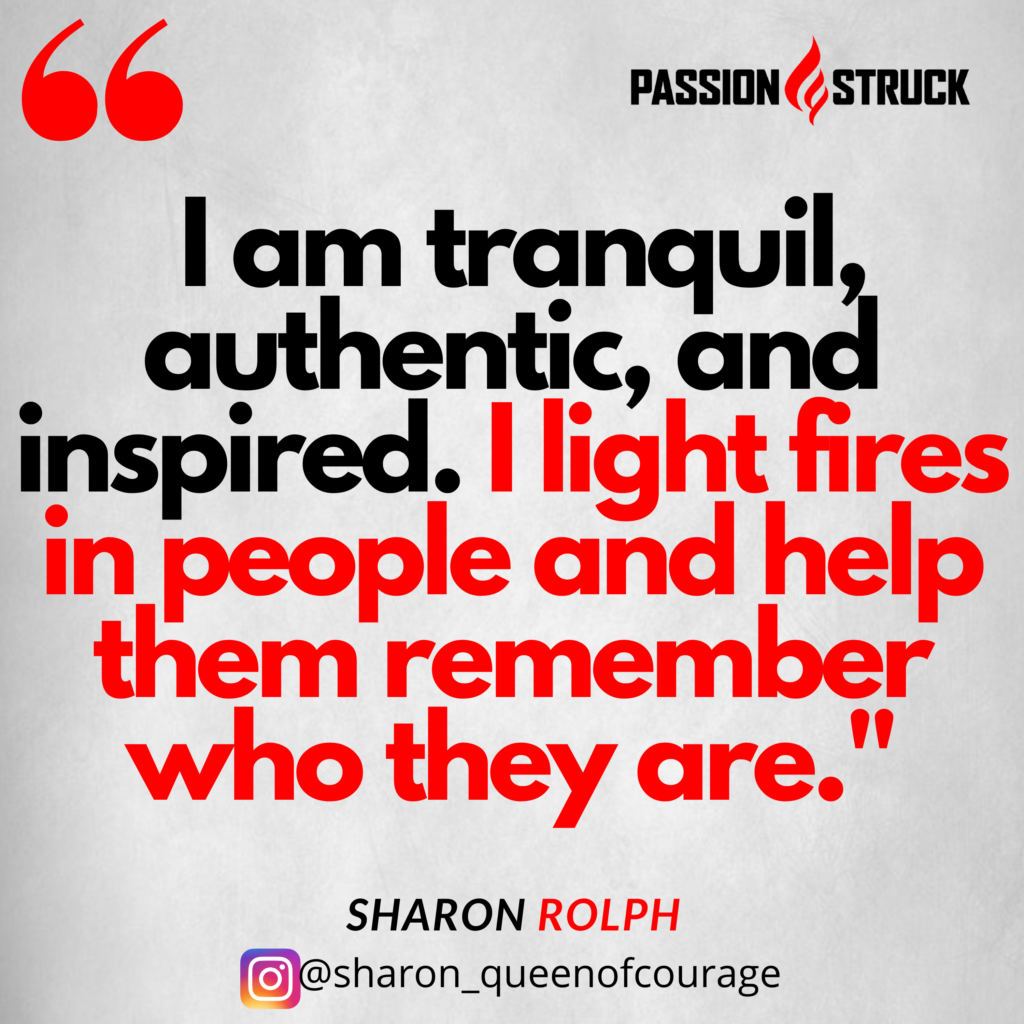 SHOW NOTES
0:00 Introduction
4:03 Why growing up Sharon Rolph felt invisible
9:48 Why it is important to plant seeds that pay off in the future
15:28 Always have the next thing in mind
20:25 Her fascination with building mental strength
25:17 The importance of finding your essence statement
30:34 How Louise Hay's mirror work is similar to essence work
33:14 Stephen Covey's Seven Habits of Highly Effective People
36:07 Keeping the main thing the main thing
40:38 Regardless of age, there is a problem worth solving
42:04 Sharon discusses her new book Fresh Courage In Retirement
49:32 What it means to live effortlessly
LINKS
Please note that some of the links on this page (books, movies, music, etc.) lead to affiliate programs for which The Passion Struck podcast receives compensation. It's just one of the ways we keep the lights on around here. Thank you so much for being so supportive!
*LinkedIn: https://www.linkedin.com/in/sharon-rolph/
*Website: https://effortlessvitality.now.site/
*Instagram: https://www.instagram.com/sharon_queenofcourage/
*Facebook: https://www.facebook.com/QueenOfCourage/
Fresh Courage In Retirement: Finding purpose, essence and fulfillment Paperback by Sharon Rolph
*The Unbeatable Mind by Mark Divine
*Atomic Habits by James Clear
Check out John's past episode on Stop Hiding Your Authentic Self. Catch up with Episode 88.
Are you having trouble prioritizing your time? John discusses the I Don't Have Time Syndrome in Episode 27.
Is the Hustle Culture is Making You Miserable? John explores this in-depth in Episode 70.
Suppose you missed our interview with world-renown fitness guru Christina Sparks on how to turn your passion for giving into a business. Don't panic! You can catch up by downloading it here.
About This Episode's Guest Sharon Rolph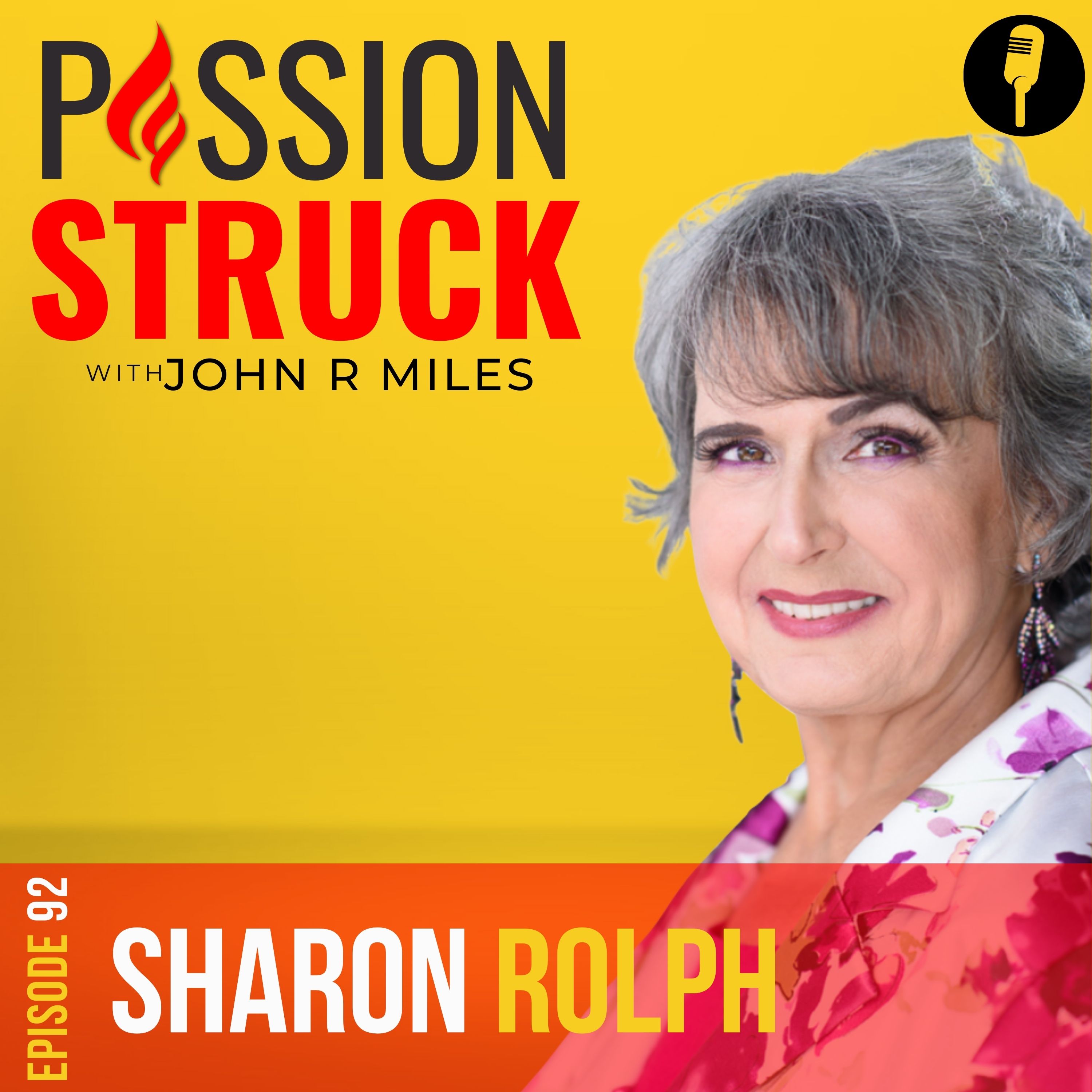 Sharon Rolph is a retirement, essence and longevity coach, collaborator and motivator who empowers people to find their new purpose in life that gives them energy, freedom, joy and ease. Beat back isolation & depression & boredom by becoming the Director of You: become curious again, look for possibilities and give back for more vitality. Find a meaningful life intentionally – that's your new job in retirement!
Connect With John R. Miles
* Twitter: https://twitter.com/Milesjohnr
* Facebook: https://www.facebook.com/johnrmiles.c0m
* Medium: https://medium.com/@JohnRMiles​
* Instagram: https://www.instagram.com/john_r_miles
* LinkedIn: https://www.linkedin.com/company/JohnMiles
* Blog: https://passionstruck.com/blog/
* Instagram: https://www.instagram.com/passion_struck_podcast
John R. Miles is a globally recognized high-performance coach, life and business strategist, military veteran, and one of the most-watched quoted and followed personal growth trainers globally. John is a highly sought-after speaker, coach, author and makes frequent media appearances to discuss how to transition from being passion struck to becoming PASSION STRUCK! He is passionate about being the catalyst who helps individuals expand into the most excellent version of themselves, unlocking the most legendary life possible.