"In these bodies, we will live. In these bodies, we will die. And where you invest your love, you invest your life." – Mumford & Sons. This line is one of the most potent lyrics the band has ever written, inspiring this podcast episode on self love.
I believe this quote is about self-love and finding out about yourself and who you are. When we learn to love ourselves, we also express love to others more powerfully and intentionally. You can alter the way you see things, and it is your self-love that helps you become the best version of yourself.
And in case you didn't already know it, John R. Miles (@john_r_miles) takes your requests for topics on Momentum Friday right here every week! If you want us to answer your question, register your feedback, or tell your story on one of our upcoming weekly Momentum Friday episodes, drop us a line at [email protected]. Now let's dive in!
On This Week's Passion Struck Podcast, John R. Miles Self Love And Why It is Important.
I explore the Mumford & Sons lyric where we invest our love we invest our life to what self-love is and why it is essential.
I look at the differences between healthy and unhealthy self-love and provide several examples of self-love that you can recognize in your own life.
I use the stories of two women, Asiya and Melissa, to illustrate how they overcame their situations to find self love and the change that it brought about.
I then go into three ways to learn self-love and why it can be challenging.
I unpack five habits you can implement to encourage self-love.
How to use this information to apply self love in your life.
Have any questions, comments, or stories you'd like to share with us? Drop us a line at

[email protected]

m!
Connect with John R Miles on Twitter at @John_RMiles and Instagram at @John_R_Miles.
Like this show? Please leave us a review here – even one sentence helps! Post a screenshot of you listening on Instagram & tag us so we can thank you personally.
Please Scroll Down For Featured Resources
Have You Tried Athletic Greens?
Athletic Greens is a custom formulation of 75 vitamins, minerals, and other whole-food sourced ingredients that make it easier for you to maintain nutrition in just a single scoop. It tastes great and gets you the nutrients you need, whether you're working on the go, fueling an active lifestyle, or just maintaining your good health. Visit https://athleticgreens.com/passionstruck to get a FREE year supply of Liquid Vitamin D + 5 FREE Travel Packs with the subscription.
Check Out Ten Thousand Men's Apparel!
At the heart of Ten Thousand is a stoic dedication to continuous improvement. Every day faster, every day stronger, every day BETTER THAN YESTERDAY. Ten Thousand is offering our listeners 15% off their purchase. GO TO TEN THOUSAND DOT CC and enter code PASSIONSTRUCK to receive 15% OFF YOUR PURCHASE!
4x4x48 Challenge In Support Of Special Forces And Veteran Non-Profits
We have an exciting and important announcement. I was asked by my friend, retired Green Beret Andrew Marr, and his brother Adam Marr (Army Apache Pilot) to sponsor, fundraise, and participate in this year's 4x4x48 challenge. This challenge is a cause near and dear to my heart as I am one of the veterans that these organizations have helped overcome my struggles with mental health and the long-term impact of Traumatic Brain Injury. If you are interested in supporting our efforts, please go to: https://give.warriorangelsfoundation.org/team/400731.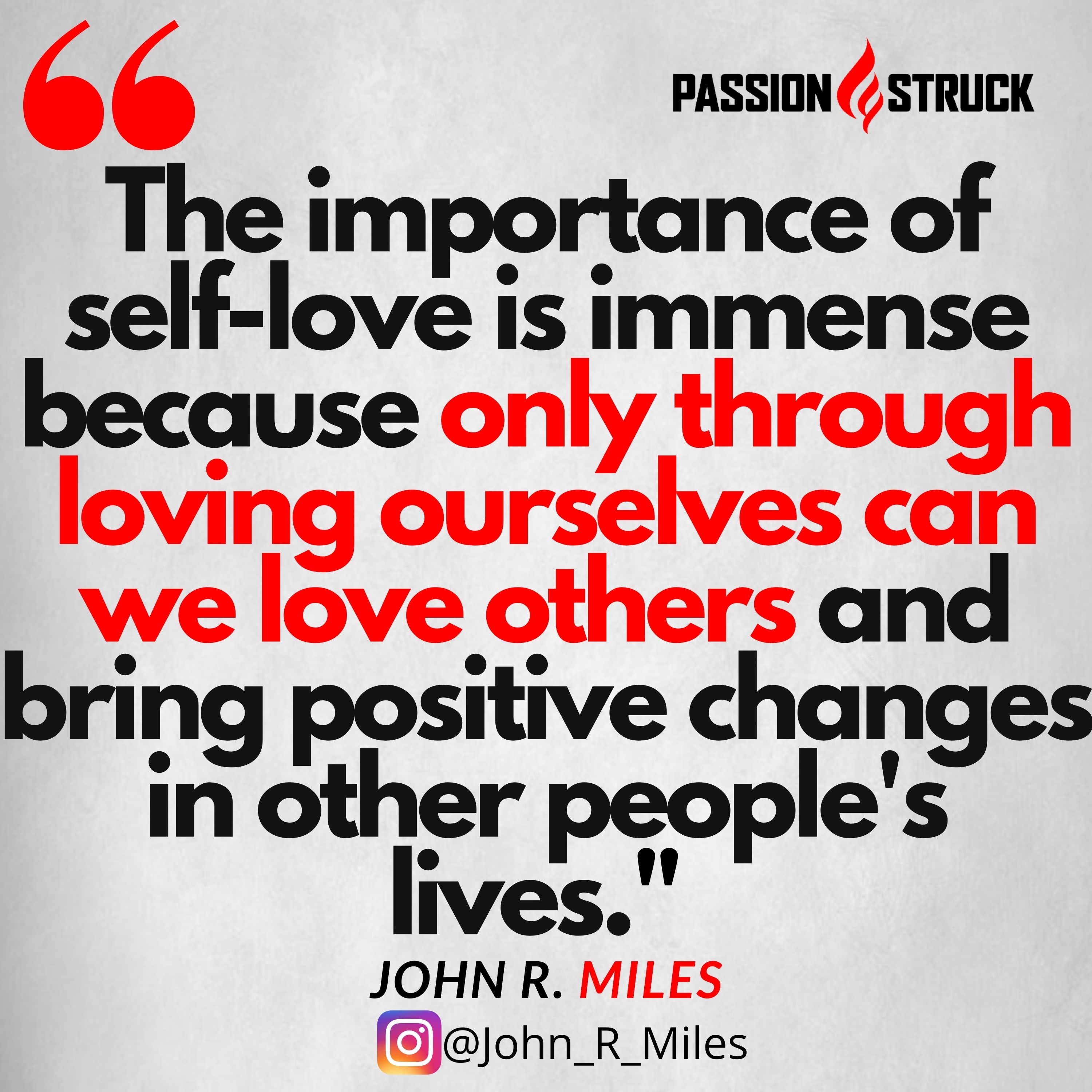 New to the show? These Starter Packs are collections of our most popular episodes grouped by topic. You can also browse starter packs for existing listeners to find your old favorites. Every week, John interviews fascinating high achievers at the top of their game. Learn how to subscribe to the show and never miss a new episode and topic.
Like this? Please subscribe, and join me on my new YouTube platform for peak performance, life coaching, and personal growth: https://www.youtube.com/c/JohnRMiles/.
SHOW NOTES
0:00 Introduction
2:30 Athletic Greens and Ten Thousand
5:25 Why is self-love so important?
6:56 What is self love?
8:28 What are examples of healthy self love?
9:05 Stories illustrating the power of self love
11:19 Three ways you can learn how to self love
12:13 Why is self-love so tricky?
13:22 Five habits that encourage self-love
15:00 Why self love is the key to finding fulfillment
RESOURCES FROM THE SHOW ON YOUR EVIRONMENT AND HOW IT IS INFLUENCED
Please note that some of the links on this page (books, movies, music, etc.) lead to affiliate programs for which The Passion Struck podcast receives compensation. It's just one of the ways we keep the lights on around here. Thank you so much for being so supportive!
*A Theory of Human Motivation by Abraham Maslow
*The 5 am Club: Own Your Morning. Elevate Your Life.
* The American Paradox: Spiritual Hunger in an Age of Plenty by David G. Myers
* Towards a Psychology of Being by Abraham Maslow
Check out John's past episode on stop being a visionary arsonist. Catch up with Episode 9.
John Explores how to become our best authentic selves and what is getting the way of it in episode 88.
Is the Hustle Culture is Making You Miserable? John explores this in-depth in Episode 70.
Suppose you missed our interview with Lily Walford on how to create compatible Love. Don't panic! You can catch up by downloading it here.
About John R. Miles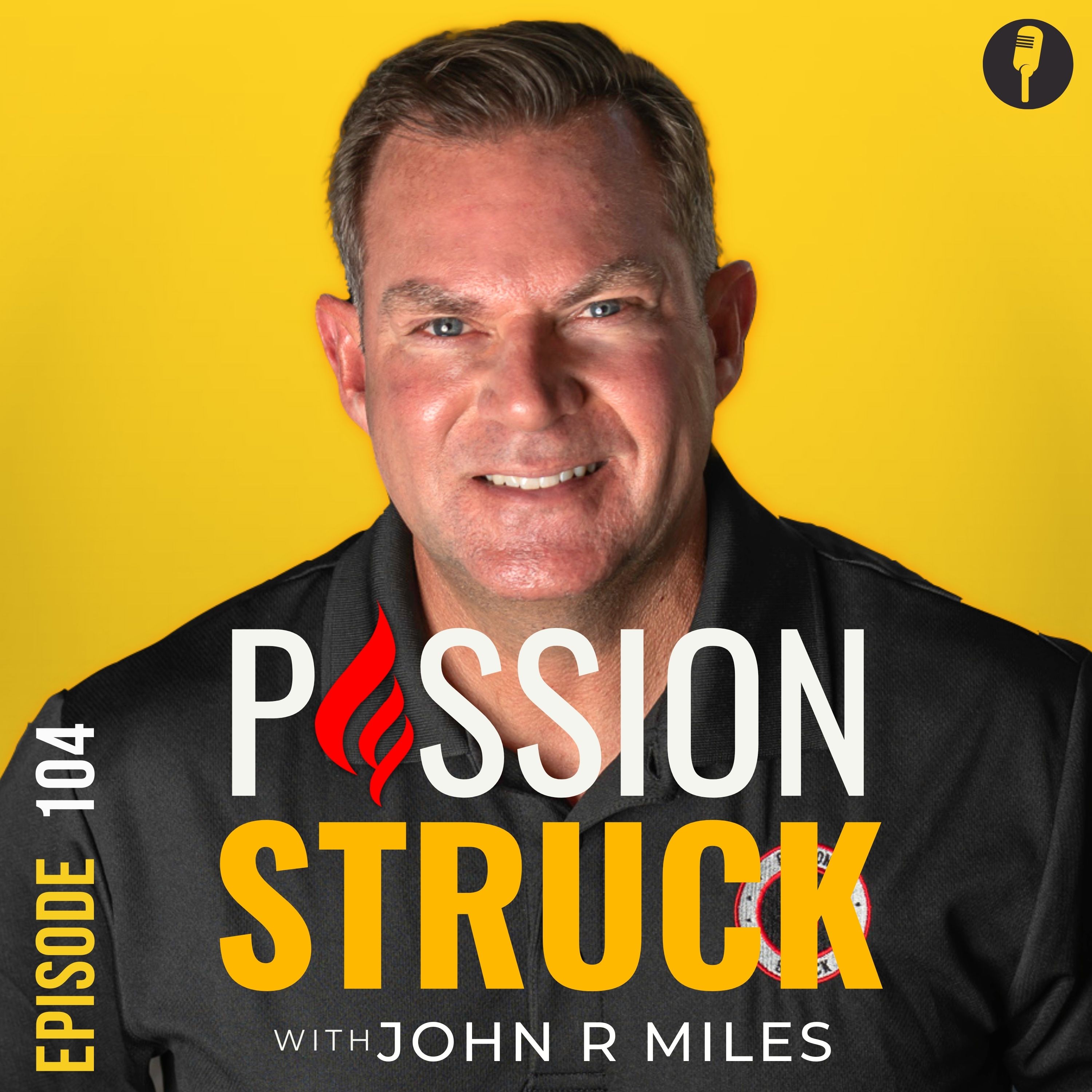 John R. Miles is a serial entrepreneur and the CEO and founder of Passion Struck. This full-service media company helps people live intentionally by creating best-in-class educational and entertainment content.
John is also a prolific public speaker, venture capitalist, author, and named to the ComputerWorld Premier 100 IT Leaders. John is the host of the #PassionStruckPodcast, a show focused on exploring the mindset and philosophy of the world's highest achievers to learn their lessons to living intentionally.
Passion Struck aspires to speak to the humanity of people in a way that makes them want to live better, be better and impact. Stay tuned for John's latest project, his upcoming book, which will be published in summer 2022.
ENGAGE WITH JOHN R. MILES
* Subscribe to my channel: https://www.youtube.com/c/JohnRMiles
* Leave a comment, 5-star rating (please!)
* Support me: https://johnrmiles.com
* About: https://johnrmiles.com/my-story/
* Twitter: https://twitter.com/John_RMiles
* Facebook: https://www.facebook.com/Johnrmiles.c0m.
* Medium: https://medium.com/@JohnRMiles​
* Instagram: https://www.instagram.com/john_r_miles
PASSION STRUCK
*Subscribe to Podcast: https://podcasts.apple.com/us/podcast/the-passion-struck-podcast/id1553279283
* Gear: https://www.zazzle.com/store/passion_struck
*About: https://passionstruck.com/about-passionstruck-johnrmiles/
*Instagram: https://www.instagram.com/passion_struck_podcast
*LinkedIn: https://www.linkedin.com/company/passionstruck