Author, blogger, podcast host, and motivational speaker Rachel Hollis (@msrachelhollis) joins me this week's episode of Passion Struck with John R. Miles to discuss her secrets to becoming your best self. 
Rachel Hollis is a three-time New York Times bestselling author with over 100 Million podcast downloads. She is known for her authenticity and optimism and uses her platform to empower and embolden fellow dreamers. Her energy and real-talk have made her one of the most sought-after motivational speakers in the world. Rachel is also the founder of RISE Conferences, the #1 personal development conference focused entirely on women. Rachel is the author of Girl Wash Your Face, Girl Stop Apologizing, and Didn't See That Coming.
-►Order a copy of Didn't See That Coming https://amzn.to/3Sy97a3  (Amazon Link)
Hear the secrets and philosophy of the World's GREATEST high achievers every Monday and Thursday, and tune in each week for an inspirational Momentum Friday solo message.
Like this show? Please leave us a review here – even one sentence helps! Post a screenshot of you listening on Instagram & tag us to thank you personally!
Listen to the episode on Apple Podcasts, Spotify, Podcast Addict, Pocket Casts, Stitcher, Castbox, Google Podcasts, Listen Notes, Amazon Music, or on your favorite podcast platform. You can watch the interview on YouTube below.
Enjoy!
In This Episode, Rachel Hollis and I Discuss Her Secrets to Becoming Your Best Self
Rachel Hollis discusses how her last two and a half years have been filled with defining moments. She talks about the impact on a personal level and a professional level. She's experienced a lot of loss, a lot of grief. And in that process, as brutal as it's been. She explains how she is entirely different because she realizes that every great thing she has in her life came on the other side of hardship, a difficult season, or a hard lesson to learn.
Rachel Hollis and I explore why hard seasons allow us to fully appreciate the good in our lives.
Rachel provides her advice on how people can do the work to get over challenges or trauma in their life for the better.
We discuss how you decide what is a must in your life and what you must let go of.
Why is there power in accepting the waves of grief?
How to make choices during the critical life moments that align with where you want your future self to be?
The secrets to reinventing yourself in life and business.
Why should we live in the gain and not the gap?
Why should we focus on the what and not the how?
Have any questions, comments, or stories you'd like to share? Drop us a line at 

[email protected]

m!
And much more…
Please Scroll Down For Featured Resources
Our Patreon Page: https://www.patreon.com/passionstruck
Thank You, Dry Farm Wines, For Sponsoring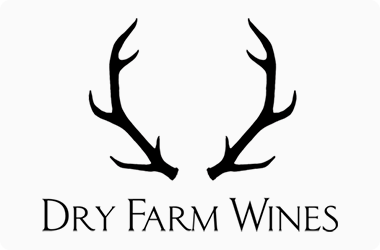 This episode of Passion Struck with John R. Miles is brought to you by Dry Farm Wines, which Have No Chemical Additives for Aroma, Color, Flavor, or Texture Enhancement. Dry Farm Wines – The Only Natural Wine Club That Goes Above and Beyond Industry Standards. For Passion Struck listeners: Dry Farm Wines offers an extra bottle in your first box for a penny (because it's alcohol, it can't be free). See all the details and collect your wine at https://www.dryfarmwines.com/passionstruck/.
*Our Patreon Page: https://www.patreon.com/passionstruck.
Thank You, Policygenius, For Sponsoring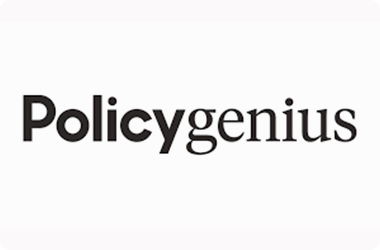 Policygenius provides free quotes tailored to your needs with support from licensed agents, helping you get insurance coverage fast so you can get on with life.
Save 50% or more on life insurance at https://www.policygenius.com/.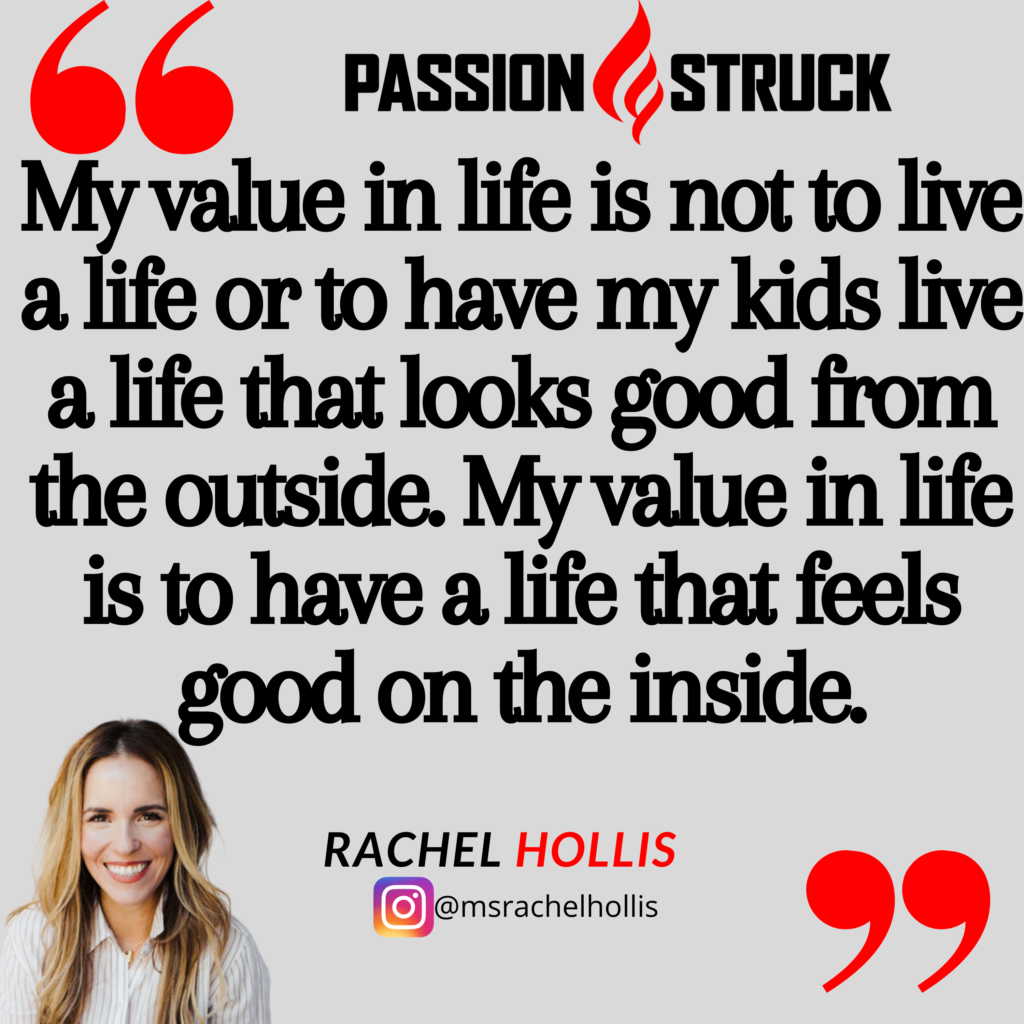 New to the show? These Starter Packs are collections of our most popular episodes grouped by topic, and we now have them also on Spotify. To find your old favorites, you can also browse starter packs for existing listeners. Every week, John interviews everyday heroes from all walks of life. Learn how to subscribe to the show and never miss a new episode and topic.
Like this? Please subscribe, and join me on my new YouTube platform for peak performance, life coaching, and personal growth: https://www.youtube.com/c/JohnRMiles/.
More From My Interview With Rachel Hollis On Becoming Your Best Self
During the Passion Struck podcast interview, Rachel and I discussed why humans come out on the other side when they go through something hard, for better or worse. I asked her for her suggestions for what people can do to work to get over their challenges in a way that's for the better.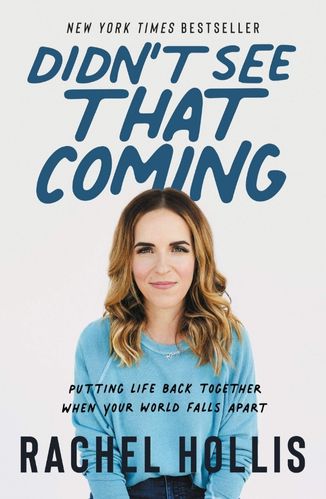 Rachel Hollis explains, "I can tell you, after 15 years of doing this work, that the thing women are most petrified of is failure. They're so afraid of getting it wrong. They're so afraid of doing it wrong. And if you unpack that with them, if you sort of dig deeper and try and understand the psychology there, what you find is that they're not afraid of failing. They're afraid of other people seeing them fail. Those are two very different things.
And if you're afraid of others seeing you fail, you will never do anything. You will never run for political office in your hometown. You'll never start the business. You'll never ask that guy out on the date. You'll never do anything different than exactly the comfort zone that you currently live inside of. So what I found is that it is a readjustment of the way that we look at things. I think that this life (that we are blessed enough to get to live) is supposed to be an experiment. We're supposed to try stuff and see how it goes. And if that doesn't work, we try something else. If that doesn't work, we try something else.
Again, in my own life, my business, my career, and how I've shown up as a parent or a partner, it has been just testing stuff out. When we brought our kids home from the hospital, we didn't know what we were doing, then like the baby would be crying, and you try something and then like, okay, there's so crying, that's not the answer. And you're like, well, we got to figure it out and do something else.
If we could approach our lives from a space of experimentation until we get to the right solution, we wouldn't be so afraid of getting it wrong. And I think it would really lower a lot of the stress, it would lower a lot of the pressure, I think we'd see more freedom and creativity, I think we'd see more people try stuff and be weird and experiment. And I think art would explode and business and science and all of it. Because we wouldn't be living in failure of getting it wrong."
Thanks, Rachel Hollis!
If you enjoyed this interview with Rachel Hollis, let her know by clicking on the link below and sending her a quick shout on Instagram:
Click here to give Rachel Hollis a shout-out on Instagram!
Click here to let John R. Miles know about your number one takeaway from this episode!
And if you want us to answer your questions or you have a topic you would like John to discuss on one of our upcoming weekly Momentum Friday episodes, drop us a line at [email protected].
Resources From The Show With Rachel Hollis
Please note that some of the links on this page (books, movies, music, etc.) lead to affiliate programs for which The Passion Struck podcast receives compensation. It's just one of the ways we keep the lights on around here. Thank you so much for being so supportive!
About Today's Guest Rachel Hollis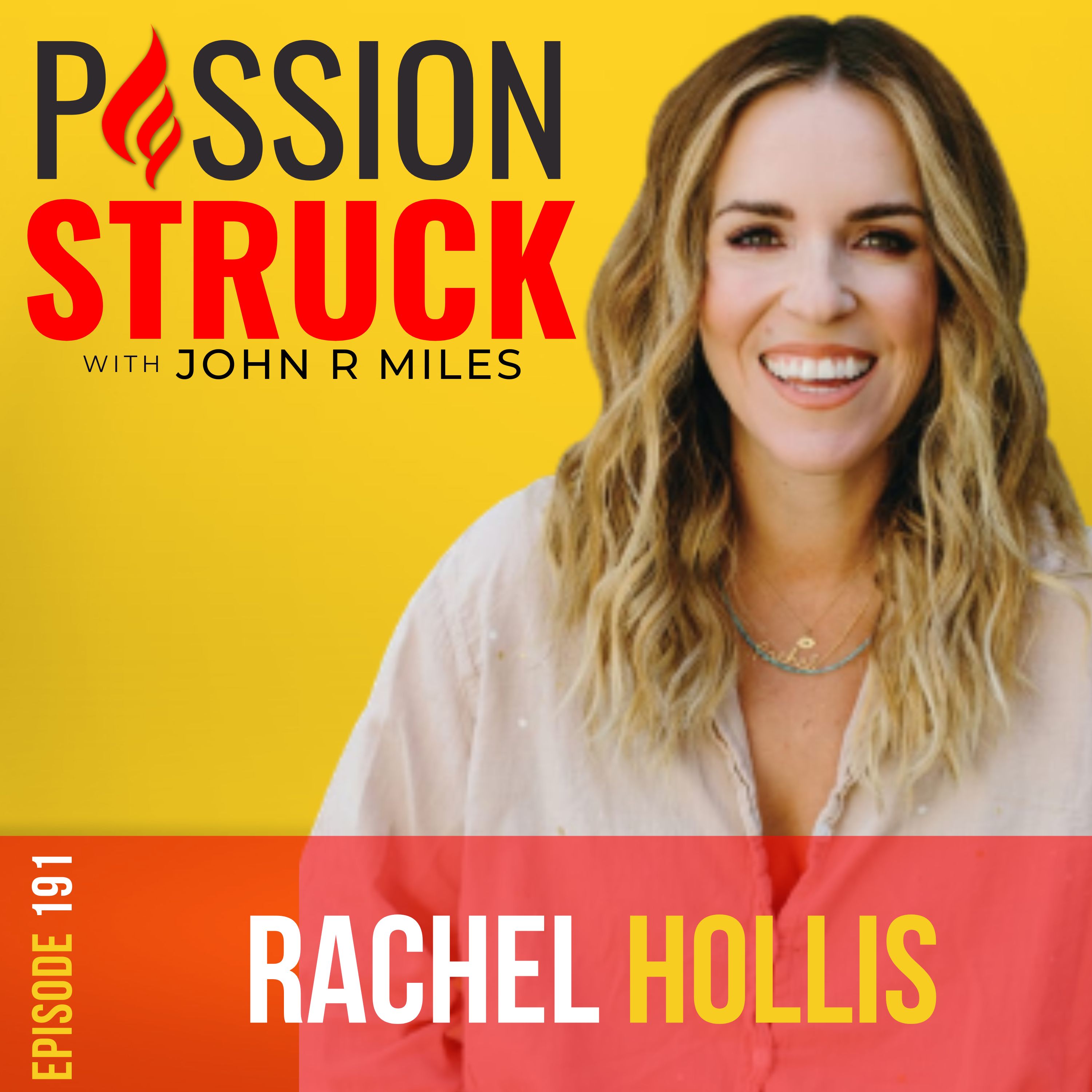 Rachel Hollis is a #1 New York Times and USA Today Bestselling Author, top podcaster, and one of the most sought-after motivational speakers in the world. Hollis connects with a highly engaged and growing global audience who treasures her transparency and optimism.
Follow John R. Miles On The Socials
* Twitter: https://twitter.com/Milesjohnr
* Facebook: https://www.facebook.com/johnrmiles.c0m
* Medium: https://medium.com/@JohnRMiles​
* Instagram: https://www.instagram.com/john_r_miles
* LinkedIn: https://www.linkedin.com/in/milesjohn/
* Blog: https://johnrmiles.com/blog/
* Instagram: https://www.instagram.com/passion_struck_podcast/
* Gear: https://www.zazzle.com/store/passion_struck/
John R. Miles is a serial entrepreneur and the CEO and founder of Passion Struck. This full-service media company helps people live intentionally by creating best-in-class educational and entertainment content. John is also a prolific public speaker, venture capitalist, and author named to the ComputerWorld Top 100 IT Leaders.
John is the host of the PassionStruckPodcast. The show focused on exploring the mindset and philosophy of the world's most inspiring people to learn their lessons to living intentionally. Passion Struck aspires to speak to the humanity of people in a way that makes them want to live better, be better and impact.
Stay tuned for JJohn'slatest project, his upcoming book, which will be published in summer 2022.
Learn more about me: https://johnrmiles.com