Jess Faulds (@jessicakcfaulds) is a certified holistic nutrition consultant who was diagnosed with Multiple Sclerosis (MS) at the age of 15. Through her MS journey, she suffered through different disease-modifying drugs and treatments before having a stem cell transplant! She sits down with John R. Miles on The Passion Struck Podcast to discuss how Haematopoietic Stem Cell Transplantation (HSTC) cured her MS and the nutrition science that promoted her recovery.
Hear the secrets and philosophy of the World's GREATEST high achievers every Tuesday and tune in each week for an inspirational Momentum Friday message!
Like this show? Please leave us a review here – even one sentence helps! Post a screenshot of you listening on Instagram & tag us so we can thank you personally!
What We Discuss With Jess Faulds On How Stem Cell Transplant Cured Her MS:
How Jess Faulds was diagnosed with MS at the age of fifteen.
Why she is a unique case and how MS hits most people between the ages of 20- 40 years old.
The HSTC Stem Cell Treatment that has positively changed her life and why eleven rounds of chemo are required over eight days.
How the book, the 5 AM Club changed her life and outlook on how she approaches her days.
We talked about how she has had MS for 15 years and uses nutrition science to help promote recovery and also keep the disease at bay.
How she documents every day with her journey of Stem Cell Treatment and nutrition.
Have any questions, comments, or stories you'd like to share with us? Drop us a line at

[email protected]

m!
And much more…
What is Haematopoietic Stem Cell Transplantation (HSCT)?
HSCT is an intense treatment for MS combining chemotherapy and stem cell transplant. HSCT's goal is to 'reset' the immune system by stopping it from attacking the central nervous system. The treatment accomplishes this by removing the harmful immune cells and then rebuilding the immune system using a type of stem cell found in the bone marrow.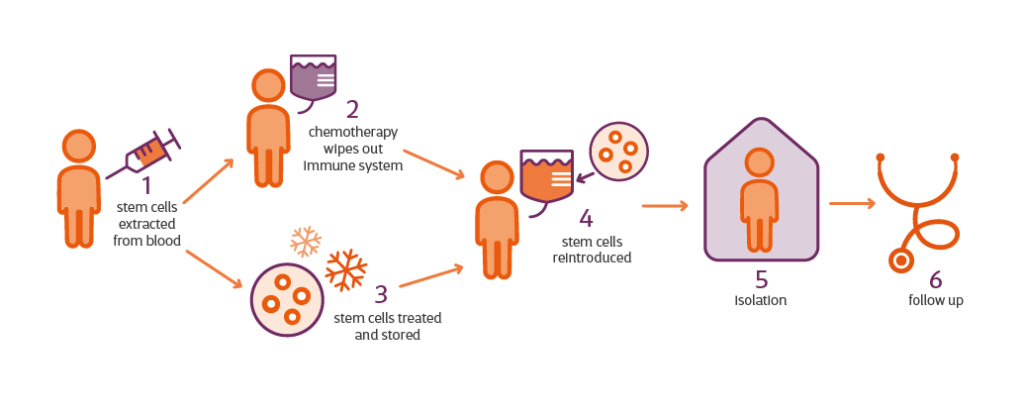 Multiple Sclerosis (MS) is an autoimmune disease of the central nervous system. The condition impacts the body's immune system causing it to attack the different parts of the central nervous system, such as the brain, spinal cord, and optic nerve. Stem cell therapy may be able to impact Multiple Sclerosis patients positively. Mesenchymal stem cells can reduce inflammation and modulate the immune system, both of which may be highly beneficial for MS patients.
Please Scroll Down For Featured Resources
Do You Need To Ship Packages? Try ShipStation
ShipStation makes shipping the easy part of running your online store. So you can get back to doing what you're passionate about—growing your business. Just go to ShipStation.com, click on the microphone at the top, and enter code PASSIONSTRUCK.
New to the show? These Starter Packs are collections of our most popular episodes grouped by topic. You can also browse starter packs for existing listeners to find your old favorites. Every week, John interviews fascinating high achievers at the top of their game. Learn how to subscribe to the show and never miss a new episode and topic.
Like this? Please subscribe, and join me on my new YouTube platform for peak performance, life coaching, and personal growth: https://www.youtube.com/c/JohnRMiles/.
More About This Show On Stem Cell Transplant with Jess Faulds
During our interview, John spoke to Jess Faulds about her stem cell transplant.
Jess explains, "stem cell treatment is by far the most intense thing I have ever done in my life. There's a lot of side effects that come from the stem cell transplant, one of them being menopause. I also went completely bald as it does involve 11 rounds of chemotherapy in eight days. That was the protocol that I did in Canada.
It was quite the experience. They harvested my stem cells from myself. In that part of the treatment, they stimulated the stem cells they harvested. And then I say they took them away and did some magical voodoo to them because I have no idea what they did but got them all ready.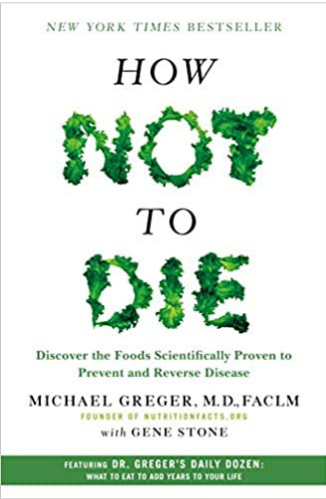 They then brought them back into my room and what I can only explain is like, it reminded me of the scene of Indiana Jones when there's like a guy being carried in on the shoulders of everyone else. They brought them in on this cart with four nurses and three doctors and then they hook that up to an IV and they all sit there and they watch you and they just stare at you for like 15 minutes.
It was the most anti climatic moment of my life. But the result is that I've had no progression since I did the stem cell transplant. I chose the stem cell transplant because when I talked to my doctor, I said well if Lemtrada didn't work and Tysabri didn't work. How different is the third one? I've already failed off on two of the three.
It is known that the stem cell transplant works better the younger you are. So that's why I did decide to go the stem cell route. But it was worth it. I've had zero progression. They did tell me to prepare to be sick for the entire year afterwards, which is quite scary.
That was probably the scariest part of choosing to kind of go through it. But just like I did with the Lemtrada and the Legionnaires disease, I was actually back in the gym, four weeks post stem cell transplant. And I was boxing. So it was worth it for me, but it was very intense. And everyone I've talked to who has done it has had pretty phenomenal results."
Thanks, Jess Faulds!
If you enjoyed this session with Jess Faulds, let her know by clicking on the link below and sending her a quick shout out at Instagram:
Click here to thank Jess Faulds on Instagram!
Click here to let John R. Miles know about your number one takeaway from this episode!
And if you want us to answer your questions or you have a topic you would like John to discuss on one of our upcoming weekly Momentum Friday episodes, drop us a line at [email protected].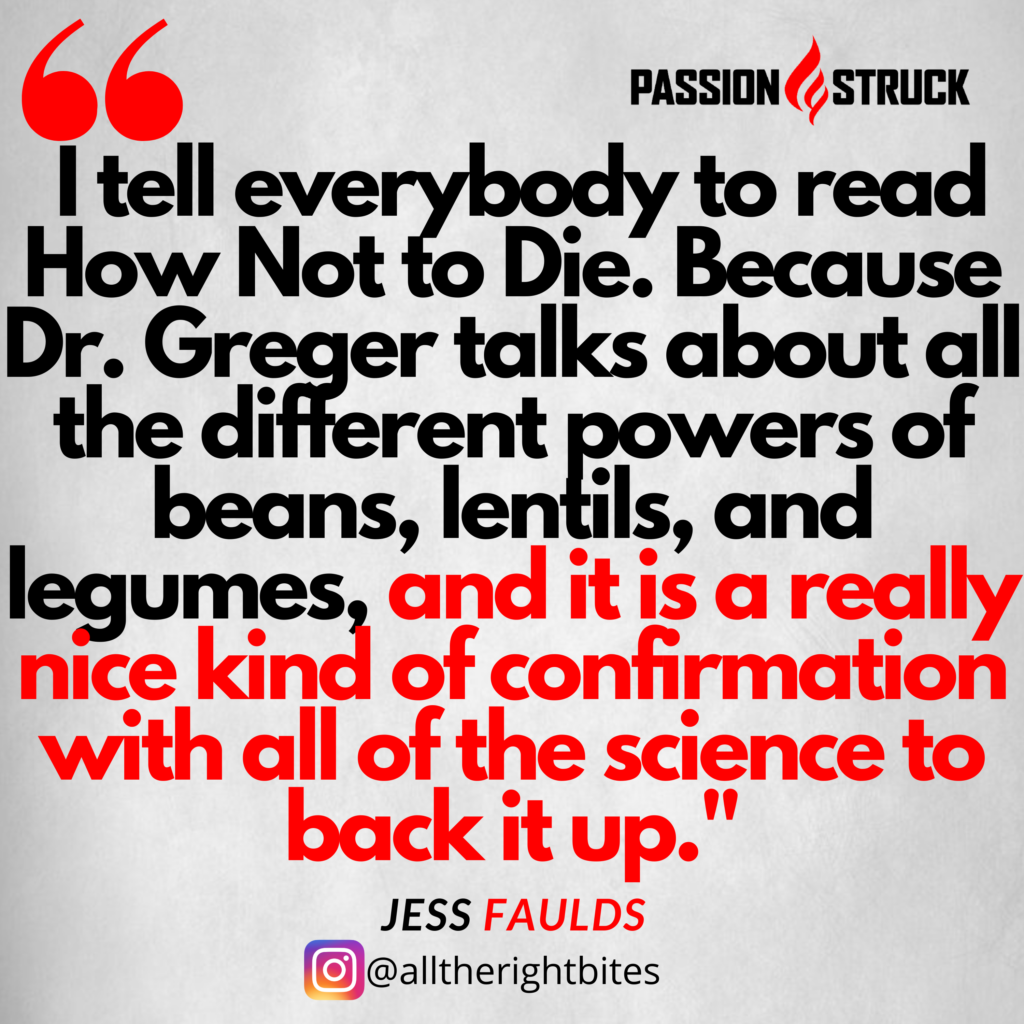 SHOW NOTES
0:00 Introduction
3:41 Her diagnosis of M.S. at only 15
7:45 The rarety of it in teens
10:27 Different types of M.S.
16:33 Discovering nutrition science
19:33 Disease-modifying therapies for M.S.
23:09 Undergoing stem cell treatment
29:52 How nutrition science promoted recovery
36:19 Why more doctors aren't talking about diet:
39:56 How the 5 AM Club changed her life
43:48 Discussing the book How Not to Die: Discover the Foods Scientifically Proven to Prevent and Reverse Disease
46:02 A typical day in the life of Jessica Faulds
49:09 She recommends eating the rainbow
50:34 Quick Rapid Round of Questions
LINKS
Please note that some of the links on this page (books, movies, music, etc.) lead to affiliate programs for which The Passion Struck podcast receives compensation. It's just one of the ways we keep the lights on around here. Thank you so much for being so supportive!
*Personal Instagram: https://www.instagram.com/jessicakcfaulds/
*Instagram: https://www.instagram.com/alltherightbites/
*Facebook: www.facebook.com/alltherightbites/
* website: www.alltherightbites.ca
*How Not to Die by Dr. Michael Greger
*Atomic Habits by James Clear
*The 5AM Club by Robin Sharma
Check out John's past episode on Stop Hiding Your Authentic Self. Catch up with Episode 88.
Are you having trouble prioritizing your time? John discusses the I Don't Have Time Syndrome in Episode 27.
Is the Hustle Culture is Making You Miserable? John explores this in-depth in Episode 70.
Suppose you missed our interview with Christina Sparks, the founder and CEO of Soulgani Activewear, on how to turn your passion for giving into a business. Don't panic! You can catch up by downloading it here.
About This Episode's Guest Jess Faulds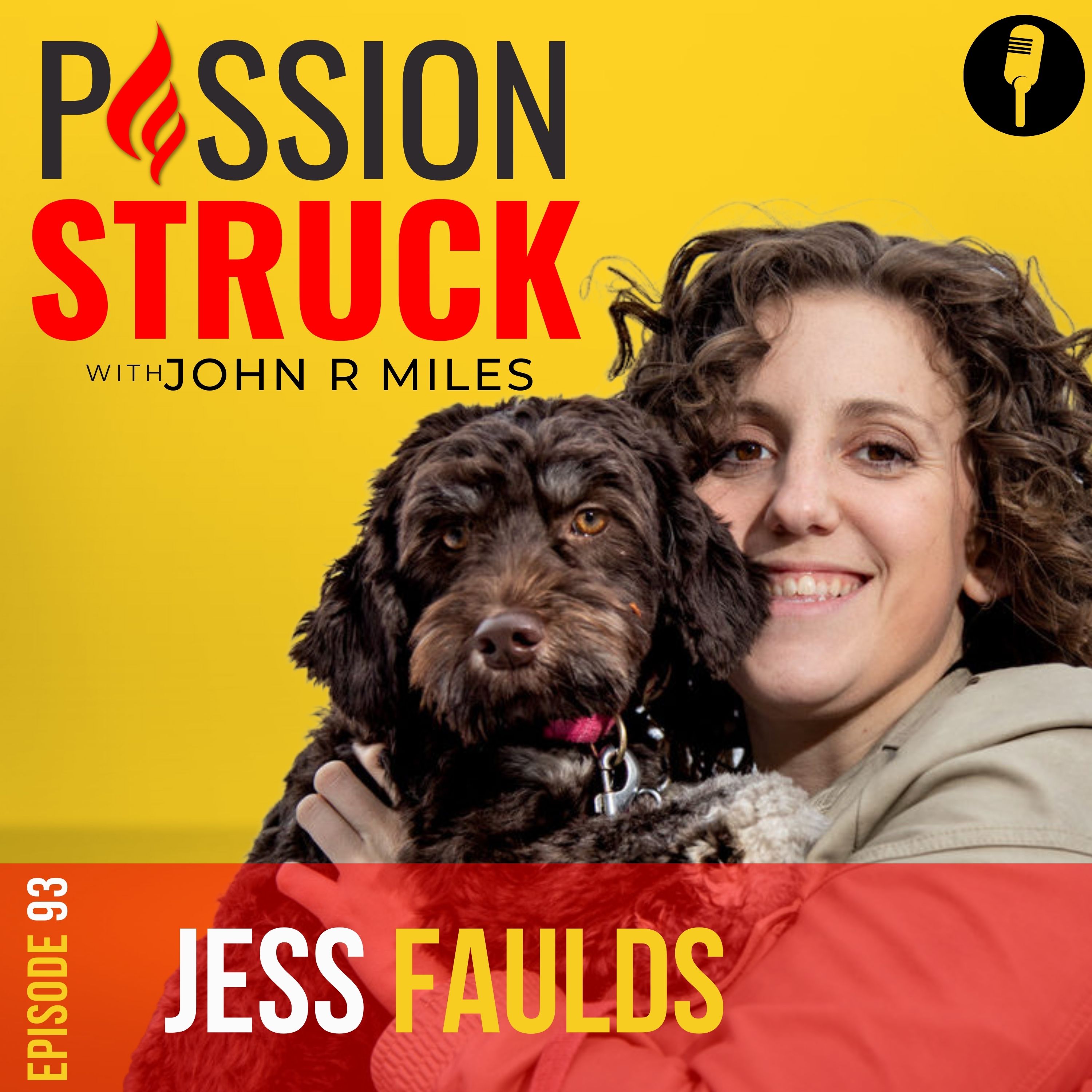 Jess is a certified holistic nutrition consultant and was diagnosed with MS at the age of 15. Through her MS journey, she struggled with different disease-modifying drugs and treatments before having a stem cell transplant #HSCTwarrior! She studied wellness and nutrition in university for 10 years! She is a proud plant-based badass boxer and runner who loves all things food!
Connect With John R. Miles
* Twitter: https://twitter.com/Milesjohnr
* Facebook: https://www.facebook.com/johnrmiles.c0m
* Medium: https://medium.com/@JohnRMiles​
* Instagram: https://www.instagram.com/john_r_miles
* LinkedIn: https://www.linkedin.com/company/JohnMiles
* Blog: https://passionstruck.com/blog/
* Instagram: https://www.instagram.com/passion_struck_podcast
John R. Miles is a globally recognized high-performance coach, life and business strategist, military veteran, and one of the most-watched quoted and followed personal growth trainers globally. John is a highly sought-after speaker, coach, author and makes frequent media appearances to discuss how to transition from being passion struck to becoming PASSION STRUCK! He is passionate about being the catalyst who helps individuals expand into the most excellent version of themselves, unlocking the most legendary life possible.