Anne O'Neil (@heyanneoneil) on our life like sports is a strategy by design. | Brought to you by Masterworks (https://masterworks.io use code passion to start).
Anne O'Neil is a former WNBA player for the Sacramento Monarchs and a Division 1 Academic and Athletic All-American at Iowa State University where she played for Bill Fennelly. She broke the Iowa High School State scoring record and was later inducted into the Iowa Girls Basketball Hall of Fame. Following a 12-year tenure in the athletic and healthcare industries, she took her expertise to Palo Alto Networks where she is a cyber transformational leader. She is also the host host of the Get Busy Livin podcast.
Hear the secrets and philosophy of the World's GREATEST high achievers every Tuesday and tune in each week for an inspirational Momentum Friday solo message.
Like this show? Please leave us a review here – even one sentence helps! Post a screenshot of you listening on Instagram & tag us to thank you personally!
Listen to the episode on Apple Podcasts, Spotify, Podcast Addict, Pocket Casts, Stitcher, Castbox, Google Podcasts, Amazon Music, or on your favorite podcast platform. You can watch the interview on YouTube below.
Enjoy!
What I Discuss With Anne O'Neil About Basketball, Coach Bill Fennelly, and Her Life After Sports
Anne O'Neil discusses how she developed the passion for playing basketball and why it defined much of hear early life.
The complexities of being a Division 1 athlete and how she persevered through injuries to become an Academic and All-American at Iowa State University.
The biggest lessons she learned from that experience and playing for Bill Fennelly, one of the winningest coaches in women's basketball.
Her path to the Sacramento Monarchs and what it was like being on team that won the WNBA Championship.
Her life after sports becoming a mindset coach, cyber security leader, and starting her podcast.
How she has developed resilience throughout her career.
Anne and I discuss how life, like basketball, is really strategy by design.
Just as each play, makes a difference for each individual game, the same holds true for the moments that make up our daily activities.
Have any questions, comments, or stories you'd like to share with us? Drop us a line at

[email protected]

m!
And much more…
Please Scroll Down For Featured Resources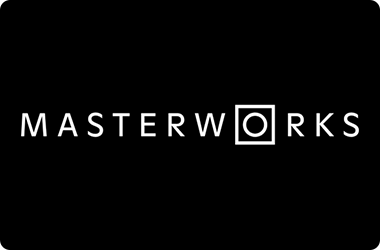 This episode of Passion Struck with John R. Miles is brought to you by Masterworks. 66% of Billionaires Collect Art, so Why Aren't You? Low Minimums, Simple and Exciting. You Can Use Art as an Alternative Investment to Diversify Your Portfolio. Blue-Chip Artwork. Go to https://www.masterworks.io/ and use code passion to start.
Our Patreon Page: https://www.patreon.com/passionstruck
New to the show? These Starter Packs are collections of our most popular episodes grouped by topic, and we now have them also on Spotify. You can also browse starter packs for existing listeners to find your old favorites. Every week, John interviews fascinating high achievers at the top of their game. Learn how to subscribe to the show and never miss a new episode and topic.

Like this? Please subscribe, and join me on my new YouTube platform for peak performance, life coaching, and personal growth: https://www.youtube.com/c/JohnRMiles/.
More About Strategy by Design From My Interview with Anne O'Neil
I asked Anne O'Neil about what she learned from Bill Fennelly and why he is such a successful College coach.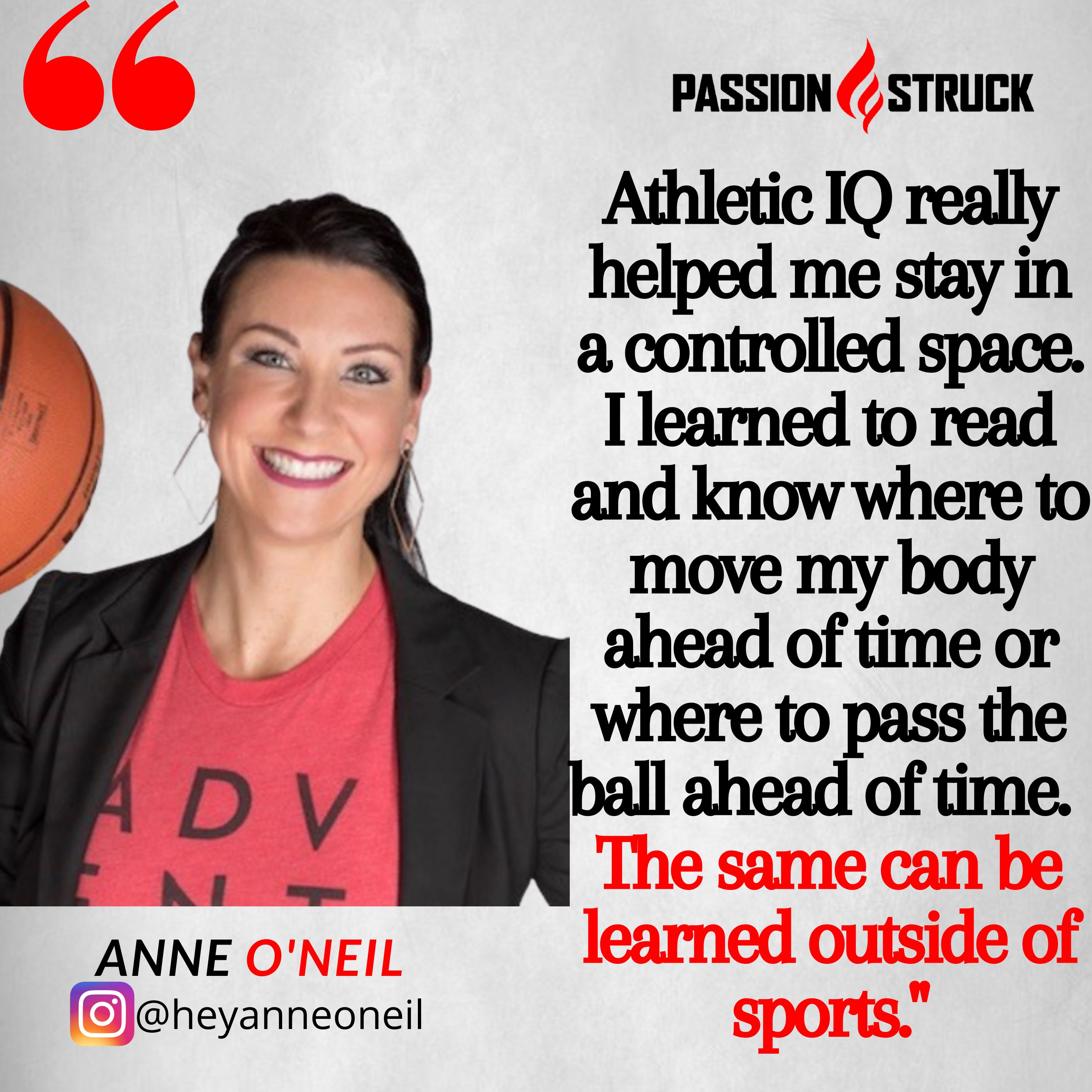 Anne explains, "Coach Bill Fennelly is one of the most successful coaches and I love that he always coaches just depending on the team that we were playing. A lot of coaches have their one style and that style is going to work verse anybody. But Bill Fennelly was so strategic on each player and each play. The way he coached really made a difference for each individual game. It was like strategy by design. It was basketball by design, all the time.
Lots and lots of our practices were extremely strategic on the defense and what we would play against certain players. And the offense that we would run again, just depending on the personnel that we were up against in the game. Then we're also dealing with injuries and who's playing. So I would think that's probably one of the biggest things about Coach Fennelly that I learned is strategy by design.
And I have learned that throughout my business career as well. It's not one thing fits everyone or every team or every job or every role, or, every relationship or friendship. And so there it's really kind of looking at it uniquely and what works in this moment. And guess what, if it doesn't work there, then we switch and we try a new strategy."
Thanks, Anne O'Neil!
If you enjoyed this interview with Anne O'Neil, let her know by clicking on the link below and sending her a quick shout on LinkedIn or Twitter:
Click here to thank Anne O'Neil on Twitter!
Click here to thank Anne O'Neil on Instagram!
Click here to let John R. Miles know about your number one takeaway from this episode!
And if you want us to answer your questions or you have a topic you would like John to discuss on one of our upcoming weekly Momentum Friday episodes, drop us a line at [email protected].
RESOURCES FROM THE SHOW WITH ANNE O'NEIL
Please note that some of the links on this page (books, movies, music, etc.) lead to affiliate programs for which The Passion Struck podcast receives compensation. It's just one of the ways we keep the lights on around here. Thank you so much for being so supportive!
*Website: https://www.anneoneil.co/
*Instagram: https://www.instagram.com/heyanneoneil/
*Podcast: https://www.listennotes.com/podcasts/get-busy-livin-anne-oneil-cqLRmXu8AV3/
*LinkedIn: https://www.linkedin.com/in/heyanneoneil/
* Interview with Former SEAL Commander Mark Divine
* Interview with NASCAR Driver Jesse Iwuji
* Interview with Astronaut Chris Cassidy
* Interview with Astronaut Wendy Lawrence
* Interview with Astronaut Kayla Barron
*Solo episode on work-life balance: https://open.spotify.com/episode/7AZksXySbYVoMPMuma5DpB?si=_VPv5sn3QBCq2pYVh-LXkg
*Solo episode on overcoming burnout: https://open.spotify.com/episode/5keAXxjRs3Q8NKZYWBlPXS?si=N-nf0iQjThSzgsCAutPVPA
*Solo episode on how you stop living in fear: https://passionstruck.com/how-do-you-stop-living-in-fear/
About Today's Guest Anne O'Neil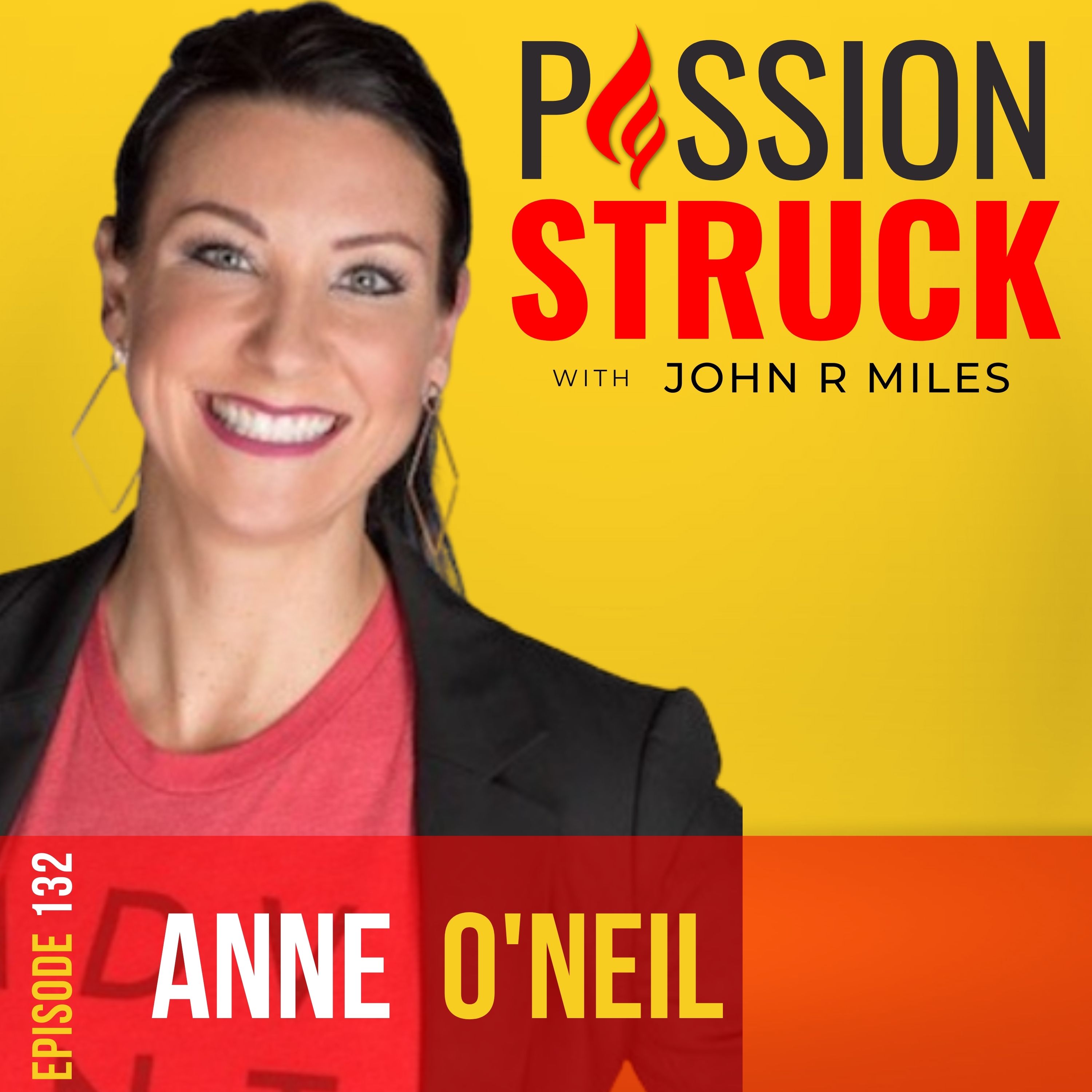 Anne has found herself immersed and intrigued by all things psychology and the neuroscience of growth mindset. 🧠🌟 During her time in athletics and business, she has worked with teams and executives developing strategic game plans and goals. Here are a few of her highlights in performance psychology:
Currently, she work as a Senior Cyber Transformation Leader at Palo Alto Networks where she consults with Global 2000 organizations at the C-Suite level developing 3-year roadmaps focused on cyber security strategy.
She also Trained for 2 years internationally under Steve Zaffron, founder of Vanto Group, a Forbes 2020 Top Management Consulting Firm. Zaffron is the author of National Best Selling Book, The Three Laws of Performance based on phenomenological ontology
FOLLOW JOHN R. MILES ON THE SOCIALS
* Twitter: https://twitter.com/Milesjohnr
* Facebook: https://www.facebook.com/johnrmiles.c0m
* Medium: https://medium.com/@JohnRMiles​
* Instagram: https://www.instagram.com/john_r_miles
* LinkedIn: https://www.linkedin.com/in/milesjohn/
* Blog: https://passionstruck.com/blog/
* Instagram: https://www.instagram.com/passion_struck_podcast/
* Gear: https://www.zazzle.com/store/passion_struck/
John R. Miles is a serial entrepreneur and the CEO and founder of Passion Struck. This full-service media company helps people live intentionally by creating best-in-class educational and entertainment content. John is also a prolific public speaker, venture capitalist, and author named to the ComputerWorld Top 100 IT Leaders.
John is the host of the PassionStruckPodcast. A show focused on exploring the mindset and philosophy of the world's highest achievers to learn their lessons to living intentionally. Passion Struck aspires to speak to the humanity of people in a way that makes them want to live better, be better and impact.
Stay tuned for John's latest project, his upcoming book, which will be published in summer 2022.
Learn more about me: https://johnrmiles.com.