In this powerful Episode, John R. Miles interviews former Astronaut Wendy Lawrence on why it is vital to permit yourself to dream the dream and how she followed that advice throughout her own career. When Wendy imagined her future and what she wanted to do for the rest of her life, she always came to the same conclusion. For her, that was becoming an astronaut and going to space. 
Wendy Lawrence is a retired United States Navy Captain, former helicopter pilot, an engineer, and a former NASA astronaut. Lawrence graduated from the U.S. Naval Academy and became a distinguished flight school graduate. She has more than 1,500 hours of flight time in six different types of helicopters and has made more than 800 shipboard landings.
Give yourself the opportunity to pursue the dream, because you're never gonna know how it will work out for you unless you take those very first steps.

Wendy Lawrence
Like this show? Please leave us a review here – even one sentence helps! Post a screenshot of you listening on Instagram & tag us so we can thank you personally!
What Does It Mean to Dream the Dream?
To dream the dream is to live life to your full capability, doing the work to put yourself into the best situation to transform your life into what you aspire it to be. When we dream the dream, we are becoming passion-struck in the pursuit of a life without regrets and with a focus on achieving our dream regardless of the setbacks or roadblocks that may emerge over time.
When we dream the dream, we face our fears, overcome our inner voice, and alter the self-narrative that tells us we are not good enough.  
What We Discuss with Wendy Lawrence
Wendy Lawrence discusses her deliberate path to permitting herself to live her dream, which was taking the actions that would allow her to become an astronaut. You will be surprised by her answer to the question, what is the most dangerous thing you have ever done? The experience of blasting off in the space shuttle, her fondest memories from her time with the space program, her advice for those wishing to pursue a career as an astronaut, and so much more.
Like this? Please subscribe, and join me on my new platform for peak performance, life coaching, and personal growth: https://www.youtube.com/c/JohnRMiles/.
New Interviews with the World's GREATEST high achievers will be posted every Tuesday with a Momentum Friday inspirational message!
Dream the Dream Show Notes
0:00 Wendy Lawrence teaser
1:52 Wendy Lawrence introduction
5:45 How John and Wendy met
7:24 Wendy's unlikely path to the Naval Academy
9:39 Her relationship with the original 7 astronauts
11:10 Her advice on pursuing the dream to be an astronaut
13:39 Why you step outside of your comfort zone
17:17 Winning the Naval Academy Distinguished Graduate award
19:00 The most terrifying thing she has ever done
21:34 What it feels like to blast off in the space shuttle
23:48 Her ideal mission if she could fly again
25:36 Her advice for aspiring astronauts
28:29 The first launch after the Columbia disaster
32:16 Differences for astronauts in the commercial program
35:11 The decision that prompted SpaceX to be the first to carry astronauts
37:55 Her predictions on the future of multi-national space exploration
39:13 How the astronaut skillsets are adapting for long-range missions
42:42 Why NASA astronauts spend so much time planning
47:03 Importance of international cooperation
49:44 Why adaptability is so vital for leaders
51:35 Why you should ask for advice
54:39 Why research is so important for complex problems
56:00 Future of space manufacturing
59:00 The most difficult thing about a future Mars mission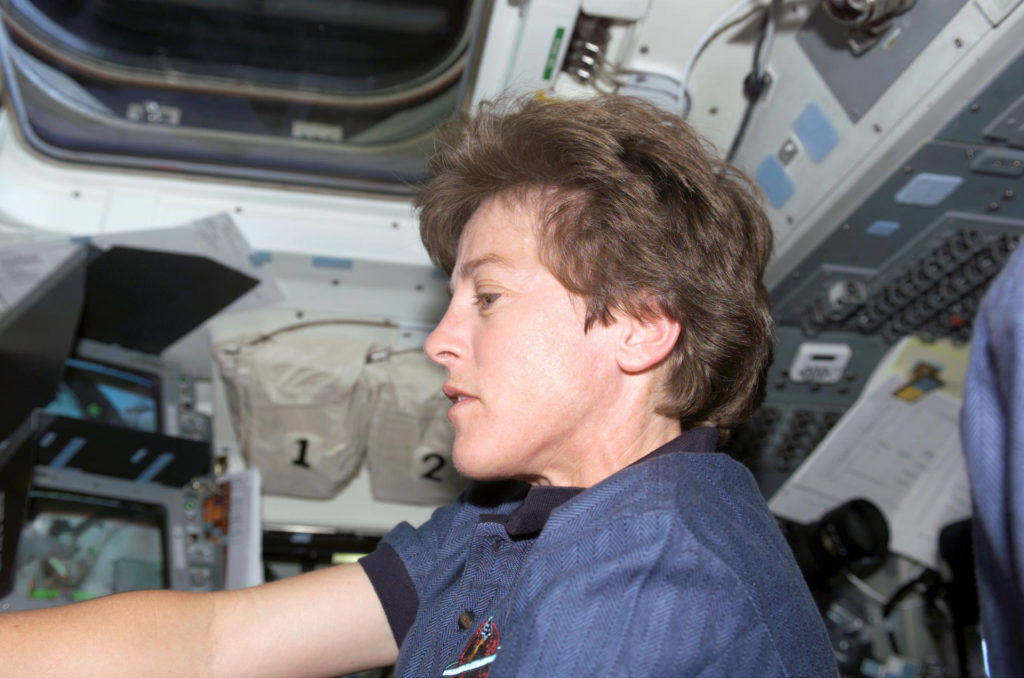 Quotes by Wendy Lawrence
Engage Captain Wendy Lawrence USN, Ret.
Wendy was the first female graduate of the United States Naval Academy to fly into space, and she has also visited the Russian Space Station Mir. She was a mission specialist on STS-67, STS-86, STS-91, and STS-114, the first Space Shuttle flight after the Space Shuttle Columbia disaster. In 2019, she became the Naval Academy's first female to be given the distinguished graduate award, following her father, VADM William Lawrence, who won the award in 2000.
* Hire Wendy Lawrence to speak: https://www.allamericanspeakers.com/celebritytalentbios/Wendy+Lawrence/397622
* LinkedIn: https://www.linkedin.com/in/wendy-lawrence-3154b77/
ENGAGE WITH JOHN R. MILES
* Subscribe to my channel: https://www.youtube.com/c/JohnRMiles
* Leave a comment, 5-star rating (please!)
* Support me: https://johnrmiles.com
* Twitter: https://twitter.com/Milesjohnr
* Facebook: https://www.facebook.com/Johnrmiles.c0m​.
* Medium: https://medium.com/@JohnRMiles​
* Instagram: https://www.instagram.com/john_r_miles
ABOUT JOHN R. MILES
* https://johnrmiles.com/my-story/
* Guides: https://johnrmiles.com/blog/
* Coaching: https://passionstruck.com/coaching/
* Speaking: https://johnrmiles.com/speaking-business-transformation/
* Gear: https://www.zazzle.com/store/passion_struck
PASSION STRUCK
*Subscribe to Podcast: https://podcasts.apple.com/us/podcast/the-passion-struck-podcast/id1553279283
*Website: https://passionstruck.com/
*About: https://passionstruck.com/about-passionstruck-johnrmiles/
*Instagram: https://www.instagram.com/passion_struck_podcast
*LinkedIn: https://www.linkedin.com/company/passionstruck