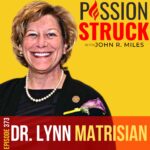 On Passion Struck, I welcome Dr. Lynn Matrisian, PanCAN's Chief Science Officer, to discuss pancreatic cancer's new hope for a cure.
In this deeply personal episode of the Passion Struck podcast, host John R. Miles invites Dr. Lynn Matrisian, the Chief Science Officer at the Pancreatic Cancer Action Network (PanCAN), for a poignant discussion on Pancreatic Cancer Awareness Day. With his sister Carolyn currently battling the disease, John's conversation with Dr. Matrisian is not just timely but incredibly close to his heart.
They explore the latest advancements in early detection and treatment, delve into PanCAN's mission for public education, and discuss the critical need for awareness, particularly in high-risk communities. This episode is a tribute to the resilience and courage of pancreatic cancer fighters like Carolyn and an insightful journey into the science and hope in the ongoing battle against this formidable disease.