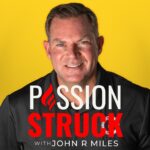 In this week's episode of the Passion Struck Podcast, John R. Miles sits down with Dr. Jay Lombard on brain science for better lives.
New to this channel and the passion-struck podcast? Check out our starter packs which are our favorite episodes grouped by topic, to allow you to get a sense of all the podcast has to offer. Go to https://passionstruck.com/starter-packs/.
Like this? Please subscribe, and join me on my new platform for peak performance, life coaching, and personal growth: https://passionstruck.com/.