Michael Anthony (@michaelunbroken) is the author of the best-selling book Think Unbroken and is a coach, mentor, and educator for adult survivors of child abuse. Michaels spends his time helping other survivors get out of "The Vortex" to become the hero of their own story and take their life back. Michael hosts the Think Unbroken podcast, teaches at Think Unbroken Academy, and is on a mission to create change in the world.
Michael talks to me about the importance of taking daily action and how you will have to recognize something fundamental about the truth of everything that comes next in your life. He says it's a simple question, but it's difficult to answer. Are you taking care of yourself? Or are you taking it easy on yourself? Because those are two vastly different things.
Hear the secrets and philosophy of the World's GREATEST high achievers every Tuesday and tune in each week for an inspirational Momentum Friday solo message.
Like this show? Please leave us a review here – even one sentence helps! Post a screenshot of you listening on Instagram & tag us to thank you personally!
What I Discuss With Michael Anthony On Taking Daily Action to Improve Your Life
How he was born to a hyper-abusive drug addict mother who cut his finger off at four years old.
Living with a stepfather you pray you never have.
A racist grandmother that pushed him into an identity crisis.
How by the time he was 9, his family was in poverty and often homeless, while being a Mormon Church member.
At twelve, he was adopted by his grandmother and quickly turned to drugs and alcohol to survive the continuing abuse.
Michael discusses how he found success in Corporate America in his early twenties. However, success only made things worse.
Michael was morbidly obese, high and drunk daily, and ultimately self-sabotaging everything around him.
We discover how he found self-love, and he altered the course of his life.
Michael provides advice on how you too can take daily action to improve your life.
Why she is doubling down on NFTs.
Have any questions, comments, or stories you'd like to share with us? Drop us a line at

[email protected]

m!
And much more…
Please Scroll Down For Featured Resources
MAGIC MIND. Get 20% off https://magicmind.co/passionstruck; use code passionstruck.
SURF SHARK: Get 83% off Surf Shark VPN and three extra months free https://surfshark.deals/passionstruck; use the promo code passionstruck.
CODA: Get started having your team all working together on the same page for FREE. Head over to https://Coda.io/PASSIONSTRUCK.
COINBASE: For a limited time, new users can get $10 in free Bitcoin when they sign up today at https://coinbase.com/PASSIONSTRUCK.
PODBEAN: Head on over to Podbean at www.podbean.com and use the code PODCAST21 for your first thirty days of podcast hosting for free.
Our Patreon Page: https://www.patreon.com/passionstruck
4x4x48 Challenge In Support Of Special Forces And Veteran Non-Profits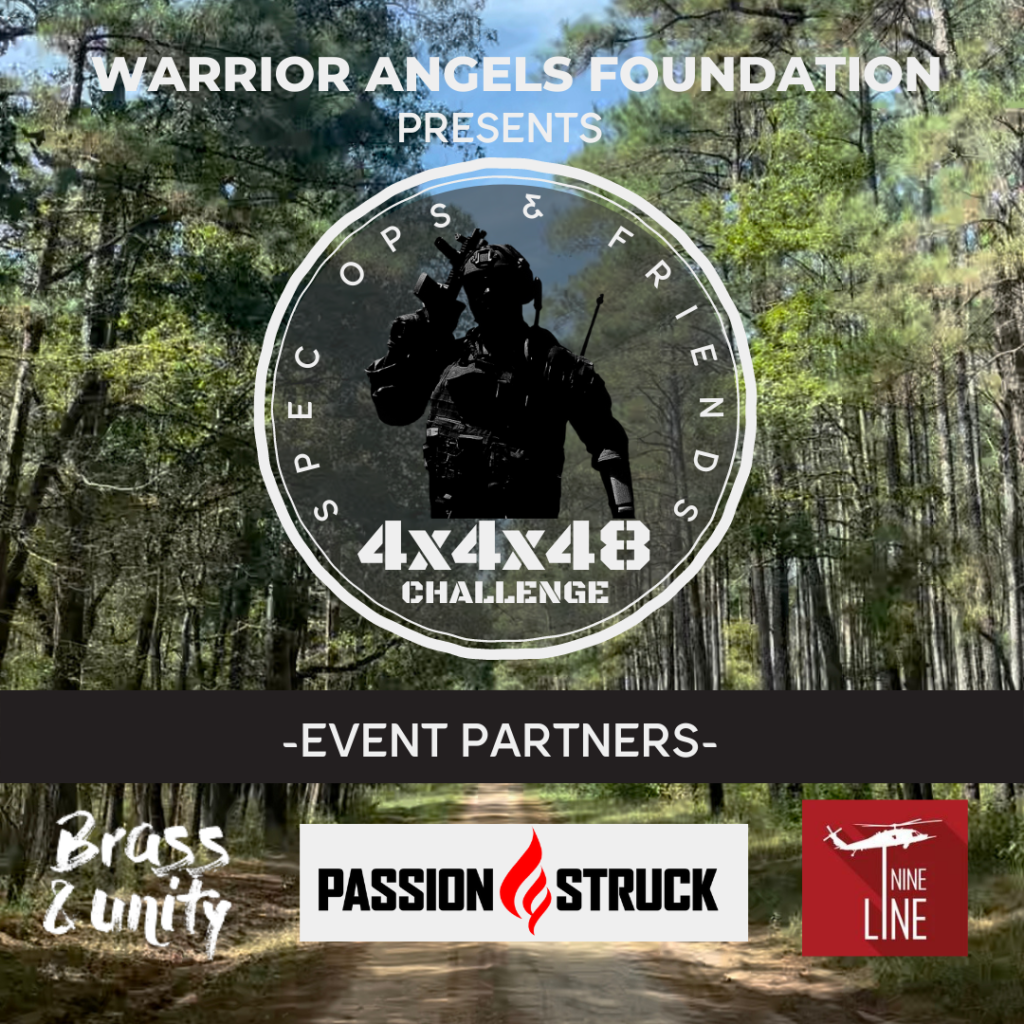 We have an exciting and important announcement. I was asked by my friend, retired Green Beret Andrew Marr, and his brother Adam Marr (Army Apache Pilot) to sponsor, fundraise, and participate in this year's 4x4x48 challenge. This challenge is a cause near and dear to my heart as I am one of the veterans that these organizations have helped overcome my struggles with mental health and the long-term impact of Traumatic Brain Injury. If you are interested in supporting our efforts, please go to: https://give.warriorangelsfoundation.org/team/400731.
New to the show? These Starter Packs are collections of our most popular episodes grouped by topic and we now have them also on Spotify. You can also browse starter packs for existing listeners to find your old favorites. Every week, John interviews fascinating high achievers at the top of their game. Learn how to subscribe to the show and never miss a new episode and topic.
Like this? Please subscribe, and join me on my new YouTube platform for peak performance, life coaching, and personal growth: https://www.youtube.com/c/JohnRMiles/.
More About This Show On Improving Your Live by Taking Daily Action With Michael Anthony
Sometimes people have negative emotions when they hear words like broken, battered, beaten board, hopeless, whatever it may be. But I think there are so many people who are feeling that way. They're disengaged from their own life. Oftentimes I call them the underdogs of their own life. A lot of people have gone through trauma, adversity, setbacks, and encountered obstacles. And it's hard to learn to be resilient to those things. On the backside of those ordeals, I ask Michael how someone can achieve post-traumatic growth to improve their life?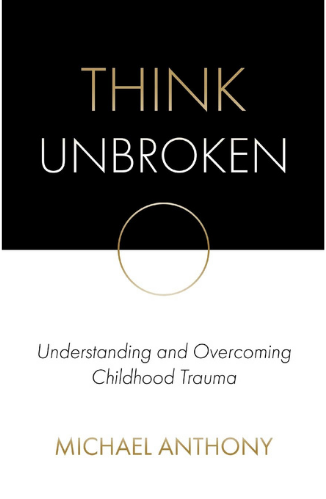 Michael Anthony explains, What Does better mean? What is the measurement? How do you quantify better? I don't know how to do that. But I do know different. And if I can do one thing every day to make my life different from what it is today (that is an alignment with my mission, vision, values, and goals), then on a long enough timeline, I can do anything.
So one daily action in a different direction, just one degree from where you are right now. Every single day, that's 365 decisions that you have made. I'm going to tell you right now. You make 365 different choices; then you will have growth. I am not saying it's going to be easy because it's not. It's going to be uncomfortable and difficult and painful. But on the backside, it will be different."
I then ask Michael Anthony about his advice on how you start taking daily action according to your values?
He responds, "Ask yourself, am I living within my values today? Most people in general in the world don't have values. And that old adage goes, if you stand for nothing, you'll fall for anything.
You have to have values in your life because if you don't have values, you're not going to accomplish anything. And so ask yourself this question, am I living in my values? If the answer is yes, great. If the answer is no because you don't have values start thinking about that.
My values are straightforward: honesty, kindness, leadership, self-actualization, and no excuses. My values act as a system in which I operate that I filter all the choices and decisions that I make in my life.
So my advice would be: Ask yourself, Who do I want to be? Ask yourself, who can I serve today? Ask yourself, Am I living in my values?"
Thanks, Michael Anthony!
If you enjoyed this session with Michael Anthony, let him know by clicking on the link below and sending him a quick shout out at Instagram:
Click here to thank Michael Anthony on Instagram!
Click here to let John R. Miles know about your number one takeaway from this episode!
And if you want us to answer your questions or you have a topic you would like John to discuss on one of our upcoming weekly Momentum Friday episodes, drop us a line at [email protected].
Time Stamps
0:00 Introducing Michael Anthony and New Programs
3:42 Surfshark, Coda, Podbean
7:05 The origin story of Think Unbroken
9:54 How to achieve Post Traumatic Growth
15:15 Recovering from rock bottom
20:46 How he learned to be honest with himself
25:51 Magic Mind and Coinbase
28:01 Importance of an accountability partner
33:52 Who Do I want to be today?
39:31 Importance of mission objectives
45:24 How to get into the "flow" zone or optimal anxiety
50:03 The importance of taking daily action
52:43 We consume information, but we don't apply it
56:43 Rapid round of questions
1:00:02 Conclusion and Synthesis
LINKS
Please note that some of the links on this page (books, movies, music, etc.) lead to affiliate programs for which The Passion Struck podcast receives compensation. It's just one of the ways we keep the lights on around here. Thank you so much for being so supportive!
Instagram: https://www.instagram.com/michaelunbroken/
YouTube: https://www.youtube.com/channel/UC95YX4cZdz39HHIaLZYFsGA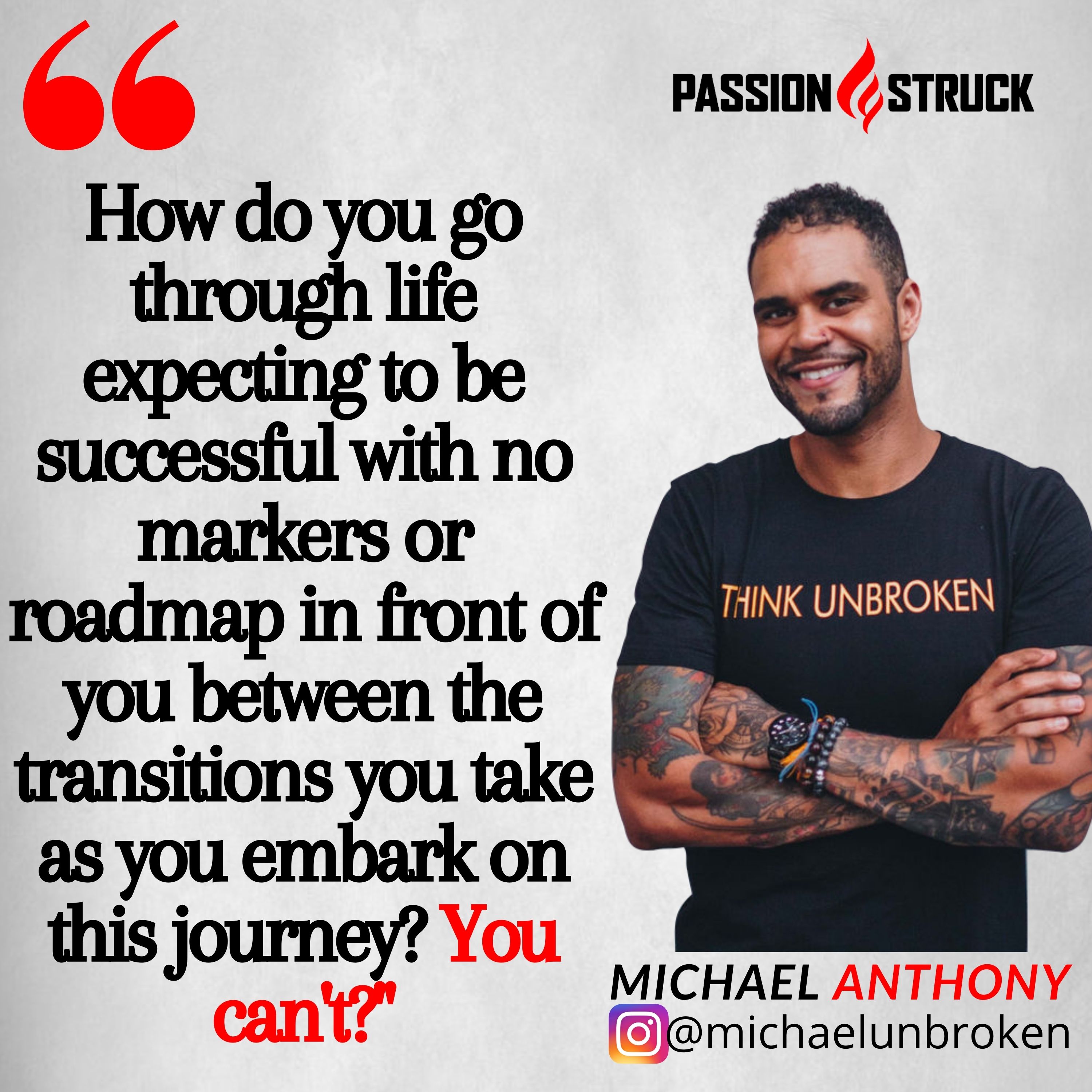 Facebook: https://www.facebook.com/MichaelUnbroken
Twitter: https://twitter.com/thinkunbroken
Think Unbroken by Michael Anthony
Check out John's past episode on Stop Hiding Your Authentic Self. Catch up with Episode 88.
Are you showing yourself self-compassion? John discusses Self-Love in episode 104.
Is the Hustle Culture is Making You Miserable? John explores this in-depth in Episode 70.
Suppose you missed our interview with Amy Malin on living life from a place of love. Don't panic! You can catch up by downloading it here.
Catch the episode I did with Dara Kurtz, on how to create a crazy, perfect life. You can find the episode here.
About This Episode's Guest Michael Anthony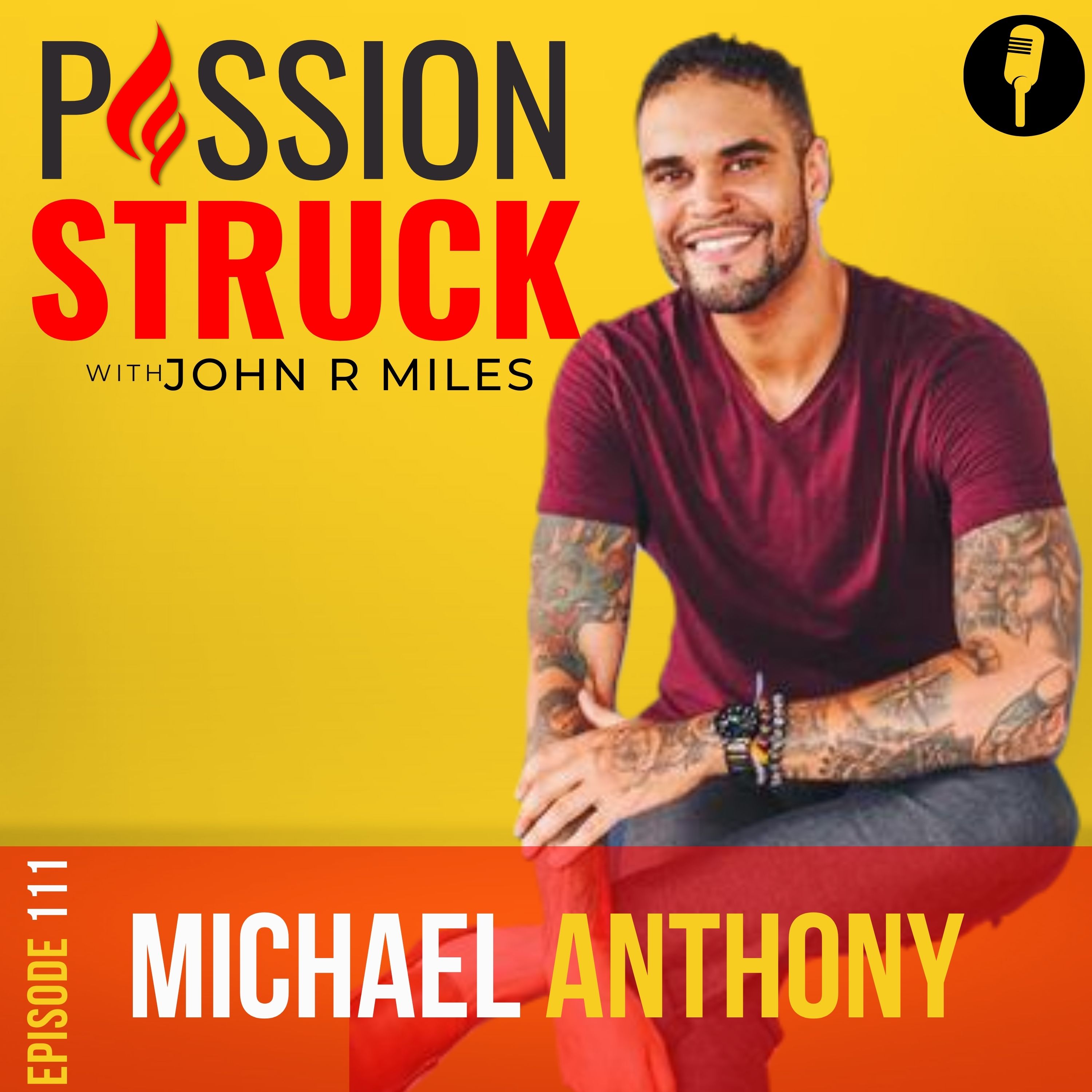 Michael's mission is to utilize the tool of Think Unbroken to guide Adult Survivors of Child Abuse in Getting Out of The Vortex and to reclaiming their power. I believe that there is inherent strength in overcoming trauma. With the right guidance, anyone can heal from trauma, take their life back, and become the person they know they are.
His mission is to guide individuals who have suffered trauma in our mentorship programs and workshops. I believe that by creating palatable and practical tools that Trauma Warriors around the world can overcome. Our principles will allow survivors of child abuse to develop healthy habits, understanding of themselves, and how to be present in the world that will ultimately change their current lifestyle.
FOLLOW JOHN ON THE SOCIALS
* Twitter: https://twitter.com/Milesjohnr
* Facebook: https://www.facebook.com/johnrmiles.c0m
* Medium: https://medium.com/@JohnRMiles​
* Instagram: https://www.instagram.com/john_r_miles
* LinkedIn: https://www.linkedin.com/in/milesjohn/
* Blog: https://passionstruck.com/blog/
* Instagram: https://www.instagram.com/passion_struck_podcast/
* Gear: https://www.zazzle.com/store/passion_struck/
John R. Miles is a serial entrepreneur and the CEO and founder of Passion Struck. This full-service media company helps people live intentionally by creating best-in-class educational and entertainment content. John is also a prolific public speaker, venture capitalist, and author named to the ComputerWorld Top 100 IT Leaders.
John is the host of the PassionStruckPodcast. A show focused on exploring the mindset and philosophy of the world's highest achievers to learn their lessons to living intentionally. Passion Struck aspires to speak to the humanity of people in a way that makes them want to live better, be better and impact.
Stay tuned for John's latest project, his upcoming book, which will be published in summer 2022. Learn more about me: https://johnrmiles.com.