Jen Bricker-Bauer (@jenbricker) is an aerialist, motivational speaker, and New York Times bestselling author of Everything is Possible. Born without legs, Jen's biological parents left her at the hospital, destined for a life of hardship. However, the hand of God brought her an amazing adoptive family, who taught her that everything is possible.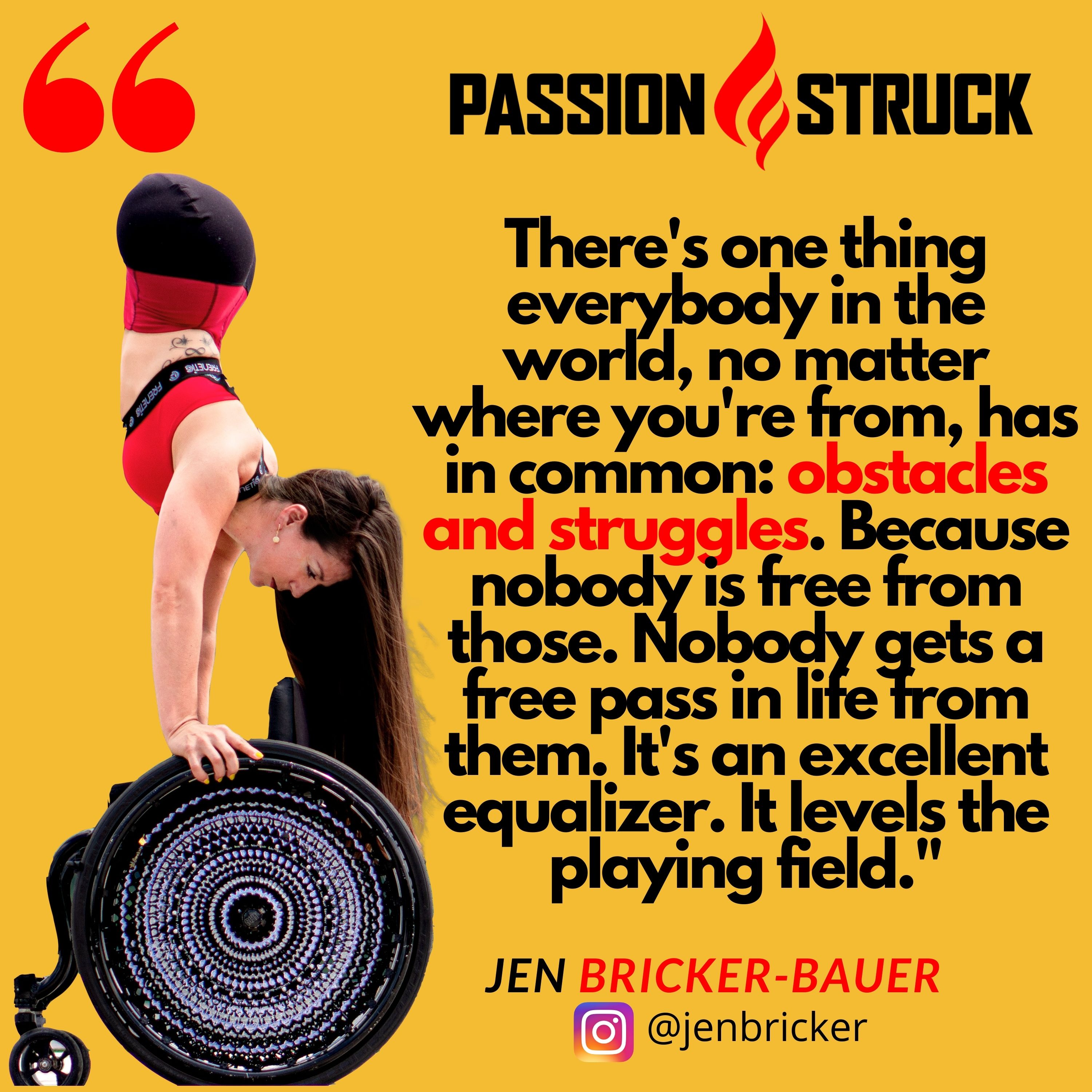 Jen became obsessed with gymnastics, and gold medalist Dominique Moceanu became her idol as she grew up. The inspiration of watching Dominique on TV helped motivate Jen to start competing herself. Seemingly against all odds, Jen won the Illinois State Champion in power tumbling, competing against able-bodied athletes. As part of her fantastic story and a twist of fate, Jen later learned that her childhood gymnastics idol, Dominique Moceanu, was actually her biological sister.
John R. Miles sits down with Jen Bricker-Bauer to talk about why she never says the word "CAN'T" and how she has come to believe that everything is possible if you set your mind to it. You learn that you can achieve everything you've dreamed of when you unlock your purpose and create an intentional life. Jen discusses why she is doing everything she can to spread inspiration and joy throughout the world and is following her calling to teach others they can do anything they put their minds to achieving.
Hear the secrets and philosophy of the World's GREATEST high achievers every Tuesday and tune in each week for an inspirational Momentum Friday solo message.
Like this show? Please leave us a review here – even one sentence helps! Post a screenshot of you listening on Instagram & tag us to thank you personally!
What We Discuss With Jen Bricker-Bauer About Why Everything Is Possible
Jen's early story of being born with no legs, and placed for adoption by her birth parents.
How God intervened and chose an adoption family for Jen who would encourage her to live as if she wasn't disabled.
How she became the Illiois Tumbling State Champion competeing against able bodied athlets.
The Never Say Can't attitude who parents instilled in her and her brothers.
Her story of learning the startling news that her childhood idol Gold Medal Gymnast Dominique Marciano was her sister.
Her unlikely intership at Disney and how that changed her life's direction in becoming an acrobat and arialist performer.
We discuss her book Everything is Possible and how her life has changed since she shared the stage with Britney Spears as a headliner.
She discusses getting married and what is next in her life.
The reason why she does her frequent speaking at children's, women's and church events.
Have any questions, comments, or stories you'd like to share with us? Drop us a line at 

[email protected]

m!
And much more…
Please Scroll Down For Featured Resources
Have You Tried Athletic Greens?
AG1 contains over 75 essential vitamins, minerals, and whole-food sourced ingredients giving you a multivitamin, probiotic, prebiotic, adaptogens, and more. One daily scoop supports your immunity, gut health, healthy aging, and energy. Better nutrition made a lot simpler. Free One Year Supply of Vitamin D + 5 Travel Packs using my discount code.
Check out Magic Mind
Magic Mind is the world's first productivity drink. Each shot contains a magical combination of 12 active ingredients designed to stimulate focus, creativity, energy, and motivation while decreasing stress, oxidation, and post-exercise inflammation in the body. Get 20% off Magic Mind by using code passionstruck.
Protect Your Web Presence with Surf Shark
Surfshark is an award-winning, secure VPN that encrypts your online data to help you stay private & protected every day, hassle-free. Receive three months free and 83% off Surfshark using code passionstruck.
4x4x48 Challenge In Support Of Special Forces And Veteran Non-Profits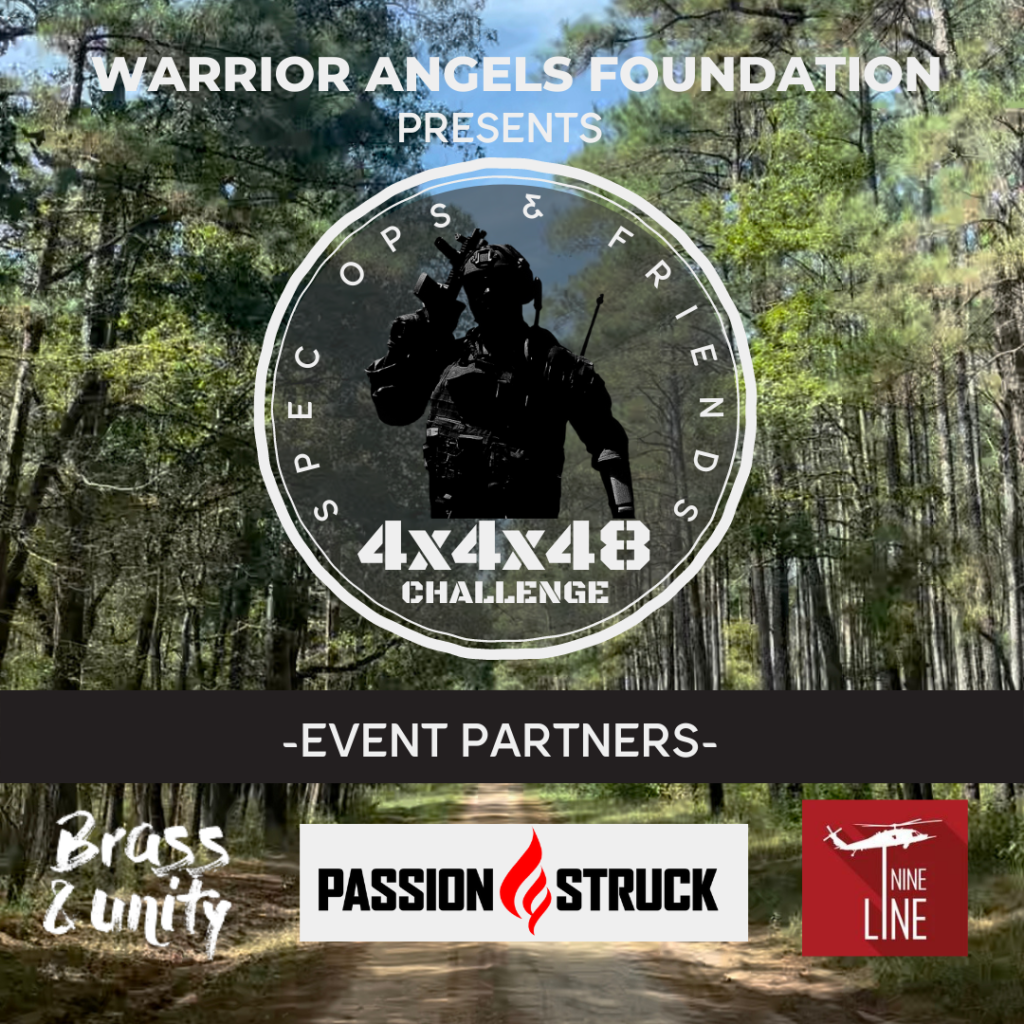 We have an exciting and important announcement. I was asked by my friend, retired Green Beret Andrew Marr, and his brother Adam Marr (Army Apache Pilot) to sponsor, fundraise, and participate in this year's 4x4x48 challenge. This challenge is a cause near and dear to my heart as I am one of the veterans that these organizations have helped overcome my struggles with mental health and the long-term impact of Traumatic Brain Injury. If you are interested in supporting our efforts, please go to: https://give.warriorangelsfoundation.org/team/400731.
New to the show? These Starter Packs are collections of our most popular episodes grouped by topic and we now have them also on Spotify. You can also browse starter packs for existing listeners to find your old favorites. Every week, John interviews fascinating high achievers at the top of their game. Learn how to subscribe to the show and never miss a new episode and topic.
Like this? Please subscribe, and join me on my new YouTube platform for peak performance, life coaching, and personal growth: https://www.youtube.com/c/JohnRMiles/.
More About This Show On Everything is Possible With Jen Bricker-Bauer
During our conversation, John R. Miles asks Jen Bricker-Bauer about her parents' influence in her life in believing everything is possible.
Jen explains, "During my childhood, my parents said, 'CAN'T isn't part of your vocabulary.' It's more than just saying that as a sentence. When you say CAN'T is not part of your vocabulary, it involves removing that from your thought process and from your life. Not in just some philosophical way but making it a reality day-to-day. And so it's actually tied into the title of my book Everything is Possible.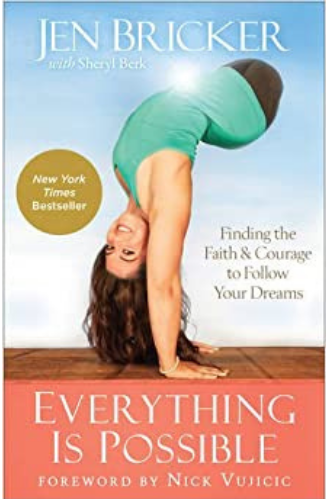 Taking CAN't out of your vocabulary is tied to everything is possible it the way it comes out practically. It is the one thing that every that all of us have in common. There's one thing everybody in the whole world, no matter where you're from has in common–obstacles and struggles. Because nobody is free from those. Nobody gets a free pass in life from them. Nobody. It's a nice equalizer. It levels the playing field.
And the way I think that it plays out practically is that we all will have like these mountains in our lives. And so when the mountain comes, we're afraid, and we're like, how am I going to get beyond this? I don't even have all the answers. That's normal. I mean, I have certainly been there, and I will be there again. All of us will. But where it practically makes a difference is if we can look at the mountain and not have all the answers.
But if I believe that I can somehow get to the other side, that I have to go around, or over it, or chisel through a little every day, day by day, I start believing that it's possible. I think that is where we win or lose the battle just there. Like before we even go over it. Or it's the difference between looking at it and being paralyzed and then never moving. Or being terrified and then just running away from it.
That is to me how you can kind of break it down into this sequence that makes sense. And it's also a day-by-day thing. It doesn't have to be this vast, unattainable thing that's out there somewhere in the wind. It is realizing that yep, this situation sucks, or it's overwhelming, or it's whatever. We believe, or we don't believe that it's possible to somehow get over it. And that doesn't mean that it's going to be fast. But at least you believe that you can. And that motivates you. It gives us that grit and belief that I can get through that. I can do it."
Thanks, Jen Bricker-Bauer!
If you enjoyed this session with Jen Bricker-Bauer, let her know by clicking on the link below and sending her a quick shout out at Instagram:
Click here to thank Jen Bricker-Bauer on Instagram!
Click here to let John R. Miles know about your number one takeaway from this episode!
And if you want us to answer your questions or you have a topic you would like John to discuss on one of our upcoming weekly Momentum Friday episodes, drop us a line at [email protected].
SHOW NOTES
0:00 Introduction
0:47 Introducing guest Jen Bricker-Bauer
4:11 Athletic Greens and Surf Shark
7:29 Jen's adoption story
12:34 God doesn't make mistakes
15:16 Magic Mind
16:51 How her parents influenced her
19:12 Never Say "CAN'T"
24:26 Story of her idol Dominique Moceanu
28:22 If you help one person it is worth it
32:30 Learning Dominique Moceanu is her biological sister
38:44 The connection she felt with her sisters
42:43 The impact of her internship with Disney
43:46 Coming to a cross-road: fashion or acrobat/aerialist
47:00 How to push through discouragement
49:56 Britney Spears world tour broke down barriers
54:10 How performing led to her motivational speaking and book
58:51 Tedx Talk and her mentality about sharing her life story
102:31 Making change starts with changing yourself
106:19 Why God uses her to help other people
110:08 Jen discusses her brand new act
111:28 Rapid round of questions
LINKS
Please note that some of the links on this page (books, movies, music, etc.) lead to affiliate programs for which The Passion Struck podcast receives compensation. It's just one of the ways we keep the lights on around here. Thank you so much for being so supportive!
* Website: https://jenbricker.com/
* Instagram: https://www.instagram.com/jenbricker/
* Facebook: https://www.facebook.com/JenBricker1
* YouTube: https://www.youtube.com/user/JenBricker1
* LinkedIn: https://www.linkedin.com/in/jenbricker/
Watch Jen's Ted Talk on how she stays positive in the face of others' doubts.
Check out John's past episode on Stop Hiding Your Authentic Self. Catch up with Episode 88.
Are you showing yourself self-compassion? John discusses Self-Love in episode 104.
Is the Hustle Culture is Making You Miserable? John explores this in-depth in Episode 70.
Suppose you missed our interview with Amy Malin on living life from a place of love. Don't panic! You can catch up by downloading it here.
Catch the episode I did with Dara Kurtz, on how to create a crazy, perfect life. You can find the episode here.
About This Episode's Guest Jen Bricker-Bauer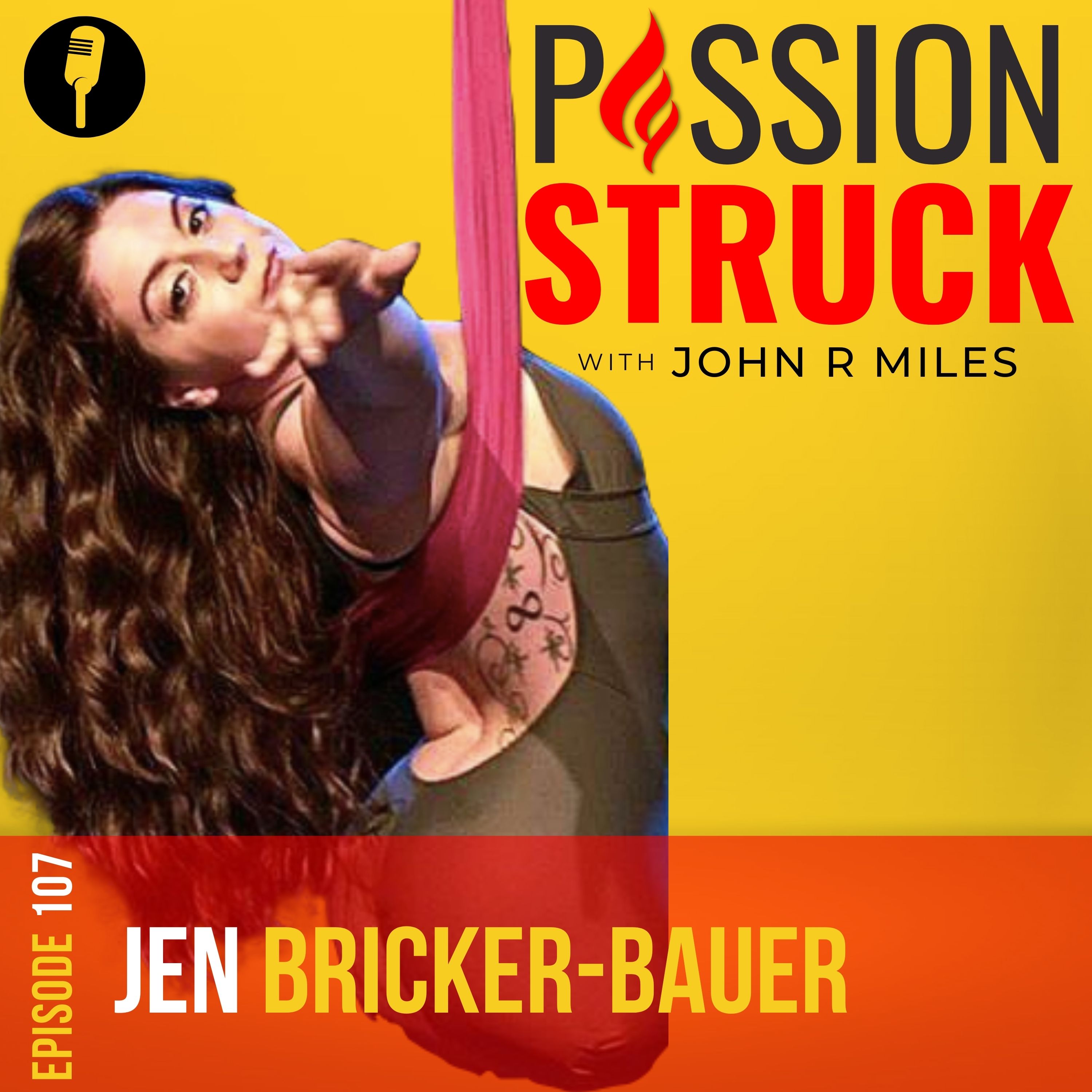 Jen Bricker was born without legs. Shocked and uncertain they could care for her, her biological parents gave her up for adoption. In her loving adoptive home, there was just one simple rule: "Never say 'can't.'" And pretty soon, there was nothing this small but mighty powerhouse set her sights on that she couldn't conquer: roller-skating, volleyball, power tumbling, and spinning from silk ribbons thirty feet in the air.
Always challenging herself, Jen transitioned into an accomplished acrobat and
aerialist. As such, she traveled internationally with Britney Spears' World Tour
and appeared as the headliner at the prestigious Palazzo hotel in Las Vegas, and
the Shangri La hotel in Dubai.
Jen's incredible story has been featured on multiple shows, including HBO Real
Sports, 20/20, and Good Morning America. She is currently living in Los Angeles
and has added a successful speaking career to her list of accomplishments,
including being featured in one of the well renowned TED talks, as well as
speaking & performing in over 23 countries. She hopes to inspire & motivate
others to BELIEVE that anything is truly possible.
Jen published her first book, Everything is Possible, that hit the New York Times
Best Sellers list in 2016, as well as being translated into 11 languages.
Most recently, Jen got married to Austrian, Dominik Bauer on July 12th, 2019.
And now the two are traveling the world as a speaking & performing duo.
FOLLOW JOHN ON THE SOCIALS
* Twitter: https://twitter.com/Milesjohnr
* Facebook: https://www.facebook.com/johnrmiles.c0m
* Medium: https://medium.com/@JohnRMiles​
* Instagram: https://www.instagram.com/john_r_miles
* LinkedIn: https://www.linkedin.com/in/milesjohn/
* Blog: https://passionstruck.com/blog/
* Instagram: https://www.instagram.com/passion_struck_podcast/
* Gear: https://www.zazzle.com/store/passion_struck/
John R. Miles is a serial entrepreneur and the CEO and founder of Passion Struck. This full-service media company helps people live intentionally by creating best-in-class educational and entertainment content. John is also a prolific public speaker, venture capitalist, and author named to the ComputerWorld Top 100 IT Leaders.
John is the host of the PassionStruckPodcast. A show focused on exploring the mindset and philosophy of the world's highest achievers to learn their lessons to living intentionally. Passion Struck aspires to speak to the humanity of people in a way that makes them want to live better, be better and impact.
Stay tuned for John's latest project, his upcoming book, which will be published in summer 2022. Learn more about me: https://johnrmiles.com.