Hannah Ranfranz (@hannahranfranz) is an IFBB professional bikini competitor and Olympian. She coaches lifestyle and competition preparation online and trains clients in person via Team Infinity.
Each day Hannah asks God to use her and to let his light shine through her. She aspires to inspire all of those around her. Being on stage as an IFBB professional allows her to positively affect many other people's lives helping them create the best version of themselves inside and out.
Hear the secrets and philosophy of the World's GREATEST high achievers every Tuesday and tune in each week for an inspirational Momentum Friday solo message.
Like this show? Please leave us a review here – even one sentence helps! Post a screenshot of you listening on Instagram & tag us to thank you personally!
What I Discuss With Hannah Ranfranz on Leading By the Dreams in Your Heart
How she lets her heart shine on the biggest stage in the world with the women she has looked up to since the beginning.
Her secrets to bringing her personal best, having fun, and making memories that will last her a lifetime with her friends & family!
Hannah explains that although she is competing against other people in IFBB Professional Bikini, her favorite part is ultimately Hannah vs. Hannah.
Her journey from NPC to becoming an IFBB Professional Biki Competitor and how she became an IFBB Olympian.
She talks about how no two human bodies are the same, and we are all unique in our own ways.
Hannah Ranfranz discusses her goal to create the best version of yourself every single day! It's a never-ending journey, and the experiences and friendships we make along the way are priceless.
Have any questions, comments, or stories you'd like to share with us? Drop us a line at

[email protected]

m!
And much more…
Please Scroll Down For Featured Resources
New to the show? These Starter Packs are collections of our most popular episodes grouped by topic and we now have them also on Spotify. You can also browse starter packs for existing listeners to find your old favorites. Every week, John interviews fascinating high achievers at the top of their game. Learn how to subscribe to the show and never miss a new episode and topic.
Like this? Please subscribe, and join me on my new YouTube platform for peak performance, life coaching, and personal growth: https://www.youtube.com/c/JohnRMiles/.
More About This Show On Leading Through Your Heart With Hannah Ranfranz
I spoke to Hannah about how don't typically see people like her when they are in their mid-twenties with this level of discipline and intentionality about what you're trying to achieve. I asked her if these traits are something that just came natural to her? Or is it something that she constantly has to work on?
Hannah Ranfranz explains, "So it's funny, they say motivation is like hygiene, just like you have to shower, you have to do it daily. So I I'm one who is very internally motivated. And with what I do, we're competing, you have to be very, very internally motivated. And it's funny when I first started competing, I had just gotten out of a very bad relationship. And I just poured my everything into competing I actually turned pro in eight months and then I I qualified for the Olympia, like my rookie year as a pro.
And so it was like my coping mechanism. And when I go through something hard in life, I always work every single day to make myself better. And I always try to focus on the positives. And I always try to do things to keep me motivated. And really motivating others is what keeps me going along my own journey.
So it's really great that I work within the industry as well, because I always say, my clients, they're the ones who keep me going every single day, they motivate me far more than they know. And I read a lot of books, I journal, and I just try to be very intentional every single day and just really live my life with purpose. And I always like being a part of something bigger than myself as well.
So just staying very involved in really putting myself out there and doing things that just really keep me going every single day. And I just, I'm a dreamer. I'm a dreamer. And I just, I'm always going with the flow. And I'm always just trying to live life to the fullest. And I always say growth doesn't take place in your comfort zone. So I'm always trying to do things that challenge myself and help me learn and grow. I mean, that's why I stepped on stage in the first place was just to try to learn and grow as a trainer and better myself."
Thanks, Hannah Ranfranz!
If you enjoyed this session with Hannah Ranfranz, let her know by clicking on the link below and sending her a quick shout out at Instagram:
Click here to thank Hannah Ranfranz on Instagram!
Click here to let John R. Miles know about your number one takeaway from this episode!
And if you want us to answer your questions or you have a topic you would like John to discuss on one of our upcoming weekly Momentum Friday episodes, drop us a line at [email protected].
Time Stamps:
0:00 Introducing Hannah Ranfranz and new programs
3:05 Athletic Greens and Raycon
5:53 Hannah Ranfranz's path into bodybuilding
8:42 Hannah Ranfranz's training to become an IFBB Professional
12:55 The importance of confidence in IFBB competition
13:45 The difference between NPC and IFBB
17:42 The training regime for an IFBV professional
21:24 How to gain sponsors as an IFBB professional
25:15 Grammarly and Podbean
27:13 The importance of a coach or persona trainer
34:13 How she become an IFBB Olympian
40:27 The importance of exercise for physical and mental health
44:22 Why Hannah Ranfranz is internally motivated
47:25 How The Success Principles by Jack Canfield changed her life
53:10 Why life is like a bicycle
58:50 Hannah Ranfraz describes her morning routine
101:39 Lightning Round of questions
LINKS
Please note that some of the links on this page (books, movies, music, etc.) lead to affiliate programs for which The Passion Struck podcast receives compensation. ItIt'sust one of the ways we keep the lights on around here. Thank you so much for being so supportive!
Instagram: https://www.instagram.com/hannahranfranz/
LinkedIn: https://www.linkedin.com/in/hannahranfranz/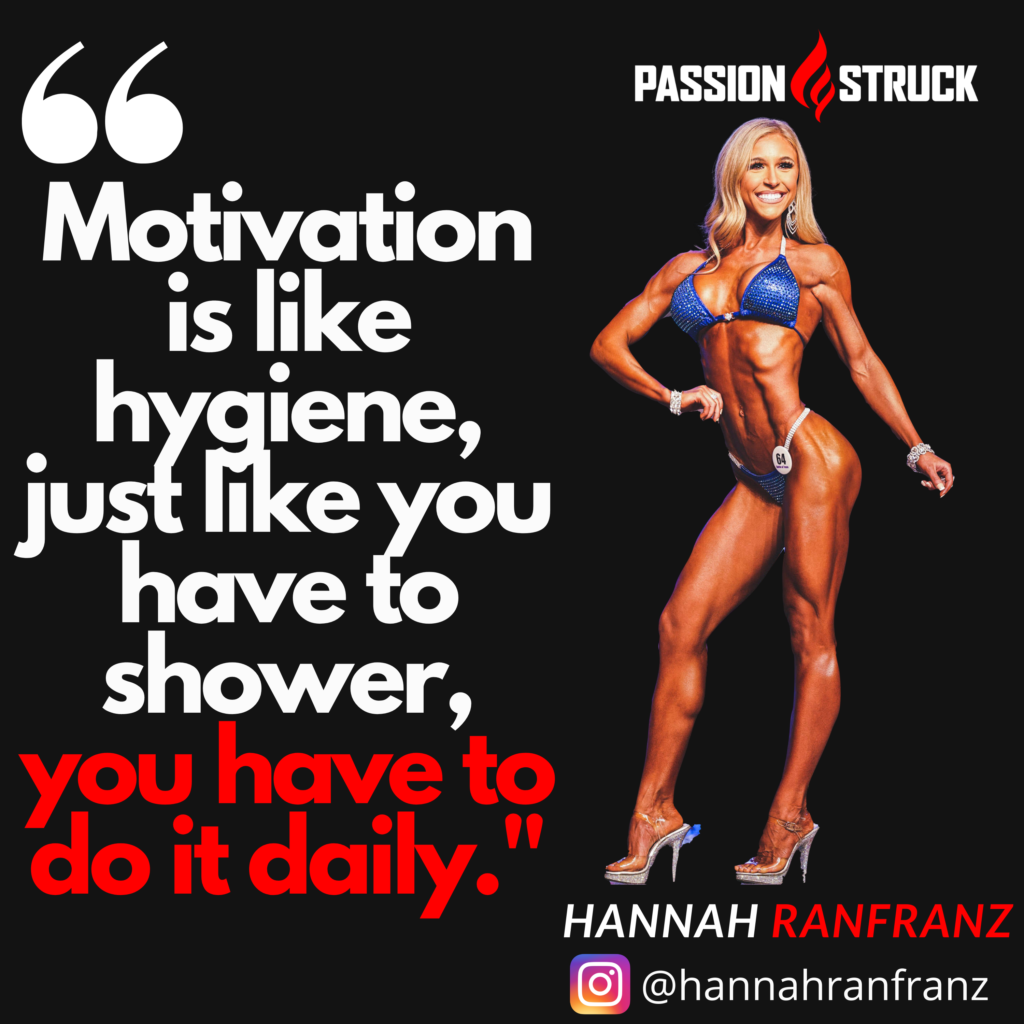 Facebook: https://www.facebook.com/hannah.ranfranz
Website: https://www.teaminfinityfit.com/
The Success Principles by Jack Canfield
Check out John's episode on Stop Hiding Your Authentic Self. Catch up with Episode 88.
Are you showing yourself self-compassion? John discusses Self-Love in episode 104.
Is the Hustle Culture is Making You Miserable? John explores this in-depth in Episode 70.
Suppose you missed our interview with Amy Malin on living life from a place of love. Don't panic! You can catch up by downloading it here.
Catch the episode I did with Dara Kurtz on creating a crazy, perfect life. You can find the episode here.
About This Episode's Guest Hannah Ranfranz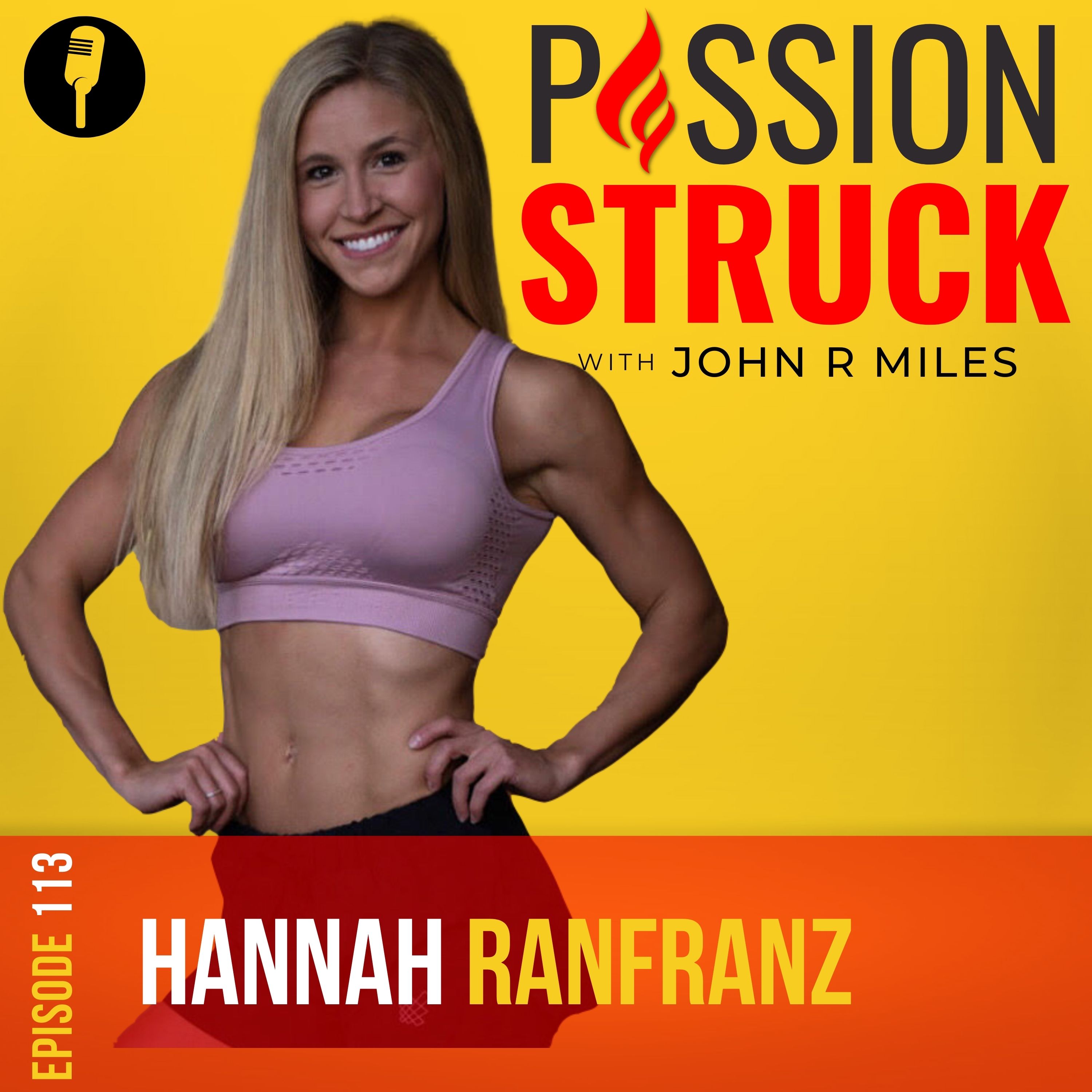 Hannah Ranfranz is a personal trainer, group exercise instructor, and an IFBB Professional Bikini Competitor & Olympian! She has a BaBachelor'segree in Applied Exercise & Health & a minor in Organizational Leadership & Supervision from Purdue University in West Lafayette. She loves living an active lifestyle, running, biking, hiking, paddle boarding, rollerblading, or anything outdoors! She fell in love with health & fitness at a young age. She loves that everyone at the gym has at least one thing in common. We are all trying to improve ourselves.
Whether it is physically (building muscle, weight loss, improving endurance), mentally, or emotionally, we all have a common goal to improve our daily lives! It's you vs. you every day. There is no finish line in health & fitness. It is about loving the process on this never-ending journey! Hannah aspires to inspire all of those around her. Her goal is to help others become the best version of themselves, inside & out, and to help them lead a happier, healthier life! Motivating others is what motivates Hannah along her own journey. She is constantly creating new goals for herself to continue to learn and grow individually and as a trainer every day!
FOLLOW JOHN ON THE SOCIALS
* Twitter: https://twitter.com/Milesjohnr
* Facebook: https://www.facebook.com/johnrmiles.c0m
* Medium: https://medium.com/@JohnRMiles​
* Instagram: https://www.instagram.com/john_r_miles
* LinkedIn: https://www.linkedin.com/in/milesjohn/
* Blog: https://passionstruck.com/blog/
* Instagram: https://www.instagram.com/passion_struck_podcast/
* Gear: https://www.zazzle.com/store/passion_struck/
John R. Miles is a serial entrepreneur and the CEO and founder of Passion Struck. This full-service media company helps people live intentionally by creating best-in-class educational and entertainment content. John is also a prolific public speaker, venture capitalist, and author named to the ComputerWorld Top 100 IT Leaders.
John is the host of the PassionStruckPodcast. A show focused on exploring the mindset and philosophy of the woworld'sighest achievers to learn their lessons to living intentionally. Passion Struck aspires to speak to the humanity of people in a way that makes them want to live better, be better and impact.
Stay tuned for JoJohn'satest project, his upcoming book, which will be published in summer 2022. Learn more about me: https://johnrmiles.com.