Often, it is easy to seek those things that bring us to comfort instead of doing something we haven't done before. It's easier to be that encouraging voice on the side telling them to break free from their comfort zone. But it is much harder when you are the one who is being forced to get comfortable doing uncomfortable things and growing through them.
Today's topic is all about how to get comfortable being uncomfortable. But throughout our lives, we have been conditioned to do just the opposite. We want to postpone or avoid the uncomfortable. We create lives where we go about our daily routines, or rituals, or habits, avoiding the very things that benefit us when we do those uncomfortable things. And truly focus on our own self-narrative. When we sit with the challenges, the pain, suffering, tolerance, whatever it may be.
In this episode of the Passion Struck podcast, John R. Miles talks about how doing small uncomfortable things can gradually lead to a self-examination of our lives. The inspiration for this episode came from a series of recent interviews he did with Navy SEALs.
And in case you didn't already know it, John R. Miles (@john_r_miles) takes your requests for topics on Momentum Friday right here every week! If you want us to answer your question, register your feedback, or tell your story on one of our upcoming weekly Momentum Friday episodes, drop us a line at [email protected]. Now let's dive in!
On This Week's Momentum Friday, John Discusses How to Get Comfortable Doing Uncomfortable Things:
Why do the majority of people believe struggle to get out of their comfort zones?
Why do Navy SEALs like Mark Divine and Dan O'Shea give advice that doing uncomfortable things is the only way to get ahead.
Why it is normal to fear being uncomfortable?
What is the definintion of the comfort zone and why does that box control our lives?
How doing uncomfortable things requires you to face your self-limiting beliefs.
Eight ways you can get comfortable being uncomfortable.
How to start implementing the different ways to get comfortable doing uncomfortable things.
and so much more!!!
Have any questions, comments, or stories you'd like to share with us? Drop us a line at

[email protected]

m!
Connect with John on Twitter at @John_RMiles and Instagram at @John_R_Miles.
Like this show? Please leave us a review here – even one sentence helps! Post a screenshot of you listening on Instagram & tag us so we can thank you personally!
Please Scroll Down for Featured Resources
Huge thanks to Podcorn for sponsoring this episode. Explore sponsorship opportunities and start monetizing your podcast by signing up here: https://podcorn.com/podcasters/
New to the show? These Starter Packs are collections of our most popular episodes grouped by topic. For existing listeners, you can also browse starter packs to find your old favorites. Every week, John interviews fascinating high achievers at the top of their game. Learn how to subscribe to the show and never miss a new episode and topic.
Like this? Please subscribe, and join me on my new YouTube platform for peak performance, life coaching, and personal growth: https://www.youtube.com/c/JohnRMiles/.
New Interviews with the World's GREATEST high achievers will be posted every Tuesday with a Momentum Friday inspirational message!
RESOURCES FROM THE SHOW THAT WILL ASSIST YOU IN HOW TO GET COMFORTABLE BEING UNCOMFORTABLE
*How to Ask for Advice: https://youtu.be/EAbe2LweM90
*The Power of Choice: https://youtu.be/Btipq-S07Eg
*Atomic Habits Book: https://bookshop.org/a/61530/9780735211292
*Box Breathing Techniques: https://youtu.be/GZzhk9jEkkI
*Breathing for Beginners: https://youtu.be/0BNejY1e9ik
Miss our interview with Mark Divine, a former Navy SEAL, author, and founder of Unbeatable Mind and SealFit? Catch up with episode 65: Mark Divine | How to Live a Life of Excellence!
If you missed our interview with Navy SEAL Dan O'Shea on how he saved a family of 14 from certain death in Afghanistan. Don't panic! You can catch up by downloading it here.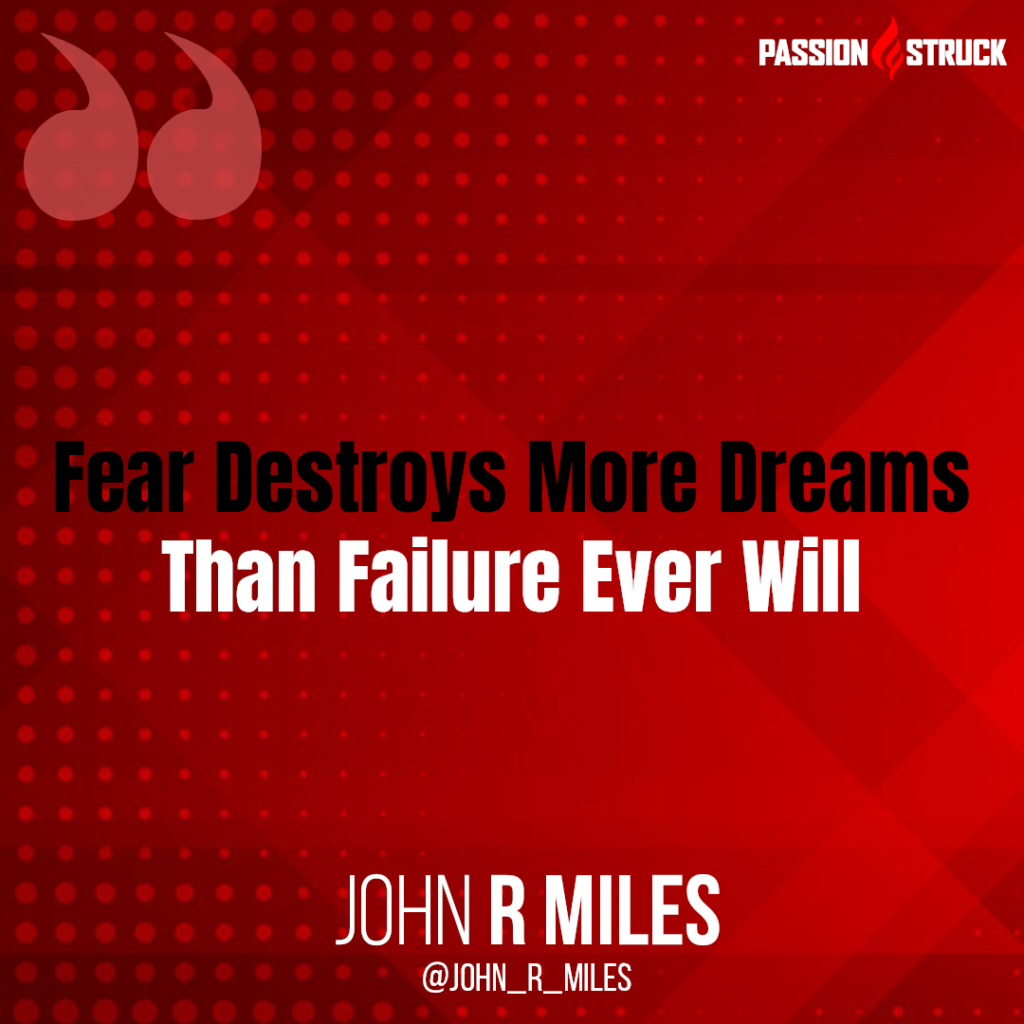 ENGAGE WITH JOHN R. MILES
* Subscribe to my channel: https://www.youtube.com/c/JohnRMiles
* Leave a comment, 5-star rating (please!)
* Support me: https://johnrmiles.com
* Twitter: https://twitter.com/Milesjohnr
* Facebook: https://www.facebook.com/Johnrmiles.c0m.
* Medium: https://medium.com/@JohnRMiles​
* Instagram: https://www.instagram.com/john_r_miles
ABOUT JOHN R. MILES
* https://johnrmiles.com/my-story/
* Guides: https://johnrmiles.com/blog/
* Coaching: https://passionstruck.com/coaching/
* Speaking: https://johnrmiles.com/speaking-business-transformation/
* Gear: https://www.zazzle.com/store/passion_struck
PASSION STRUCK
*Subscribe to Podcast: https://podcasts.apple.com/us/podcast/the-passion-struck-podcast/id1553279283
*Website: https://passionstruck.com/
*About: https://passionstruck.com/about-passionstruck-johnrmiles/
*Instagram: https://www.instagram.com/passion_struck_podcast