Cristina Pujol Jensen (@CristinaPujol7) is a Coach, Trainer, Speaker, author of Ignite Female Change Makers, Co-Founder of Tú y Tu Mente Coaching, and Hips On Fire Dance specializing in leadership, clarity, and focus. She sits down with John R. Miles to discuss how your mind can free your body to start living intentionally. It is really that mind-body connection that helps us take our life to new heights.
Hear the secrets and philosophy of the World's GREATEST high achievers every Tuesday and tune in each week for an inspirational Momentum Friday message!
Like this show? Please leave us a review here – even one sentence helps! Post a screenshot of you listening on Instagram & tag us so we can thank you personally!
What We Discuss With Cristina Pujol Jensen On Mind-Body Connection:
The different professional paths Cristina Pujol Jensen took and how she found a way of understanding herself and making the transition when she was at the top of her game.
Her advice for others who do not feel they are doing what they were called to do.
The importance of being a dance instructor and performer in her life and how it allowed her to service others.
The impact that hearing loss had on her life and how she was able to adapt to it.
The importance of creativity in all professions and how creativity creates a mind-body connection.
Why consciousness is so vital to being engaged in the moment and our mind-body connection.
Have any questions, comments, or stories you'd like to share with us? Drop us a line at

[email protected]

m!
And much more…
Please Scroll Down For Featured Resources
Have You Used ISSUU?
Issuu is the all-in-one platform to create and distribute beautiful digital content, from marketing materials to magazines, to flipbooks and brochures and more. Get started with Issuu today for FREE, or if you sign up for a premium account, you will get 50% off when you go to ISSUU.com/podcast and use promo code PASSIONSTRUCK.
Have You Tried Talkspace?
Talkspace: The online therapy company that believes that therapy should be affordable, confidential, and convenient. Join over 500,000 people who have used Talkspace for online treatment with their licensed therapist. Get $100 off your first month when you visit talkspace.com and use promo code PASSIONSTRUCK at sign-up.
New to the show? These Starter Packs are collections of our most popular episodes grouped by topic. You can also browse starter packs for existing listeners to find your old favorites. Every week, John interviews fascinating high achievers at the top of their game. Learn how to subscribe to the show and never miss a new episode and topic.
Like this? Please subscribe, and join me on my new YouTube platform for peak performance, life coaching, and personal growth: https://www.youtube.com/c/JohnRMiles/.
More About This Show On How Your Mind Can Free Your Body With Cristina Pujol Jensen
During our interview, John spoke to Cristina Pujol Jensen about how she looks at consciousness and the mind-body connection that it creates.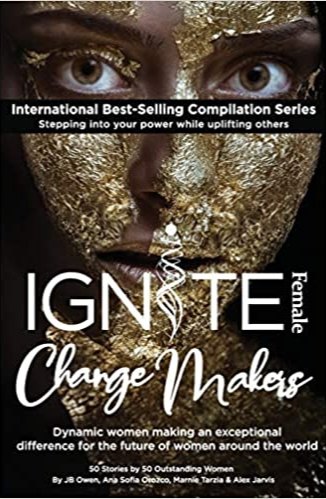 Cristina Pujol Jensen explains, "there is a huge difference how you live life if you are present to what you're doing that if you're not. For some people, it takes longer than others. It depends on the environment that you've been raised in. I was lucky enough to have a mother that I think was a coach. Even though she wasn't like it, she was really in her mind.
So anything that I was complaining she will always make me think, "Okay, so what is the other person thinking?" And, you know, if I had a conflict with someone, she would be like, what is the other person thinking happened and analyze it from a different perspective. And I remember a point, what I told my mom, okay, give me five minutes of complaining, then we'll get into solving the situation.
But I think that imprinted in my head always thinking, how does the other person see it, you know, we are conscious of you having an impact on everybody that is around – you speak a word, and you don't know how it's gonna land. So to put thoughts into everything that you do is not sometimes possible. When you work with people you interact with or are with your family, you need to be conscious of what's happening and how you interact because you have an impact. Whether you want to or not, you have an effect always.
And some things are not easy to deal with. But we're here to learn, and we're here for a certain amount of time. So why not learn the things that you came here to learn? You choose to be in this body you choose to be in this place? It's not easy to say that sometimes because some people are not dealt with a fair amount of cars, or how do you say that? So we don't always we don't start the same way. Some people start very privileged, and some people don't.
But the choice you make on how you interpret what you focus on, where you put the meaning, and the meaning you're giving to what's happening so you can make a huge difference. And you see that with many successful people that didn't start, you know, in a wealthy family. So we know where you put your mind, what's the meaning you give to things? That is part of creating the mind-body connection.
There are three things that I always think to myself: Where's your focus? What's the meaning you give to that? And what are you going to do now with that? How are you going to live your life? How are you going to teach? How are you going to have events? How are you going to interact with people? How are you going to make an environment that works for you? And that, for me, is putting consciousness in any event, and make any work not only for you but for everybody around you."
Thanks, Cristina Pujol Jensen!
If you enjoyed this session with Cristina Pujol Jensen, let her know by clicking on the link below and sending her a quick shout out at Instagram:
Click here to thank Cristina Pujol Jensen on Instagram!
Click here to let John R. Miles know about your number one takeaway from this episode!
And if you want us to answer your questions or you have a topic you would like John to discuss on one of our upcoming weekly Momentum Friday episodes, drop us a line at [email protected].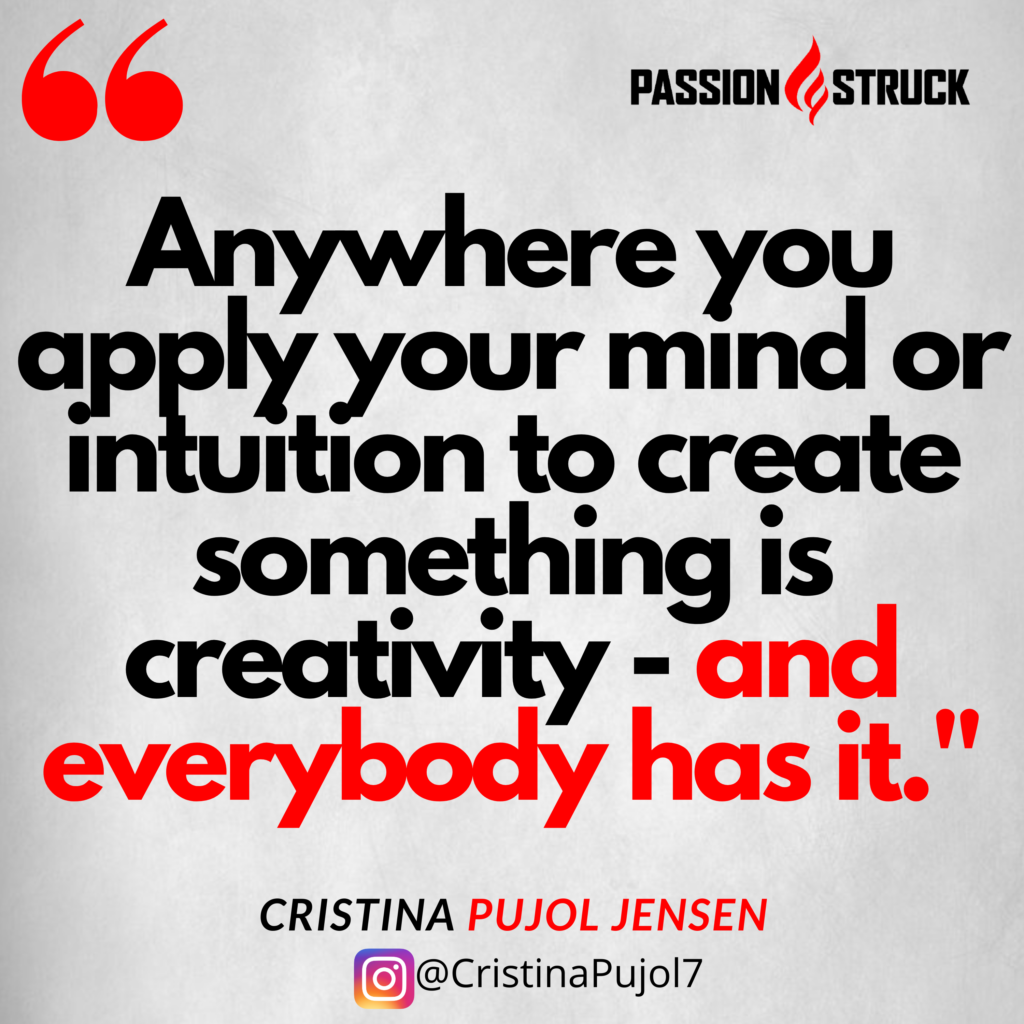 SHOW NOTES
0:00 Introduction
3:39 Her early story growing up in the Andalucia region of Spain
9:41 Why Spaniards value food around social events
13:54 How she transitioned from software engineering to dancing
18:42 Her advice for someone desiring a performing arts career
23:54 How do you change when you are on top
31:20 Why talent is not as important as Grit in success
35:30 How you adjust your life if it is unbalanced
41:27 The power of creativity through a mind-body connection
46:18 How your mind can free your body
50:32 The adjustments she made with hearing loss
58:44 Her love of the books Unbeatable Mind and Atomic Habits
LINKS
Please note that some of the links on this page (books, movies, music, etc.) lead to affiliate programs for which The Passion Struck podcast receives compensation. It's just one of the ways we keep the lights on around here. Thank you so much for being so supportive!
*LinkedIn: https://www.linkedin.com/in/cpujoljensen/
* Email: [email protected]
* Web: https://tuytumente.com
* Instagram: https://instagram.com/CristinaPujol7
*Instagram of "Tú y Tu Mente": https://instagram.com/tu_ytumente
*Facebook: https://www.facebook.com/tuytumente
*Ignite Female Change Makers: Dynamic Women Making an Exceptional Difference for the Future of Women Around the World by Cristina Pujol Jensen
*The Unbeatable Mind by Mark Divine
*Atomic Habits by James Clear
Check out John's past episode on Stop Hiding Your Authentic Self. Catch up with Episode 88.
Are you having trouble prioritizing your time? John discusses the I Don't Have Time Syndrome in Episode 27.
Is the Hustle Culture is Making You Miserable? John explores this in-depth in Episode 70.
Suppose you missed our interview with world-renown fitness guru Nathalie Plamondon-Thomas on how to improve your inner self-confidence Don't panic! You can catch up by downloading it here.
About This Episode's Guest Cristina Pujol Jensen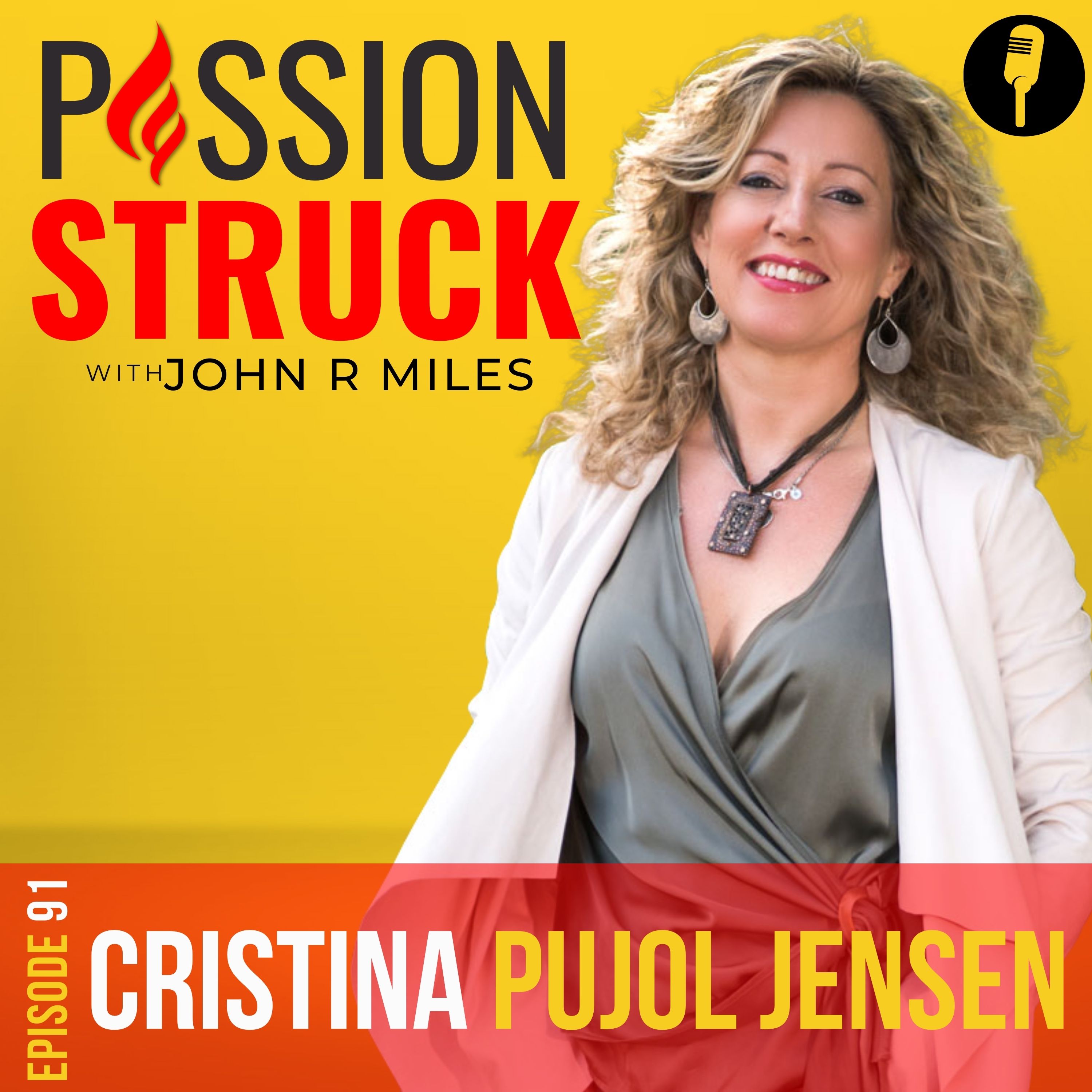 Cristina Pujol Jensen is a Coach, Trainer, Speaker, and Author, Co-Founder of Tú y Tu Mente Coaching and Hips On Fire Dance, specializing in leadership, clarity, focus, and change. With her years of experience in different worlds as engineering and dance, undertaking various businesses herself, with more than 25 years working with groups of people, her attention is dedicated to helping others realize their full potential, discovering self-imposed barriers, looking for patterns that cause blockage and that prevent reaching the maximum potential, and developing new skills that make us more effective in new objectives. Cristina helps her clients make shifts in their mind-body connection, which can change everything.
Connect With John R. Miles
* Twitter: https://twitter.com/Milesjohnr
* Facebook: https://www.facebook.com/johnrmiles.c0m
* Medium: https://medium.com/@JohnRMiles​
* Instagram: https://www.instagram.com/john_r_miles
* LinkedIn: https://www.linkedin.com/company/JohnMiles
* Blog: https://passionstruck.com/blog/
* Instagram: https://www.instagram.com/passion_struck_podcast
John R. Miles is a globally recognized high-performance coach, life and business strategist, military veteran, and one of the most-watched quoted and followed personal growth trainers globally. John is a highly sought-after speaker, coach, author and makes frequent media appearances to discuss how to transition from being passion struck to becoming PASSION STRUCK! He is passionate about being the catalyst who helps individuals expand into the most excellent version of themselves, unlocking the most legendary life possible.