Ready for one of the most important life lessons you will ever learn? YOU are the most challenging critic you will ever face. When you realize that you are your biggest obstacle, you can start to take steps to silence your own inner critic and move toward the passion-struck life you've dreamed of. It starts by saying I can to life.
"Most of the important things in the world have been accomplished by people who have kept on trying when there seemed to be no hope at all."

Dale Carnegie
Like this? Please subscribe, and join me on my new platform for peak performance, life coaching, and personal growth: https://passionstruck.com/. Also, join the passion-struck community on Facebook: https://www.facebook.com/johnrmiles.c0m.
Why Are We Not Saying I Can to Life?
How often are we presented with amazing opportunities only to let some of them go by the wayside? Why? Because a simple four-letter word often shows up at the worst possible moment, snuffing out our dreams and telling us it's impossible: "CAN'T"
I "can't" possibly run a marathon.
That idea "can't" work.
I "can't" get funding for my idea.
I "can't" accomplish my dreams because I don't have the financial means.
I "can't" change my lifestyle.
I "can't" possibly get myself back into shape.
I would encourage you also to take a hard look in the mirror. You have to take the initial steps towards a world of "I CAN." For some, it may be a straight path. For others, it may be a zigzag. The important thing is to make decisions that generally move you closer to your dreams and not farther away from them.
Why We Need to Move Past Ourselves
One of the biggest obstacles that anyone faces in their life is moving past themselves and busting through the status quo set for them by their circumstances.
You may feel that you do not have the education, the experience, the ability, or the potential to succeed. You may be your own underdog and are struggling with saying I can to life.
But you can.
Will you allow yourself to be knocked down by your own sharp angles and fears? Or, will you take advantage of the unique opportunities you have been granted and become passion struck to fulfill your creative and leadership abilities?
The real work begins when you delete the word "can't" from your personal vocabulary. Once you do, you will start to see how you can genuinely break through and become passion-struck.
Your Mindset is Everything
Thank you for Watching the Passion Struck podcast. In this powerful Momentum Friday Episode, John R. Miles discusses the life-changing power of saying I can. He uses U.S. Marine Corps veteran Kirstie Ennis to illustrate even under the most difficult situation, you can start saying I CAN to life.
"Looking at my life, people can see me now climbing Mt. Everest, or receiving an award, or whatever it may be. They see these glorious images and pictures. But, what they don't see are the dark days and the hard days. Like having to put my leg on in the morning and how miserable that can be. Especially at the beginning of my recovery. It was hard to do things for myself. I think that is what makes it hard for people to go through these periods of transition. They think they are all alone."

Kirstie Ennis
New Interviews with the World's GREATEST high achievers will be posted every Tuesday with a Momentum Friday inspirational message!
SAYING I CAN TO LIFE SHOW NOTES
0:00 Special Episode Announcements
3:48 Why you are your biggest critic
5:03 Stop saying I CAN'T
5:40 Story of Marine turned Paralympic competitor Kirstie Ennis
9:48 How to move past yourself
11:40 Overcome your inner voice
QUOTES BY JOHN R. MILES
ENGAGE WITH JOHN R. MILES
* Subscribe to my channel: https://www.youtube.com/c/JohnRMiles
* Leave a comment, 5-star rating (please!)
* Support me: https://johnrmiles.com
* Twitter: https://twitter.com/Milesjohnr
* Facebook: https://www.facebook.com/Johnrmiles.c0m​.
* Medium: https://medium.com/@JohnRMiles​
* Instagram: https://www.instagram.com/john_r_miles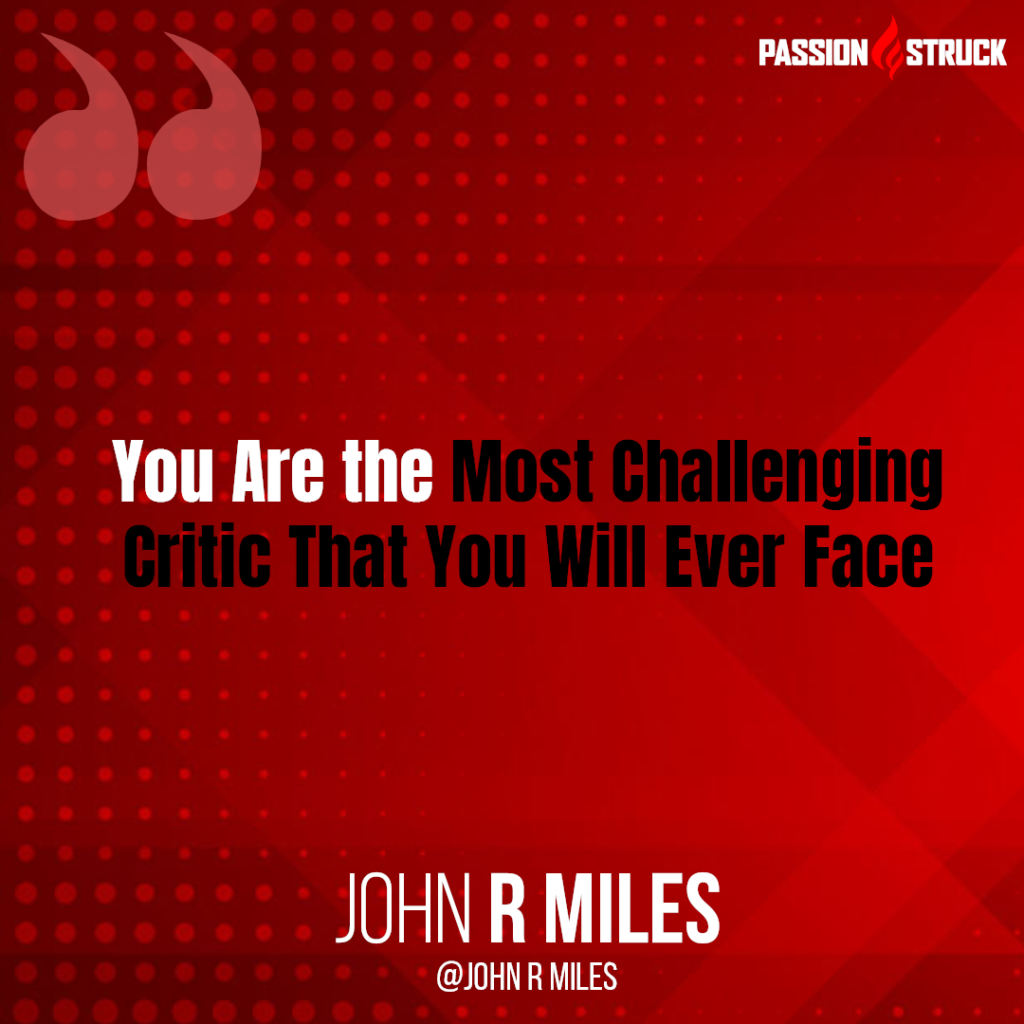 ABOUT JOHN R. MILES
* https://johnrmiles.com/my-story/
* Guides: https://johnrmiles.com/blog/
* Coaching: https://passionstruck.com/coaching/
* Speaking: https://johnrmiles.com/speaking-business-transformation/
* Gear: https://www.zazzle.com/store/passion_struck
PASSION STRUCK
*Subscribe to Podcast: https://podcasts.apple.com/us/podcast/the-passion-struck-podcast/id1553279283
*Website: https://passionstruck.com/
*About: https://passionstruck.com/about-passionstruck-johnrmiles/
*Instagram: https://www.instagram.com/passion_struck_podcast
*LinkedIn: https://www.linkedin.com/company/passionstruck