Kate Gilman Williams (@kidscansaveanimals) discusses how kids can save animals and why advocacy has no age limits, and anyone can make a difference. | Brought to you by Trade Coffee (https://wwwdrinktrade.com/passionstruck).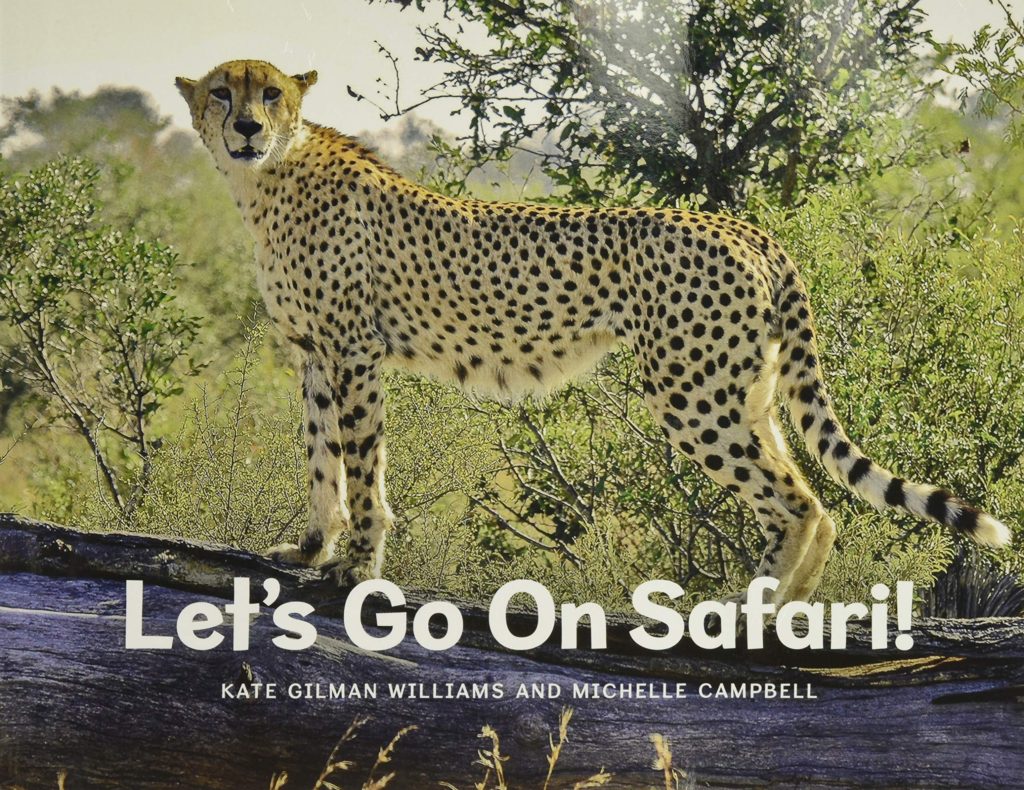 Kate is the Founder of Kids Can Save Animals, Founder of Club 15 – an extension of Project 15 from Microsoft, and Author. At age 8, Kate authored the book Let's Go On Safari! which takes readers on a safari adventure and encourages children to speak up for animals who don't have a voice. All sales from the book support the Jane Goodall Institute, The Sheldrick Wildlife Trust, and Re: Wild. So far, her book has raised over $15,000 for her conservation partners. When Penguin Random House in South Africa picked up Let's Go On Safari! Kate became the youngest author in history to sign two publishing contracts resulting in a global title release.
Born Free USA Youth Ambassador
Kate was recently named the first Youth Ambassador for Born Free USA. In her role, Kate will speak to her generation about the exploitation and suffering of animals living in captivity, educate kids and teens that animals being used for any kind of human entertainment is wrong, what the illegal pet trade is, and how we all can help end the wildlife trade and trophy hunting.
In the Summer of 2021, Kate partnered with Jenn Hartmann Luck, Austin-based singer and songwriter, to produce the song "Kids Can Save Animals." With each download, 15% supports Re: Wild where Leonardo DiCaprio is the founding board member.
Hear the secrets and philosophy of the World's GREATEST high achievers every Tuesday and tune in each week for an inspirational Momentum Friday solo message.
Like this show? Please leave us a review here – even one sentence helps! Post a screenshot of you listening on Instagram & tag us to thank you personally!
Listen to the episode on Apple Podcasts, Spotify, Podcast Addict, Pocket Casts, Stitcher, Castbox, Google Podcasts, Amazon Music, or on your favorite podcast platform. You can watch the interview on YouTube here.
Please Enjoy!
What I Discuss With Kate Gilman Williams On Why Kids Can Save Animals
How her safari experience when she was seven caused her to become an advocate for stopping the suffering of animals.
Kate discusses how she became the youngest published author in history.
Why the cheetah is an endangered species and on the cover of her book.
Kate discusses the need to save elephants because one is killed every 15 minutes.
We discuss her podcast "Club 15," and she talks about her favorite interview guests.
Different ways that technology is saving animals
Kate discusses her new song with Jenn Hartmann Luck, "Kids Can Save Animals."
Why Microsoft is supporting animal advocacy and sponsoring Kate through Project 15
Kate's interest in saving ocean life
Kate's lessons learned from podcasting
Why anyone can make a difference in the world
The importance of finding a mentor
Why advocacy has no age limits
How kids can become leaders in their community
Why in ten years, we can lose all elephants on the planet
The northern white rhino preservation
Born Free USA and Quarters for Koalas
Why if something is important, you will pursue it
Have any questions, comments, or stories you'd like to share with us? Drop us a line at

[email protected]

m!
And much more…
Please Scroll Down For Featured Resources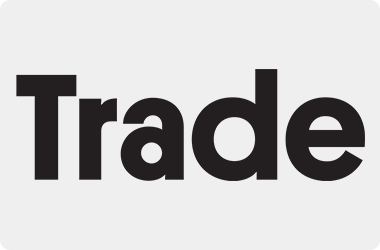 This episode of Passion Struck with John R. Miles is brought to you by Trade Coffee Company. Elevate your coffee ritual w/ sustainably sourced coffee delivered fresh from 50+ roasters. We'll help you brew a better cup of coffee at home. 5 Million+ Bags Shipped. Get a total of $30 off your first order plus free shipping when you go to https://drinktrade.com/passionstruck.
New to the show? These Starter Packs are collections of our most popular episodes grouped by topic, and we now have them also on Spotify. You can also browse starter packs for existing listeners to find your old favorites. Every week, John interviews fascinating high achievers at the top of their game. Learn how to subscribe to the show and never miss a new episode and topic.
More About This Show On Kids Can Save Animals With Kate Gilman Williams
During our interview, I asked Kate Gilman Williams about her secrets to building partnerships and finding guests and partners for her show.
Kate explains, "if you're asking somebody, the worst thing they can do is say no. And I guarantee you that if you keep trying and trying, you will get a yes. For example, when I was trying to publish my book, I got so many rejection letters, but then I finally got a yes. So just keep trying. It will happen for you eventually."
Why Advocacy Has No Age Limits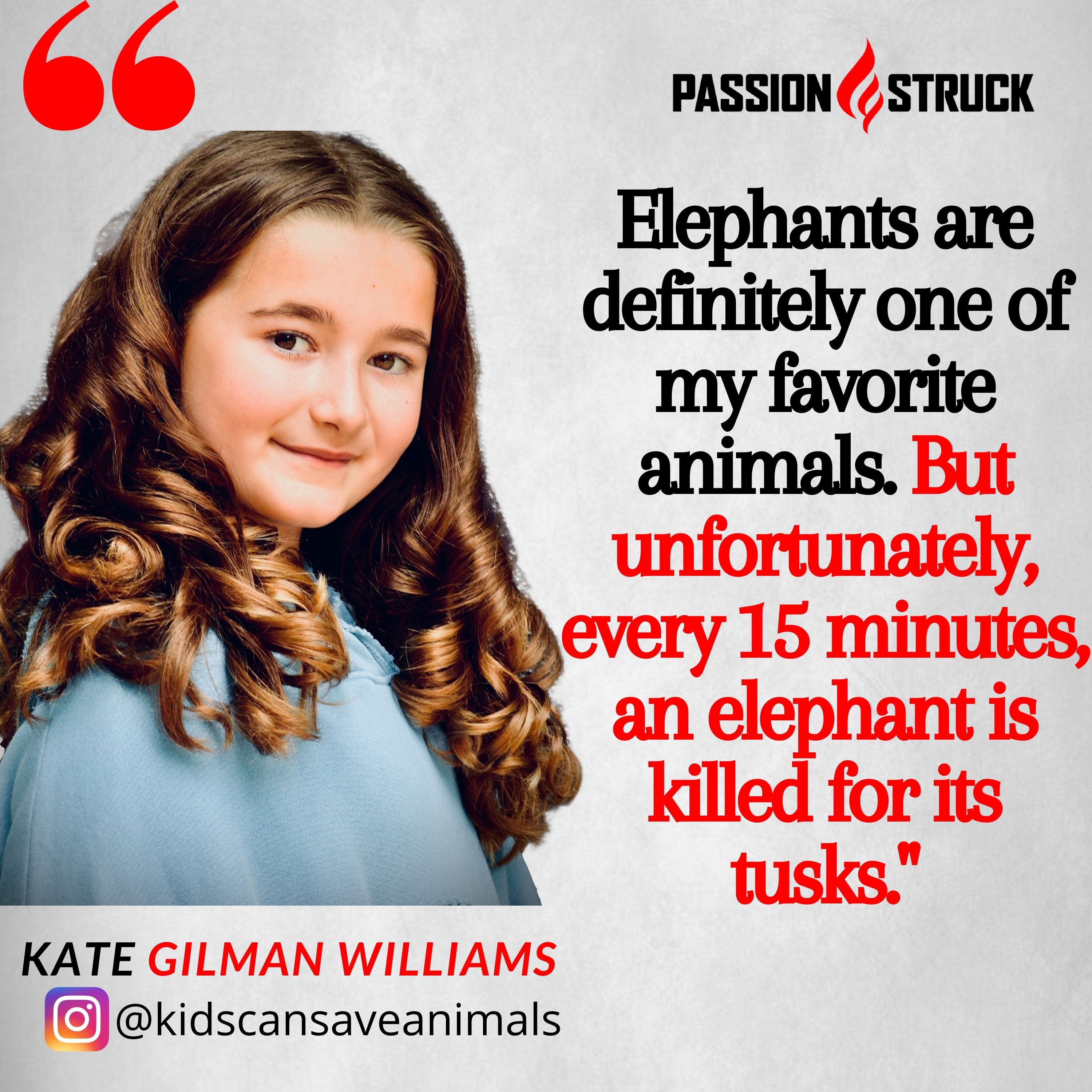 I asked Kate how can anyone make a difference and be an advocate for something that they're passionate about?
She told me, "You can go to my website, kidscansaveanimals.com, where you can find all the different projects that I've been talking about. But also you can pick your favorite animal. Learn as much as you possibly can about it and just educate your family and friends on it. And a few organizations that you want to check out: The first is the Sheldrick Wildlife Trust. They're taking care of baby elephants when their moms have been killed by poachers. You can adopt a baby elephant from there. You can also check out the Jane Goodall Institute and Re:Wild. Those three organizations are the organizations that my book supports and all sales go to them."
Thanks, Kate Gilman Williams!
If you enjoyed this interview with Kate Gilman Williams, let her know by clicking on the link below and sending her a quick shout on Twitter or Instagram:
Click here to thank Kate Gilman Willams on Twitter!
Click here to thank Kate Gilman Williams on Instagram!
Click here to let John R. Miles know about your number one takeaway from this episode!
And if you want us to answer your questions or you have a topic you would like John to discuss on one of our upcoming weekly Momentum Friday episodes, drop us a line at [email protected].
LINKS
Please note that some of the links on this page (books, movies, music, etc.) lead to affiliate programs for which The Passion Struck podcast receives compensation. It's just one of the ways we keep the lights on around here. Thank you so much for being so supportive
* Website: https://kidscansaveanimals.com/
* Instagram: https://www.instagram.com/kidscansaveanimals/
* Twitter: https://twitter.com/kidssaveanimals
* Born Free USA: https://www.bornfreeusa.org
* Lets go on a Safari by Kate Gilman Williams
Re: Wild – Biodiversity is the Solution
Club 15: Advocacy Has No Age Limits
Check out John's episode on the science that promotes Curiosity. Catch up with Episode 114.
Are you showing yourself self-compassion? John discusses Self-Love in episode 104.
I covered the nine steps to creating a balanced life in Episode 124.
Suppose you missed our interview with Susan Cain on her new book Bittersweet. Download it here.
Catch the episode I did with Dr. David Vago on mindfulness and self-transcendence. You can find the episode here.
About Today's Guest Kate Gilman Williams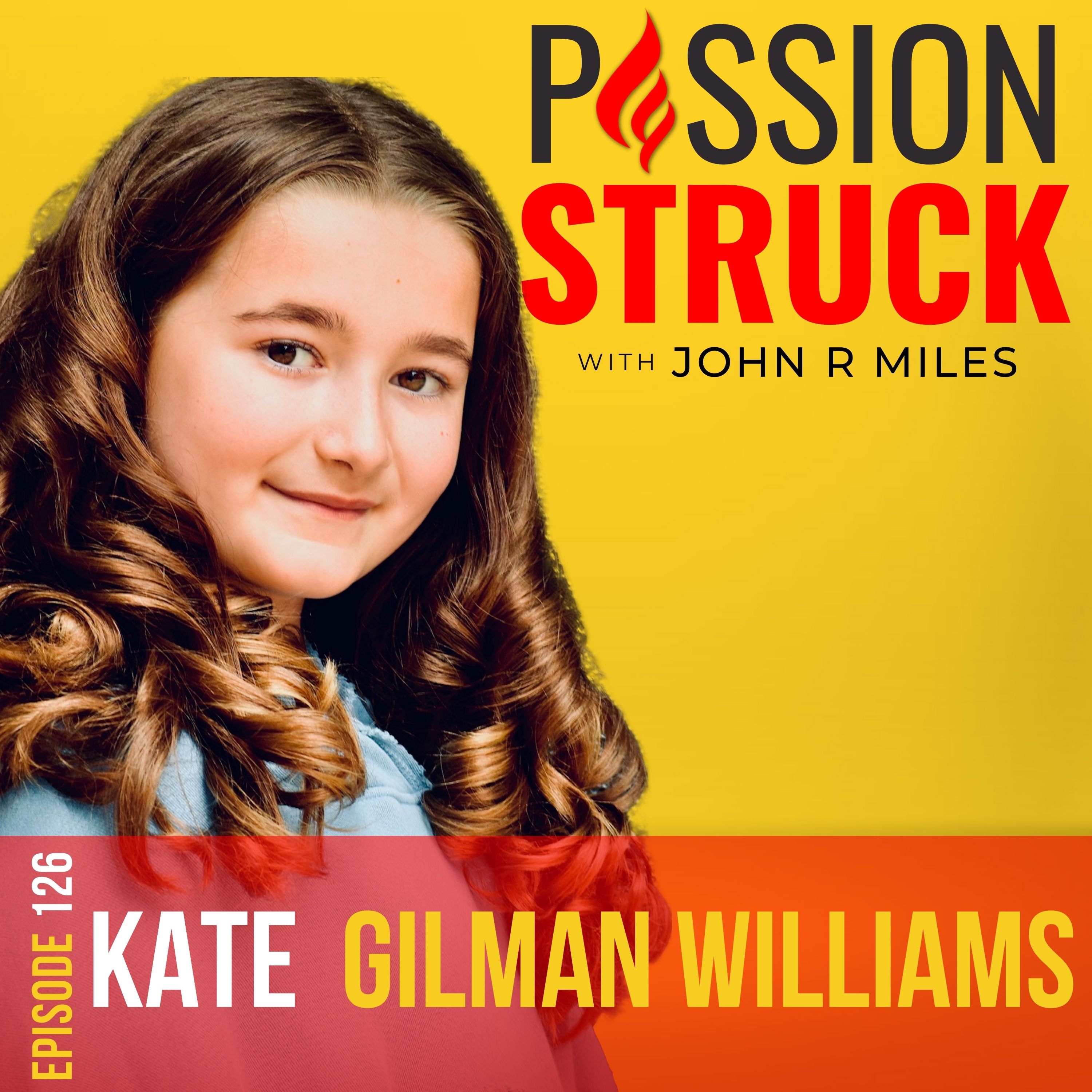 Kate Gilman Williams is a 12-year-old animal advocate, author and the founder of Kids Can Save Animals and Club 15. She launched Kids Can Save Animals to connect her generation with world-renowned conservation organizations, technologists, policymakers, and global leaders who work to save wildlife and wild spaces. Through her passion for wildlife conservation and penchant for education, Kate is focused on teaching and inspiring kids and teens on how to take action and become part of the global solution and the benefits of helping the animals proving that advocacy has no age limit.
One aspect of Kids Can Save Animals is her podcast, Club 15, named so because we lose one elephant from our planet every 15 minutes. Club 15 was created in partnership with Sarah Maston and Daisuke Nakahara of Microsoft and is an extension of Project 15 from Microsoft. Each episode of Club 15 connects youth with top scientists, technologists, and conservationists working on the ground to save animals from extinction. Microsoft contributed a learning lab for Club 15 so kids can learn how Computer Vision and Artificial Intelligence (AI) are collecting data and how technology is at the forefront of saving animals.
FOLLOW JOHN R. MILES ON THE SOCIALS
* Twitter: https://twitter.com/Milesjohnr
* Facebook: https://www.facebook.com/johnrmiles.c0m
* Medium: https://medium.com/@JohnRMiles​
* Instagram: https://www.instagram.com/john_r_miles
* LinkedIn: https://www.linkedin.com/in/milesjohn/
* Blog: https://passionstruck.com/blog/
* Instagram: https://www.instagram.com/passion_struck_podcast/
* Gear: https://www.zazzle.com/store/passion_struck/
John R. Miles is a serial entrepreneur and the CEO and founder of Passion Struck. This full-service media company helps people live intentionally by creating best-in-class educational and entertainment content. John is also a prolific public speaker, venture capitalist, and author named to the ComputerWorld Top 100 IT Leaders.
John is the host of the PassionStruckPodcast. A show focused on exploring the mindset and philosophy of the world's highest achievers to learn their lessons to living intentionally. Passion Struck aspires to speak to the humanity of people in a way that makes them want to live better, be better and impact.
Stay tuned for John's latest project, his upcoming book, which will be published in summer 2022.
Learn more about me: https://johnrmiles.com.