Rubin Khoddam, Ph.D. (@drrubinkhoddam), is a Clinical Psychologist who specializes in treating addiction and trauma and mood disorders, such as anxiety and depression. Dr. Rubin started COPE after growing his private practice and recognizing the need for quality, evidence-based mental health care. He sits down with John R Miles to talk about the importance of holistic mental healthcare
Hear the secrets and philosophy of the World's GREATEST high achievers every Tuesday and tune in each week for an inspirational Momentum Friday message!
Like this show? Please leave us a review here – even one sentence helps! Post a screenshot of you listening on Instagram & tag us so we can thank you personally!
What We Discuss With Dr. Rubin Khoddam About Holistic Mental Healthcare:
How he is helping people learn ways of rescripting their life and engaging in more effective behaviors whether that be related to their addiction, past traumas, depression, work stress, or relationship difficulties.
The benefits patients receive of going through evidence based Cognitive Behavioral Therapy (CBT) and the potential limitations.
How he helps trauma patients confront their stuck points in Cognitive Processing Therapy (CPT) and regain feelings of safety, trust, power, esteem, and initmacy.
The difference between CPT and Prolonged Exposure for PTSD and the advantages of applying each one.
Dr. Rubin Khoddam discusses how he provides Acceptance and Committment Therapy for empirically based psychological intervention that uses acceptance and mindfulness strategies along with commitment and behavior-change strategies to increase psychological flexibility.
Have any questions, comments, or stories you'd like to share with us? Drop us a line at 

[email protected]

m!
And much more…
Please Scroll Down For Featured Resources
Have You Tried Talkspace?
Talkspace: The online therapy company that believes that therapy should be affordable, confidential, and convenient. Join over 500,000 people who have used Talkspace for online treatment with their licensed therapist. Get $100 off your first month when you visit talkspace.com and use promo code PASSIONSTRUCK at sign-up.
New to the show? These Starter Packs are collections of our most popular episodes grouped by topic. For existing listeners, you can also browse starter packs to find your old favorites. Every week, John interviews fascinating high achievers at the top of their game. Learn how to subscribe to the show and never miss a new episode and topic.
Like this? Please subscribe, and join me on my new YouTube platform for peak performance, life coaching, and personal growth: https://www.youtube.com/c/JohnRMiles/.
More About This Show On Holistic Mental Healthcare with Dr. Rubin Khoddam
During our interview, I asked Dr. Rubin Khoddam why everybody experiences trauma differently and his advice on how to approach our stuck points.
Dr. Khoddam explains, "Our trauma keeps us on alert, it keeps us activated, it keeps us hyper-vigilant, it keeps us on guard, it keeps us anxious, it keeps us irritable because we want to protect ourselves that God forbid if something else happened, that I can be prepared for it.
And so part of what makes it hard to reach out for help is because then it's taking that very thing that I'm working so hard day at night to have to not look at not to see not to acknowledge it's, it's me actually looking at it straight in the face and saying, Alright, time to deal with you. And my advice to people is, it's, it's not also as scary as it might seem.
Yes, it's work. Yes, it takes time. And also, it's not an essay about being thrown into the deep end. Maybe it's just about, you know, dipping your toe in the water a little bit. And then after you dip the toe, perhaps it's the foot, maybe the foot becomes, you know, the calf and so forth. So that it acclimates you because in the same way, if you go scuba diving, diving, and you don't, you know, slowly go up, the pressure will get to you, and you get the bends, right.
So you have to adjust to each level that you're at slowly. And trauma treatment is in some ways the same way where you want to take it one step at a time. And I think if you think about all the way you have to go, it becomes overwhelming. But if you focus on that first part of the road before the curve hits, that's all you got to get to, and then there'll be another curve path set where you could just get to that one piece, then that would be then that's all you got to do. And then we'll worry about the rest from there. But let's just focus on this here."
Thanks, Dr. Rubin Khoddam!
If you enjoyed this session with Dr. Rubin Khoddam, let him know by clicking on the link below and sending him a quick shout out at Instagram:
Click here to thank Dr. Rubin Khoddam at Instagram!
Click here to thank Cope Psychology at Instagram!
Click here to let John R. Miles know about your number one takeaway from this episode!
And if you want us to answer your questions or you have a topic you would like John to discuss on one of our upcoming weekly Momentum Friday episodes, drop us a line at [email protected].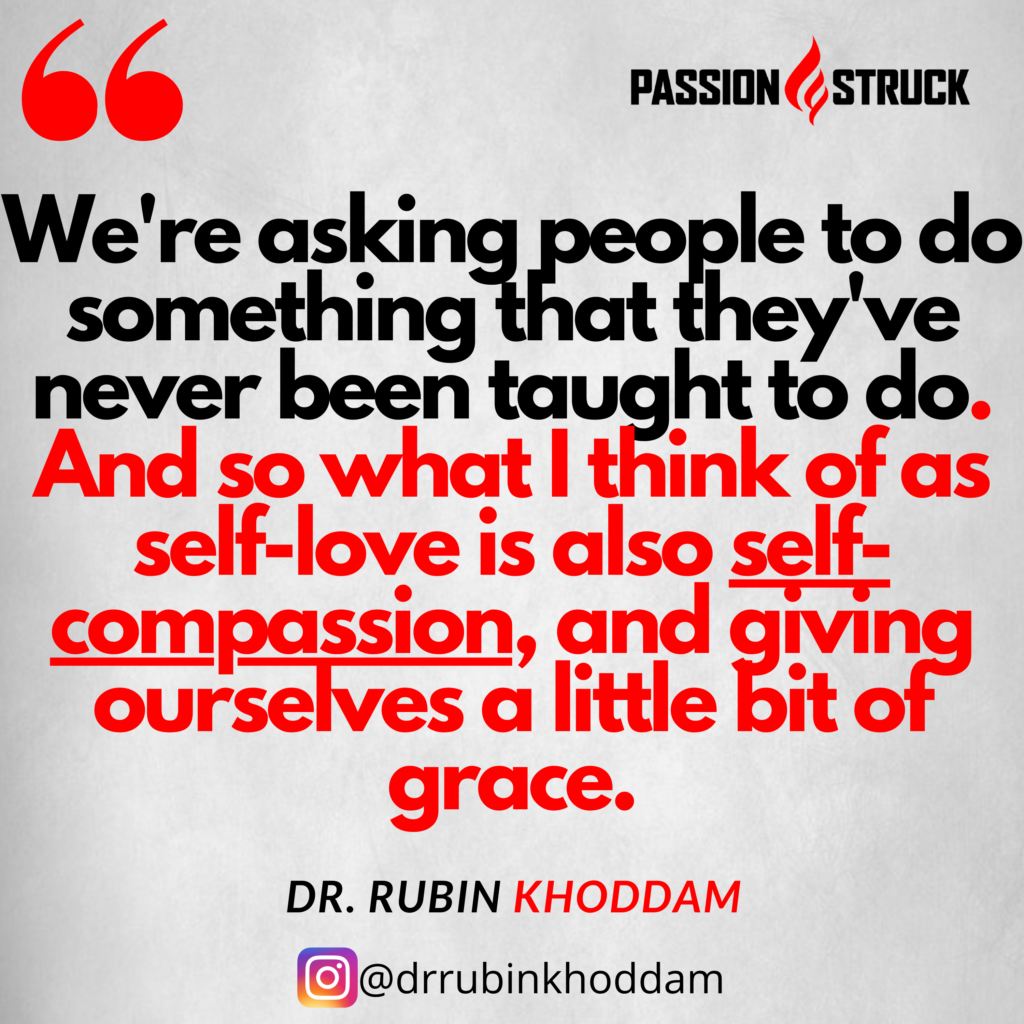 LINKS
Please note that some of the links on this page (books, movies, music, etc.) lead to affiliate programs for which The Passion Struck podcast receives compensation. It's just one of the ways we keep the lights on around here. Thank you so much for being so supportive!
*Website: https://copepsychology.com/
*Instagram: Cope Psychology
*Personal Instagram for Dr. Rubin
*Cognitive Processing Therapy for PTSD: A Comprehensive Manual
*Prolonged Exposure Therapy for PTSD: Emotional Processing of Traumatic Experiences – Therapist Guide (Treatments That Work)
About This Episode's Guest Dr. Rubin Khoddam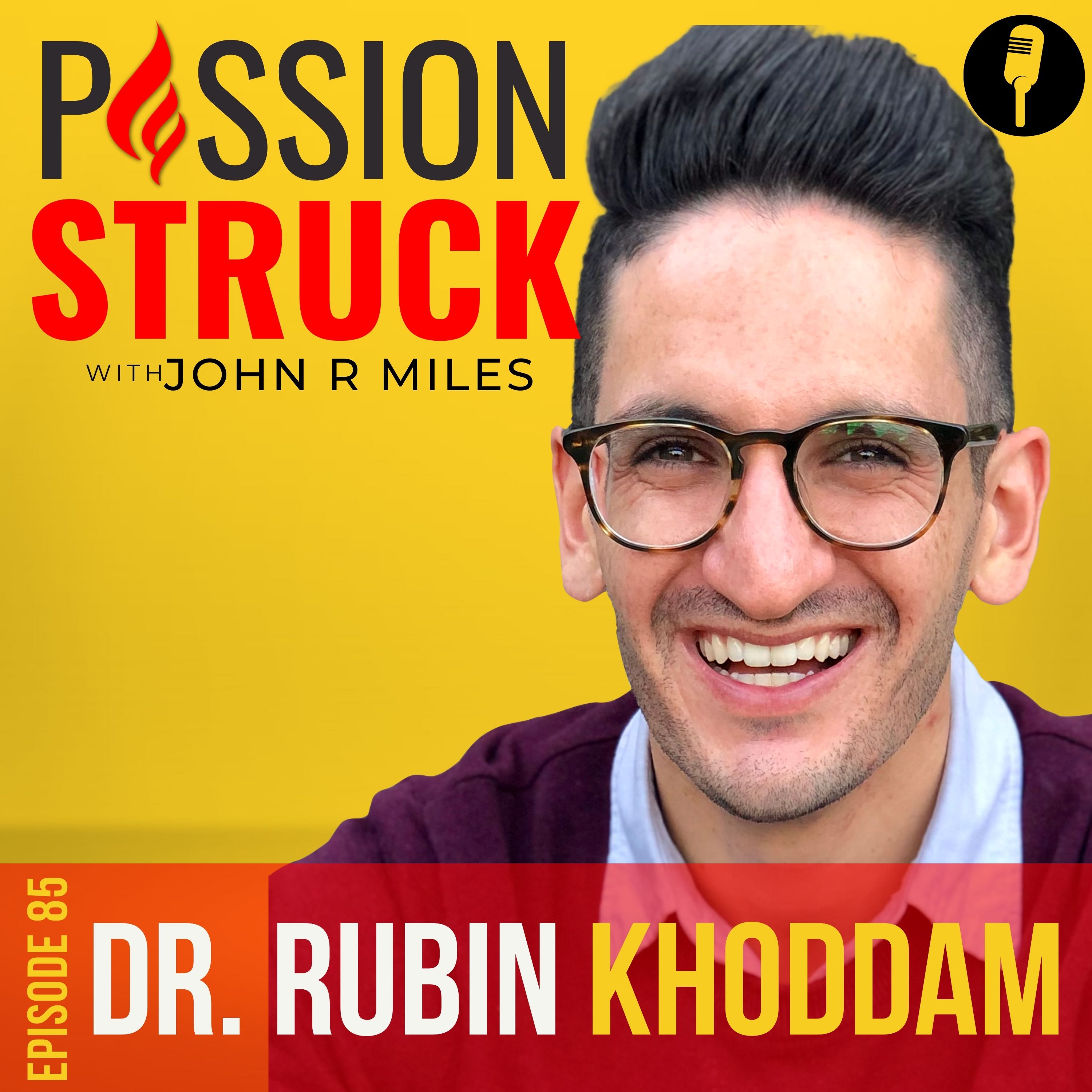 Rubin Khoddam, Ph.D. is a Clinical Psychologist who specializes in the treatment of addiction and trauma as well as mood disorders, such as anxiety and depression. Dr. Rubin started COPE after growing his own personal private practice and recognizing the need for quality, evidence-based mental health care. He has personally handpicked each team member and psychologist at COPE and is passionate about helping those who come to COPE learn the skills, tools, and insights they need to be able to do their life's work.
In addition to his work at COPE, Dr. Rubin is also a psychologist and team lead on a 30-bed track at a residential treatment facility at the West Los Angeles VA Hospital helping individuals begin their recovery journey free of substances. He supervises psychology and psychiatry trainees and is a Clinical Instructor in the Department of Psychiatry and Biobehavioral Sciences at UCLA. Although currently a Bruin, Dr. Rubin earned his doctorate from the University of Southern California (Fight On!) after graduating cum laude from the University of California, San Diego with his BS in Psychology.
ENGAGE WITH JOHN R. MILES
* Subscribe to my channel: https://www.youtube.com/c/JohnRMiles
* Leave a comment, 5-star rating (please!)
* Support me: https://johnrmiles.com
* About: https://johnrmiles.com/my-story/
* Twitter: https://twitter.com/John_RMiles
* Facebook: https://www.facebook.com/Johnrmiles.c0m.
* Medium: https://medium.com/@JohnRMiles​
* Instagram: https://www.instagram.com/john_r_miles
PASSION STRUCK
*Subscribe to Podcast: https://podcasts.apple.com/us/podcast/the-passion-struck-podcast/id1553279283
*Website: https://passionstruck.com/
* Gear: https://www.zazzle.com/store/passion_struck
*About: https://passionstruck.com/about-passionstruck-johnrmiles/
*Instagram: https://www.instagram.com/passion_struck_podcast
*LinkedIn: https://www.linkedin.com/company/passionstruck