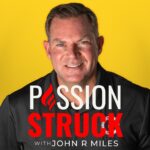 In today's show, John interviews pancreatic cancer survivor, Sindy Hooper who shares with us her incredible story of grit, hope, and finding success in extreme adversity. She tells us about her journey of taking life to new heights.
Back in 2013, things could not have been better for Sindy. She was leading a happy existence with her physician husband at their countryside home. Sindy had just turned 50 and was in the best shape of her life.
A huge fitness enthusiast, Sindy was training for Ironman Canada when she felt a few sharp abdominal and back pains. Further investigations revealed that she had pancreatic cancer – a disease with an average life expectancy of just 6 months.
After going through Whipple surgery where "they removed her gall bladder, bile duct, duodenum, bottom third of stomach and half the pancreas," Sindy went through 18 rounds of IV chemo, 28 days of radiation, and a month of oral chemo. While she was going through her treatment, she decided to do what any rational person would.
Sindy decided to participate in Ironman Canada!
The Ironman features a 3.9 km swim,180 km bike ride, and then a 42 km marathon, to put things in perspective.
So, in August 2013, Sindy became the only pancreatic cancer survivor to finish an Ironman. In the process, she also raised thousands of dollars and gave hope to millions worldwide.
How do you retain a positive mindset even when your future looks bleak, and all odds are stacked against you?